Patong Beach – the most fashionable beach in Phuket
Patong Beach in Phuket – this is the most popular and the most party beach on the entire island. Because of the large number of tourists and infrastructure, unfortunately it can not be called the cleanest beach of Phuket, but it attracts tourists rather than a quiet beach holiday, and the developed tourist infrastructure and general fun.
Patong Beach is a sandy beach. The sand here has a yellow hue, but the water is a bit muddy. A feature of the beach is quite an impressive length (about 3 kilometers) and a wide coastline (up to 50 meters), which makes it very attractive. Thanks to the convenient smooth entrance to the water, Patong is well suited for recreation with children.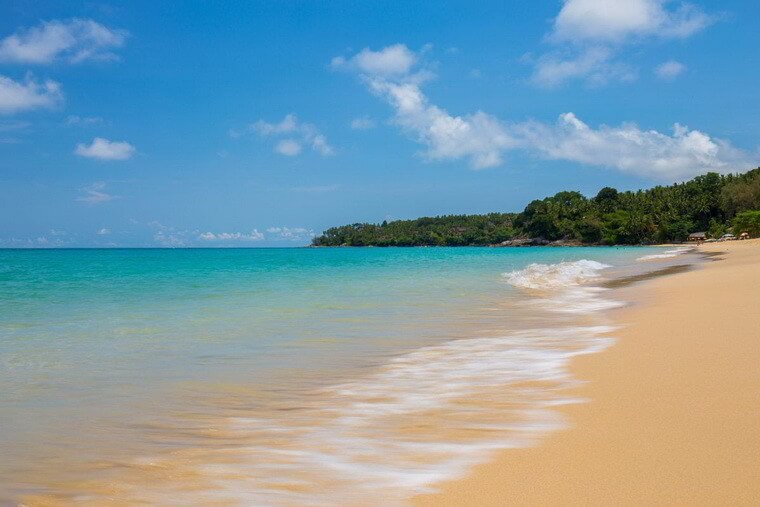 By and large, Patong is the most important tourist resort on Phuket Island, which is the center of nightlife and shopping in Phuket.
The beach has become popular with tourists relatively recently. Europeans began to arrive here en masse in the late 1980s. Since then, he became a real tourist Mecca.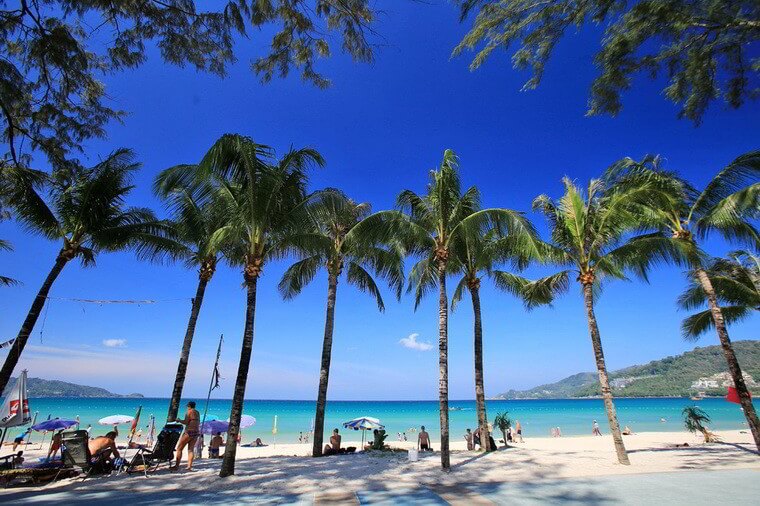 Lucky are the cities, which have their own sea beach. Take Rio de Janeiro with its legendary Copacabana Beach, which never stops living.
Where is Patong Beach
Located in the town of the same name in the southwestern part of Phuket on the bay, which is part of the Andaman Sea.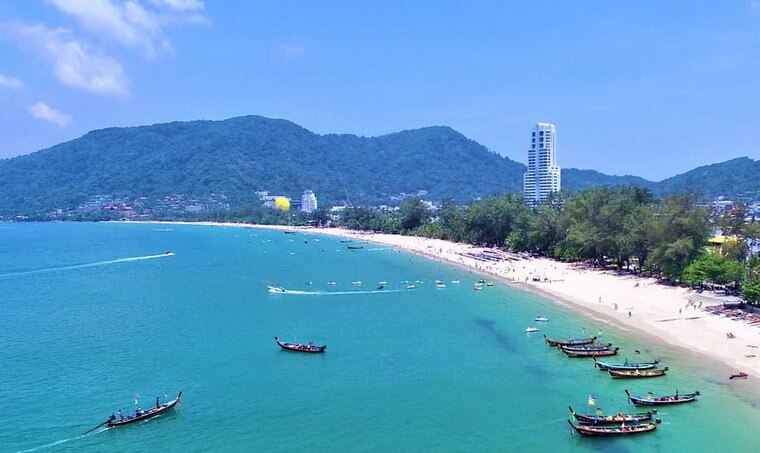 Where to stay in Patong Beach
More than half of all hotels, bungalows and hostels on Phuket are located on Patong Beach. You can find both expensive world famous hotel and budget bungalow for a few hundred baht a night. The closer to the coast, the more expensive the rent (as elsewhere in the world). You can look for accommodation on the spot, but it is often more convenient and cheaper to book it in advance.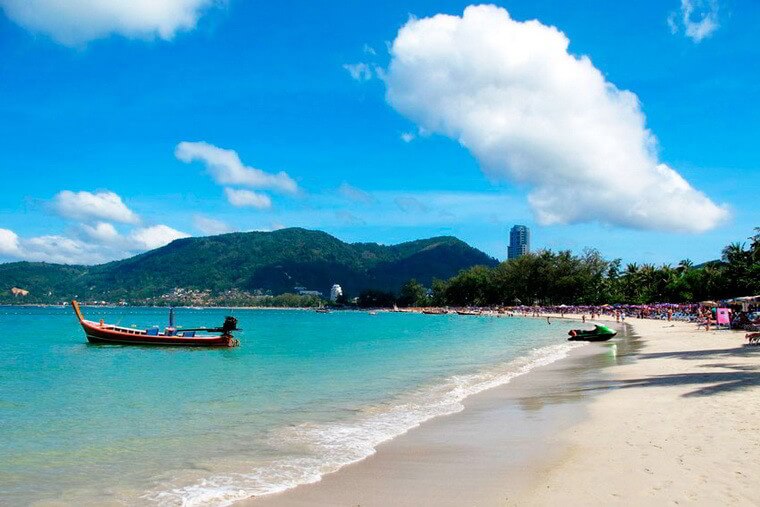 Entertainment in Patong
You will not be bored on Patong Beach. In addition to the beach holiday at your service is a variety of active entertainment. You can ride a traditional banana or fly a parachute, rent a jet ski or windsurfing. Or you can just play volleyball, thanks to the size of the beach allows it.
In addition, there are a lot of stores, which is important for fans of shopping and travel agencies, where you can buy an excursion for every taste. When night falls on the beach Patong opens a huge number of bars, nightclubs, go-go bars, shows for adults and other entertainment. Patong Beach is the main party spot on Phuket.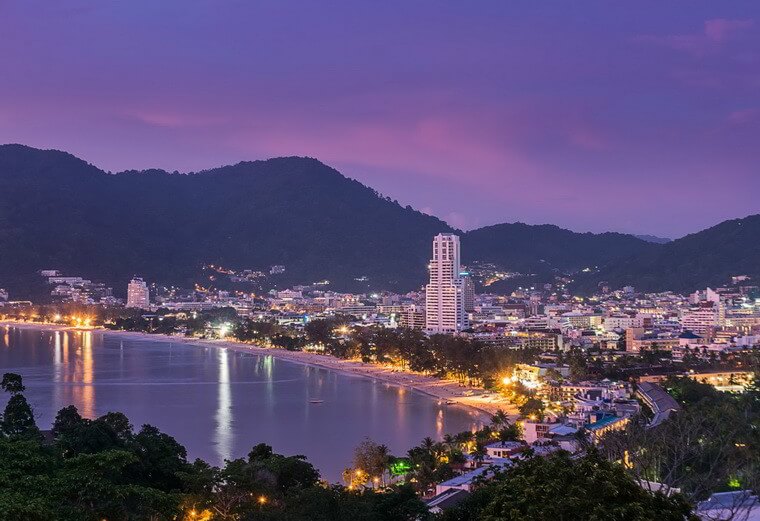 Where to eat
Everywhere. You will not leave you hungry here. Numerous vendors of boiled corn, seafood in batter, fruit and many other conventional and exotic products constantly walk along the beach.
On the promenade of the beach is always a lot of macashnikas (characteristic of Thailand's small mobile trays with a variety of foods). And of course you can eat in one of the cafes or restaurants, which are very much on Patong. Just remember one main rule: the farther from the beach is a cafe, the cheaper. And the price can vary dramatically.
How to get to Patong Beach
From Patong City to Patong Beach is easy to get on the local tuk-tuk (analog of our shuttles). They go quite often and are inexpensive. Also you can always take a cab or rent a bike.
If you're traveling alone from the airport, you should go to the south of the island. After 15 kilometers you will pass a fork in the road to Phuket City. After this you should turn right after 4 kilometers and drive another 6 kilometers. The landmark will be a large Tesco Lotus store. Then turn right again and after a few kilometers you will reach Patong beach.
It should be noted that between the beaches there is no public transport. So if you need to get to Patong from another beach, then you are left with only option to take a cab or rent a bicycle or car.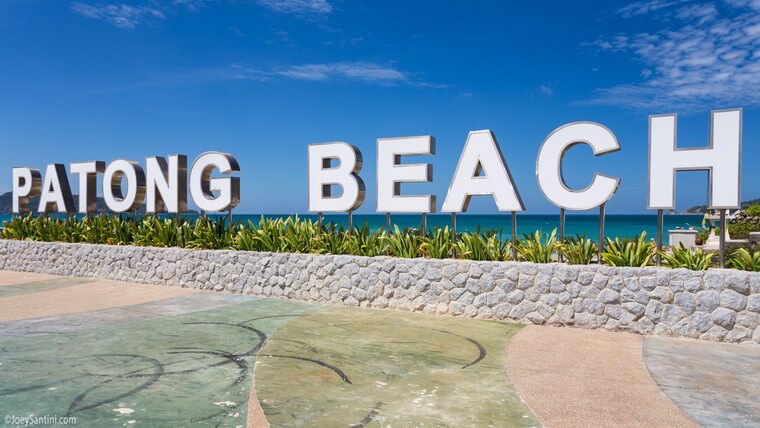 As you can see Patong beach on the island of Phuket in Thailand is a great place for a variety of holidays. Especially young people, party-goers and tourists with children will like it here. However, if you just want peace and quiet and clear sea, it is better to choose another beach on the island, or even another beach on the planet.
If finances allow – go to Bali. Well, if you're in the list of Forbes, then you go straight to the cozy corner of a billionaire – a unique tropical island Laukala.
Patong Beach in Phuket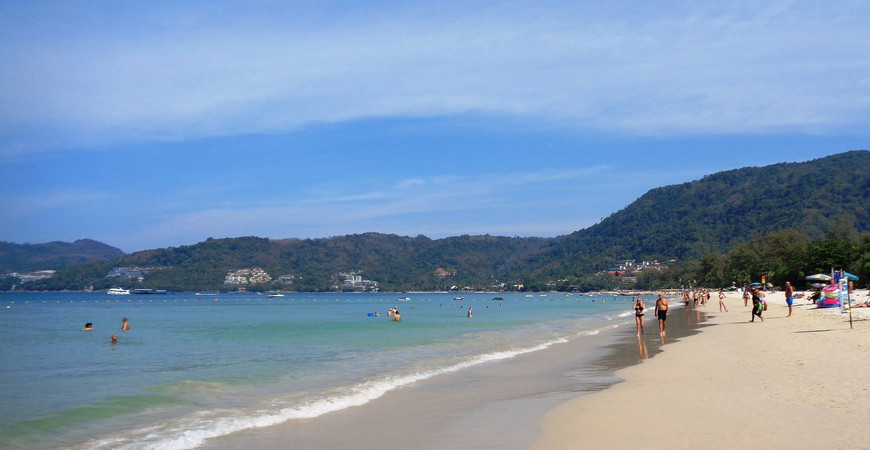 Patong beach is the biggest beach in Phuket with 3 kilometers of shoreline. It is located in the Andaman Sea on the west coast of the Malay Peninsula in Patong town. Along it runs a busy road with restaurants, bars, hotels, clubs.
Until recently, this beach was cleaner and more attractive, but with the flow of tourists it has grown into a crowded place of revelry and fun. Because of the large length of the coast you can find cleaner areas, where there are fewer people and will get a relatively quiet rest with the kids. However, for a beach holiday, most people go to other places. Along the beach is a road, so the noise and pollution is something that tourists will encounter here.
From November to May, the sea is mostly calm. Entrance to the water is sandy. Bathing is allowed only in fenced sectors to avoid injuries from watercraft. Smoking is allowed only in specially allocated places.
The best place for lovers of parties, walks from dusk till dawn, dances, noisy celebrations, festivals. Toward evening the traffic on Bangla Road is blocked, the party life begins with nightclubs, striptease, drag queen show in "Simon Cabaret" – all that can be found in Pattaya.

Hotels and Tours near Patong Beach
There are a huge number of hotels located within walking distance of Patong with varying room rates. The prices are affordable when compared to other places in Phuket. You can rent a room for as low as 400 baht. Hotels with a good location where you can relax in silence, here very little, and their prices start from 2000 baht. Here, among the bustle of the city, you can have fun relaxing on the beach during the day, and in the evening visiting the bars, karaoke, exotic shows.
Below we list hotels near the beach. You can make a hotel reservation on ostrovok.ru, or use the hotel tour search.
Holiday Inn Resort Phuket 4 * (tours on level.travel, Travelata)
Diamond Cliff Resort & Spa 5 * (tours on level.travel, Travelata)
Phuket Graceland Resort and Spa 4 * (tours on level.travel, Travelata)
Burasari Phuket Resort & Spa 4 * (tours on level.travel, Travelata)
Holiday Inn Express Phuket Patong Beach Central 4 * (tours on level.travel, Travelata)
Impiana Resort Patong, Phuket 4 * (tours on level.travel, Travelata)
Hotel Clover Patong Phuket 4 * (tours on level.travel, Travelata)
Novotel Phuket Resort 4 * (tours on level.travel, Travelata)
Kokotel Phuket Patong 3 * (tours on Travelata)
The Kee Resort & Spa 4 * (tours on level.travel, Travelata)
Pride Beach Resort 4 * (tours on Travelata)
DoubleTree by Hilton Phuket Banthai Resort 4 * (tours on level.travel, Travelata)
The Bliss South Beach Patong Resort 4 * (tours on level.travel, Travelata)
Baan Laimai Beach Resort & Spa 4 * (tours on level.travel, Travelata)
Patong Beach Hotel 4 * (tours on level.travel)
Tropica Bungalow Hotel 3 * (tours on level.travel, Travelata)
Level.Travel and Travelata are online services for searching tours to all the tour operators and can completely replace the usual travel agency. Book tours without intermediaries.
Prices in Patong Beach, Thailand
Entrance to the beach is free. There are some shady spots, an area with umbrellas and sun loungers with a paid rental equipment. The cost of a deck chair is 100 baht, an umbrella and 2 sun loungers – 200 baht for the day. Skydiving – 1500 baht, toilet – 10-30 baht. Entertainment, food and drinks on Patong beach is not the cheapest.

Entertainment and services
Patong Beach in Thailand – crowded and spacious, brings together a huge number of tourists of different nationalities. Here you can find secluded corners, and noisy and fun vacation spots. Compared with the wild and remote beaches, this beach is considered less clean. It is located right in the town of Patong, so its territory offers a lot of entertainment, shops with goods (swimwear, glasses, toys, water, ice cream, cocktails, fruits and vegetables), services (henna tattooing, braiding, massage). Among the most popular activities are water scooters, parachutes, water skis, renting air mattresses, surfboards, scuba diving, beach soccer, volleyball.
For adults, there are plenty of recreational options: clubs, bars, erotic shows, live music, drag queen shows, strip clubs. In the Bangla Road area there are parties. There are supermarkets right here. You can eat at restaurants, including Russian, European and local cuisine, pizzerias, buy food in the shops on the streets, where it is prepared immediately.
A bird's eye view of Patong Beach" video
Other Beaches in Phuket
Patong beach in Thailand in Phuket is the most popular because of its proximity to the city and the availability of infrastructure. But it is not the best place to swim and relax in nature. Beautiful Thailand offers many alternatives.
Nai Harn with its snow-white sand and gentle entrance is the perfect place for a relaxing vacation with a sea lagoon. Nearby is a Buddhist temple. The length of the beach is 1 kilometer. Here the prices for food and drinks are not high, there is everything you need for a comfortable holiday.
Kata is a popular tourist destination that offers fresh seafood, rent a deck chair, and enjoy the warm sun and sea air. There are shady spots under the trees, and the sand is fine and soft, just like the seabed. Surfing competitions are held on the beach every year in mid-September. Just from May to October, it is the windy season here.
Karon is another lively beach in Phuket with many stalls and beach equipment rentals. The coastline is 4 kilometers long. Golden colored sand and azure water – the main asset of the beach. The number of people here is not as huge as in Patong, and across the street are hotels, which can accommodate tourists. Here is available diving, sailing, water skiing, surfing. Karon is located in front of Patong Beach.
Kata Noi is one of the most beautiful beaches. He is suitable for those travelers who like peace and solitude. The bottom is sandy with small flecks of rock. Available rent chairs and umbrellas, snacks and drinks at kiosks, restaurants. Located in the south of Phuket. Some of the attractions include jet skis and inflatable bananas.
Paradise – a sandy beach surrounded by rocks, which surprises with its natural beauty. There is a coral reef along it, so at low tide, bathing can be difficult. Here low prices for food, you can rent a deck chair and umbrella. It is not far from the tourist center, but, despite this, it is quiet and cozy. You can swim in the Andaman Sea or scuba dive and snorkel, watching the colorful fish. The highway leads to the beach, and then a narrow road, which in bad weather is difficult to pass on a motorcycle.
Freedom is Thailand's most beautiful beach, accessible only by boat. There are no entertainment and crowds of people, only nature and clear blue water. Freedom looks like a picture on a postcard and offers a cozy vacation, but you will have to spend money to rent a boat, paying about 1500 baht.

How to get to Patong Beach in Phuket
The distance from the airport to Patong town is 30 kilometers. If the tour includes a shuttle, you will get a free ride. You can also take a cab and pay 500-800 baht. By minibus is cheaper – 180 baht. You can buy a ticket directly at the airport, where there are sales desks. The cheapest way to travel – on a shuttle bus, the fare which is about 30 baht.
Tourists often prefer to rent scooters and motorcycles, it is inexpensive and convenient, you can see the beautiful places of the island and get to different beaches. Rental costs vary in the range of 300 baht per day.
In Thailand, not only a popular cab service Grab Taxi, but also motorcycle cab, and the price difference is at least 5 times. If you are traveling alone, you can save money by riding a motorcycle alone or with a driver. This service is available from 40 baht.