The two jewels of southern Thailand are the islands of Phi Phi Phi
Thailand is my favorite foreign country, on par with Italy. I want to tell you about my little trip to Phi Phi Islands for the New Year, where I spent a wonderful 5 days.
I want to make it clear how I choose the country – that's just poked and went (this is not about me) and I am not looking for the number of countries.Thailand I chose at one time out of several SEA countries and for six months I read all the reports of tourists in the Russian segment and chose Thailand rather than Bali or Vietnam, besides in my travels in choosing a country – I ask myself a simple question – Imagine that this is your last trip – and the question – will you go – the answer is YES!
Leaving for the fourth time in Thailand for almost 25 days, the question arose, and where to meet directly the New Year – 2016.
And again, many people do not choose the right Thailand they need! Thailand is very diverse and reading the reports – I understand what stupid mistakes tourists make, and above all, to avoid them, it is necessary as a lot more to read reports about the country.
My choice I made in favor of Phi Phi Islands, which are really one of the most beautiful on the planet. I hadn't been to them before, but I knew from tourist reports that it's a pretty relaxed and fun environment there, especially on New Year's Eve. I like versatile vacation, sometimes you need to not only dwell on the sights, but just to relax and even drink, with all the ensuing consequences of this event – to have more fun, especially since Thailand is perhaps more than any other country in SEA, contributes to this fully.
Before Phi Phi, I have already had time to rest on Phuket, flew and looked at the golden pagodas of Myanmar (Burma), about which you can read here "Independently in Myanmar – to meet the golden pagodas of Yangon" and spent almost a week in my favorite Ao Nang – admiring the perfect tropical landscapes and enjoying a wonderful vacation at sea.
The time came – December 30, 2015 and I had to leave Ao Nang and move to Phi Phi. The only option here is the boat Ao Nang Princess, which departs daily at 09.30 from Ao Nang, the ticket for the boat I bought at the reception at my hotel two days before the trip for 450 baht, then at the exchange rate it was 900 rubles. For more details on the transfer – I set out here – "Ferry from Ao Nang to Phi Phi Don".
Islands of Phi Phi – are part of the so-called golden triangle of South Thai (Phi Phi, Phuket and Ao Nang) – and in this triangle they are located in the very south – in the northwest – 20 kilometers is Phuket island, and in the northeast – 20 kilometers is Ao Nang, Krabi. And certainly in this triangle are all the most beautiful natural attractions of Thailand. Of course very beautiful and on Ko Chang and Samui, but before the beauties of the Andaman Sea they are far. So if you are going to Thailand for the first time, then do not hesitate and should go here and you will not regret it. If you choose the best.
Approximately three hours later the boat arrived to the only island where there is accommodation on Phi Phi Phi – this is the island of Phi Phi Don, only about it in this first report and will be discussed.
Most tourists (95 percent) are introduced to Phi Phi, through one-day organized tours and they are brought here in droves at the same time from Phuket, Ao Nang, Krabi, Lanta and other places.
Do not make this mistake! In my opinion this is one of the most unfortunate tours for organized tourists. So you ruin the whole impression of these islands. These tours are a mockery of themselves. In addition, it all comes down to a tour of only one island, Phi Phi Lei, where there are always a lot of tourist groups.
I, however, chose to visit Phi Phi Phi – on their own without a company and for five days. On the pier (the only one on the island), I paid 20 baht (40 rubles) tax to visit the island, quickly found my budget hotel and checked in. The hotel cost me about 20 U.S. dollars – booked 6 months before the trip. No problem to find hotels on the island, right on the pier – a lot of zazival. Hotels from expensive over $100 – to hostels for $10.
Around 1 pm I was on my way to the first beach, so I went back to the pier and walked along the beach to the left (when facing the sea). I usually prepare carefully, this time I prepared even more carefully – I had a map of the island even with paths on how to get to all the beautiful beaches.
To the east of the Pier, there are a few small beaches on the way and so those who are too lazy to walk 15-20 minutes – can stop at them – the only thing is that there are a lot of boats that are constantly coming and going, although the bathing area is fenced and safe. I, on the other hand, strolled further to the east of the island.
This is what it looked like from the slide – Phi Phi Don near the pier. This part of the island is called – Tonsai Bay
Phi Phi Don is the largest island of the archipelago (only 6 islands in it), an area of 28 square kilometers and a length and a width of about 3.5 kilometers.
In this area the biggest accumulation of hotels and the people – soon I came to the appointed first beach for recreation on the island – called it – Long Beach.
Particular grand plans for the day I did not build – and therefore stayed for quite a long time on this beautiful beach
There was very soft sand, azure warm sea from which I almost never got out.
And in the background in the distance – there was a second island – Phi Phi Lei.
It was one of the best beaches on the island.
The glare of the sun – made the sea incredibly beautiful. After a good rest on the beach, I went further on my map – to another beach that not many people know about. First I reached the reservoir, which is on the island, and from there I turned right to the east coast of the island. In some places there are signs to the beach, the road gradually turned into a dirt road and finally I saw a beautiful beach with coconut palms. It's a beach for those who want solitude – its name is Ao Loh Moo Dee, I swam there too. It was getting late and I went to the observation deck. It took me 40 minutes to get there and there were already a lot of tourists waiting for sunset. I waited for sunset and then took the steps down to the area where my hotel was.
December 31, 2015. It was the last day of the year. It was decided to devote most of the day to hiking around the island and seeing its best spots and beaches
The first thing I did was head back to the lookout, at sunset – the sun was blinding my lens and for the best photos it's best to get up to the lookout by 10am, which I did.
The road led uphill through many hotels. There are signs everywhere – so do not get lost.
Soon the road turned into a path and in about 15 minutes, I was already standing on the observation deck with a great view of the island. I could see the spit with the pier on the left and the beach of Loh Dalum Bay on the right, from which I began my ascent to the observation deck (see photo).
The crowd at this time was not much – only fifty people.
At the observation deck a lot of flowers in a small square and there is a cafe, the prices there are the usual, but alcohol is not sold and drink it on the set forbidden.
From the observation deck I went down to the fork in the road that led to the north of the island. Thanks to my maps, I was well oriented.
My way took me to the very north of the island – you can also get there by boat – but the prices are very expensive for a budget traveler, and I like to walk – especially in such beautiful places.
On the way I came across other observation sites, but without people
To tell you the truth, the road was pretty rough in some places, but it was interesting to walk through a tropical forest on the last day of the year.
Phi Phi, Thailand. Reviews and fresh review of Phi Phi Phi Island
February 2020 (updated: 06/18/2022) 7
Phi Phi is several small islands in the Andaman Sea between Phuket and Krabi. Phi Phi is considered a paradise island in Thailand. Although we don't like all those pop clichés and epithets, but at least we agree with most people.
Phi Phi Don Island is the only inhabited island in the archipelago. It is the main refuge of millions of tourists every year. The island is not just not losing its popularity, it is only gaining momentum, developing and seems to still be very happy to all who wish to see it. We loved it from the first seconds we stepped ashore.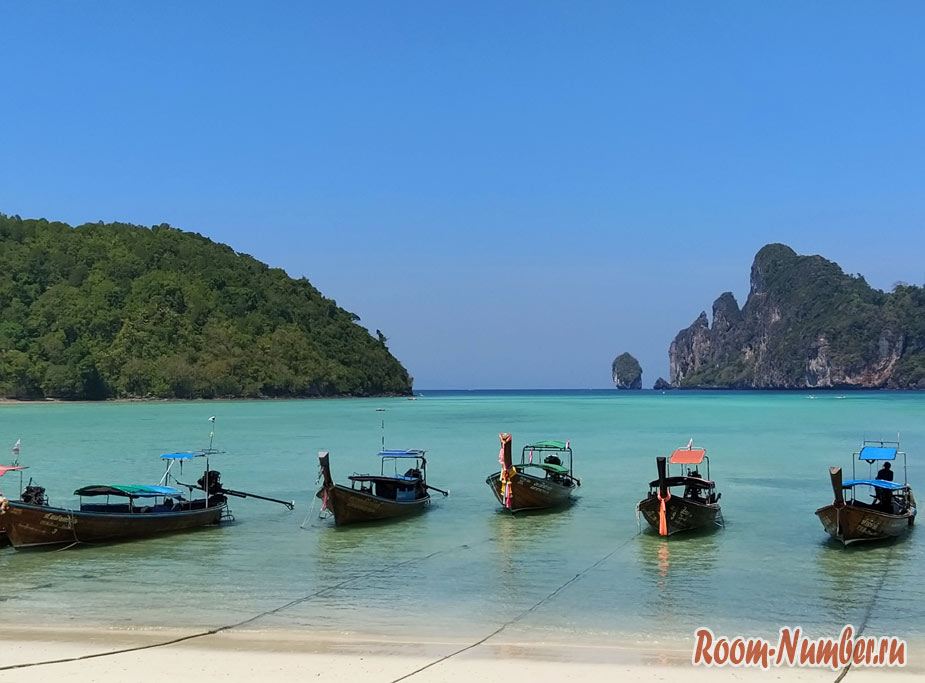 What Pi Pi Don looks like now
How many days to allocate to Phi Phi Phi
There is some information on the internet that there is nothing to do on Phi Phi Don for more than a couple of days. Allegedly, all you can manage to see more and more time will remain free. In practice, we turned out to be exactly the opposite.
We planned to stay on the island for 5 days, but then cut our stay to 3 days to have time to visit other islands in our itinerary. Three active days on Pi Pi Pi Don was not enough for us.
We did not have time to travel by boat to distant bays and beaches, to swim in plenty on our favorite Loh Dalum beach, to visit the observation deck not only by day but also at sunset. And this despite the fact that in previous years we have already been to Maya Bay, kayaking, saw the caves, visited the island of Bambu, we no longer go on excursions with snorkeling and beaches with monkeys.
If the above interests you, then you can safely take at least 7 days on Phi Phi. For example, Europeans generally arrive here for the whole vacation for 10-14 days, reaching on speedboats directly from Phuket Airport and Krabi. And only our tourists make do with two-day excursion with overnight stay, not seeing anything at all on Pi Pi Pi Don.
Read: How to get to Phi Phi from Phuket, Krabi and other islands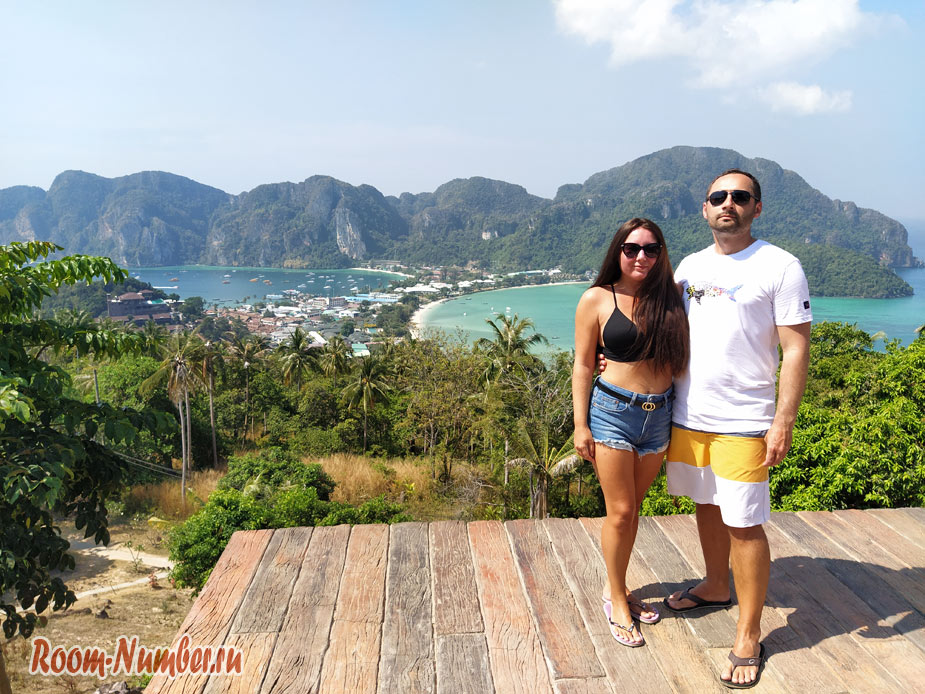 Beaches on Phi Phi with photos and reviews
The beaches are very cool. Moreover, there are so many of them, and people who do not go on excursions, there are few people left on the beaches during the day. There is no sense of crowds here. Some people are more taking pictures than swimming. The beaches on Phi Phi have only a couple of drawbacks – powerboats and pronounced tides. Otherwise, everything is great!
Read more: Beaches of Phi Phi with Hotels and Dots on the Map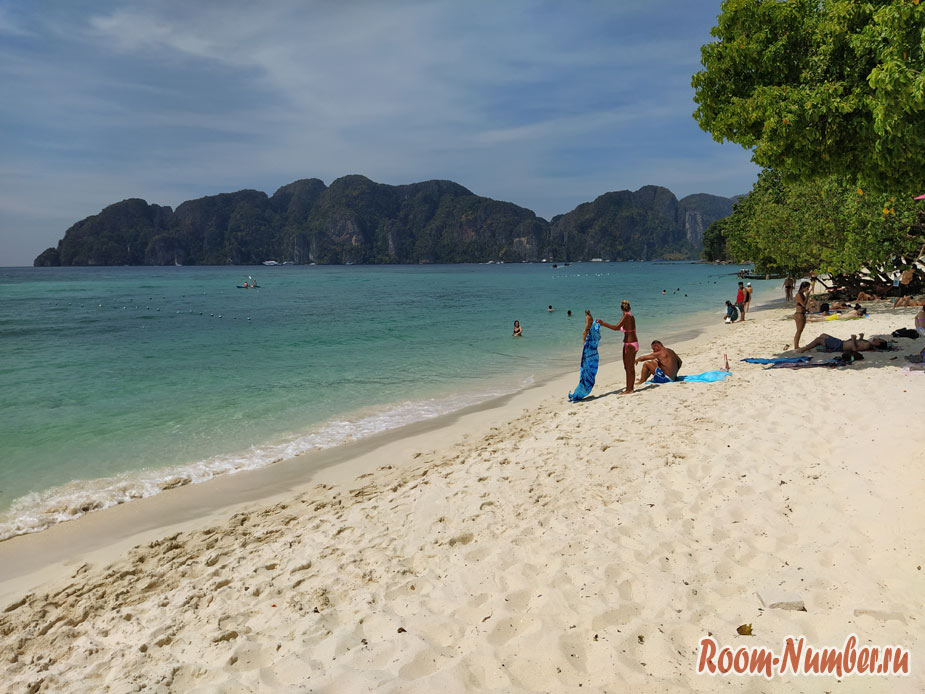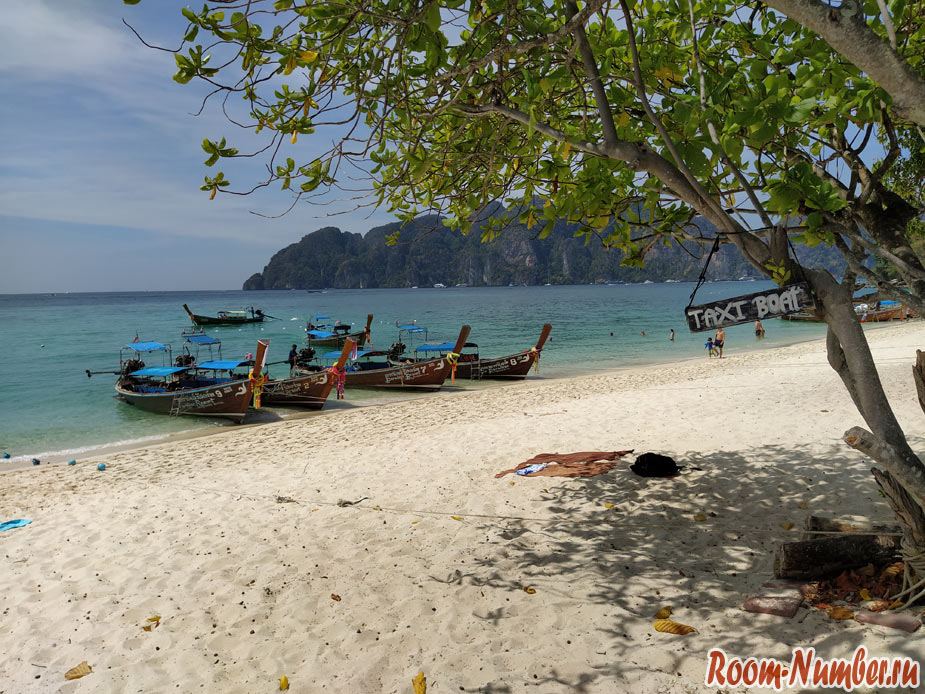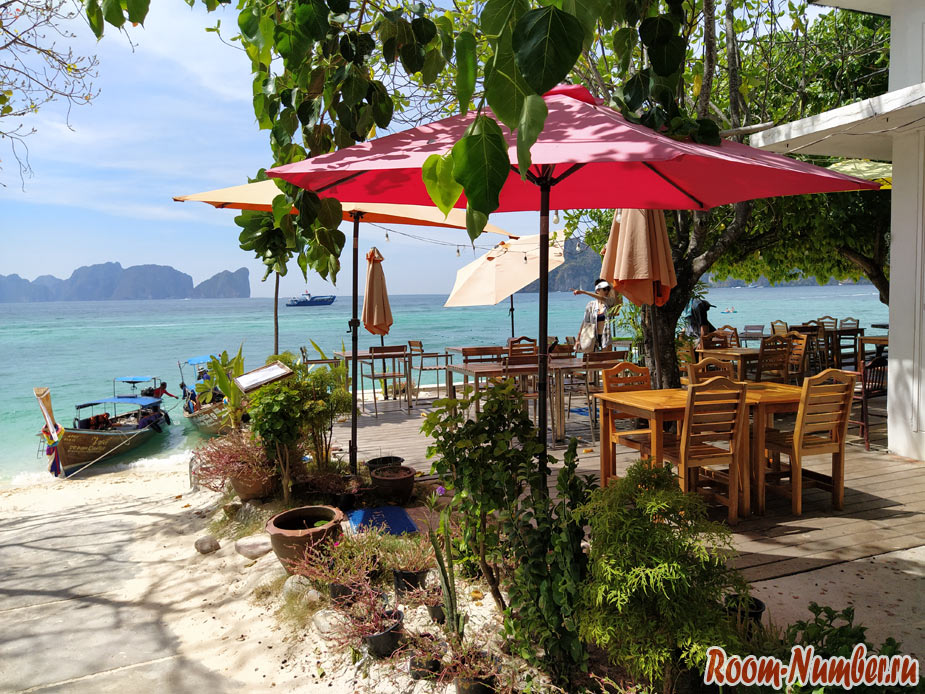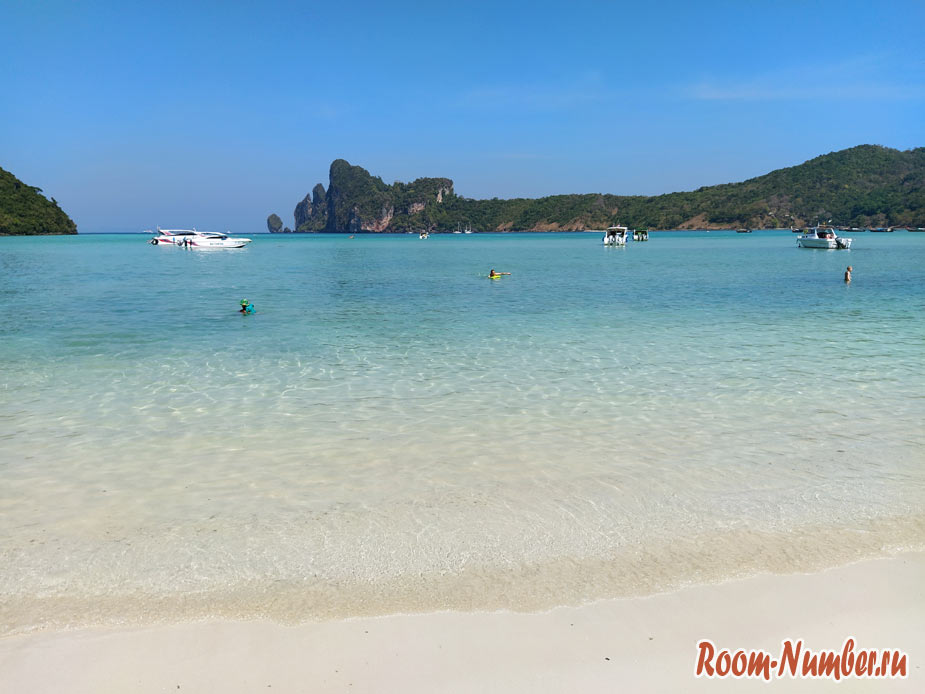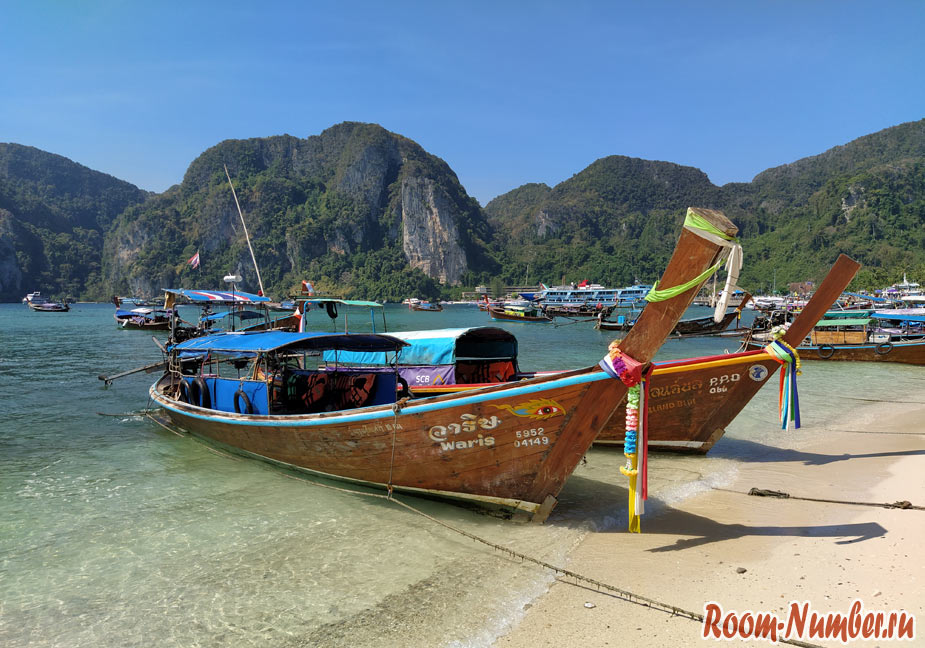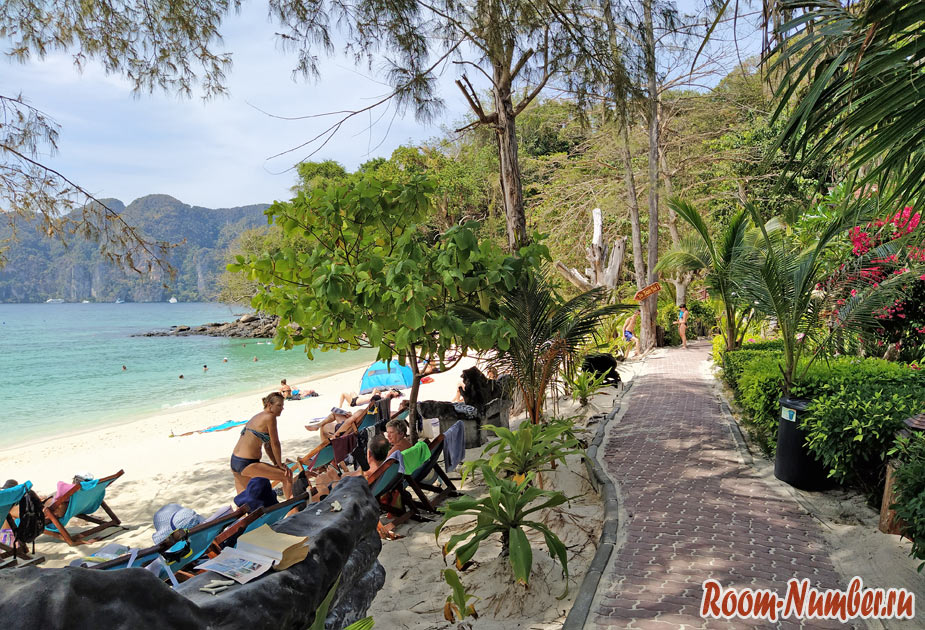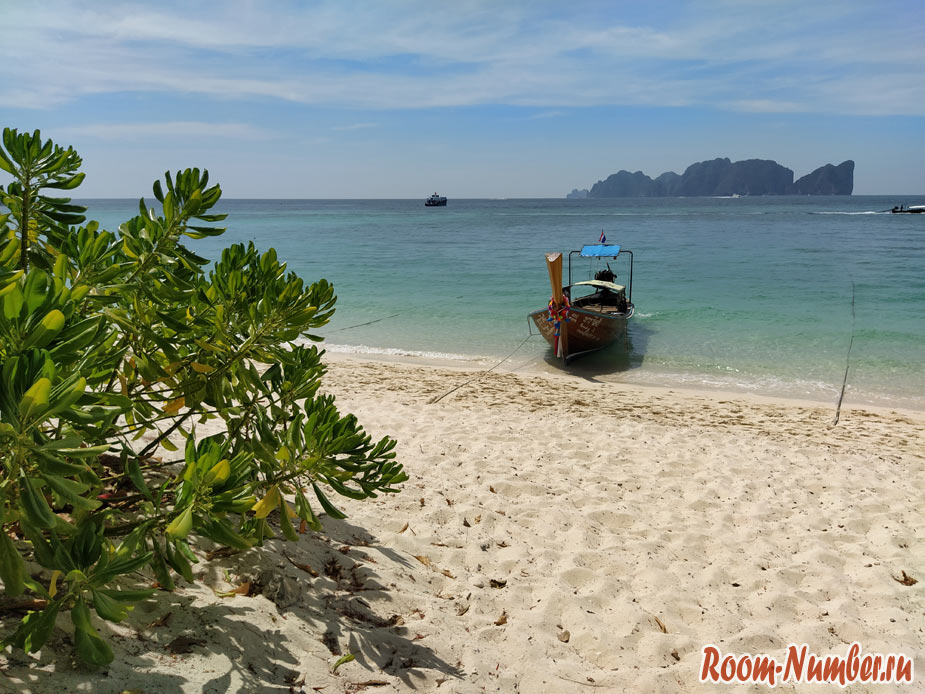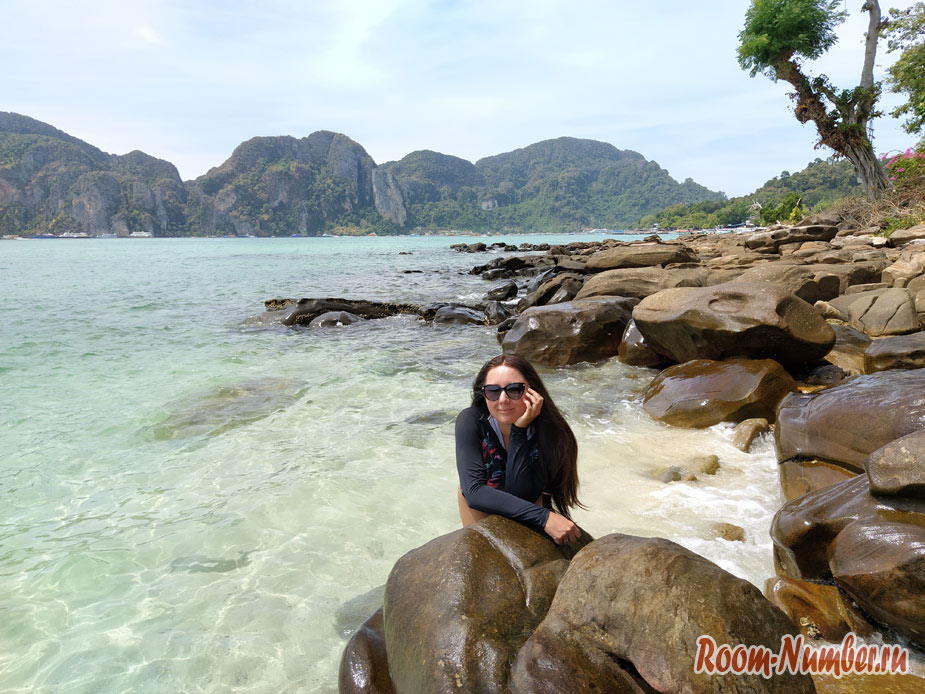 Infrastructure and Street Photos of Phi Phi Islands
Despite its small size, the island is strongly developed from and to. The narrow streets are lined with all the necessities of island life. There is no transportation, everyone gets around on foot. Only movers with carts are constantly going back and forth, dispersing the people with shouts of "beep-beep.
Excursions and tourist tents with transfers are at every turn. No one insists on buying anything, the colorful pictures are enough to lure the passing tourists.
Boatmen unobtrusively offer boat-taxi or just repeat "bot-bot".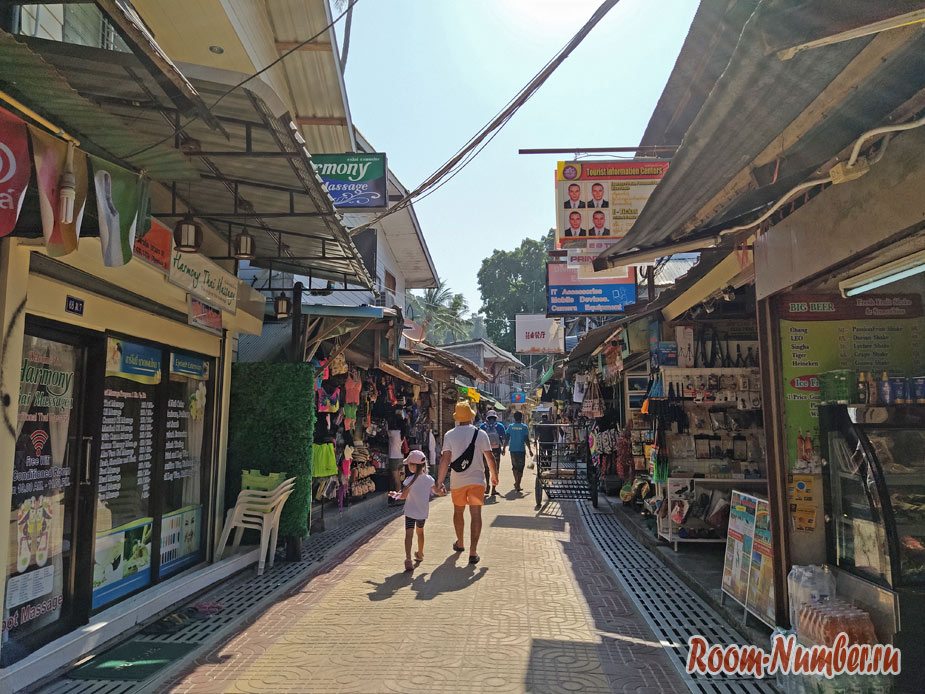 Lots of stores with bijouterie and cool clothes. I did a full-on shopping trip here. I bought things for the islands, the range is exactly what I wanted and what I couldn't even find in Bangkok at Platinum Mall. Prices, of course, higher than in the capital, but that's understandable, all imported.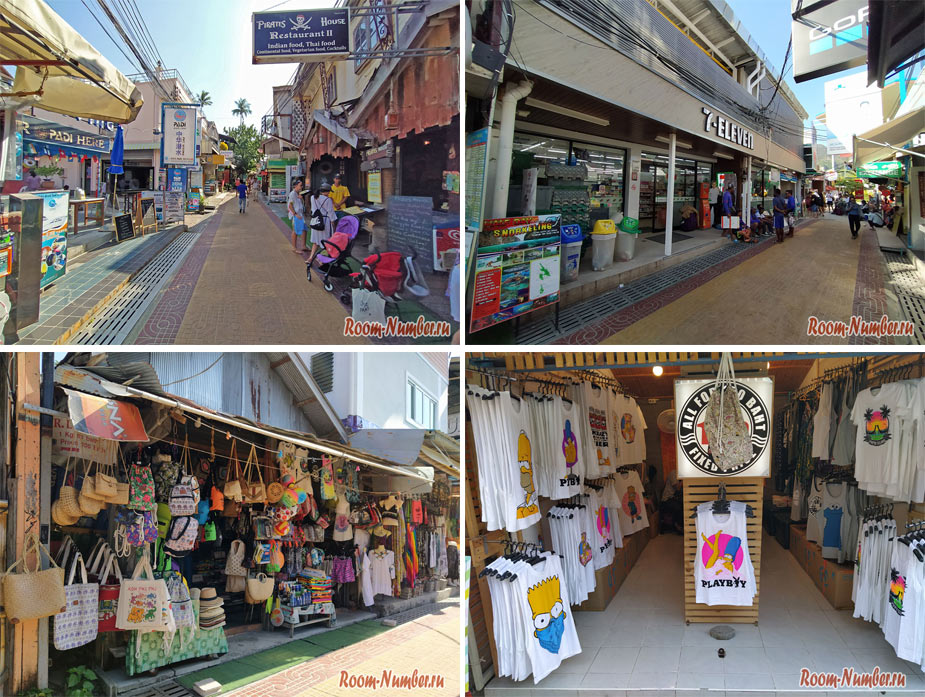 Street food in Phi Phi, fruits, markets, cafes, restaurants and food prices
Not all cities in Thailand have so much food per square meter, a large number of coffee shops and pastry shops with fresh pastries and even pizzerias, where pizza is baked in front of you in the real oven. There is good food everywhere during the day and in the evening.
On Phi Phi you can eat for two for 200 baht ($ 6) if you take something on the street. Or you can get it for 600 baht ($20) at a cafe. The big presentable restaurants will be more expensive. Otherwise, there are different prices. European, Thai and Indian dishes. Everyone will find a meal for their wallet and taste.
In the center of Phi Phi Town there is a market where everything is cheap.
Lots of fruit at almost regular prices.
A slice of the freshest pizza in the street pizzeria 80 baht ($2.5). One such thick slice is enough for two of us.
Breakfast at a coffee shop 150 baht ($ 5) per person.
There are several good fish restaurants. There may not be any tables available in the evening.
Full of food for 60-80 baht in small places you will find if you wander the streets.
There is fast food in the form of McDonalds, Burger King, The Pizza. But unlike other countries, this is not the cheapest food in Thailand.
Restaurant overlooking the sea in Long Beach
Interesting Notes and Features of Phi Phi
There are so many excursions that even 10 days are not enough to cover all that is offered here, swim at least twice at all the beaches and go on boat trips.
Very developed island.
There are many hotels and few good ones, you need to carefully study the reviews to choose the best. See our hotel Banyan Villa.
A lot of beaches and all as a match.
Prices at 7/11 are more expensive than usual on the islands, where you usually add 2-3 baht. Even more expensive than on Koh Lipe. Probably the most expensive Seven Eleven in Thailand. For example, a bottle of water 1.5 liters costs 28 baht (14 on the mainland). Lifehack: more profitable to buy water in a package of 40 baht for 6-liter bottles.
In some places it smells like sewage at night.
Tattoo parlors on every corner.
Didn't seem like a party island at all. Sometimes even peaceful. Whoever is looking for something on PhPhi Don will find it. There are beach discos, and there are quiet and almost deserted beaches.
90% of the tourists are young people from all over the world. Not once have we seen a lot of drunk and other inadequates. Perhaps if you go for a walk at 3 am, the chances are greater, but usually at this time, everyone is asleep.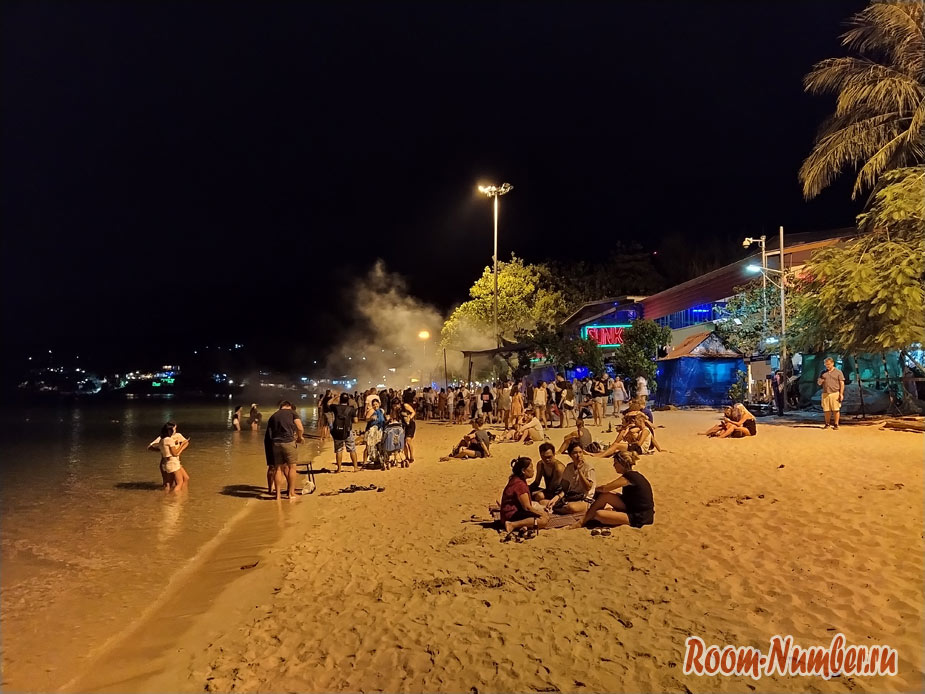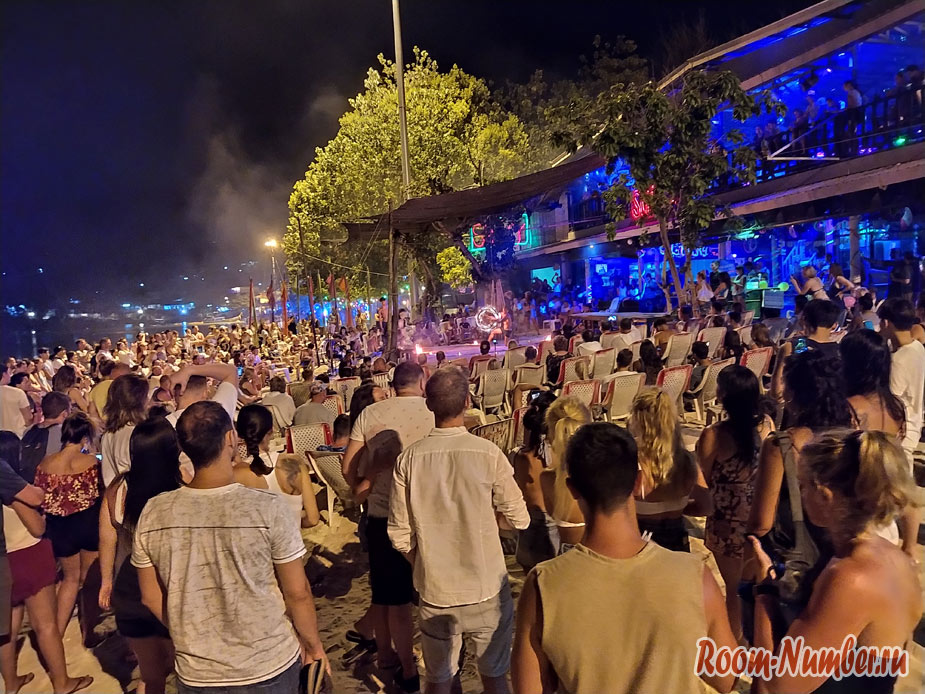 Also, there are a lot of cats here. It's just like in Turkey, except they don't build houses for them. During the day, all the cats sleep in the same positions.
Phi-Phi reviews
Phi-Phi is underrated. The last thing we'd want to do here is hang out on the beach in the evening and leave the next day. What about the mountains, the nature, the beaches, the views, the atmosphere, the islands all around, have people stopped noticing all that…?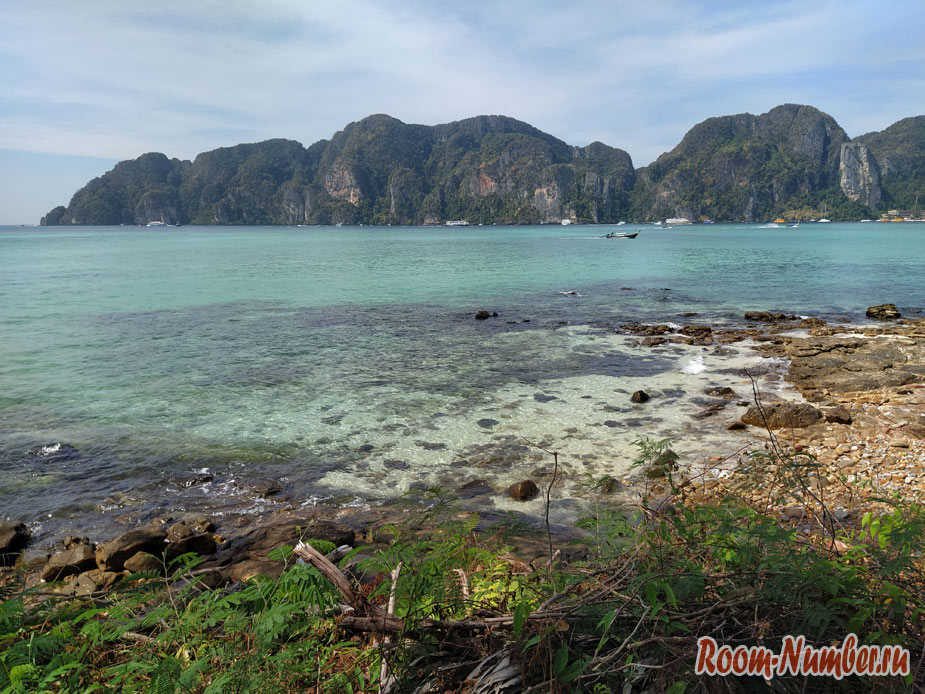 PiP has its own aura. It's relaxed and feels like a real vacation. Even we felt like we were on vacation. There are a lot of young people here, stylish, beautiful. Everyone behaves in a civilized way, everyone is positive. Few families with children.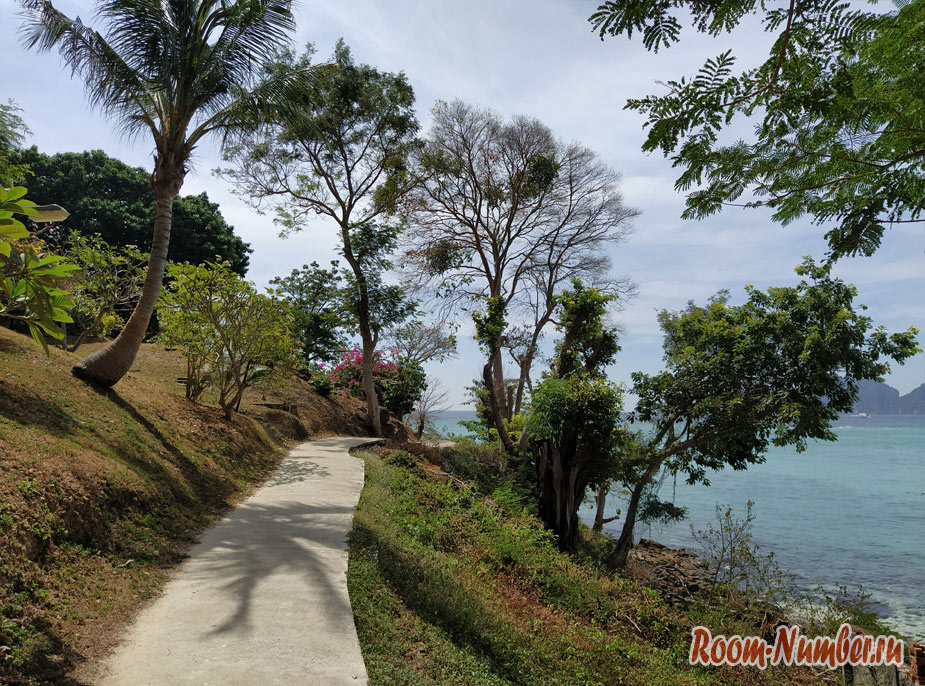 Some of the best beaches in Thailand. The combination of views, nature, calm sea, chic water, relaxation, normal prices and infrastructure create something that makes everyone so happy on this island.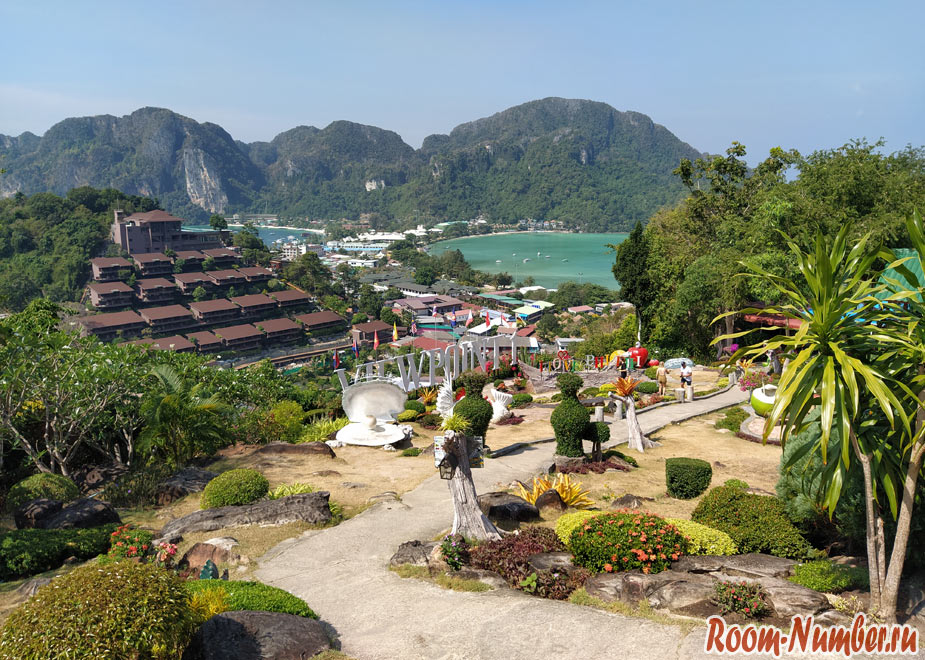 The views on Phi Phi are simply breathtaking. Everywhere you turn your head, the coast is insanely beautiful. You can not put your phone in your pocket, all around you want to take pictures.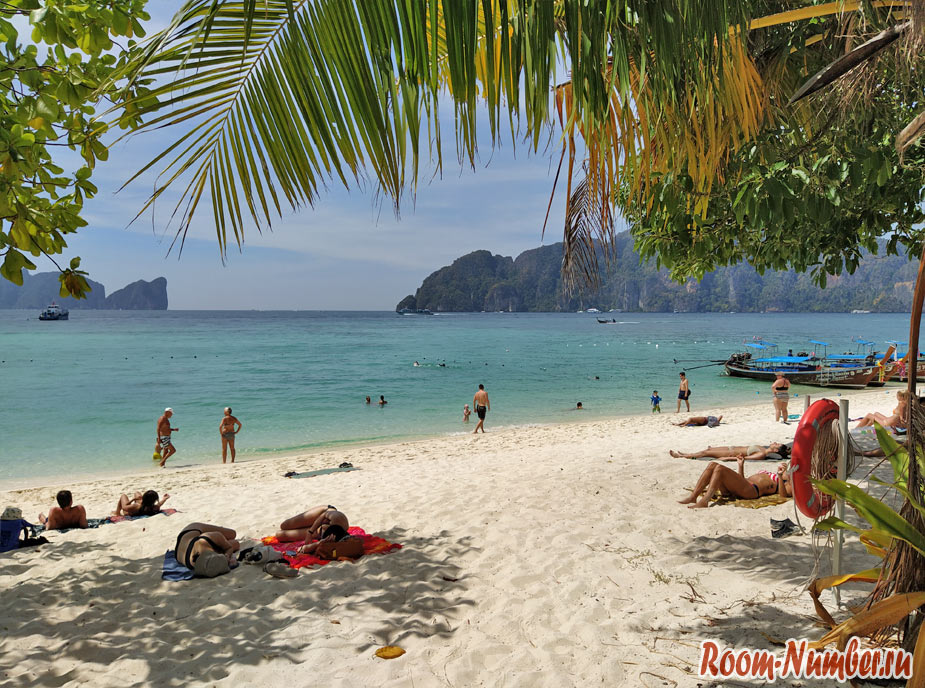 If you are interested in seeing it all, then do not listen to anyone and come for longer, especially traveling in Thailand on your own. If you love the beaches, know how to get aesthetic pleasure from the natural beauty, which is in abundance on Phi Pi, and you are not the kind of people who will howl after 2 days of island life, where around one bay, beaches and boat trips, then you are definitely here.
Good Hotels in Phi Phi
Phi Phi Banyan Villa
Phi Phi Phu Chalet Resort
Phi Phi CoCo Beach Resort
ChaoKoh Phi Phi Phi Hotel & Resort
Viking Nature Resort
Phi Phi Inn
PS: You read the article about Phiphi Islands in Thailand, which never once mentioned the annoying phrase that a Hollywood movie with the actor from Titanic was shot there