Purple Island in South Korea
There are many interesting places in South Korea that are a must-see. But recently the list of attractions of this amazing country added Purple Island (aka Purple Island).
Not so long ago the Asian social networks stirred the information about the appearance of such a place of interest. It is, so to speak, South Korea's most Instagrammable island.
As you understood from the name, this place is a real paradise with huge fields of lavender, empress trees that bloom purple flowers, purple houses, bridges and even roads.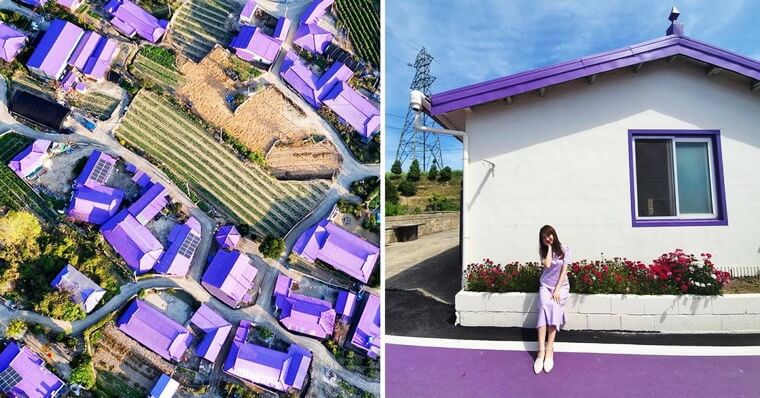 Where is it located.
It's actually a cluster of three islands (two of which are quite small). They are located in Sinan County, South Jeolla Province, in the southwestern part of South Korea.
The geographic coordinates are 34.71046, 126.11761.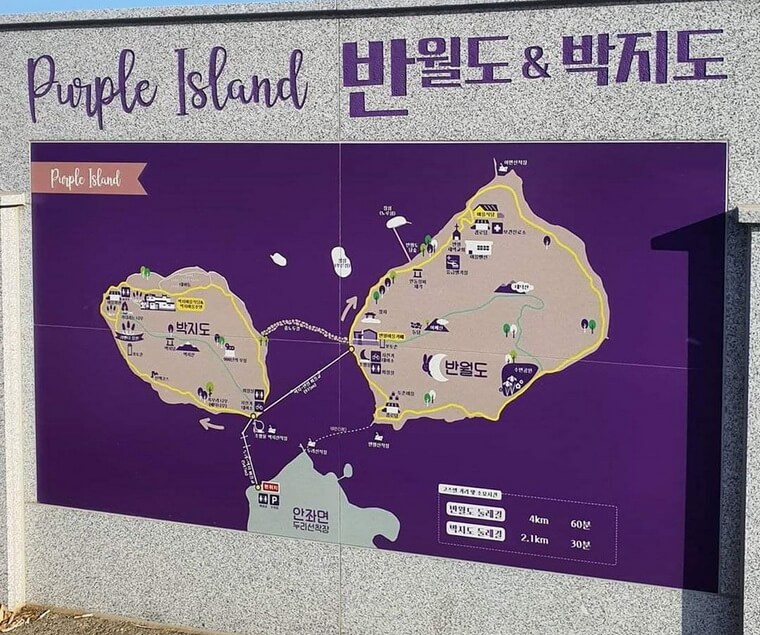 In fact, Purpoo Island is two small islands and a small part of the third (it is shown at the bottom of the map).
Why that color?
As many as three of the islands have turned into a very interesting landmark. Two of them (the small ones) are the most attractive.
It is not known exactly how the idea of turning the Banwol and Bakji islands – actually two pieces of land connected by a big wooden bridge (purple, of course) – into Purple Island came about.
There is speculation that they called it that because these places grow purple sweet potatoes, purple bells, and purple onions.
Anyway, in 2019, authorities in Sinan County in South Cholla Province announced the creation of a unique tourist attraction.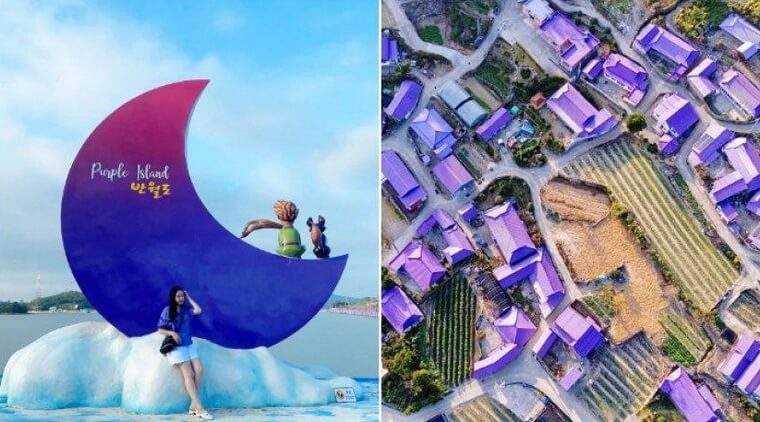 The plan was to plant about 40,000 lavender bushes, thousands of Empress (aka Pavlovnia felt in the scientific sense) trees, and other plants. In addition, it was necessary to paint the dwellings purple. In the end, roadside attractions and even the roads themselves were painted this color as well.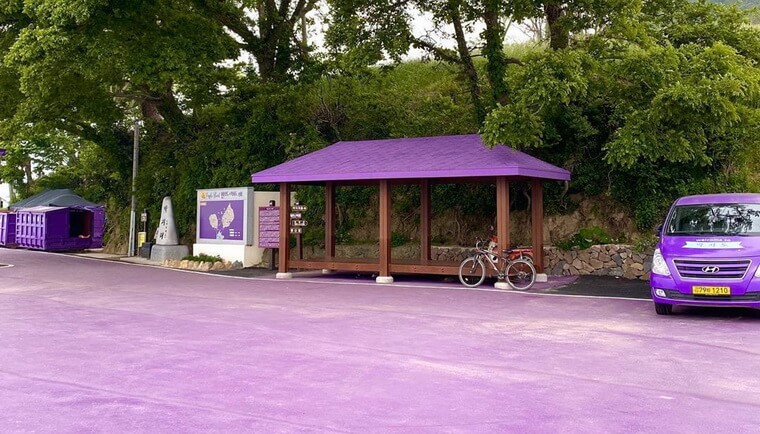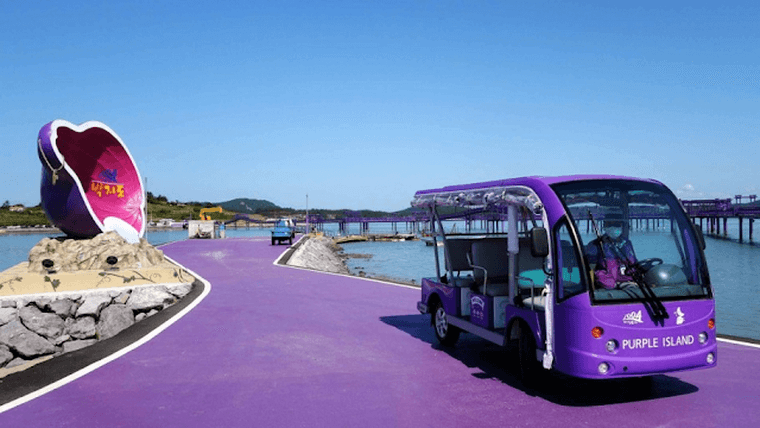 The main sights of the island
Purple Bridge
In addition to the crazy number of extravagant shades, it is worth highlighting the bridge that connects the islands of Banwol and Bakji. It's best to visit it at night, as that's when it pours its rich color.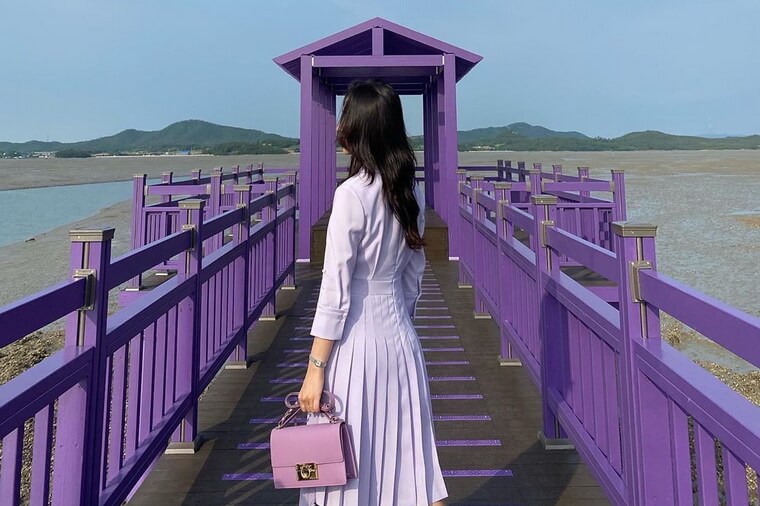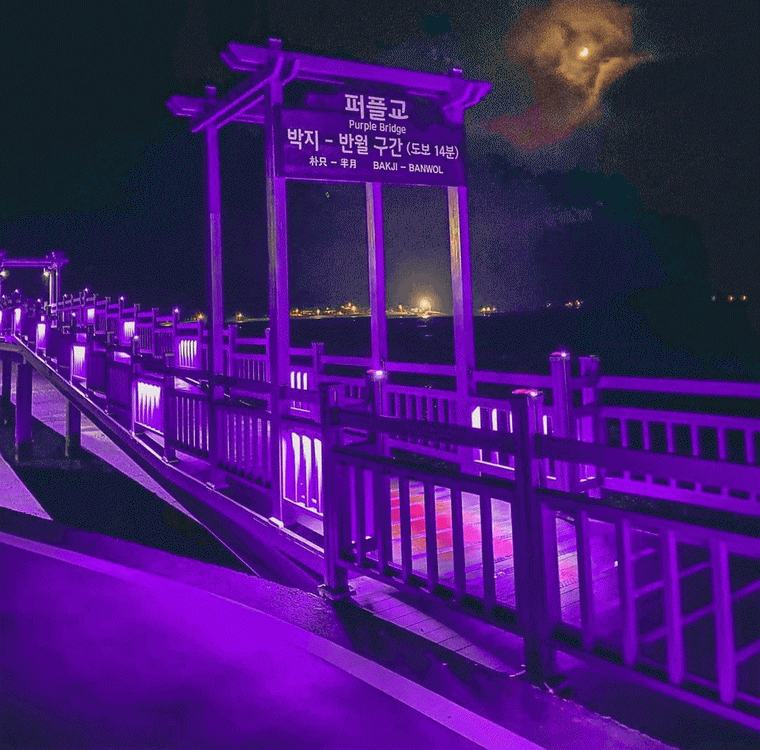 This is what the Purple Bridge looks like at night.
Hotel Rooms
Here, even hotel rooms, restaurants and restrooms are painted purple. Yes, and so are some of the local cars. These rooms start at 50,000 Korean won ($45 USD) per night.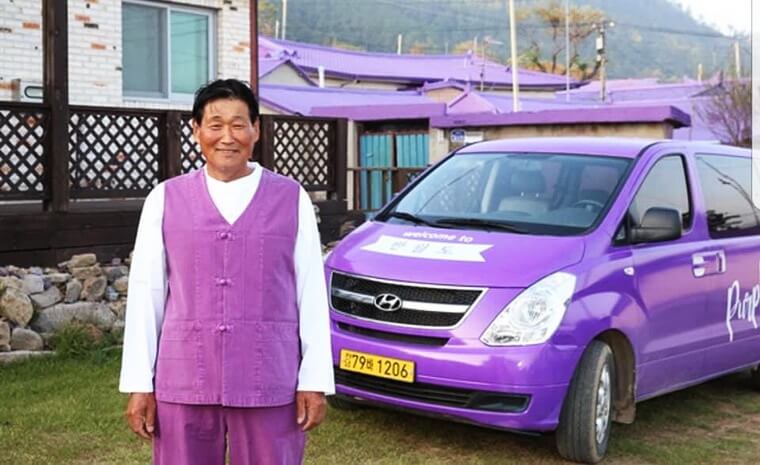 Unusual Graffiti
On your way to and from the island you can see an interesting object. It is quite an eye-catching drawing, complete with crowns of camellia trees.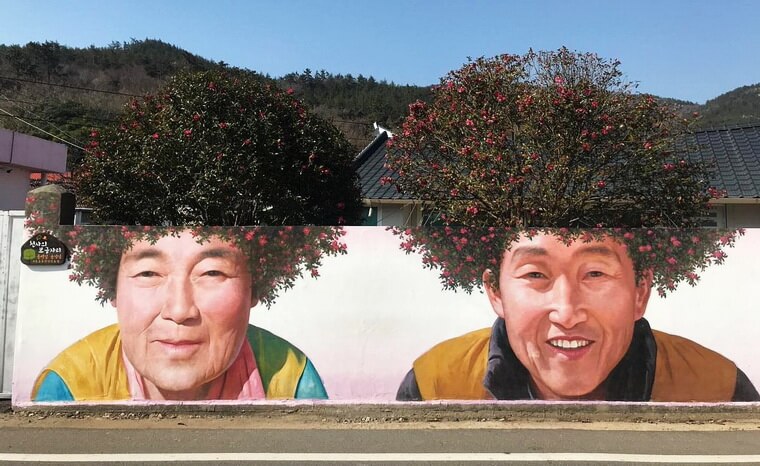 The graffiti adorns the fence of a house in Amthe-myeong village. The drawing depicts the couple Song Seok-sim and Moon Byung-il, who actually live in the house.
Locals say that originally a woman's face was drawn to the crown of the camellia. It turned out very original. So her husband planted another camellia nearby and asked them to draw his face as well. The result was such a touching picture
Ideally, of course, you should spend at least a couple of days here. In one you definitely can not fully enjoy this miracle.
Purple Island in tourism
Address: Purple Island 58 Banwol-ri, Anjwa-myeon, Sinan-gun, Jeollanam-do Open from 6:00 am to 6:00 pm (be sure to check opening hours before visiting) Admission tickets cost 3000 won (about $3) for adults, 2000 won (~ 2 dollars) for teenagers and military personnel and 1,000 won (~ $1) for children.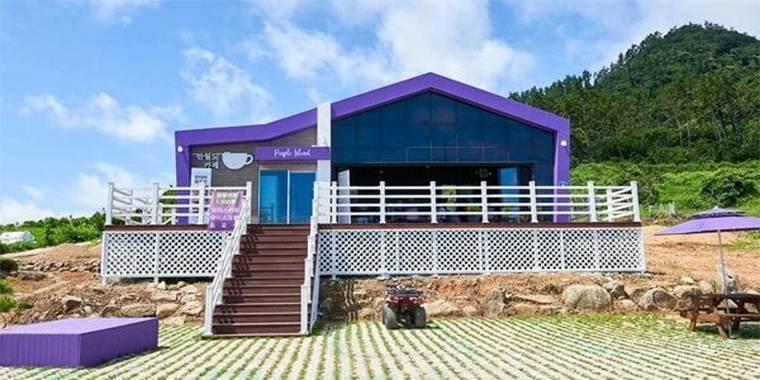 Purple Island Cafe
Experienced tourists are advised to dress in purple, then the visit will be free. If you do not have such clothes, then rent something purple, such as an umbrella. It will cost less than the admission ticket.
You can rent a bicycle for 5,000 won per hour (~ 4.5 U.S. dollars). Keep in mind that you can't ride a bicycle on the bridge.
If you have time, stay here to enjoy the beach atmosphere and the sunset. Work is still going on here. So it is possible that you and I will see many more interesting things and, of course, in the appropriate colors.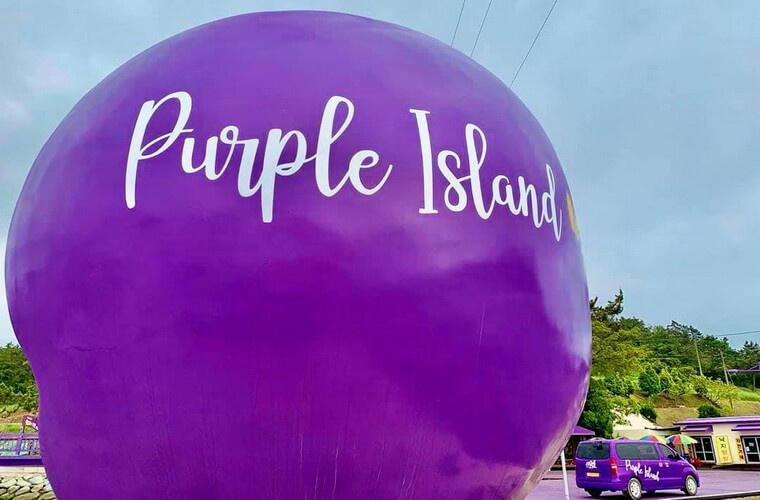 How to get there
First take the train from Terminal 1 at Incheon International Airport to Seoul. Then take the Korea Train eXpress (KTX) train to Mokpo Station in the south.
Take the bus to Anjwa-Myeon. At Anjwa village, there will be another bus that will take you to Purple Island. In addition to the bus you can take a ferry (travel time about 1 hour).
Keep in mind that it will take at least 10 hours to get here from Seoul, but the views and atmosphere of the trip are definitely worth it.
If you come here in June and July, you can see the stunning lavender fields in bloom.
The purple color makes you gaze dazzle. Purple Island in South Korea
Here you can see purple cars driving along the purple roads. Purple-clad residents with bouquets of purple lavender in their hands greet tourists friendly. Purple roofs of houses, purple bells in the gardens, purple rice in restaurants on the required purple plates – such an abundance of purple just make my eyes water. Meet the most Instagrammable island in South Korea.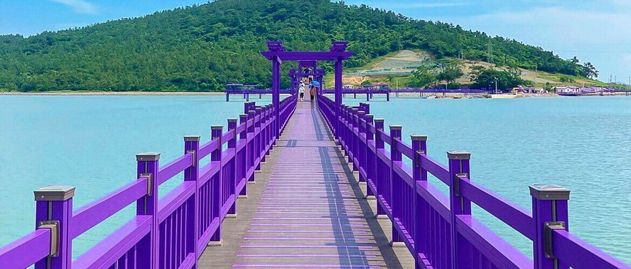 You can get to the island by the bridge, of course, purple/ © kukuhhutapea.blogspot.com
To be precise, it is not one, but as many as two islands, Banwol and Parkji, connected by a bridge. The islets are tiny and located in the very south of the Republic of Korea in Sinan Province.
Now no one will say who and why had the idea to make these islands into a branch of the Purple Country from the fairy tales of A. Volkov. Maybe because these lands have always grown purple onions and purple sweet potatoes. But the idea so captivated the few local residents, that they in a single burst began to change the design of their islands. This idea found the support of the Korean government. The support was so enthusiastic that as much as $3.3 million was allocated to transform the two islands into a purple paradise. And so in 2019, the work boiled on.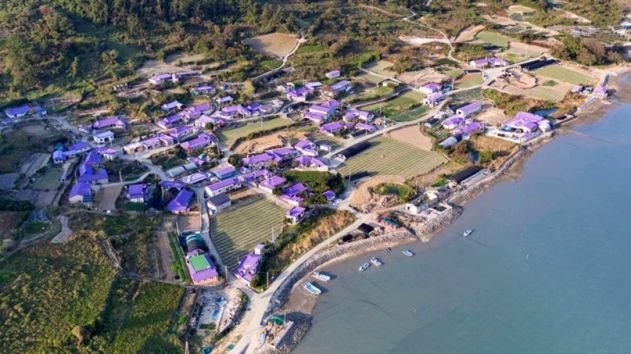 All of the island's roofs were repainted/ © kukuhhutapea.blogspot.com
In a short period of time, more than 28,000 square meters of house roofs were repainted, 40,000 lavender bushes were planted and thousands of imperial trees in a rich purple color. All the highways were painted, and the owners of the nearby machine shops must have made a fortune from repainting cars purple. The bridge connecting the two islands was, of course, also painted a deep purple. It was so spectacular that the bridge became the main Instagram spot for tourists.
At night this bridge is especially spectacular/ © kukuhutapea.blogspot.com
Speaking of tourists. They came to these islands like a river. Spent 3.3 million dollars had to be somehow recouped, so they made the entrance here paid – $ 3 per person. However, you can visit these purple doll islands and for free. It is enough to have clothes of purple shades, and in this case, a visit here will be free.
Purple buses drive on purple roads / © kukuhutapea.blogspot.com
Local hotels and their rooms have acquired the appropriate dress code, the interiors of restaurants and stores have taken on a deep purple hue. And locals, dressed head-to-toe in purple, leisurely work in lavender fields and relax in purple gazebos in the middle of bellflower beds.
Locals dress solidly in monochrome/ © reuters.com
So if you're lacking color in your life and the dreary autumn looming outside your window puts you in a minor mood, it's time to rush to South Korea in this miniature purple madness. The mood will be lifted, the moping will go away by itself.
And it will probably be the most expensive way to get rid of your autumn moping .
(This article was written using information from: cattur.ru; style.rbc.ru; bbc.com)