Puzzling World is Stuart Landsborough's world of weirdness and puzzles. Wanaka. New Zealand.
Puzzling World by Stuart Landsborough is located near Wanaka, New Zealand. This unusual place will amaze you with the wonders of science and optical illusions. "A wonderful world of weirdness" or "3D labyrinth" – that's what it's also sometimes called.
A combination of bizarre structures, rooms with optical illusions and the famous large Labyrinth are the main features of this amusement park.
Puzzling World challenges your brain and eyes and breaks down your perception of reality.
Where is it
Puzzling World is located on the outskirts of the town of Wanaka in the central part of the South Island of New Zealand.
Geographical coordinates (-44.69698, 169.16167)
What is Puzzling World
It was originally created in 1973 as an ordinary maze. But then gradually expanded and added many attractions. These include the Puzzle Café, various optical illusion rooms and many other attractions.
Also worth mentioning is the famous Wanaka Falls Tower, which is tilted at an angle of 53 degrees.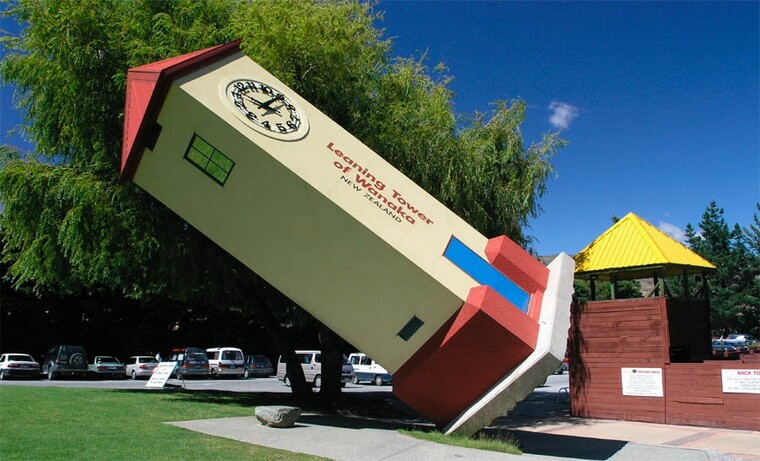 Wanaka Falls Tower
Interesting fact – the clock on the tower goes backwards, and it was launched just before the third millennium.
Great Labyrinth
It was created first in this park.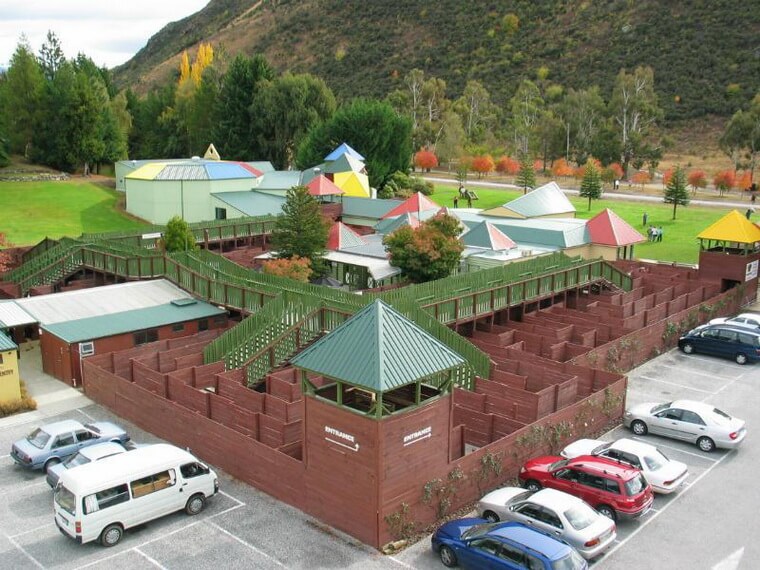 Puzzling World Park's Grand Labyrinth
The labyrinth is a classic tangled space. It usually attracts a lot of tourists who like to find their way out of tricky situations.
Hall of Followers.
This is a large octagonal room containing 168 sculpted images of famous faces.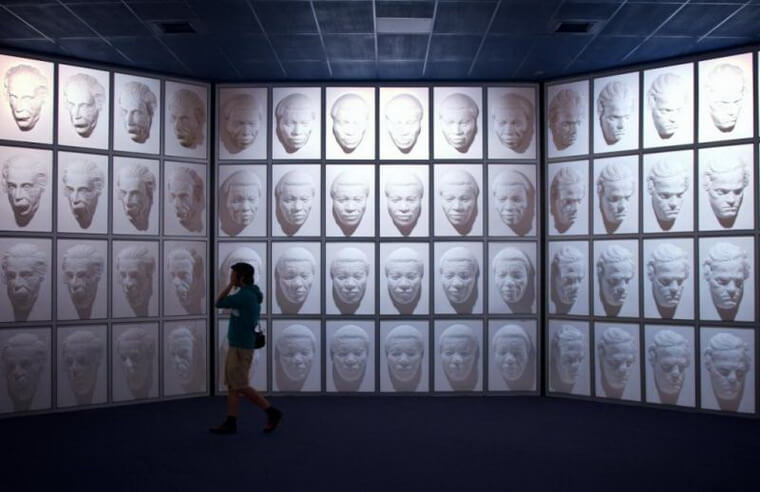 The Hall of the Following Faces
This is where you will become paranoid, as no matter where you stand, the faces of Abraham Lincoln, Mother Teresa, Nelson Mandela and other famous personalities will be looking right at you. When you move, it's as if they start to turn toward you.
The Ames Room
From the side it looks like people entering through the left door are giants, and through the right door are dwarfs.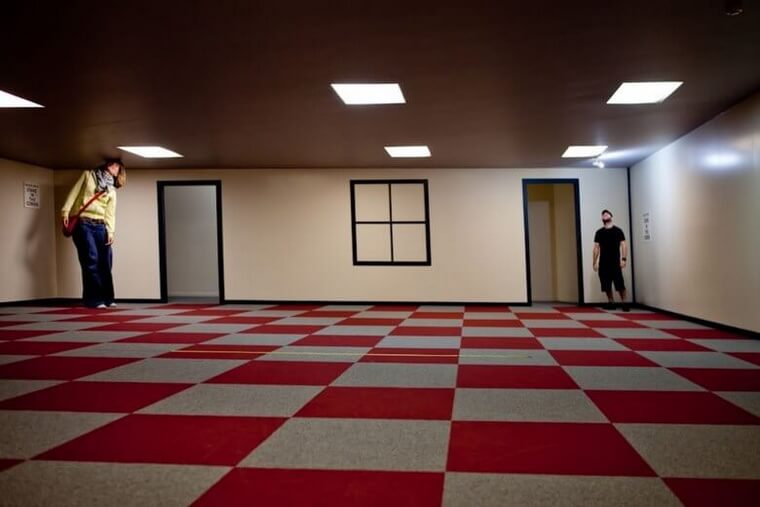 The optical illusion of the Ames Room
And if the "dwarf" walks toward the "giant," he begins to grow before his eyes.
The clue is in the shape of the room. The illusion of unchanging size and scale is created by its trapezoidal shape and the patterns on the floor, walls, and ceiling that smooth out the ratios. That is, in fact, the "dwarf" is simply further away from the "giant," and the entire interior is painted to completely hide it.
A house with a slope.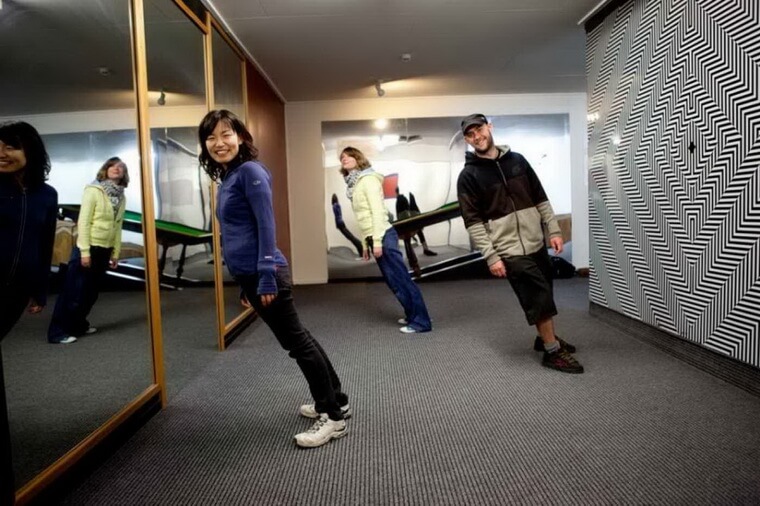 You can test your vestibular apparatus in one entertaining room in which the floor is tilted 15 degrees and the rest of the interior is visually correct.
The result is that your brain forces you to take the "right" position relative to the interior, and your vestibular apparatus stubbornly resists it.
Hologram room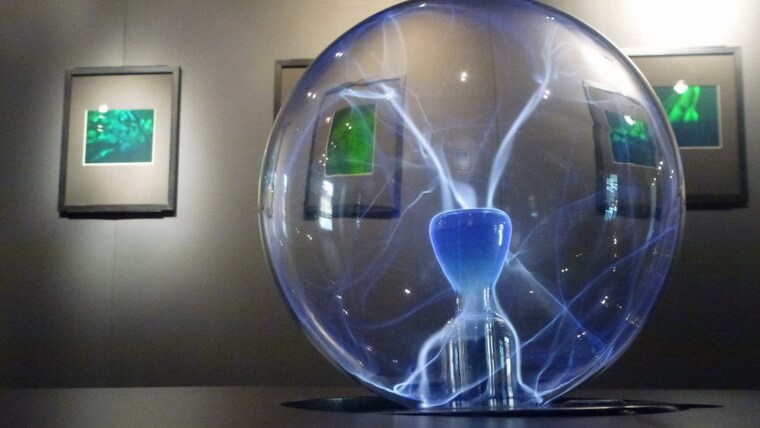 photo from the official site
Walk through one of the world's largest collections of stunning three-dimensional holograms. You will see rare Holoboxx and Holoblade displays as well as the park's own Mirrorscope hologram.
Sculpt-illusion gallery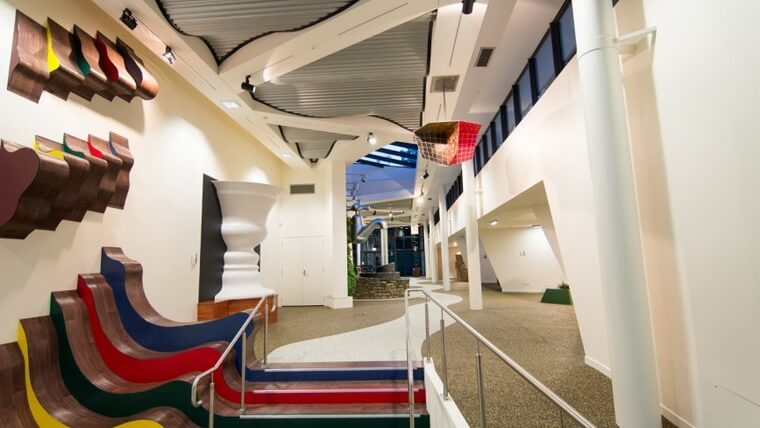 photo from the official site
It's a large, light-filled space filled with incredible illusory paintings by talented New Zealand sculptors. From floor to ceiling, architectural delights and artistic talent come together to create a room that is sure to impress you.
"Unreal" exhibits and a secret treasure trove
In one of the rooms you will meet various exhibits whose existence seems to be nonsense.
But they exist, and not even violate the laws of physics. For example, such an unusual bench. It seems unreal. But if you think about it for just 1 second, then everything falls into place
Years ago, the creators announced that there was a secret place in the labyrinth, which can only be found by possessing psychic abilities. Whoever finds it is guaranteed a cash prize of $100,000. Some mediums and psychics have tried to find this place, but failed.
It is an interesting fact that by 2007, over 2 million people had visited Puzzle World. And in March 2013 there were already 3 million visitors.
For information on schedules and entrance fees please visit the official website of Puzzling World.
Well, if you're tired of scientific tricks, then welcome to the world of fantasy. In New Zealand, Hobbiton, a real-life village of unreal characters awaits you.
Puzzling World. Wanaka. New Zealand.
From hosting birthday parties and team building events by day, or conference evenings and award ceremonies by night – we can provide a unique venue for your special occasion.
Share Your Adventure
Your family and friends aren't going to believe your tales of holding up a Leaning Tower, toiling with Romans, making balls roll uphill and shrinking to be 4 feet high without proof. Share your images (and tales) and blow their minds!
I like this – a selfie in front of the Dazzle Wall in the Tilted House, using the mirror reflection from the top of the slo.
It was hoped it wouldn't happen but unfortunately with 80% of our staff now in home isolation we're going to be closed tomo.
So. it's sounding a bit 'Biblical' now – we've been disrupted by sickness, power outages, it feels like a drought and now.
Happy birthday to the boss, Heidi – seen here with big sis Kim on a tour of their business over 40 years ago!
Yes, it's very sad that our favourite sponsored events – the Junior, Intermediate, and new Mini Challenge race events are u.
Not sure if Puzzling World is in your plans this summer? Why not 'try before you buy' and take a Virtual Tour here; https.
Here's a great stocking filler for that person in your life who loves a good 'Escape Room' – Will you be able to solve the .
If you've been handed the job of organizing the Xmas outing. and you've left it until now, don't stress, we can help!