Red Rock Canyon. Nevada. USA
There are many remarkable places on our planet. Mountains are of particular interest. And if the mountains are colorful, the interest grows exponentially. There are just such colored mountains in the western part of the United States in the Mojave Desert.
On the east side of the Mountain Springs Range, in the southern part of Nevada near the border with the state of California is the famous Red Rock Canyon (in the original Red Rock Canyon). The name of the place translates to Red Mountain Canyon. It is part of the National Park of the same name, which occupies an area of 792.45 km 2 (195,819 acres). Ten kilometers east of Red Rock Canyon is the edge of the legendary casino city of Las Vegas. In good clear weather, the Red Mountains can be seen from the Las Vegas Strip Boulevard.
Red Rock Canyon on a map
Geographic coordinates 36.158077, -115.433523
Distance from the U.S. capital Washington, D.C. Approximately 3,400 kilometers
To the nearest McCaran International Airport (located in the southern part of Las Vegas) is about 26 km
It is quite clear from the name of the canyon that the mountains are dominated by red. The unusual color combinations of the mountain slopes are always of genuine interest to many visitors. And Red Rock Canyon has a lot to see. It is not for nothing that about 2 million tourists come here every year. You can see the amazing shades of red, orange, yellow, and brown. Since 1968 this area was declared a National Park with the same name.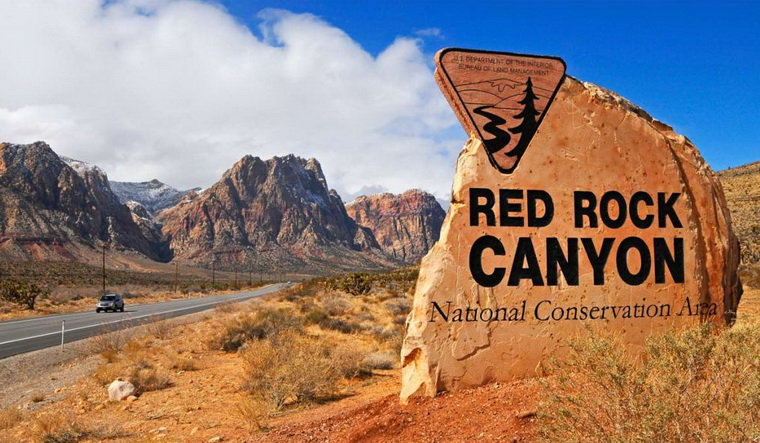 Here begins the national park
A bit of geology
Cliffs and cliffs have been formed in these places for millions of years. In the Paleozoic Era, about 600 million years ago, the area of what is now Red Rock Canyon was covered by an ocean. Year after year, limestone was deposited at the bottom. Over 350 million years, it was about 3,000 meters thick. In the Mesozoic era (about 250 million years ago), tectonic movements caused the crust to rise and more gypsum, salt, and iron deposits to form at the bottom. As the earth's surface rose, the iron oxides were cemented by calcium carbonate, creating the bizarre landscapes seen today. Much of the canyon is composed of sandstone called Aztec sandstone.
The red color of some areas of Aztec sandstone is due to the presence of iron oxide, or hematite. Exposure to the environment caused the iron minerals to oxidize, or "rust," resulting in red, orange, and brown rocks. Areas in which a rock can be stained are where iron is leached by subsurface water or where iron oxide has never been deposited. The red spots in the Aztec sandstone are iron-bearing inclusions where water has deposited iron oxide around a core in the sandstone. These spots are more resistant to erosion than the surrounding sandstone, and so small balls form here.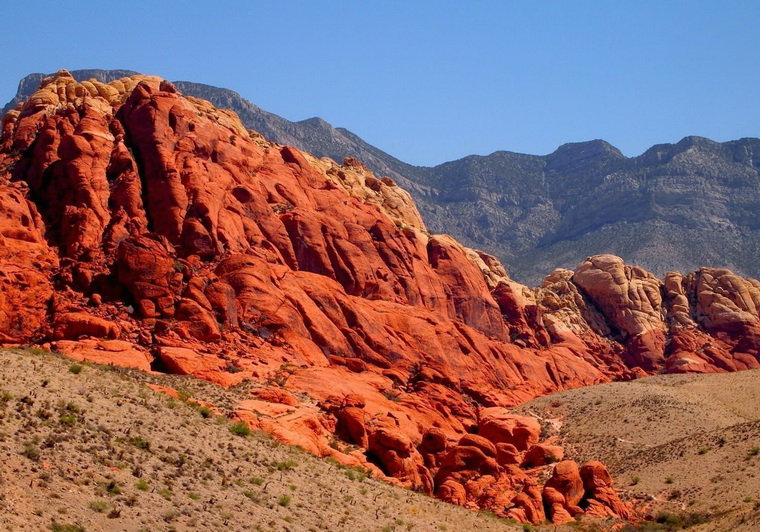 Red Rock Canyon today
The protected area features a number of large red rock formations, many sandstone peaks, and sheer cliffs called the Keystone Thrust, which can be translated as "Trapezoidal Castle Stones. They sort of cling to one another to form walls up to 910 m high, making them a popular place for hiking and rock climbing. The highest point of the area is Mount La Madre, 2,485 meters high.
The main circular one-way road, about 21 kilometers long, provides direct vehicular access to many of the important sites in the area. The visitor information center is located at its beginning. The bicycle road is also very popular for walking. In addition, there are many hiking trails. There are a total of 26 trails in Red Rock Canyon, varying in difficulty and length. The length of these trails ranges from 240 meters (the easy Petroglyph Wall Trail to the petroglyphs) to 22.5 kilometers (the difficult Bridge Mountain Trail). Below is a diagram of these trails.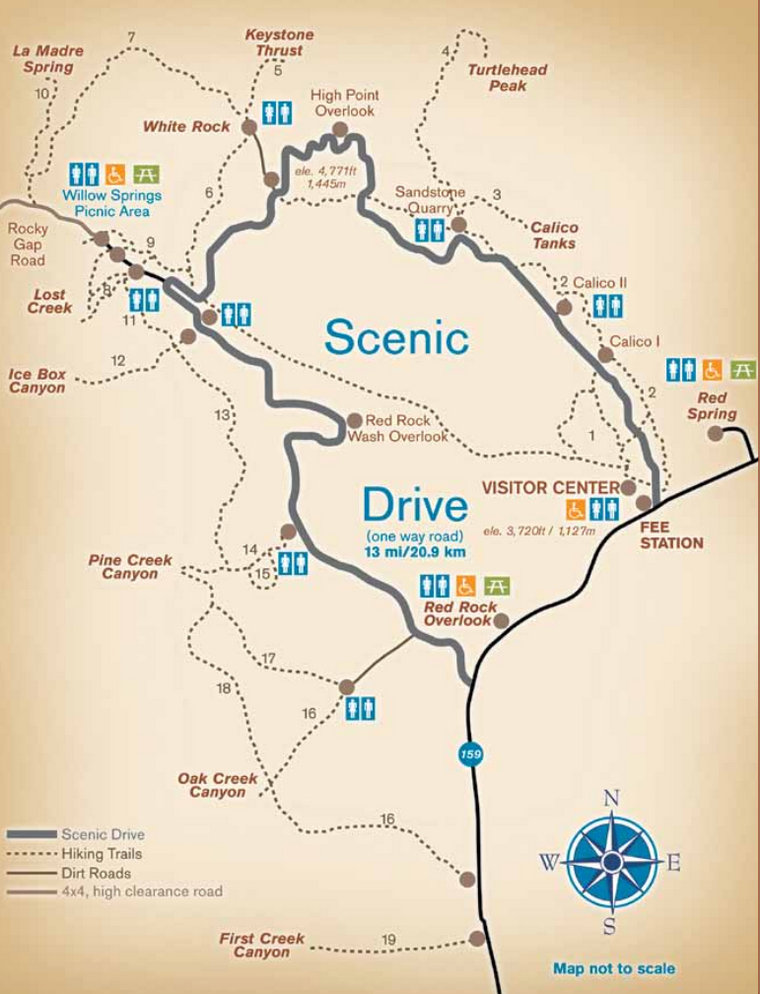 Red Rock Canyon Trails Schematic
The Kawaiisu Indians have lived here for generations, leaving petroglyphs on the canyon cliffs for posterity.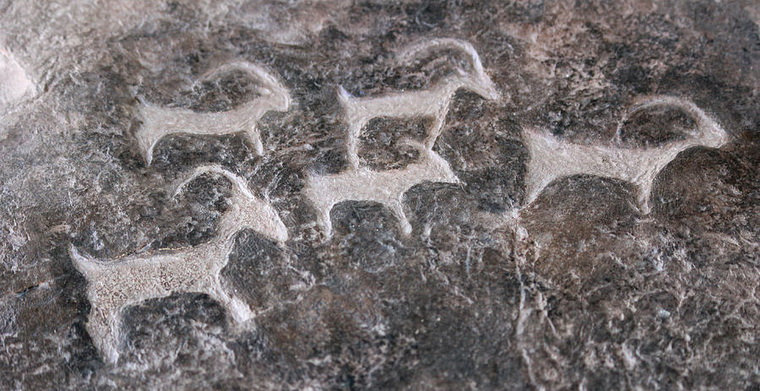 Red Rock Canyon Petroglyphs
Climate and Nature
Red Rock Canyon has fairly large temperature variations. It can drop to -18 o C in the winter and rise to +45 o C in the summer. Rainfall varies from 2 mm in June to 56 mm in February. But total precipitation usually does not exceed 300 mm per year.
Despite the fact that the canyon is in a desert, it can not be called uninhabited. There are about 600 species of plants, including coleogin, juniper, Yucca brevifolia (better known as Joshua tree), Yucca schidigera (also called "Spanish dagger"), agave, which can be twice the height of a man. You can see, so familiar to us, pine trees.
Animals are also diverse. Wild asses, gophers, rabbits and mice live in the neighborhood. Sometimes you can spot desert snow sheep, and during the rare spring and summer rains you can see tiny red-throated toads in small bodies of water. The national park area is a protected habitat for the desert tortoise. One male of this species named Mojave Max is even a symbol of the Desert Conservation Program.
Now along with the Arizona Wave and Antelope Canyon, Red Rock Canyon is one of the most interesting colorful natural attractions in the United States.
Hours of Operation.
The visitor center is open daily from 8:00 a.m. to 4:30 p.m. The time to visit the park depends on the season. November – February – 6:00 to 17:00 March – 6:00 to 19:00 April – September – 6:00 to 20:00 October – 6:00 to 19:00
Nevada. Las Vegas
Las Vegas is known not only for gambling, dubious weddings and, as you already know, affordable expensive toys, but also for great pay and free shows.
I have divided all the entertainment in Las Vegas into two groups for myself: daytime and evening entertainment.
Why this division? It's very simple – climatic conditions
We've been to Las Vegas twice. Once in late May or early June, and once in late October or early November. Both times it was so hot during the day that the asphalt was melting. It was like you just got out of the hotel and the sun was already beating down on your neck, not waiting for you to overheat. There was no time for fun.
No, if you have transportation to get from hotel to hotel, you can arrange a hotel trip (trip) and shopping, but it is better to stay by the pool, or even better to go far out of town, away from the red-hot concrete.
Apparently, the Las Vegas entertainment business took into account the temperature factor, and moved all of its shows to the evening. Thus giving tourists an opportunity to explore the Las Vegas neighborhoods. Well, really, in the evening you feel like a man, the city cools down (in November we even put on light jackets sometimes), you don't break a sweat in three streams, you are beautifully dressed, relaxed, quietly strolled along the Strip, had dinner at a restaurant, visited a show, got a lot of pleasure and relaxed after the day trips across the desert Nevada.
Grand Canyon.
If you got to Las Vegas from God knows where, it would be an unforgivable mistake not to visit the Grand Canyon, one of the world's most famous landmarks! No, if you came to lose all your money in the casino, drink all the champagne, eat all the grouse, or sleep it off, then of course you don't have to go to the Grand Canyon.)
Well, or you've already seen it in pictures :)))) and you don't like it, then yes, stay at the hotel! But personally, I have not met people who were indifferent Grand Canyon. I got sick of canyons in America – Grand Canyon, Bryce Canyon, Red Canyon – one is more beautiful than the other. On the other hand, I know people who preferred the Bellagio pools to visiting Antelope Canyon. I will not point fingers, although it was us
We were tired to ride and see the beauty. So, plan your trips with caution, my friends.)
Bryce canyon, 2010
Grand Canyon, 2010
So, the Grand Canyon. Believe me, Las Vegas will do everything in its power to make sure you enjoy your visit to this, truly, natural wonder. For some extra money they will fly you in a Hammer, and for some extra money you can take a helicopter ride to the bottom of the Canyon. Or you can take a boat trip down the Colorado River.
We chose the easiest, from the passenger's point of view – our own car, well, ours was a rental
The driver, of course, will be more difficult, because you need to find the right way, and find a parking lot, and one that the passengers do not have to walk for a long time :))
We combined our visit to the Grand Canyon with SkyWalk Bridge.
I could not resist, and borrowed a picture from the official website of the company Giroux Glass Incorporated. By the way, on this site there is interesting information about the design of the bridge.
The SkyWalk is the world's tallest glass structure overhanging a chasm. Cautious hikers carefully stepping on the glass floor of the bridge, which protrudes more than 20 meters above the precipice of the canyon, can cast a view of the river from a height of more than a kilometer (4000 feet, which, by the way, is 1219 m). Just as the customer, the local Hualapai tribe, wanted, the tourist should feel like an eagle soaring in the sky over the canyon.
Despite the flashy numbers, the SkyWalk's horseshoe bridge looks tiny in the Grand Canyon's vast interior.
You won't be allowed to drive up close to the bridge by car. Well, the Indian tribe didn't "build" this bridge for charity, did they?
Leave your horse in the special parking lot, buy tickets for the shuttle bus, which takes tourists around the whole entertainment park – there is an Indian village of craftsmen (you have to pay an entrance fee), which for some reason terribly reminds of some cowboy village, and a glass bridge SkyWalk (for extra money) with a view restaurant and a viewing platform (free) right above the cliff, and another platform, but without the bridge.
Many tourists prefer not to go to the bridge. And there are many reasons for that.
First, it is, as I noted, costs some money. It is $25 per person.
Secondly, tourists are not allowed to take on the bridge, not only backpacks, bags, purses, but even cameras and smart phones
So there are very few photos of the bridge itself – only those taken by photographers with local accreditation and in paper form. And in order a tourist, God forbid, did not carry a smartphone, he must be searched before he set foot on the bridge.
And thirdly, the glass floor is not so clean and transparent for perfect pictures. Of course, tourist photomodels clean it properly with their clothes, but immediately leave the imprints of their sweaty palms on it :).
We, knowing everything, still decided to feel like birds :).
What can I say, even we who are used to glass after the glass balcony in Chicago, glass staircases in New York, and glass floors in the houses in Fiji, it was exciting.
I don't know if people felt brave eagles on that transparent thing, some were moving around stupidly on all fours. There is a statistic, I do not know how much you can believe it, 10% of visitors, even after buying a ticket, do not dare to go to the glass SkyWalk. People are really scared. And the subtle crunch of glass underfoot causes a slight panic. That's something.
Yes, you can't take pictures on the bridge, but, beyond that, the entire Grand Canyon is at your disposal. Carry your bags, backpacks, and cameras all you want. But you still won't be allowed to approach the unfenced edge by vigilant officers – safety first!
Vigilant officer in a bright vest vigilantly watches that no one, God forbid, did not come to the edge of the abyss.
And we're not… we're not… we're just sitting there
It took us almost half a day to get to the SkyWalk and see the Grand Canyon. Of that, it took about two hours one way to get there. It probably would have taken a lot longer if we had stopped at the Hoover Dam. We didn't, just stopped nearby to take a few pictures of the bridge and that was it. This is where we were in 2010 with a tour and guide.
Hoover Dam.
Red Rock Canyon National Conservation Area
The next day of our stay in Las Vegas, we drank our fill of lounging by the pool and feeling guilty about cancelling Antelope Canyon, decided to visit the Red Rock Canyon National Preserve, proudly called Red Rock Canyon.
I don't know what I imagined (apparently, the Red Canyon of 2010 never let me go), but what I saw left me slightly puzzled. Where is the canyon?
And where actually is the canyon?
There are mountains, or to be more exact, hills. And one, no, two, two huge stones of beautiful red color, smoothly passing into yellow, and at the foot mixing with green. And an incredibly huge, simply immense plain, framed by these hills. But that was it!
Anyway, I came here unprepared for what I saw.
So, you read me and make allowance for my unprepared bewilderment
So, a huge park with a single looped asphalt "path. I call a trail an ordinary one-way road, 20 kilometers long at most. On this "trail" at some intervals near the most picturesque places there are viewing platforms with parking lots and toilets.
Sometimes there are wooden rough tables with benches at these points. But there are no cafes, restaurants, or water tents here. A clean nature reserve, untouched (except for asphalt) land, sparse vegetation, mostly cacti and thorns, unintimidating lizards, non-poisonous snakes patrolling their rocks, pesky flies
I think if you go for a walk on the hiking trails along the gorges, you might come across wildlife announced in the pavement circle guide map.
If there's a "No Shooting" sign, that means there's plenty to hunt.
But the longer we drove around the reserve, the more beautiful and interesting it became to me. I got used to the idea that it was a wilderness and calmed down. Just quiet and surprisingly unusual for a tourist from the forest-steppe zone nature. Heated air does not move, just the same does not move rare greenery, and stones of course. This is why you can clearly see and hear any movement on the ground, and the buzzing of rare flies (oh, okay, insects) seems so intrusive.
I think this place will lie on the soul of lovers of hiking in the wilderness. And if you like tents, camping, and spending the night outdoors, you might like it here :).
I almost forgot! You have to pay to enter the reserve. It doesn't matter if you go alone or with the whole group – you have to pay! But here's the interesting part. From the car will take 15 dollars, and it does not matter, you alone in the car or you have a whole family there. And if a pedestrian crosses the control line, it's $5. So you do the math. The reserve has an official website, all the necessary information for the tourist and prices there.
It is only free to leave the reserve.