Just on Easter Sunday, April 08, 2012, the family had a chance to escape after the Holy Week celebration and opted to drive to Enchanted River in Talisay, Hinatuan, Surigao del Sur.
We departed home right after the early morning Easter mass at around 7:00 o'clock. It took us almost 4 hours to travel from our hometown, Trento, Agusan del Sur to Talisay, Hinatuan, Surigao del Sur where Enchanted River is situated.
Here today, I will just share to you the Roller Coaster Road to Enchanted River. More images on my upcoming posts.
The road was really wet — muddy, the best word to describe because of the rain. Since it was the first time for the family to visit the place, we were amazed with the Roller Coaster-like road from the highway of Hinatuan, Surigao del Sur to Barangay Talisay.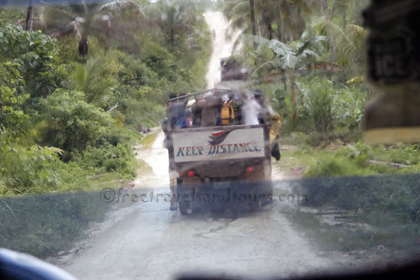 We really didn't expect the road situation because there were no reviews online mentioning how bad the road to Enchanted River was.Nonetheless, we just made fun with the Roller Coaster Road to Enchanted River.
Pardon me of some of my images, by the way. Though I took this using Deborah, my Canon EOS 60d Camera, I still have had hard time taking these photos because of the rough bumpy road plus the heavy rain. And the fact also that I was seating next to the driver, most of the images captured were not-so-of good quality.