Russian Disneyland
The first analogue of the domestic format Disneyland appeared in Russia in Sochi. Having got here, you will find yourself in a Russian fairy tale.
You will get acquainted with all Russian characters and, as they say, "…you can smell Russia here". The park has five areas, which, of course, it is impossible to walk around at once. But you can find something you like. So, more about the territories: the first – "Alley of Fires", the second – "Land of Heroes", the third – "Enchanted Forest", the fourth – "Eco-Village", the fifth – "Land of Science and Fantasy".
In every corner you can decide what to look for, but let me give you a hint that in the "Region of Bogatyrs" there are the most extreme rides – such as "Quantum Leap" with the height of 40 meters, "Snake Gorynych", the essence of which – Russian-style roller coaster: there are more loops, you hang upside down longer, the turns are steeper. The third and pretty strong impression among extreme rides in Sochi Park is "The Firebird", where you will be lifted to a height of about 65 meters and you will abruptly fly down at the speed of sound. To say that you will be scared is to say nothing, you will get a huge dose of adrenaline.
Map of Sochi Park in Adler.
But in addition to extreme attractions, of course, there are many children's and family simple rides. You can have a quiet waltz in the cups, fly on the swings, and much more. If you are tired, I recommend to go to the territory of "Eco Village" – there is a wonderful puppet theater and dolphinarium with performances every 30 minutes (two dolphins and one sea-cat perform). By the way, you can swim with them, but the pleasure is not cheap, will cost you 5,000 rubles, while the visit of the presentation – for free.
Those who are tired of rides and just want to sit and relax, can easily find a comfortable place in the "Eco-Village" near the mill, sitting down to admire the way the water flows down from it. You'll relax, admire, and be in great spirits. If you're hungry, there are many different eateries and cafes, where everything is very tasty and inexpensive, and you can not doubt the quality, since the checks here are strict.
Fans of water shows will not be left without surprises either, there is an amazing "Aquatic" show with special effects – light and music. In the "Land of Science" you will find "Experimentarium" and similar attractions, where you can touch, try and experience everything, as well as playgrounds, decorated as the jungle, there you can also dance on the musical floor and swim in the fountain, which beats in all directions and is able to squirt different pictures and words.
Throughout the park there are a lot of different decorations with scenes and characters from our national cartoons, for example, Wolf and Hare from "Well, wait a minute", Leopold, and The Cat Scientist from Pushkin's tale will meet you at the entrance to the park, and many other residents you will meet. Animators walk around and entertain you everywhere and do not leave you without attention, maintaining the atmosphere of the holiday all the time. On the platform at the entrance to the park there is always some action (concert). In the evening, the dancing fountains show is joined by a laser show and fireworks.
Now to the question of how to get to this magical city of childhood. The best and fastest way is to take the high-speed train "Lastochka" to the stop "Station – Olympic Park", and then walk through the Olympic Park. Sochi Park borders with the Olympic Park. So everything is close by. You can buy a ticket in several ways through the official website at a discount or on the spot. The cost of tickets varies: if it's simple for one person, the ticket costs 1,710 rubles, and if you take a family ticket, the ticket costs 5,000. You pay once. You ride everywhere and as much as you want.
You can enter and leave the park an unlimited number of times. If you need to go out, you'll need to put a mark at the controller's hand and get the mark, and of course keep the ticket until the end of the visit to the park. The park works every day from 10 to 22, and when you buy a ticket you'll definitely get a map, so you won't get lost and it's more convenient to plan your visit. All attractions finish their work for half an hour before closing the park. Have a good trip!
Sochi Theme Park, Sochi – review
Why do we have to go to Disneyland if we have such a wonderful park ourselves! I wrote in detail about everything, including the coolest slides and how to save on a ticket.
I've been to Sochi Park many times, and despite that I still want to go there again, just like to come and swim in the Black Sea. Well, let's begin.
1) Prices.
The price list is constantly changing, because it depends on the time of year. In summer, of course, prices are the most expensive. Now adult ticket costs 2400, children – 2250. If you buy tickets online, their price would be 100 rubles cheaper. There are also tickets for 2 days in a row. Naturally it's more profitable to buy this way, personally I would take one. As a gift for a 2-day ticket give a ride on the Ferris wheel. Yes, it is not included in the price, separately now costs 650 rubles.
Sochi Park has a strange system for determining the children's population.
Children's tickets – for guests from 107.1 to 140 cm
Adult tickets – for guests from 140.1 cm and up.
Guests up to 107 cm are free of charge.
There are benefits for pensioners, disabled, large families, but the discount is ridiculous – 100 rubles, I think. Persons with disabilities of 1st group, disabled children and people older than 65 years old pass through for 500 rubles.
You can buy a Skywalker fare – you'll get on all the rides without queuing, but it's very expensive. Without it you can ride every attraction once a day.
2) Location and opening hours.
The park is next to the Bogatyr Hotel and the Olympic Park. Not far there is the Imeretinskaya embankment and hotels Imeretinsky, Sirius, Radisson.
This is the road to Sochi Park if you walk from Imeretinskaya embankment past the souvenir market and Bogatyr Hotel.
The park is open from 10:00 to 22:00. It is worth to take into account that if you go to the park for example at 6-7 PM, you will still pay as much as for the whole day.
3) attractions.
And everyone can find them to his liking: from horses to roller coaster. There are a lot of rides for kids under 4 years old, too.
I liked almost all of them: horses , tea set (like horses), octopus, cars, whale fish wonder (water roller coaster), fire bird and pincode balloon. Don't worry about your belongings. You can leave them in the storage room at the entrance to the park or in the boxes next to the rides themselves. Rides are not allowed with phones or backpacks. It is forbidden to take videos on rides. Now I'll show you some of them.
Pincode Slide. Next to the slide you will see the Smeshariki figures from the cartoon "Smeshariki Pincode". You always have to stand in line for an hour at a time. It's considered a roller coaster by feel and appearance. Rode it many, many times.
The only roller coaster that even young extremists as young as four years old can ride!

The winding track at a height of 16 meters with steep climbs and descents promises an exciting ride for children and adults alike. The train travels at a comfortable speed and you will enjoy every second of this unforgettable journey!

45 km/h, 408 m 4 cars, 16 seats

Children under 8 years old must be accompanied by an adult.

Admission from 4 years old, minimum height 107 cm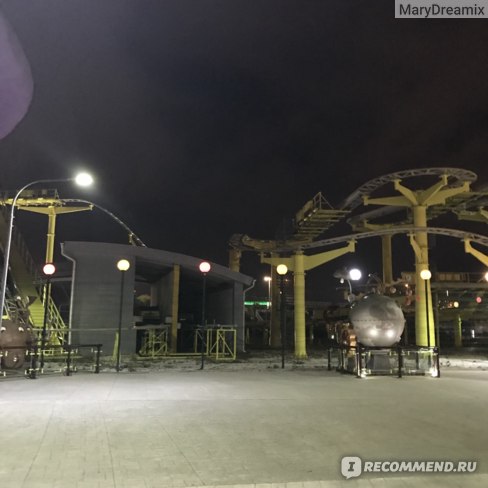 Quantum Leap. I didn't ride there, for the dead loop entertainment is not for me. And if you have a problem with your heart, musculoskeletal system you can not go there. But extreme riders will love it.
Speed, adrenaline, excitement! Not only heroes of science-fiction movies make quantum leaps – our namesake attraction also carries away in weightlessness!

The fastest and the only one in Russia extreme hill of a format "inverted boomerang" will rush you with dizzying speed along the dashingly twisted track with "cobra rings" and "dead loops", and then again – only with your back forward! After the flight, which lasts only 56 seconds, there is an incredible feeling of weightlessness.

32 seats, 105 km/h, 58 meters 1 in Russia, 6 in the world

Children under 10 years old must be accompanied by an adult.

Visiting from 8 years old, the minimum height is 140 cm
Firebird. If you have heart or locomotor system problems, it might not be very pleasant, but for the sake of gorgeous views from the height of this pole it is possible to tolerate. You can see immense sea and all Adler. People are sitting around the pole with legs hanging down. First you climb to the height of 10-15 meters, sit like that for a long time (I already thought that the attraction is broken, and we are all going to be dropped off), and then climb sharply to the very top, and so on several times.
Experience the incredible emotions of flying for the precious feather of the Firebird!

Ascend at breakneck speed and get ready for an incredible view from a height of 65 meters on the Sochi Park, the sea scenery and snow-covered mountain peaks. And maybe somewhere far away in the blue sky you will be lucky to see a Firebird?

An unexpected sharp descent will bring no less adrenaline and emotions!

65 meters, 21 km/h 20 seats

Children under 10 years old must be accompanied by an adult.

Visit from 7 years old, the minimum height of 122 cm
Gorynych Serpent. I have not been there myself, but fans of extreme sports will love this slide with a dead loop, with lots of turns. Just do not go there with heart disease and diseases of the musculoskeletal system. I heard a guy hurt his spine there and they sent him to the emergency room.
The fastest and longest roller coaster in Russia!

Fantastic Dragon Dragon Gorynych is stately, majestic and swift. Our namesake attraction is not inferior to the three-headed hero. The length of the track is over a kilometer, the highest point where you can make sharp turns is 38 meters! The speed of almost 100 km/h will sweep you up and carry you towards the bright emotions!

1056 m, 105 km/h, 20 seats

Children under 10 years old must be accompanied by an adult.

Visit from 7 years old, the minimum height is 130 cm.
4) Other attractions.
All that I will now list is included in the ticket price. There is a dolphinarium, a circus. I liked them very much. There are areas for children; an area where you can play sea battle (on ships); many statues of fairy tale characters; fountains with colored water (there is also a fountain show); fire show; science and fantasy museum. Machines with games are already paid. You can buy souvenirs.