Saint Helena, the last home of Napoleon
Saint Helena is famous for being the place where Napoleon Bonaparte spent his last years in exile. But that is not the only thing that makes the island interesting. It is unique both in its location and in its historical heritage. Sometimes it is said that St. Helena is "frozen in time.
Where is it
Saint Helena is one of the most remote places on the planet. It is located in the southern Atlantic Ocean. The coast of Africa is 1850 km to the east. Brazil is 3,300 km to the west. The nearest piece of land – Ascension Island – is 1300 km to the north-west. The remotest inhabited island on the planet, Tristan da Cunha, lies 2,450 km to the south.
General description
The island is of volcanic origin and lies on a mid-Atlantic ridge. It is based on hard rock formations. Mountains on the island reach up to 700 meters in height. The highest of them is Diana Peak, 818 meters above sea level.
The size of the island is about 16 by 8 kilometers, and the area is 122 km 2 . This makes it the second largest British Overseas Territory after Bermuda.
It received its name after St. Helena of Constantinople.
The population is just over 4500 people.
Life on the island is slow and measured. There are no big shopping centers or large enterprises.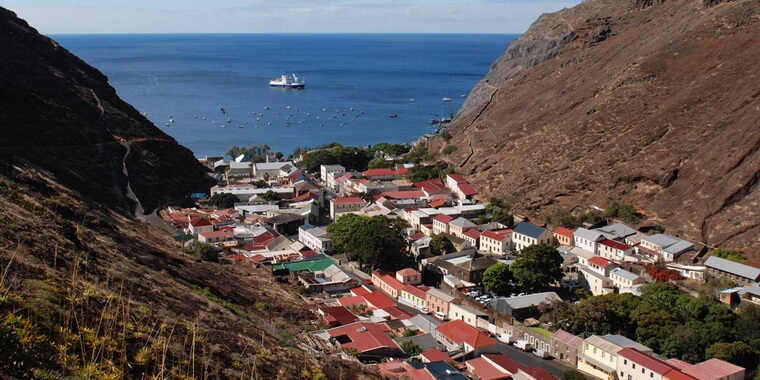 Only a few small stores are open until 4 pm. The counters, as a rule, are almost empty. Most goods and food are brought in by ships from the "mainland" about twice a month. Because of this, they are quite expensive. People try to buy everything they need for themselves.
Most people are eager to leave these places, especially young people. There is even a saying here, "a departing ship takes two families off the island.
But there are people who are simply in love with St. Helena. They are infinitely devoted to its charm, mild climate and the measured flow of life.
Interesting fact – When an airport was being built on the island, some locals were against it. They thought that the development of air travel would destroy the centuries-old way of life of the islanders.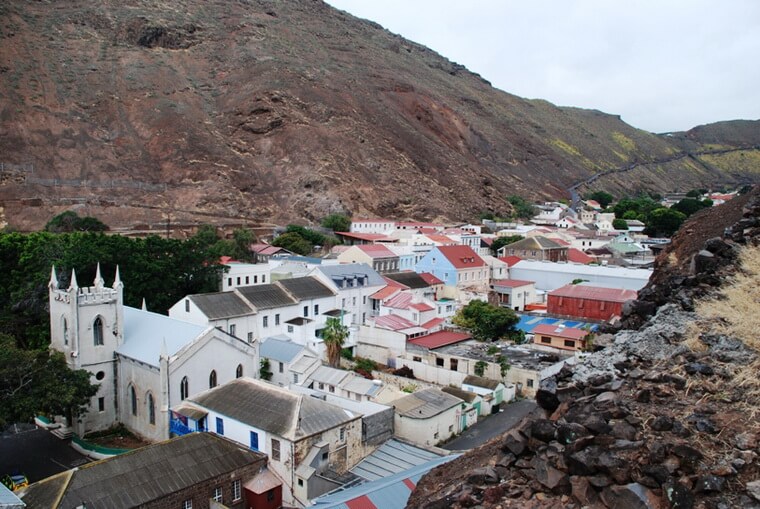 As you can imagine, getting to the island is quite difficult. It looks like a piece of old Britain. Coming here, you get into another world. That's why they say the island is "frozen in time".
The island is governed by the governor, who is appointed by the Queen of England.
Despite its remoteness from civilization, there is the Internet, two local newspapers, its own radio stations and TV channels. The island has a public library. And it's the oldest library in the southern hemisphere. The island has its own second-level Internet domain (.sh).
Until 1966, there was a mono-economy, based on the cultivation and processing of New Zealand flax. But gradually the flax was superseded by artificial fibers, ropes and fabrics. Now the economy of the island is almost entirely supported by the British authorities.
Climate and Nature
The climate on Saint Helena is maritime tropical and mild. There are frequent trade winds.
Climatic conditions vary throughout the island. Temperatures in Jamestown generally range from 21-28 o C in the summer (January through April) and 17-24 o C the rest of the time. Temperatures are on average 5-6 o C lower in the central areas. Precipitation on the coast is much less than in the central part of the island, where the annual rainfall is 750-1000 mm.
The island was once covered with unique native vegetation. But after New Zealand flax began to be grown here on an industrial scale, it displaced almost all the local flora. Therefore, the modern landscape is very different. Almost all of the island's mammals are introduced from the continent.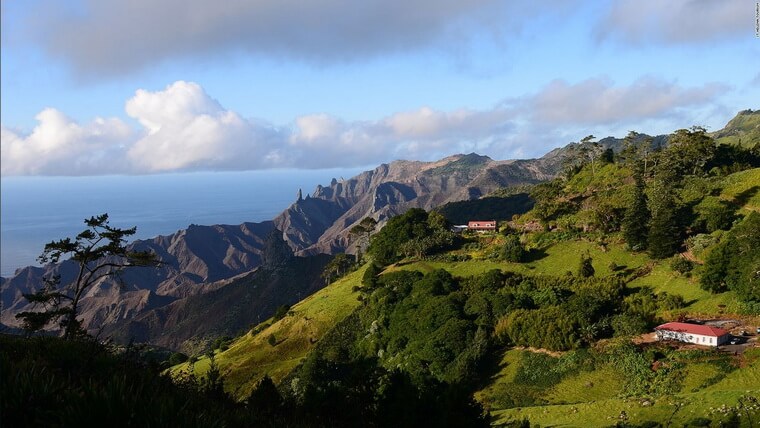 There are many endemic bird species. The local variety of plover has become the national symbol of St. Helena. It is depicted on the island's coat of arms and flag.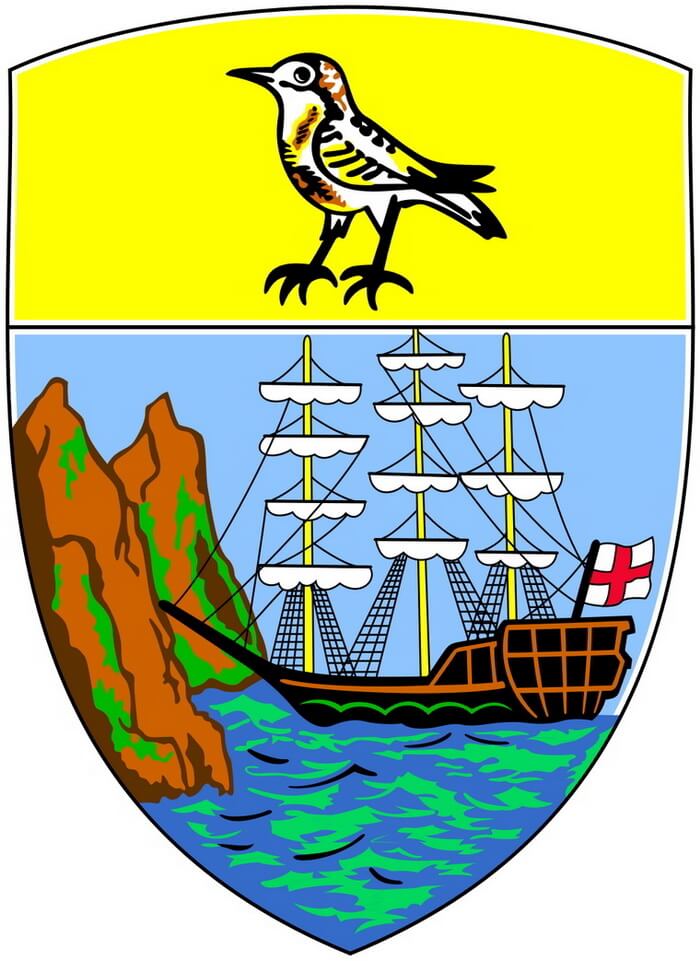 Saint Helena coat-of-arms
History of the island
The island was discovered on May 21, 1502 by the Galician navigator Joao da Nova. But there is much controversy about it.
In those days there were a large number of sea voyages around the planet (this is the era of the Great Geographical Discoveries). It is quite possible that he did not find St. Helena then, but other islands of the Atlantic, such as Tristan da Cunha or Ascension Island. Because of the inaccuracy in determining coordinates, there may have been an error in identifying a particular island.
According to other sources, it was discovered by the Eschwan da Gama expedition on July 30, 1503.
The island turned out to be uninhabited. For centuries it was an important transit point for expeditions en route from Europe to Asia and southern Africa. Ships approached the island to replenish water supplies, repair and rest the crew. Sometimes sick sailors stayed here. They would rest, recuperate, and on the way back the ship would take them home.
But in 1869 the Suez Canal was put into operation, and the important transit role of St. Helena had practically ended. Thus, for example, the number of ships coming here dropped from 1,100 in 1855 to 288 in 1889.
Saint Helena sights
The Town of Jamestown.
This is Saint Helena's most distinctive and largest population center. The town is rather elongated and densely built up. Its long winding streets wind through a valley with occasional rock falls from the slopes. They can even destroy buildings.
The city starts from the coast in the northwestern part of the island. This is also where the only available place for ships to dock. And from here stretches a narrow valley for more than 2 kilometers into the interior of the island. In it, surrounded by steep cliffs, lies the town of Jamestown. He is also the capital and only port of the island.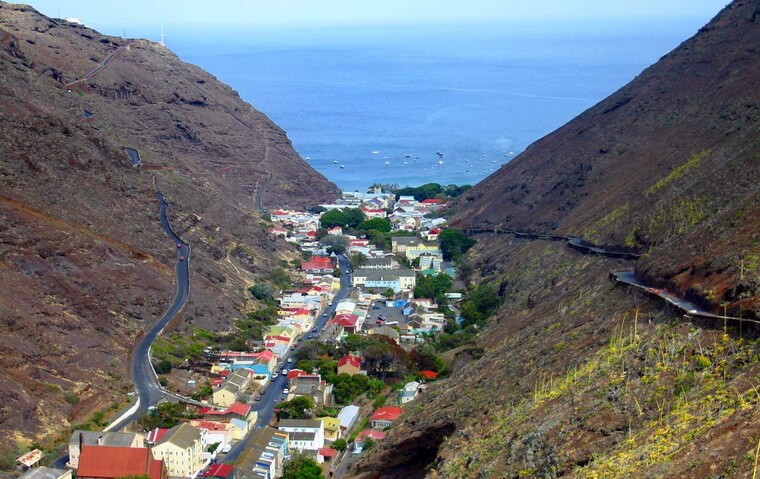 Jamestown is the capital of Saint Helena
Jacob's Staircase
A distinctive feature of Jamestown is Jacob's Staircase. These are the 699 steps that lead from the town to the former fort at the top of the mountain. It was built in 1829.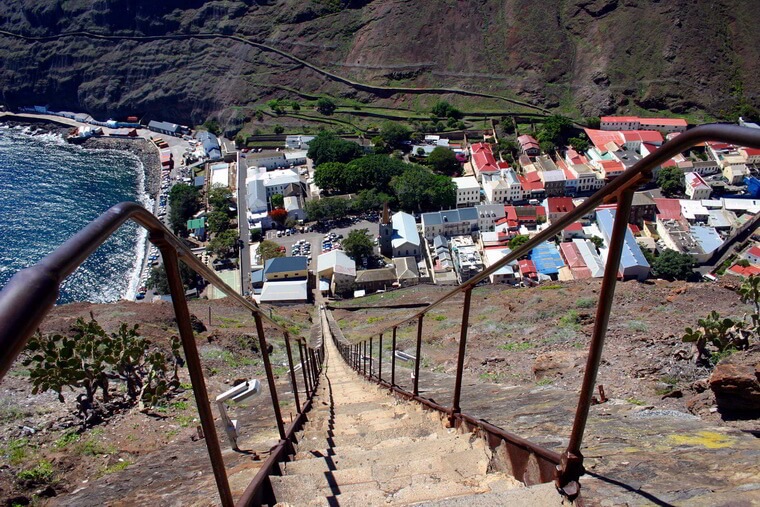 Jacob's Stairs.
Nowadays Jacob's Steps is of interest only to a small number of tourists. At night it is illuminated. Every year on it is arranged something like a race, in which anyone can take part.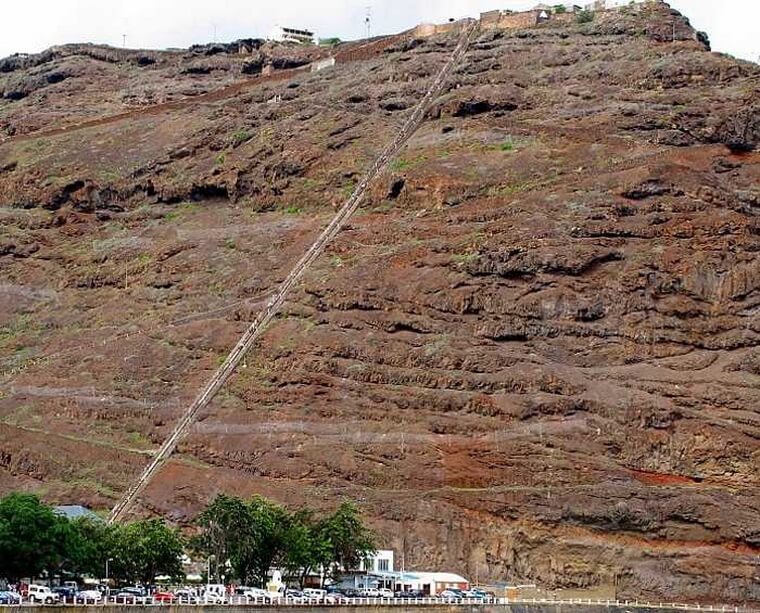 St. Helena Museum
Here are the historical and modern exhibits of the island. The museum is located in a late 18th-century stone building at the foot of Jacob's Steps. The museum officially opened on May 21, 2002.
Longwood House – Napoleon's Residence
Napoleon spent most of his exile on St. Helena in this house. The residence is quite cozy. It still contains some 19th century furniture and household items.
The house has become a museum and is maintained by the French government.
The British chose St. Helena to exile Napoleon Bonaparte. He was sent here in October 1815. While Longwood House was being built, Napoleon lived in a small house called Briars. It was in the garden of William Balcombe, an English merchant. William's daughter, Elizabeth, spoke French and actually became an interpreter. The family's communication with Napoleon aroused the suspicion of the local governor. As a result, the Balcombe family was forced to leave the island and return to England.
Napoleon moved to his home at Longwood House and lived out the rest of his days here. He died here on May 5, 1821.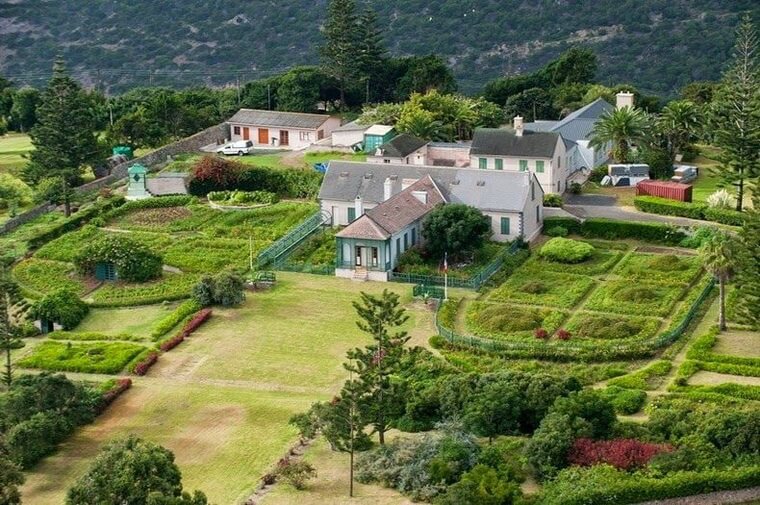 Longwood House – Napoleon's last residence
Interesting fact – Napoleon once praised the coffee growing on St. Helena. And after his death, this variety became a great success in Paris, but not for long.
Napoleon Bonaparte's Tomb
The tomb should hardly be called a landmark, but it is an iconic place nonetheless. It is located near the residence of Longwood House.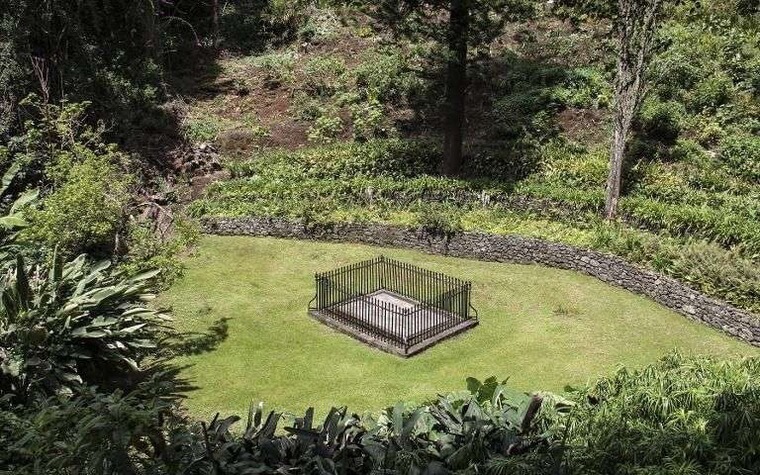 It is worth knowing that Napoleon was originally buried on Saint Helena, but in 1840 the remains were moved and buried in Paris.
Saint Helena in tourism
As you may recall, this is one of the most remote islands in the world. There is an airport here, but air service is not yet very developed.
Since 2018, the ship M/V Helena sails to the island from Cape Town. Before that, there was the RMS St. Helena about 30 times a year. Sometimes ships go to the island of Tenerife.
The special attraction of the island is its remoteness, but few tourists are willing to spend 5-6 days on the ship to get to it.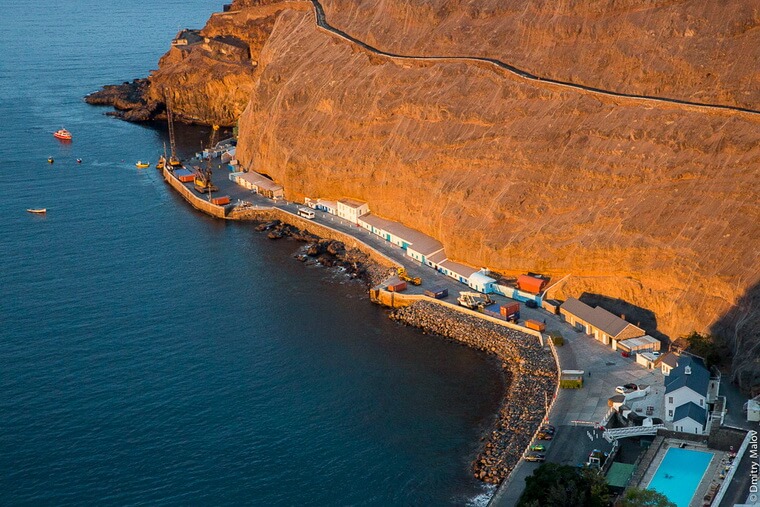 Ships do not come close to the coast of St. Helena. They are anchored nearby, and goods and passengers are sent to the island by small boats.
There is a small airport at the eastern end of the island. As of October 14, 2017, South African airline Airlink began weekly flights to St. Helena from Johannesburg. It is worth remembering that there is some risk involved in landing and taking off here because of the strong winds.
It was expected that the airport will increase the number of tourists to 30,000 people. But so far, 3-4 thousand people visit the island each year.
St. Helena island
St. Helena is located in the Atlantic Ocean, 2,800 km west of Africa and belongs to Great Britain.
Saint Helena is also a British Overseas Territory, which in addition to Saint Helena itself includes Ascension and Tristan da Cunha (Gough, Impregnable, Nightingale Islands) as well as small islets and rocks.
Before the construction of the Suez Canal, the island was a strategic point for ships on their way to the Indian Ocean
The population of St. Helena is small and remains loyal to Britain. Nevertheless, the island's tiny size and geopolitical insignificance have led many islanders to accuse the British government of ignoring the island. The island's economy was for a long time monocultural, but is now very weak and almost entirely dependent on London's help.
The island is widely known for Napoleon Bonaparte, who spent his last years here, in exile. The island's tourism industry is largely based on this aspect of the island's history.
Some Anglo-Boer War prisoners of war, including General Pieta Cronje, were also exiled to St. Helena.
Contents
History of the island
St. Helena was discovered by the Portuguese on May 21, 1502, the day of St. Helena. In 1506, the Portuguese navigator Tristan da Cunha discovered the islands named after him.
In 1613, the Portuguese sank the Dutch ship Witte-Leave with a cargo of gold and 1311 diamonds.
In a bitter struggle for possession of the islands, England defeated Holland and in 1659 established on Saint Helena a water and food supply point for ships en route to India and a military base.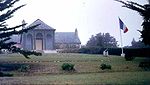 In 1815, Saint Helena became the place of exile for Napoleon Bonaparte, who died there in 1821 at his home in Longwood.
The opening of the Suez Canal reduced the strategic value of the island. In 1942, a U.S. air base was placed on Ascension Island. Also there, in 1954, was an American tracking station for missile and space equipment launched from the Florida Peninsula. In 1966, a British radio relay station began operating on Ascension Island. During the Falklands conflict in 1982, Ascension Island was the main base of British forces in the war against Argentina.
Geography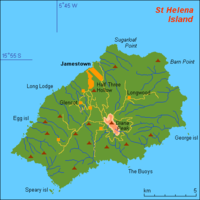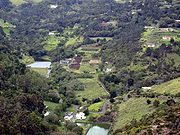 St. Helena is of volcanic origin. In its southern part there are several extinct craters up to 818 m high. The climate is tropical. Upland areas receive up to 1,000 mm of rainfall per year. In the Jamestown area it is only about 140 mm per year.
Saint Helena is dominated by grasslands and shrubs, with firs, eucalyptus, and cypresses. Ascension Island is covered with grassy vegetation.
Ascension Island is of volcanic origin – a plateau with extinct craters, up to 858 m high (Mount Green). It is located on an underwater ridge. The climate is tropical. Rainfall is 700-1000 mm per year.
Tristan da Cunha is a group of four volcanic islands. Tristan Island – the largest – is an extinct volcano, conical in shape, up to 2060 m high.
The population of the island
The population is 7.2 thousand (2000) (5.6 thousand in St. Helena, 300 in Tristan da Cunha).
Ethnic composition: centenarians – descendants of English, Dutch, Portuguese settlers, Indians, Africans, Chinese.
Island politics
The political system is parliamentary constitutional monarchy, headed by the English queen. The head of government is an English governor, who directly administers the Legislative and Executive Councils. Administratively, the possession is divided into one administrative territory (Saint Helena) and two dependent territories (Ascension and Tristan da Cunha). The capital is Jamestown (Saint Helena). Other centers are Georgetown (Ascension Island), Edinburgh of the Seven Seas (Tristan da Cunha).
Politically and militarily, Saint Helena is dependent on Britain, but the economy is partially self-governing.
The island's economy
The economy is heavily dependent on British financial aid, which in 2007 amounted to nearly $27 million or 70% of the state annual budget. The local population is mainly engaged in fishing, raising livestock and selling handicrafts. Jobs are scarce, so 25% of the population migrate to Ascension Island, the Falkland Islands, and Great Britain in search of work. As of 1998, more than 1,200 people were working abroad.
On the islands coffee, cereals, potatoes, vegetables are grown; cattle are raised. Fishery is developed, besides fish on islands of Tristan da Cunha they extract lobsters.
Import: manufactured goods, fuel.
Main trading partners: Great Britain and South Africa.
Message
Saint Helena remains one of the most remote corners of the world. St Helena and Tristan da Cunha can only be reached by ship, while Ascension has a military airfield from which there is a connection once a week with the British Royal Air Force's Brize Norton airfield, with few seats for civilian passengers on military aircraft.
The Royal Mail Service ship St. Helena makes regular voyages from Great Britain to Cape Town, making stops at Ascension and St. Helena, but not calling at Tristan da Cunha.
The British government has announced the construction of an airport on St. Helena to be operational in 2010, but due to unresolved disputes between contractors and the government, the opening may be delayed for up to two years. [1] .
There are bus and jeep rides around St. Helena itself.
Notes
↑ http://en.wikipedia.org/wiki/Saint_Helena_airport
References
Modern Territory – Former Territories – Former Territories within the Commonwealth Realms
19th century Canada (British Empire) 1841-1867 Province of Canada 1849-1866 Vancouver 1858-1871 British Columbia 1859-1870 Northwest Territory 1862-1863 Stikine Territory Canada (post-Confederation) 1867-1931 Dominion of Canada
17th century 1605-1979 St. Lucia 1624-1966 Barbados 1627-1979 St. Vincent and the Grenadines 1632 Montserrat 1643-1860 Bay Islands 1650 Anguilla 1655-1850 Mosquito Coast (protectorate) 1655-1962 Jamaica 1666 British Virgin Islands 1670 Cayman Islands 1670-1973 Bahamas 1671-1816 Leeward Islands
20th century 1958-1962 West Indies Federation
19th century 1806-1910 Cape Colony 1816-1965 Gambia 1856-1910 Natal 1868-1966 Basutoland 1874-1957 Gold Coast 1882-1922 Egypt 1884-1966 Bechuanaland 1884-1960 British Somaliland 1887-1897 Zululand 1888-1894 Matabeleland 1890-1980 Southern Rhodesia 1890-1963 Zanzibar 1891-1964 Nyasaland 1891-1907 British Central Africa 1893-1968 Swaziland 1895-1920 British East Africa 1899-1956 Anglo- Egyptian Sudan
20th century 1900-1914 Northern Nigeria 1900-1914 Southern Nigeria 1900-1910 Orange River Colony 1910-1961 Southern African Union 1911-1964 Northern Rhodesia 1919-1960 Cameroon 1 1920-1963 Kenya 1922-1961 Tanganyika 1965 British Indian Ocean Territory
Nineteenth century 1839-1967 Aden 1841-1997 Hong Kong 1858-1947 India 1891-1971 Muscat and Oman 1892-1971 Oman
Nineteenth century 1803-1901 Van Diemen's Land 1824-1980 New Hebrides 1826-1946 Straits Settlements 1838 Pitcairn Islands 1840-1907 New Zealand 1841-1941 Kingdom of Sarawak 1877-1976 British Western 1882-1963 Northern Borneo 1884-1949 Papua Territory 1885-1946 Unfederated Malay States 1888-1965 Cook Islands 1888-1984 Sultanate of Brunei 1889-1948 Union Islands 1892-1979 Gilbert and Ellice Islands 1893-1978 British Solomon Islands 1895-1946 Federated Malay States
20th century 1900-1974 Niue 1907-1953 New Zealand 1907-1949 Swan River Colony 1949-1975 Papua and New Guinea Territory
Seventeenth Century 1659 Saint Helena Island
2 Dependencies of St. Helena since 1922 (Ascension Island) and 1938 (Tristan da Cunha). 3 Both claimed in 1908; territories formed in 1962 (British Antarctic Territory) and 1985 (South Georgia and the South Sandwich Islands).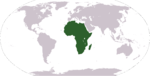 Wikimedia Foundation . 2010 .
Useful
See what "Saint Helena Island" is in other dictionaries:
HOLY EDEN ISLAND – HOLY EDEN ISLAND, a possession of Great Britain, in the South Atlantic Ocean. Includes St. Helena, as well as the administratively subordinate territories of Ascension and Tristan da Cunha. The total area is 411 km2. Population about 7 … Modern Encyclopedia
Saint Helena Island, a volcanic island in the South Atlantic. British possession. 122 sq. km & sup2. Population – 7000 (1992). The altitude is up to 818 m. The main city and port is Jamestown. In 1821 Napoleon I. died here in exile.
St. Helena (island) – Coordinates: 15°57′00″ S. 5°42′00″ W. / 15.95°S. 5.7°W … Wikipedia
Saint Helena Island – (Saint Helena Island), a British possession on Saint Helena in the South Atlantic Ocean. Pl. 121.7 km²; Tristan da Cunha and Ascension Islands are administratively subordinated to the governor. Jamestown is the administrative center. St. Helena was discovered in 1502 by the Portuguese; since … Encyclopaedia of Geography
Saint Helena Island, a volcanic island in the South Atlantic Ocean. British possession. 122 km2. Population 7,000 (1992). The altitude is up to 818 m. The main town and port is Jamestown. In 1821 Napoleon I died here in exile. * * * * *….
St. Helena – St. Helena Island. Physical map. Saint Helena Island, a volcanic island in the South Atlantic Ocean, about 1,900 km west of the coast of Africa (on the traverse of Angola). Possession … … Encyclopedic Guide to Africa
Saint Helena Island, a British possession in the South Atlantic Ocean. Includes the island of Saint Helena, as well as administratively subordinate territories and islands . The total area is 411 km2. Population 6.8 thousand people (1981)…. … Encyclopedic Guide "Africa"
ST. HELENA ISLAND – (St. Helena) island in the South Atlantic Ocean, a possession of Great Britain. The first stamps were issued in 1856, the portrait of the Queen and the name of the island on them, commemorative stamps 1934. In 1961 they made charity stamps for the relief of the Tristan Islanders. Tristan… …The Big Philatelic Dictionary
Saint Helena is an island in the South Atlantic Ocean, 1,900 km west of the west coast of South Africa, at 15°55 S. and 5°42 W. It belongs to England. The island is 16 km long and 10 km wide. 122 sq. km, 4116 inhabitants (1986 males and 2130 females). The natives are mainly … Encyclopedic Dictionary of F.A. Brockhaus and J.A. Efron
Saint Helena Island, an island in the South Atlantic Ocean. British colony. Area 122 sq. km. Population 4.8 thousand (1969). The main city and port is Jamestown. It is formed mainly by basalts; in the southern part, there are a few….