To Poland on my own. Beginning
Every journey has its own beginning. And it's not even about the first step that you make stepping over the threshold of your home with a suitcase or backpack. It can be a dream that has been waiting for years, or it can be a chance event that pushed you on your way.
Such a point of accountability in our first solo trip to Poland in the fall of 2013 was the low-cost airline Wizz Air tickets. Their price was so attractive that it drove us to go to a place we had already been to a year and a half ago, and we weren't planning to go again, moreover during such "non vacation" time as the beginning of November. Having booked and paid for 2 tickets for $32 on the Kiev-Katowice flight and the return flight, we made travel arrangements. Quickly arranged a vacation (which in a large corporation is not always easy), easily and without unnecessary gestures and paperwork received a Schengen visa (then we still needed it), and then I proceeded to plan the route and program. This is an interesting case, but not easy – the flight of my mind was limited to a time frame of ten days and the desire to make the tour more budget.
At first I considered visiting one of the neighboring capitals – Bratislava, Vienna, Budapest, Prague, in addition to the Polish cities. I looked through a lot of options on how to get there by train or bus. Despite the fact that the distances are short – from Katowice to any of them is almost as much as to Warsaw, I still decided that traveling within one country is easier and cheaper. So in my short list were only Polish cities – Warsaw, Krakow, Gdansk, Wroclaw. It's a long way to Gdansk, and somehow it didn't work out with Wroclaw. As a result, we had the following route:
Sevastopol – Kiev – Katowice – Warsaw – Krakow – Katowice – Kiev – Sevastopol.
After deciding on the cities we booked and paid for our apartments on booking.com: in Warsaw for 5 nights, in Krakow for 4 nights. The priority was given to private apartments, not a hotel. When you live in a normal apartment, you feel better the atmosphere of the city, and I wanted to gain experience.
In addition to the paid flight and accommodation, we also booked and paid for a transfer to Katowice airport on the way back. We could have bought a ticket on the spot, but we decided to make sure. Two bus tickets by Eksprestransfer, which cooperates with Wizz Air and Ryanair, from Krakow railway station to Katowice airport for 11 euros were booked and paid on their official website. For all other bus and train transfers we bought our tickets at the ticket office just before our departure. The only thing is that on the official website of the Polish Railways I carefully studied in advance the information on all departures from Katowice to Warsaw and from Warsaw to Krakow. There are a lot of trips, within an hour there may be two, or even three. Trains vary in comfort class. The most modern with cars, similar to the aircraft cabin, there are trains a little simpler, there are and ancient, which carriages resemble the train to Hogwarts. The difference in the price of their tickets is 2-3 times. And if you think that the modern is a lot faster, it is not. All trains travel about the same amount of time. In the cabin, except for comfort, there is nothing interesting, but to feel like Harry Potter was nice, especially cheaper. The elderly cashier tried to deprive us of it by offering the most expensive ticket, but I was prepared .
Warsaw
We stayed in Warsaw for 6 days, booking an apartment at Al. Solidarności 101 for 5 nights and paying about $254 for it. This offer is still available on booking.com. The apartment has a high score of 9.4 (excellent), primarily due to its location and the friendliness of the owner. They are located in the central district of Sredmestie and are equidistant from the Old Town and the central railway station at a distance of about 1.5 kilometers. It is a small, very cozy apartment located (if I'm not mistaken) on the third floor of a seven-story building. It consists of a small room, a bathroom and a corridor with a fully equipped kitchen. The apartment is comfortable for a short rest for two people, but it is not very big enough for a permanent residence of the family. And it seemed to us that this house, like most around, was built in the 50s and 60s of XX century. Solidarnost Alley – a wide street with bus and streetcar traffic goes directly to the Old Town, where we walked.
Apartments at 101 Solidarność Alley
We had been in Warsaw before a year and a half ago and decided to return to some places for sure. And, first of all, it is a palace and park complex Royal Lazienki – former summer residence of the last king of Poland Stanislaw August Poniatowski. The park, with its lake, canals, palace and other rare buildings, is located in the center of the city. It is easy to get to it from any part of Warsaw, given the extensive streetcar and bus network as well as the metro, and at each stop has a map of Warsaw with a transport scheme and you can navigate on the spot. Admission to the park is free, but the Palace on the Water and other facilities are chargeable. On the official website of the Royal Lazienki, I found out in advance what you can visit and how much it costs. By the way, this site is better to use the version in Polish or English, rather than in Russian, because of the more complete information, in particular the availability of days with free entry to the museums.
The palace and park complex Royal Łazienki. The palace on the water
The sculpture symbolizing the Bug River in the Royal Łazienki Park
The next in our obligatory program in Warsaw was, of course, the Old Town. It is very small: a few streets, a couple of squares, three churches, and a scattering of colorful houses – all that fit behind the fortress wall, which in some places has survived well. The old city was founded in the XIII century, but of the original building have been preserved, except somewhere, the foundations of houses and fragments of walls. The city was rebuilt twice – in the middle of the 17th century after being destroyed by siege and occupation during the wars with Sweden, and in the middle of the 20th century after the suppression of the Warsaw Uprising during World War II, when it was turned into ruins. It now resembles what it was in the 17th and 18th centuries because it was restored according to the drawings and sketches of the time. There are a lot of cozy little coffee houses in Warsaw's Old Town. It has already become a tradition for us to go to one of them for coffee and cake.
One of the many small cafes in the Old Town
The Royal Castle dominates the Old Town. Last time we couldn't visit it, so this time it was on our must-see program. In the XIII century the Mazovian Dukes settled on this place and built a castle around which the Old Town was formed. After the Mazovian dynasty died out the castle was passed to the Polish kings, and after the capital was moved from Krakow to Warsaw, it became the royal residence. For several centuries it was rebuilt and redesigned. At the end of World War II, the Royal Castle was completely destroyed and its present appearance is the colossal work of Poles who actually built the castle anew, giving it an even more historic appearance than before its destruction, restoring what was lost in previous restorations. I got complete information about the Royal Castle (including availability of a day with free admission) from the official website .
Royal Castle in Warsaw
Royal Castle Ballroom
Over a hundred years of existence, Warsaw had become too cramped within the borders of the Old City, and in the early 15th century the New City was established to the north of the Old City. It was in fact a separate town with its own market square and town hall and was called New Warsaw. The previous time we hadn't been there, so this time we wanted to visit it for sure. We hadn't prepared in advance for the New Town, but we found it on the spot. It was the Market Square and some interesting churches.
We also planned to walk along Krakowskie Przedmieść. Krakowskie Przedmieść street is part of the Royal Route, on which Polish kings used to travel from the Royal Castle to their country residences. When the Old Town became too old and uncomfortable for the Polish nobility to live in, they began building their palaces into the former suburbs. The royal route was a good place for that, where in XVII-XVIII centuries a lot of luxurious palaces were built, and one of them now is an official residence of the Polish President. The churches of Kraków suburb stand out for their monumentality and richness.
We were familiar with all the above-mentioned places of interest in Warsaw from our last visit to the Polish capital. But one place became a real discovery for us – the palace and park complex in Wilanów. This is the country residence of King Jan III Sobieski, built in the late 17th century in the Baroque style. Vilanów Palace with the surrounding park has preserved its historic appearance, and the interiors, plundered during World War II, were restored. It is located about 10 km from the center of Warsaw, at the end of the historic Royal Route leading from the Old Town with the Royal Castle to the residence in Wilanów. The palace's official website has a lot of useful information, including a long list of bus route numbers that can be used to get to Wilanów. There is a fee to visit the palace, the temporary exhibitions and the park. But there is also a day with free admission.
The interiors of the Wilanów Palace
In our obligatory program in Warsaw there was also an observation deck located on the 30th floor of the Palace of Culture and Science, the so-called "Stalin's high-rise". But on the planned day (the last day in Warsaw) it rained heavily, so we spent that time in the shopping center "Złote Tarasy", which is located near the high-rise and the central railway station.
Złote Tarasy Shopping Center
Krakow
We stayed 5 days in Krakow, having booked an apartment at Szpitalna Street 9 for 4 nights and paid about $220 for it. Now on booking.com this apartment is offered in an updated interior after the renovation and almost twice the price. The room has a wooden mezzanine with stairs, where there is an additional sleeping place – a futon (mattress), i.e. the apartment accommodates four guests. After repairs, they became six people, as was added sofa. The apartment is very nice, located in an old house, built like many houses in the Old Town in the XIV-XV century, but with a facade rebuilt later. In the entrance of the house on the first floor there is a fragment of unplastered wall with some incredibly old masonry. The location of the house is ideal – a hundred meters from the Church of St. Mary's.
The apartment at 9 Szpytalna St.
Originally I had big plans for the Krakow program. I wanted to visit the Ojcowski National Park and the Peskov-Skala Castle. The distance to them from Krakow is 20-25 kilometers, which is not much. But moving by intercity buses, low tourist season and a short daylight hours left this idea in our plans for the future. In addition, these attractions are on the "Way of the Eagle's Nests" – a tourist route length of 164 km, along which there are many castles and fortresses, both well-preserved and in the form of ruins. And it would be better to drive the entire route. In the end, I never made a program for Krakow, which led to the fact that we spent four days walking around the Old Town. It's not big enough to wander there for 4! days? Not at all! Living in the heart of the Old Town, we walked around it length and breadth, walked down every street and alleyway, looked into every corner and each time we found something interesting.
In the streets of Krakow
So unexpectedly we found Collegium Maius, which houses the Jagiellonian University Museum. The Jagiellonian University was founded in 1364. After Charles University in Prague, it is the oldest institution of higher education in Central Europe. Collegium Maius, the ancient building that housed the university shortly after its founding, is located at the intersection of Jagiellonian and St. Anna Streets. Over the centuries, the collegium has grown, and traces of the original building have survived only in the foundations and a fragment of the wall. Now the Jagiellonian University Museum has a rich display of ancient interiors, collections of paintings, art objects and scientific instruments. There is a "Room of Nicholas Copernicus", who studied at the university in the 1490s, furnished with exhibits from that period. Admission to the Collegium Maius courtyard is free, but there is a fee to enter the museum halls. In the courtyard, from 9 a.m. to 5 p.m., there is a theatrical clock show every two hours. The official website has all the information about the work of the museum, including the availability of the day with free admission.
The courtyard of the Yagelon University Museum
One of the halls of Yagelon University
In the evening of the last day of our stay in Krakow, we did make it to Wawel. The architectural complex on Wawalski Hill includes the Royal Castle, the Cathedral of Saints Stanislaus and Wenceslas, several defensive towers and other historic buildings surrounded by a ring of bastions. There are permanent and temporary exhibitions, as well as seasonal excursions. Each exhibition has its own mode of operation. The most complete information can be found on the official website of the Wawel complex . Wawel is open from dawn till dusk. During the period from November to February is from 6:00 to 17:00. So it was a bit of a surprise for us, then we just set up our tripod for night photography, and the caretaker of the complex asked us to go out.
Royal Castle on Wawel Hill
In Krakow, just like in Warsaw, next to the main train station there is a huge shopping center called Galeria Krakowska. These shopping centers are even connected with railway stations, which is very convenient.
Galeria Krakowska" shopping center
Looking ahead, I want to say that we had a wonderful trip. Our first pancake of completely independent travel did not turn out to be a hiccup. We believe that this is just the beginning.
Journey to Poland. 20 smart tricks for a solo trip
This article is an attempt to systematize and summarize everything I know about Poland. I have been to this country, probably, already 50 times. Therefore, this material promises to be almost the most useful and informative on the entire blog. How to rent a room for 9 euros and go from one city to another for 2 zlotys? Where can I get a cheap and delicious meal? How not to get lost in a foreign city? And what Polish museums are free to visit? Read about all this and more in this article. We are going to begin!
How to reach Poland from Belarus?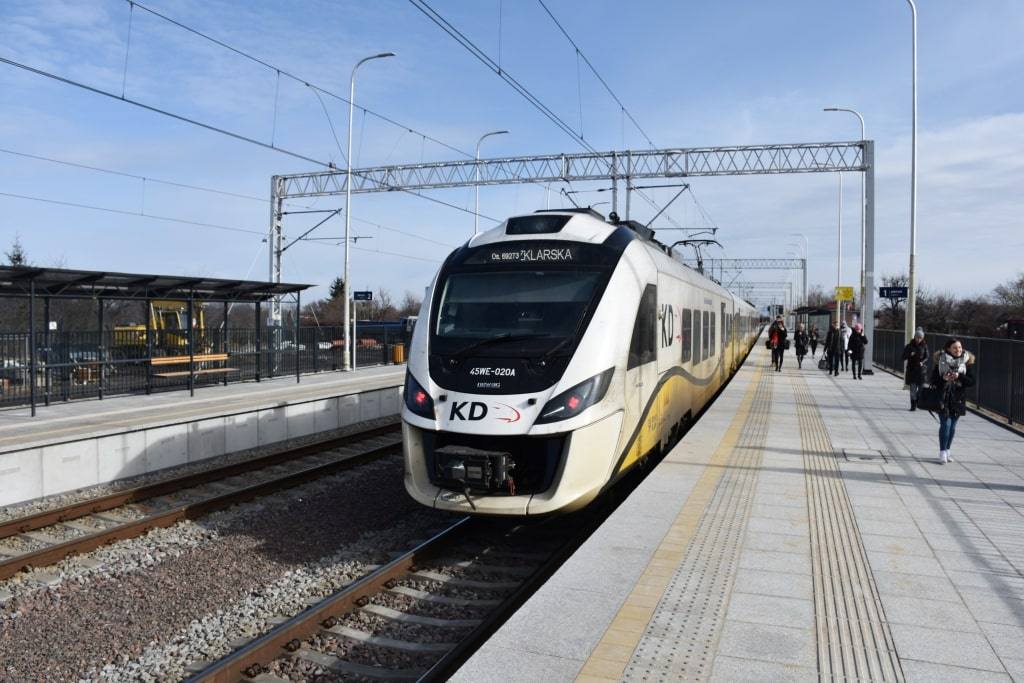 The two countries are connected by dozens of transport routes. There are trains, planes, buses and even mediocre dilapidated marshrutkas that commute to Bialystok from Grodno. You can buy tickets for buses from one country to another on the sites busfor.by and ticketbus.by. Tickets for trains are sold on the site of the Belarusian railroads – poezd.rw.by .
How to save money? You have to change trains. Go to the last town before the border, and then change to the next bus or train. As an example, the route Minsk – Brest + Brest – Warsaw. At the time of publication, you can get to the capital of Poland this way for 31 BYN (train 6.24 + bus 24.88). Direct bus from Minsk to Warsaw will cost you almost twice as much (45-69 BYN).
Read more about how to get to Warsaw, Wroclaw, Krakow, Gdansk and some other Polish cities in the articles below.
How to drive from Minsk to Warsaw and to organize yourself a great weekend-end in this city.
How to travel to Wroclaw from Minsk, Grodno, and Brest.
How to reach Gdansk from Minsk, Grodno, and Lida. 5 different options. .
How to find the right transport inside Poland (buses)?
Personally, I can advise you, first of all, to pay attention to the local bus carriers. Most of them regularly sell out their tickets from one city to another for 2-10 zlotys. The only problem here is determining the exact range of companies that carry a particular destination. As a rule, most carriers operate within the boundaries of just a couple of provinces (voivodeships), and only a few companies operate throughout Poland. Below is a list of bus carriers you should consider in the first place.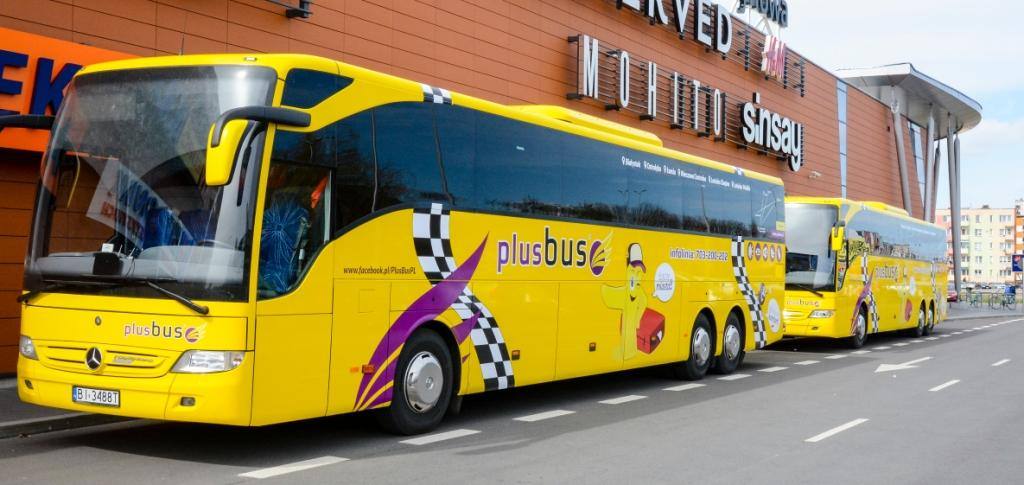 Photo from plus48.by
Plus Bus и Zak Express . Two Bialystok-based carriers operating flights within the Podlaskie Voivodeship, as well as to Warsaw and Warsaw airports. All first tickets on each flight are sold for 1 zlotys (+1 zlotys for reservation), and then begin to rise smoothly in price. But getting from Bialystok to Warsaw for 5 or 10 zlotys with them is still absolutely realistic.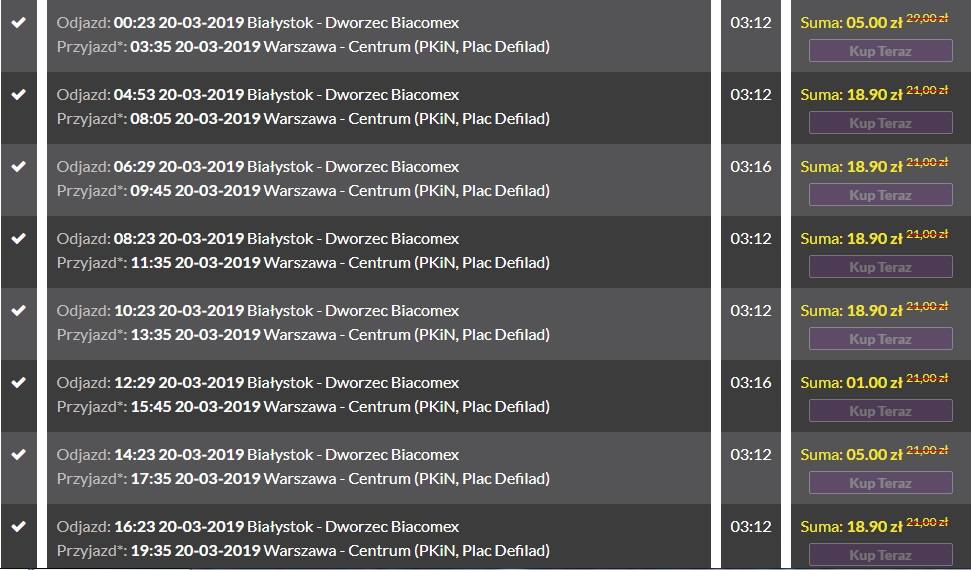 An example of tickets from Bialystok to Warsaw (PlusBus).
. A large German carrier that flies all over Poland (as well as to neighboring countries). Its route network is huge. Tickets on the flights are priced differently. But sales of all sorts are not uncommon.
Polonus . . One of the largest national operators in Poland. The route line includes Warsaw, Torun, Gdańsk, Wrocław, as well as a huge number of smaller towns across the country. The website has a very handy route map where you can see all the available flights.
NeoBus . Another major carrier that flies to many cities in Poland. Among the most interesting destinations are Warsaw, Wroclaw, Lodz, Katowice and Krakow. Like the Bialystok carriers, it often sells first tickets for 1 zloty.
TaniBus . Flights from Lublin to Krakow and from Chełm to Warsaw. Might be relevant for residents of Brest.
Bialskibus . Buses from Bialo Podlaska (a small town near Brest). There are flights to Lublin, Bialystok, Warsaw and some other cities.
ArrivaBus . Another carrier that flies almost all over Poland. Prices are at train level, so I personally have never traveled by these buses. But maybe you will find this information useful?
How else to find the right transport inside Poland (trains, planes, hitchhikers)?
Well… let's consider that we're done with the buses (if I've forgotten someone, write in the comments, we'll supplement the list). Now I'll tell you about other ways of getting around the country.
Trains . You can buy train tickets at train station ticket offices, as well as online at www.intercity.pl . There are other sites as well, but I usually get confused with them.
Planes. I would start my search for the best flights within Poland with the website of LOT airline ( lot.com ). If anyone doesn't know, it's the largest carrier in the country, flying to Warsaw, Olsztyn, Wroclaw, Gdańsk, Katowice, Krakow, Lublin, Poznan and many other cities in Poland and beyond. Domestic flights start at 35 euros (per flight one way). I have not found anything cheaper, but you might have better luck.
Lowcosts . At least one budget airline operates on the Polish market, allowing cheap flights within the country. I'm talking about Irish low-cost carrier Ryanair. In its line of routes you can find at least a few very interesting destinations. Among them: Gdansk-Krakow, Gdansk-Wroclaw, Krakow-Szczecin, Warsaw-Szczecin, as well as return flights. If you're going on one of these routes – be sure to check this option, too. Maybe you'll be lucky, and you'll get on some cool sale. They're not that rare around here.
BlaBlaCar . . Popular site to find hitchhikers, and at the same time another easy way to get from one city to another. His principle of operation is as clear and simple as possible. Suppose that Mirek goes by his car from Warsaw to Krakow. You contact him, arrange a meeting and go together. You get the right transport, and he – the opportunity to earn money. Everything is as clear and simple as possible.
Hotels in Poland for 9 euros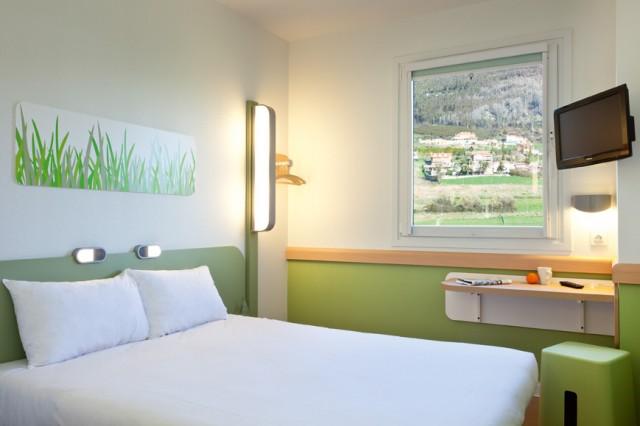 Any deals and discounts are like one-day butterflies – they appear and disappear. Sometimes you find yourself on one of these offers. And sometimes they all unanimously bypass you. The only thing you can do here is to keep your hand on the pulse and regularly check the most "fishy places. Then your chances of getting to the right sale will be as high as possible.
So… what's my point? Remember at the beginning of the article I promised you hotels for 9 euros? Well, such actions are held by the network of hotels Ibis Budget in many major Polish cities (Warsaw, Krakow, Wroclaw, etc.). For the price of 9 euro all the first rooms are sold on a particular date. First come, first served. So here it is important not to slow down and plan your vacation in advance. And then everything is easy.
We go to the site accorhotels.com .
Choose the right city in Poland and hotels Budget.
And then click "Rates Calendar" and start searching.

Promotional rooms with prices of 9 euros usually need to be booked in advance (4-8 months before the trip). Although, there are some nice exceptions.
How else to save money on hotels?
If you can't find suitable rooms in the Ibis Budget hotel chain, try searching for suitable accommodation through aggregator sites (such as Trivago and some of its analogues). These sites themselves do not rent anything, but only help you find the best deals. You are aware that the same room can cost differently on Bookings, Ostrovka, Agoda, and dozens of other hotel search engines, right? When you search only on one site, you are guaranteed to miss out on specials on all the other sites. That's why it's so important to compare prices across systems.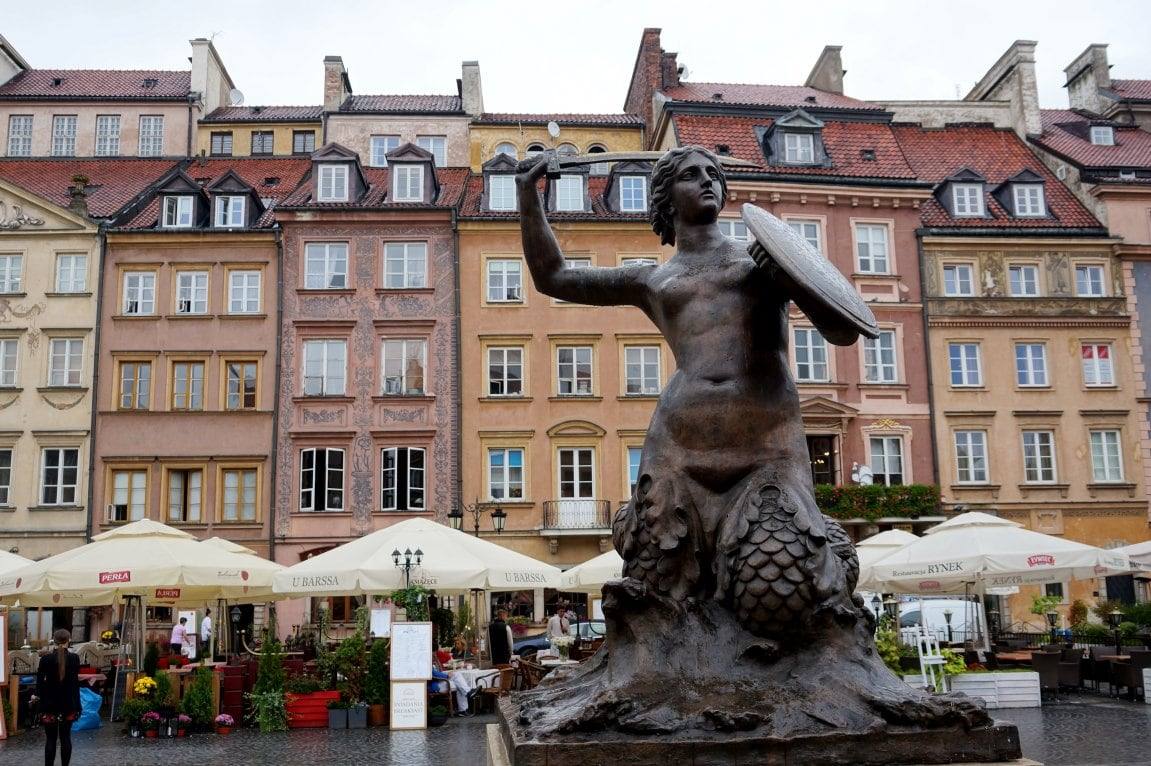 As for me personally, I mostly rent apartments on AIRBNB instead of hotels. I like them better than hotel rooms (but I emphasize: this, of course, is a matter of taste). If you have never rented an apartment on this website you can use this link to register on AIRBNB (* not applicable). After that you will get a small bonus for the first booking (at the time of publication it is 28 euros).
Navigation in the city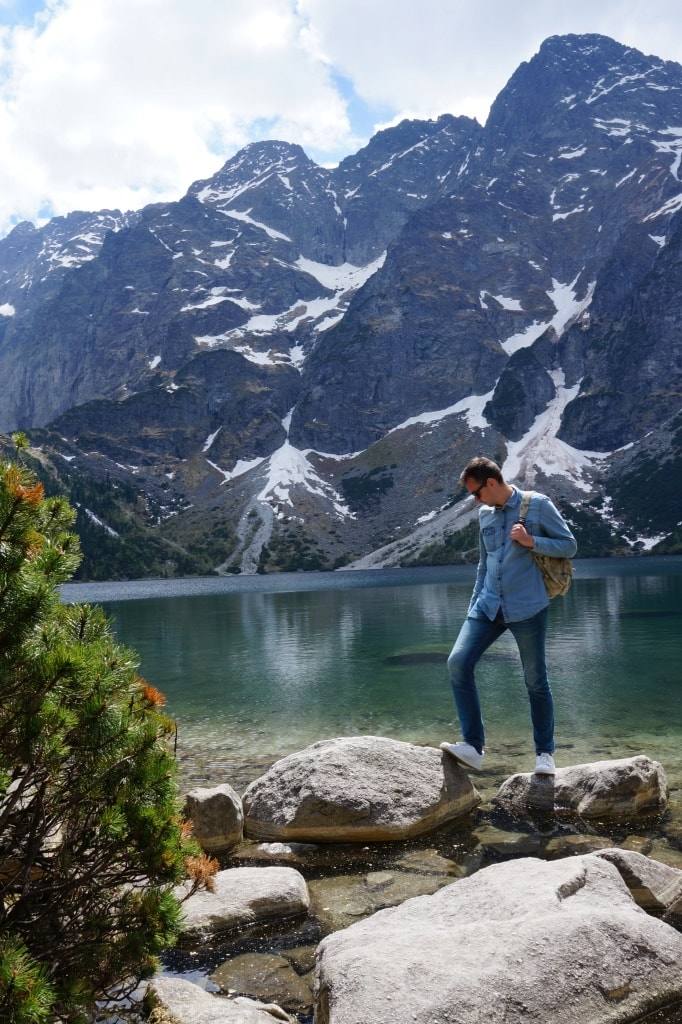 Sea Eye Lake. Tatra National Park. End of May 2017.
In order not to get lost in a new city in Poland I usually use two simple applications. The first is called MAPS.ME . It is a handy offline navigator, which allows you to easily find the shortest way from point A to point B. The second is called Jakdojade . It is not only a mobile app, but also a popular Polish website that allows you to easily find the right transport. There are buses, streetcars, subways, suburban trains, and much, much more. You simply enter the address you want, and the app will show you the public transportation available. You can also see ticket prices, the address of the nearest stop and the time of the nearest transport. The app works in almost all major cities in Poland. It is very useful.
Where to eat in Poland?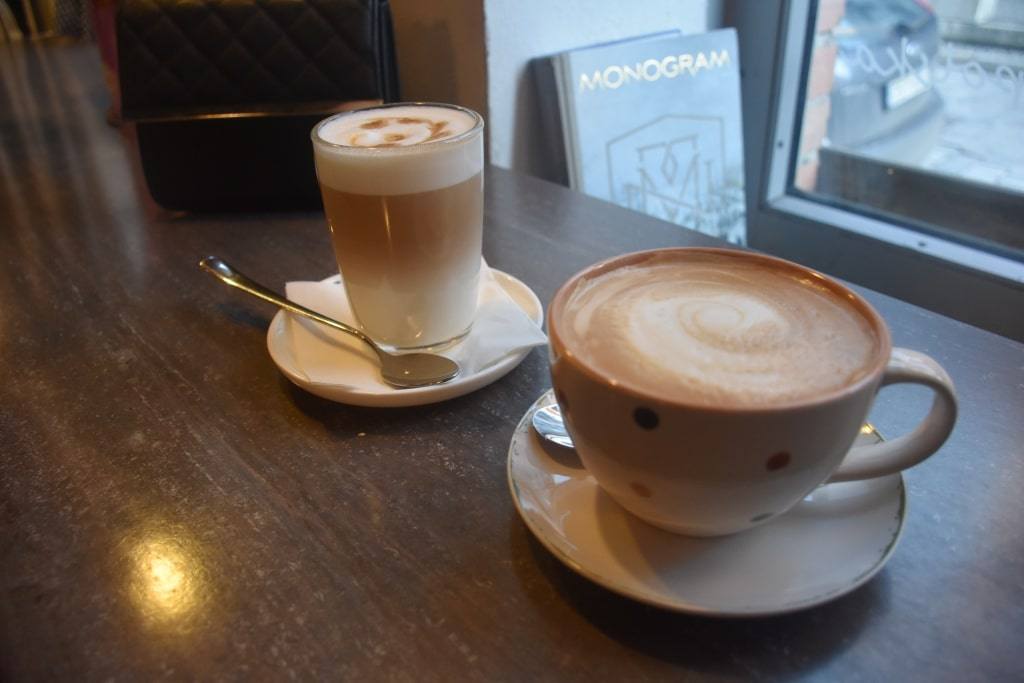 Ever since the socialist times, there has been an extensive network of so-called Milky Bars in Poland. In fact, they are such canteens, where you can eat inexpensive and tasty meals. The interior is simple, but the portions are large and prices are low. Often you can eat in such places even cheaper than if you buy food in the store.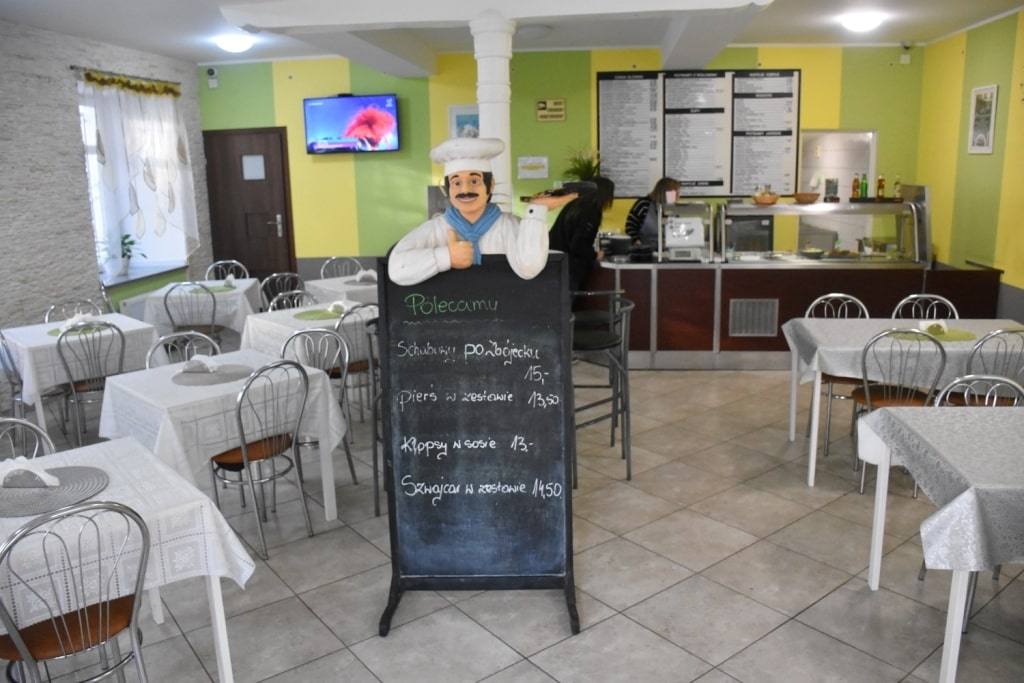 How do you find them? Personally, before trips I simply search for information on the Internet (I type "Bar mleczny Wroclaw" or "Bar mleczny Warszawa" into Google and then write the addresses on a piece of paper or add them to MAPS.ME maps). It also makes sense to search for information on "bar obiady domowe" (bar home dinners). Both are essentially the same thing.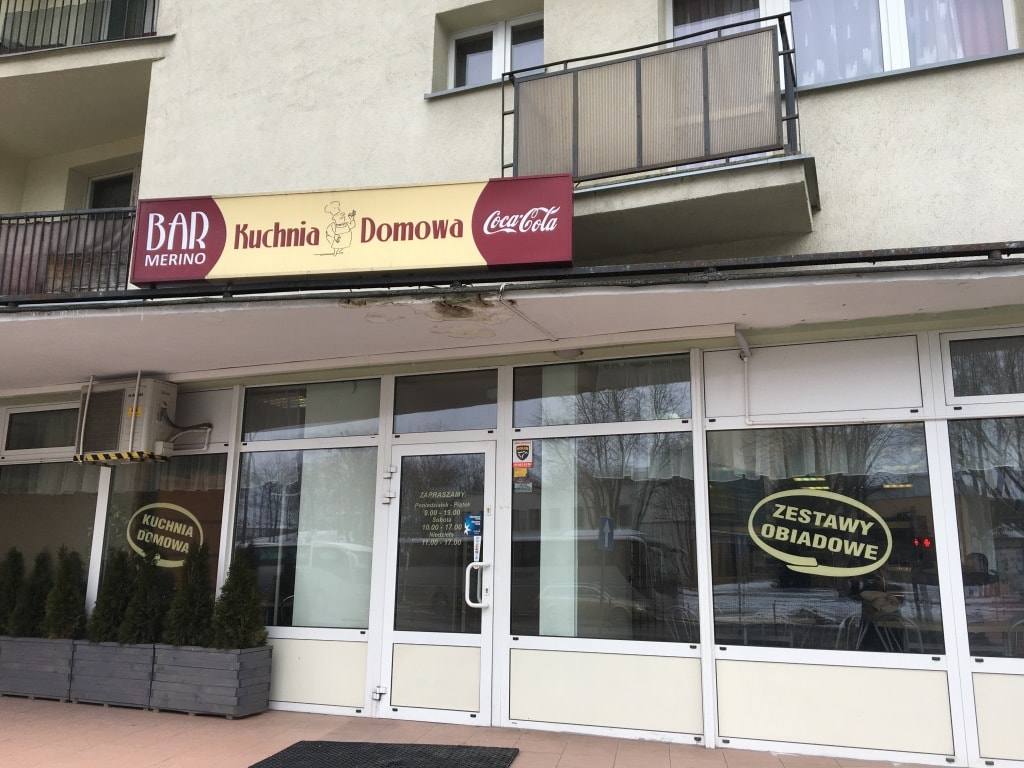 One of such places in Bialystok.
Next, I'm attaching the addresses of several budget establishments in Warsaw, Krakow, Wroclaw and Gdańsk. This list is only as an example.
Warsaw . Bar Gastronomiczny. Aleja "Solidarnosci" 64.
Warsaw . Bar Rusalka. Florianska 14.
Warsaw . Mleczarnia Jerozolimska. Intersection of Jasna and Swietokrzyska streets (right by the subway station of the same name).
Gdansk . Bar Turystyczny, Szeroka 8/10.
Gdansk . Bar Mleczny. Stagiewna 15/1.
Gdansk . Neptun Milky Bar, Dluga 33/34.
Krakow . Bar Mleczny Targowy, aleja Ignacego Daszynskiego 19.
Krakow . Flisak Bar, Tadeusza Kosciuszki,1.
Wroclaw . Bar Mis. Kuznicza, 48.
I emphasize – this is only a small part of such institutions. Search and you will find. There are many such places in Poland.
Where to eat breakfast in Warsaw?
This is a continuation of the previous item. However, the institutions in this list will be much higher level. The thing is that many cool places in Warsaw have a simple promotion – "Buy coffee or tea and get breakfast for free". In fact, for only 7-12 zlotys you can get an excellent breakfast. Below are a few pictures with examples.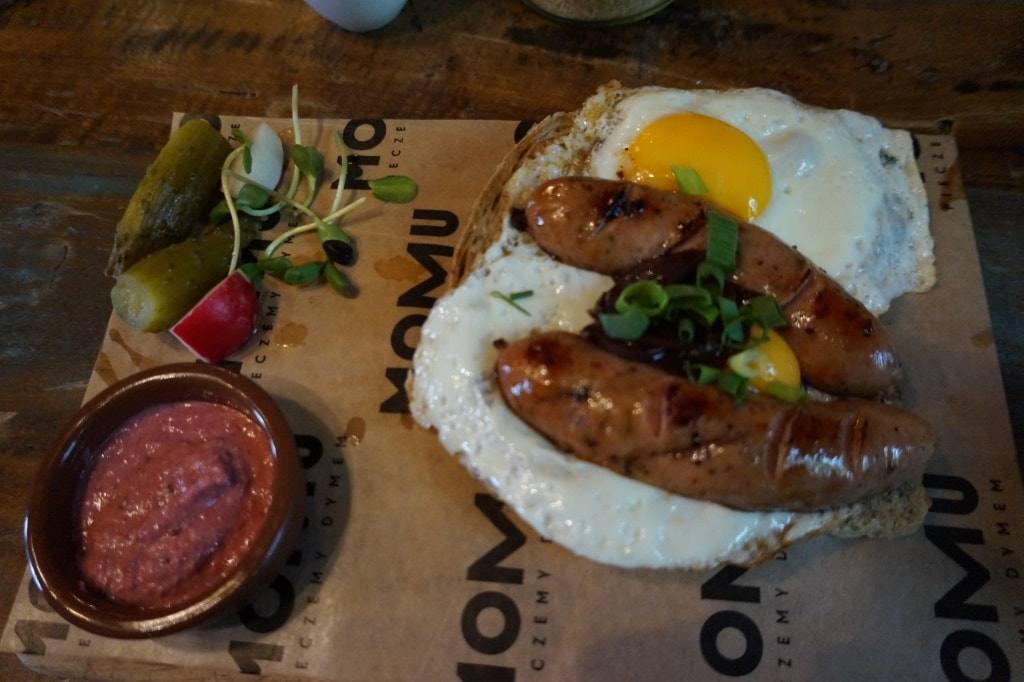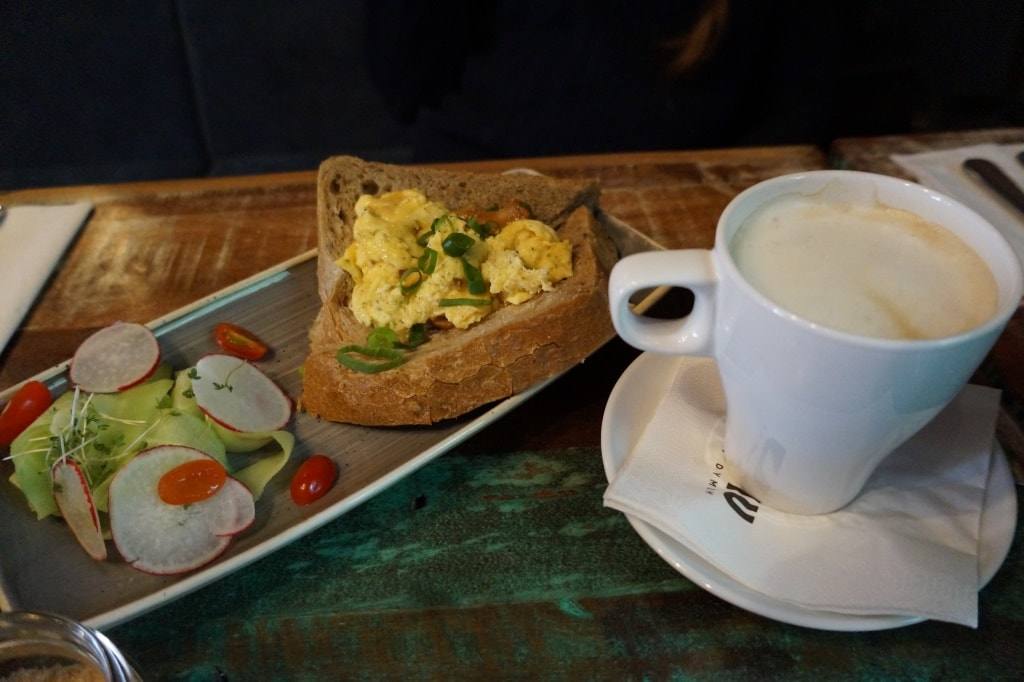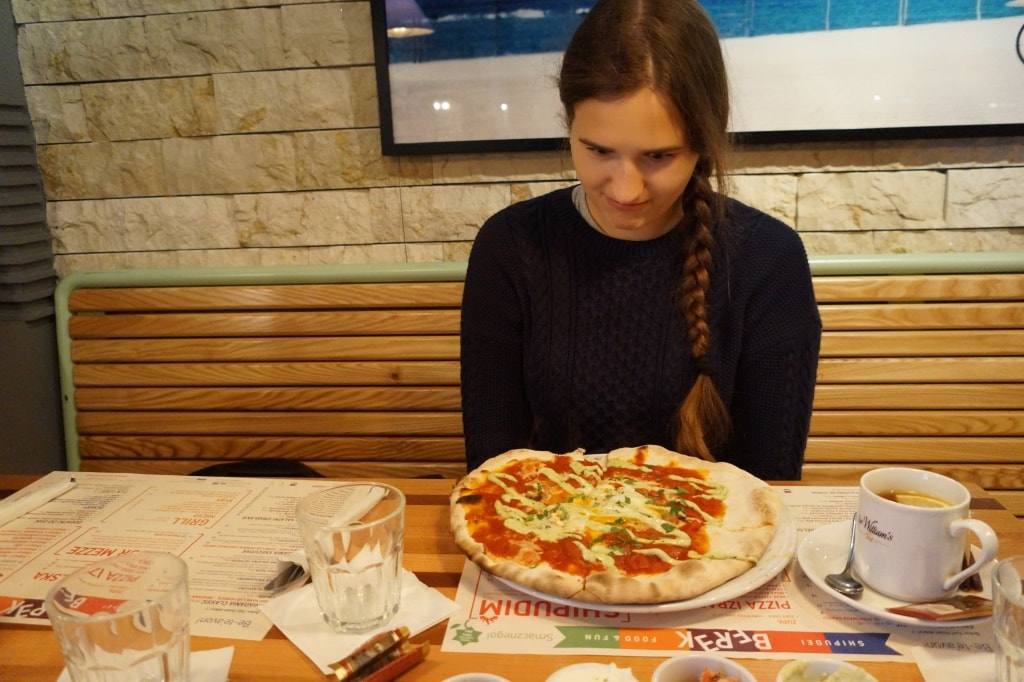 So… Where can I get breakfast in Warsaw? I know of at least three such places. Here are their addresses:
Shipudei Berek (address – Jasna, 24).
Aioli (Swiatokrzyska, 18).
Momu (Wierzbowa, 9/11).
There are always lines at Aioli, so I've only been there once (unlike the other two). Both Berek and Momu are some of my favorite places in Warsaw.
Excursions in Poland
I will not write too much about it, I will recommend two websites: Tripster and Sputnik8. On these sites there are many interesting excursions in the largest cities in Poland. As an example, I will place here a table with excursions in Krakow (the most touristic city in Poland).
You can find excursions in other cities on the sites I wrote about above.
Insurance for trips to Poland
Personally, for all my travels I buy health insurance on the Cherehapa website. This is such a Russian insurance store, where you can find policies from leading brands (from American Liberty to German Allianz). If you do not buy insurance just for the sake of ticking boxes (read – to apply to the embassy), then I recommend that you buy it on this site. The prices there are practically the same as those of Belarusian insurance companies, and the quality of the policies is much higher. The site allows you to quickly compare offers from different insurance companies and shows you itself which policy is best for your trip. You should understand that two insurance policies with the same price can have completely different coverage. Don't buy a pig in a poke. I've already had such a situation that at the right time my insurance turned out to be absolutely useless.
Free museums in Poland
I don't know if you know it or not (I've written about it many times), but many museums in Poland have free days. As a rule, they are weekdays. But you can also find free exhibits on weekends if you want to.
All you need to do is to look for information on the Internet. Believe me – it is worth it (museums in Poland are not as boring as ours). As an example, here is a selection of free museums in Gdansk and Warsaw. You can easily find information on other cities on the Internet. PLEASE NOTE: THE FREE MUSEUM DAYS SCHEDULE IN POLAND MAY CHANGE (ALSO FROM SEASON TO SEASON). CHECK THE INFORMATION ON THE OFFICIAL WEBSITES.
Free museums in Warsaw
Monday – Museum of posters and Railway Museum.
Tuesday – Museum of Caricatures and the National Museum, which has the largest collection of paintings in the Polish capital.
Wednesday – the interactive Chopin Museum. Also on this day you can take a free walk around the Royal Palace and see its interiors.
Thursday – Museum of the History of Polish Jews Polin (it is very cool and modern), Center for Contemporary Art in Ujazdowski Palace, Ethnographic Museum.
Saturday – Museum of the Polish Army.
Sunday – Warsaw Uprising Museum, Museum of the Earth, Literary Museum named after Adam Mickiewicz.
Free Museums in Gdańsk
Monday. On this day you can get free admission to many branches of the Gdańsk History Museum: the Artus Court, City Hall, Urhangen House, Amber Museum and others. More details at mhmg.pl .
Wednesday. The Maritime Museum, as well as its branches (Crane on the Motlawa, Center for Maritime Culture, etc.). For an exact list see nmm.pl .
Friday .. This day you can get free admission to many branches of the National Museum of Gdańsk (Old Art Section, Green Gate, Museum of Ethnography). Read more about it on the official museum website mng.gda.pl .
Saturday and Sunday. Various departments of the Archaeological Museum. Before your visit visit visit the site archeologia.pl .
What to see in Poland?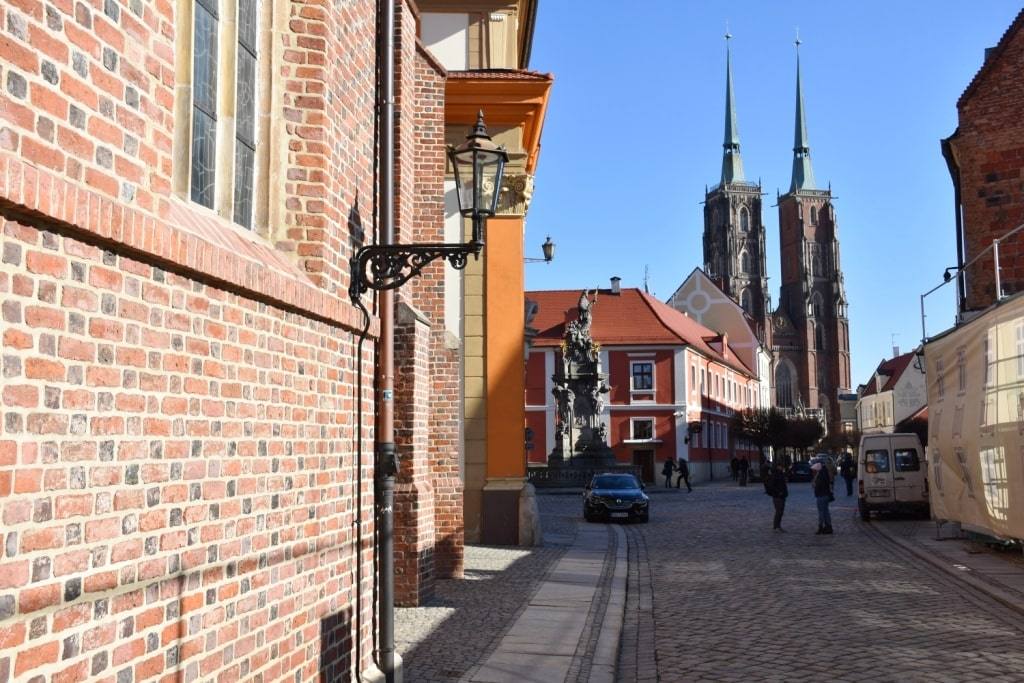 At the end of the article I will publish here a selection of the most interesting places to visit in Poland. The selection is made "in my subjective opinion", so if you want, you can argue with me in the comments. So… Here is my personal TOP-8:
Belovezhskaya Pushcha (then you can compare how this national park looks like in Poland and Belarus).
Olsztyn + Masurian Lakes.
Warsaw
Gdańsk (+ seaside Sopot and a huge knightly castle in Malbork)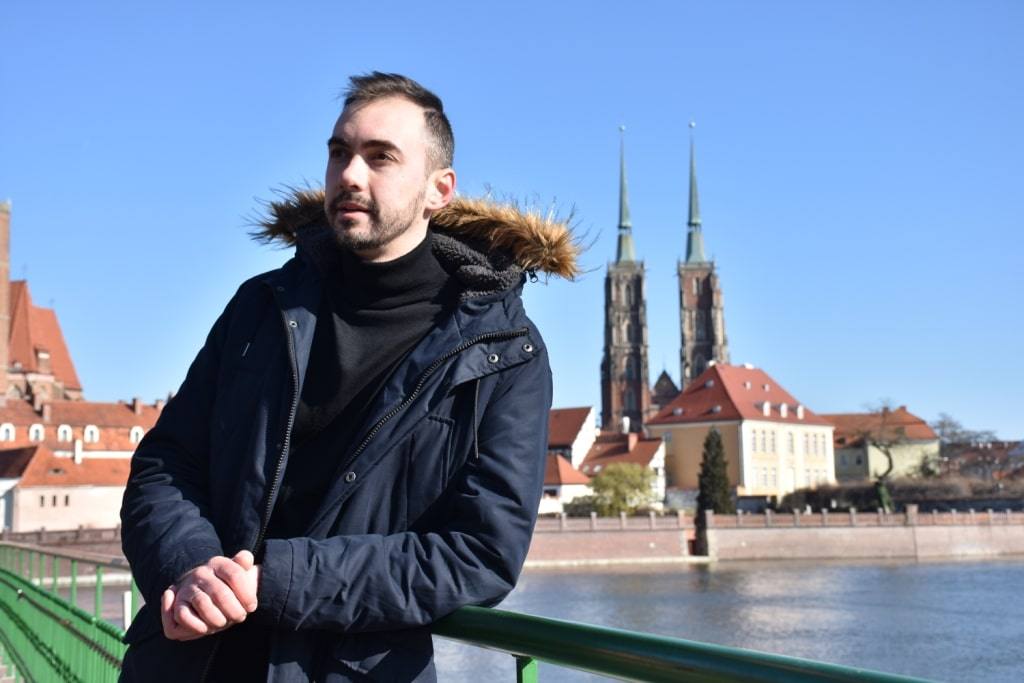 Wroclaw and the castle Ksionrz
Krakow (+ underground city in the old salt mines in Wieliczka)
Auschwitz-Birkenau Museum (by the way, the entrance to this complex is absolutely free)
Zakopane + the Tatra National Park (one of my favorite places on the map of Poland, mountains of cosmic beauty + Sea Eye Lake, considered one of the most picturesque in Europe).
Of course, this is only a general selection of interesting places. If you have something to add, leave it in the comments. We will compile the tips together.