Japan Atsugi Sightseeing.
Going on a trip? See what you can visit during your vacation. We have over 4,000 sights around the world in our database! Back? Fill up our collection of interesting places.
Brattle Theater.
Church of St. Simeon and St. Helena
Uffizi Gallery
Chateau de Chenonceau
Altona Baker Park
Parque Metropolitano di Pituasu
Expeditionary Corps Museum
University of Montana
Yonaguni Monument
Yonaguni is a submerged huge megalithic complex off the coast of Yonaguni, the southernmost of the Ryukyu Islands in Japan. […]
Kawachi Fuji Flower Garden
The magnificent Kawachi Fuji Garden is located in the Japanese town of Kitakyushu, a four-hour drive from Tokyo. It has become well known for its […]
Ocean Dome – the largest indoor pool in the world
Ocean Dome is the world's largest indoor water park, listed in the Guinness Book of World Records as such, and the main attraction of the Japanese resort of Shigaya, […]
Ginza
Ginza (Japanese 銀座, "silver court" or "silver shop") is a shopping district and cultural center of the city in Chuo, one of Tokyo's special districts. […]
Osaka International Airport
Osaka International Airport is a hub in Japan and the largest hub in the Kansai region, serving domestic airlines. […]
Yamagata Airport.
Okayama Airport
Okayama Airport is located in the Okayama Prefecture, Japan. […]
Nagasaki Airport
Fukuoka Airport
Kumamoto Airport
Sightseeing
Only authorized users can add content to this site! Please log in if you are registered (if you were already logged in – try again, maybe session time expired). If not, please register.
Travel Goals
Vacations in the Crimea
Skiing
Time to have a rest in Russia
How the stars are vacationing
Try the country for yourself
This is interesting
03.09.22 The ban on flights to Russia's southern regions is extended
It is proposed to use other air ports…
It is proposed to use other air ports…
A 1,5 year old girl had her head bashed in by a huge iceberg…
The travel agencies still have no information about connecting to the system…
Hundreds of citizens and tourists regularly went there to be photographed…
Belvedere is a palace complex located south-east of the city center.
It is one of the most famous and recognizable symbols of the city, often portrayed…
New Town Brewery is located in the center of Prague, 400 meters away from Wenceslas Square…
Booking
AIRLINE TICKETS ONLINE
Hotel search
Train tickets
About project
Our partners
Our projects
© 100 Roads Ltd. , 1996-2022 100 Roads ® registered trademark. Support service All rights reserved and protected by law. Free non-commercial use of 100dorog.ru publications on the Internet, in whole or in part, is permitted only with the indication of the source "100 Roads" with an active, indexed link to 100dorog.ru, required for each publication. In other cases, written permission of the administration is required.
Shigaya is a sight you will never see. Japan
A man always longs for the sea. The sand and gentle waves set up a positive and relaxing mood. If there is no sea or ocean nearby, people rush to their artificial substitutes. For example, swimming pools or water parks. Therefore, in many cities you can find such wonderful oases.
Japan, though surrounded on all sides by the ocean and seas, also had such an interesting attraction in its arsenal – an unusual piece of ocean under the roof. This is not quite the standard Seagaia Waterpark, or as it was called the Seagaia Ocean Dome (in the original Seagaia Ocean Dome). It was once located in the city of Miyazaki.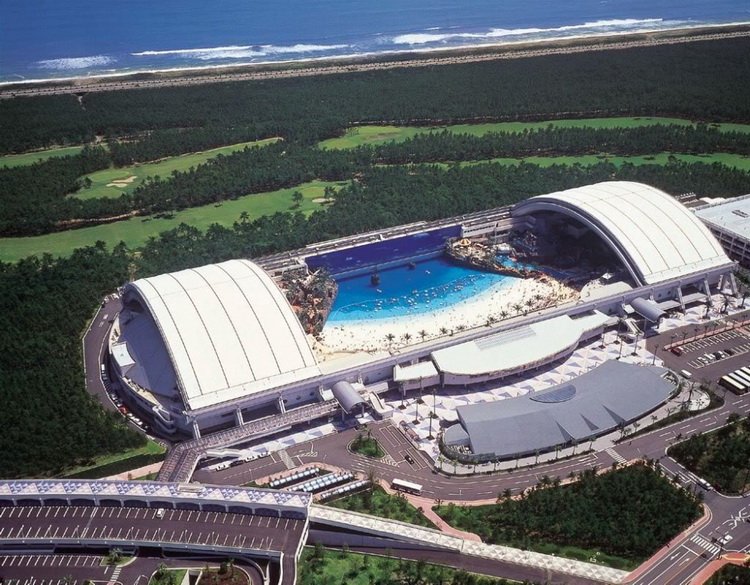 As you noticed, this article is written in the past tense. The fact is that at the moment this attraction is not just closed, but practically wiped off the face of the earth. But we still want to tell about it. So to speak, to pay tribute to the builders and designers of this wonder.
Former Sigaya on the map
Geographic coordinates 31.955152, 131.468797
Distance from Tokyo, the capital of Japan about 900 km
The nearest airport in Kagoshima is about 75 km
The Shigaya Dome was part of the Sheraton Seagaia Resort and was perhaps its most striking attraction.
Sigaya was a huge indoor water park measuring 300 by 100 meters. At its center was a real piece of tropical paradise beach with real sand and ocean. The beach was able to accommodate about 10,000 people simultaneously. What, in fact, and used as locals and tourists.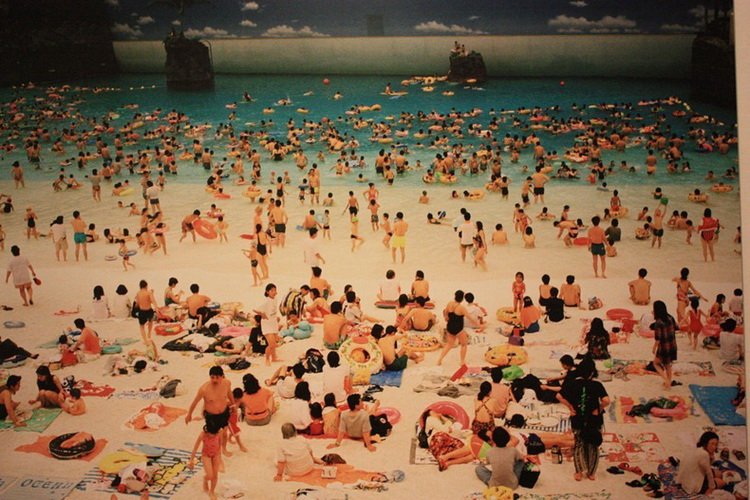 Here, as well as on some paradise islands, also had its own volcano. Of course not as majestic as Fujiyama, but also remarkable (although artificial). The volcano woke up every 15 minutes and shook the neighborhood, thus generating a big wave on the surface of the local "ocean". This was eagerly awaited by surfers, for whom the wave is the meaning of life. In addition, every hour the volcano spewed tongues of flame, delighting all the other visitors of the park. Naturally, all processes were automated and fine-tuned.
In addition, under the dome of the Sigaya there were all the traditional attributes of a water park and resort. Want a roller coaster? You got it. Want cafes, restaurants, spas? There were plenty of those. Don't want anything? Then just bask in the sand or swim in the mini-ocean. There were optimal conditions for this. The air temperature was kept at 30 degrees Celsius, and the water about 28. Agree, quite comfortable.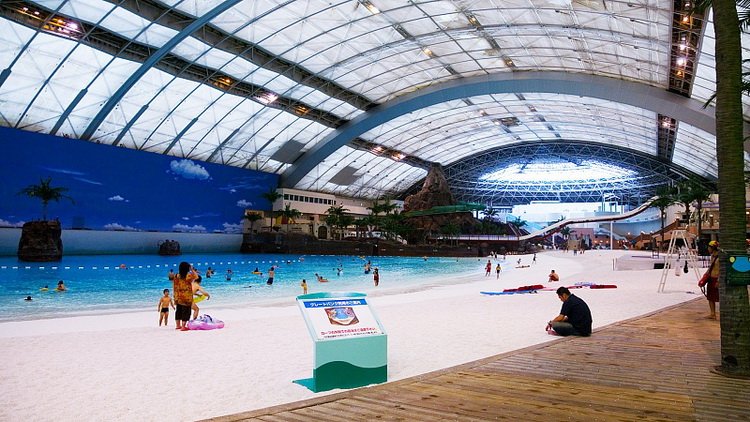 Sigaya had an interesting feature – a giant sliding four-piece roof. In sunny and clear weather, the roof is spread out, allowing visitors to admire the blue sky. If it is bad weather, raining or simply gloomy outside, the roof is closed but still allows visitors to enjoy the sky, albeit an artificial one. The scenery of the sky was as close to natural as possible. So the bad weather had no effect on the wonderful pastime inside. In general it should be noted that the interior design was very well done and was nearly indistinguishable from a real paradise place somewhere in Bora Bora.
Rise and Fall
The Sigaya Dome was built in 1993 and in 1995 there was a record of 1.250 million visitors per year. Unfortunately, this monster was unprofitable. According to the project, in order to make Sigaya profitable, it had to be visited by about 2.5 million people.
But visitors were usually no more than 1 million. So the project was declared bankrupt in 2001, then sold. It operated until 2007 and was again officially closed for renovation. But no reconstruction took place. And now there are the pitiful remains of a once gigantic structure in its place.