Cambodia: beaches in Sihanoukville
All Sihanoukville beaches – descriptions, personal experiences, photos, gps coordinates and labels on the map.
Cambodia's main resort Sihanoukville is a city named after King Sihanouk. For Cambodians, Sihanouk is the "father of the nation," although he once relinquished power in favor of his son. His main merit, from the point of view of his subjects, is the end of years of civil war, the creation of a fragile but still working ruling coalition and the disarming of the last Khmer Rouge units.
The city of Sihanoukville itself, I think, is not of particular interest, and therefore I'll proceed directly to the description of its main attractions, for which people go there mainly – the beaches.
Contents of the article:
Numbers of beaches in the text correspond to their numbers on the map at the end of the article.
1. Victory Beach
Swanky beach, but the main thing is that the tide was out. A bit far from the center of local tourist life (but a plus for some).
…At Victory Beach several times my eyes clung to the company of Russian-speaking guys with the legendary yellow suitcases of Kazantip. It turned out that these are members of the "party intelligentsia" of those who decided to revive the withered in the Crimea Kazantip on the beaches of Sihanoukville. Initially, it was planned to hold a rave on Techo Morakot, the same island where the security guard wouldn't let me in, because I wasn't on some "list. But the organizers didn't take something into account, they didn't agree with someone – and it didn't work out for them. They had to huddle on the beach Victoria, which clearly does not match its size and sleepy atmosphere of their scope and bubbling energy. But it was funny to look at them – tattooed loose girls, scowling after yesterday's guys, deliberately loud Russian speech with a soft "southern" accent …
By the way, the island – where they were kicked out – according to rumors, almost bought up the former mayor of Moscow with his enterprising wife, and they kind of "build up" it. In favor of this version speaks the fact that the bridge between the island and the mainland on some maps called Russian (Russian bridge). In general, Sihanoukville places makes a strong impression of "all-Russian health resort" – a lot of compatriots and citizens of CIS countries, but at the same time in Phnom Penh or Angkor I did not meet our people in general. That is, the situation is very similar to Vietnam – compatriots cluster mainly in Nha Trang and occasionally go to its suburbs. And in Hanoi, and in Hue, and in Saigon Russian speech is heard quite rarely – but in Nha Trang in Russian every second inscription.
GPS coordinates Victori Beach: 10.63422, 103.49993.
2. Hawaii Beach
Beautiful secluded beach, not very crowded, the sand and water are very clean. But at low tide, swimming can be problematic.
Minus – the huge bridge Techo Morakot, located next door, does not add to the atmosphere of "paradise island".
By the way, this bridge leads to a neighboring island, but you can't drive there. At the entrance to the bridge there are some kind of guards, and one of them in very bad English explained to me that you can go further, if I (or the name of my travel company) is on some kind of list. This was followed by an offer to give him money – $10 – and he would turn a blind eye to my absence from the list. I decided to spend $ 10 dollars with greater benefit – therefore generous offer is not used.
The coordinates for Hawaii Beach are 10.62904 and 103.49679.
3. Ratanak Beach
This tiny beach looks like a private beach belonging to the Treasure Island Seafood restaurant, but it is not.
You have to be careful when swimming – there are hefty boulders at the bottom.
The coordinates for Ratanak Beach are 10.62163, 103.4912.
4. Independence Beach
This beach (locals call it 7-Chann) is located near the Independence Hotel – and shares the name with it. The beach has a vivid resemblance to the old Soviet sanatoriums, aided in no small measure by the swimmer's statue, a la Soviet Abkhazia, and the general atmosphere of squalor. However, the sea and sand there are great.
Coordinates of Independence Beach: 10.61112, 103.50179.
5. Sokha Beach
It would be a very nice place, were it not for the presence of stinging local jellyfish. For instance, on the very first day one of them stung me, and it hurt – I had to rub a "life preserver" on the wound, but after a day it's gone.
The beach coordinates Sokha: 10.60856, 103.5127.
6. Ochheuteal Beach
The center of all beach life in Sihanoukville. A sea of restaurants, cafes, bars and travel agencies, always a crowd. As a consequence, the beach itself and the water are quite dirty. However, it's the best place for breakfast/lunch/dinner/coffee and stuff like that – especially a lot of cute inexpensive places not on the beach itself, but on two streets parallel to it.
The coordinates for Ochetel Beach are 10.60524, 103.52404.
7. Otres Beach
In my opinion, one of the best (along with Victory and Hawaii) beaches in Sihanoukville. It has a long stretch of sand, lots of cafes and restaurants, which are not very crowded yet, so the beach is pretty cozy, clean and noiseless.
Otres is a nice place for a relaxing afternoon with a book and watching the sunset.
The coordinates for Otres Beach are: 10.57479 and 103.54955.
Sihanoukville beaches on the map:
At any of the beaches, you can try a traditional Khmer massage (full body or just feet). The farther away from the party, the more reasonable the prices. For me, for example, a foot massage at Hawaii Beach cost $4. On Otres, the same thing costs 5, prices for a full massage start at $8.
My personal opinion of the beaches of Sihanoukville: very decent, no worse than in Thailand and much nicer than in Vietnam or Bali. Having traveled all over Southeast Asia, I've chosen a few places most suitable for extended stays (a month or more) – Sihanoukville ranks pretty high on that list, along with some of the islands of Thailand.
In addition to me, the charm of Sihanoukville has realized many Russians and residents of neighboring countries, as evidenced, among other things, this graffiti at the entrance to the beach Otres:
Where to stay in Sihanoukville: Top 5 hotels for value for money
Sunset Lounge Hotel***
Rating by reviews 8.8 ("Awesome"), price from $60 for an upgraded bungalow for two guests.
The owners of this beachfront Ochetel hotel are a German couple who take care of everything and put their hearts into their work. The hotel has excellent grounds, a clean pool with sun beds, rooms and bungalows are fully equipped with everything you need for a comfortable stay.
Reservation link: Sunset Lounge.
Hotel Sok Sabay Resort***
Rating by reviews 8.6 ("Awesome"), price from $63 for a deluxe double room.
One of the best hotels on Otres Beach. The grounds, though small, are very well maintained. Comfortable rooms, decorated in eco-style. Breakfasts are basic, but hearty and good – there is a street with restaurants nearby.
Booking link: Sok Sabay Resort .
Patchouly Chill House Hotel***
Review rating 8.2 ("Very Good"), price from $65 for a large 3-bed room.
"The Patchouly is located a little further inland, about the same distance from Sokha and Ochetel beaches. The owners are a mixed Khmer-French family, very friendly and helpful people. Rooms were bright and spacious, nice bed linen in thin cotton, hot water at a good pressure all day long (which is not common in Sihanoukville).
Link for booking: Patchouly Chill House .
Mei Hao Deng Hotel****
Rating by reviews 8.7 ("Awesome"), price from $72 for a 2-bed room.
Cozy little hotel at the far end of Otres Beach (5 minute walk to the sea). Beautiful garden, pool, great breakfasts. Everything is new and very clean, the staff is above all praise.
Link for booking: Mei Hao Deng Hotel .
Queenco Hotel & Casino****
Review rating 8.0 ("Very Good"), price from $85 for a 2-bed deluxe room.
This hotel is located on the first line of Victoria Beach, a comfortable place to swim and perfect for watching sunsets. The hotel is ideally located for sunsets and sun loungers, as well as for business and leisure travel. The staff is very helpful and helpful, the management is very good at communicating with guests, if they are not happy with anything, and trying to change it immediately.
Booking link: Queenco Hotel & Casino .
Rent a motorcycle in Sihanoukville
No problem, prices range from $5 (downtown) to $8 (at hotels) per day, but always require a passport with a Cambodian visa as collateral. This is why my favorite trick of handing in an old expired passport didn't work there – unlike the Vietnamese, the Khmers will flip through the passport until they find the visa. The next day the bike owner somehow found me in another part of the town (!!!) and with an incredulous, apologetic look returned the passport and took the bike. He had a wary look on his face – he had the misfortune to deal with an "illegal alien" without a visa in his passport… Even the change of passport from fake to real, he no longer agreed – he was very puzzled by the fact that I have "two passports" and, as he thought, bad intentions regarding his bike.
Regarding the prices of motorcycle cabs and tuk-tuks – I have my own transport, not particularly checked, but from my Victory beach to the central Ochheuteal local were willing to bring for 1.5 – 2 dollars. Apparently, you can get cheaper if you haggle. The pleasure of riding a motorcycle diligently marred by the local police – are standing in ambushes and dilute the money under the pretext of no license and / or helmet. First, under the pretext of looking for something illegal, the policeman will search your pockets and bags. After realizing how much money you have with you, he announces the amount. You can't tell him to fuck off and leave him the bike – you left your passport as a deposit for the bike. Unlike their Thai counterparts, who officially collect fines and write receipts, these are just a scam – like the Hindus in Goa. Helmet okay, you can understand, but how many of the tourists who ride bikes with a license category A? Although I've stuck my international license category B – quite a roll.
Although the police are reluctant to give receipts, but if they get to the trouble – they will. I have Sihanoukville over time, even established a kind of tradition: in the morning I get pulled over by a policeman, collects a fine for driving without a helmet (3000 riel), and gives me a piece of paper to confirm the event. And then all day long I show this paper to his very zealous colleagues, who also want to relieve my pocket for the same reason. But the fine already paid today gives me every right to smile at them affectionately, mentally or aloud, and send them to the wilderness and quietly continue on my way. I've decided to think of it as "daily pay for riding without a helmet." No, it's not fancy and I quite understand that a helmet is necessary, it's safer, etc. etc. – But for me personally, I lose the lion's share of the fun of riding a bike without a helmet. For me it is like drinking decaffeinated coffee or eating carrot cake – apparently, it is reasonable and useful, but "not that". By the way, according to my observations, the police are on duty only on the main street Ekareach – if you ride "vegetable gardens", it is quite possible to avoid meetings with them.
How to get to Sihanoukville from Phnom Penh and Siem Reap
The easiest way to get from Phnom Penh to Sihanoukville is by bus/microbus – the difference in price and time between these two options will not be very significant. From Siem Reap, you can also take the bus, but it will be quite a tedious undertaking. First the 6-7 hour bus goes to Phnom Penh, then those who want to continue on to Sihanoukville have to change buses and, after spending another hour at the "bus station" (a dusty tiny little nook somewhere on the outskirts of Phnom Penh), go on the journey to Sihanoukville. In my case, we jostled for another hour or so in the evening traffic on the way out of Phnom Penh, before we took the N4 road to Sihanoukville. So, having left the hotel at 7:30 am, I didn't arrive at my destination until 11:30 pm… Total travel time – 16 hours, price – $12; If you are not very tight on money or traveling with children, I would recommend carefully considering covering this distance by plane. The bus from Sihanoukville to Phnom Penh is easier, about 5 hours, $6.
Lifehacks: how I save on insurance and domestic travel
How to buy good and inexpensive travel insurance:
Good insurance that works was not easy to find before, and now it has become even more difficult because of the constant fluctuations in the exchange rate of the ruble to the world currencies. For the past few years I have been taking out travel insurance through the online service Cherehapa – here you can compare products from different insurers and choose exactly what suits you best:
I also recommend reading a detailed article on choosing the right travel insurance – it may well save you from unnecessary overpayments and more serious trouble.
How not to go broke on domestic cross country travel:
For those who need to get from point A to point B inexpensively and comfortably, I can recommend an interesting young startup called Bookaway.com – it allows travelers to find, compare, and book bus, train, ferry, and cab tickets online:
All Sihanoukville beaches – overview with photos
Sihanoukville is one of the most popular resorts in Cambodia. Temperatures in this city rarely drop below +30°C, so foreigners who want to enjoy the bright sun of Asia come here all year round. Otres, Serendipity, Independence, and other beaches of Sihanoukville are not only its main attractions, but also the pride of the whole of Cambodia. Which one is the cleanest and where is the best place to vacation with children? Read in this article.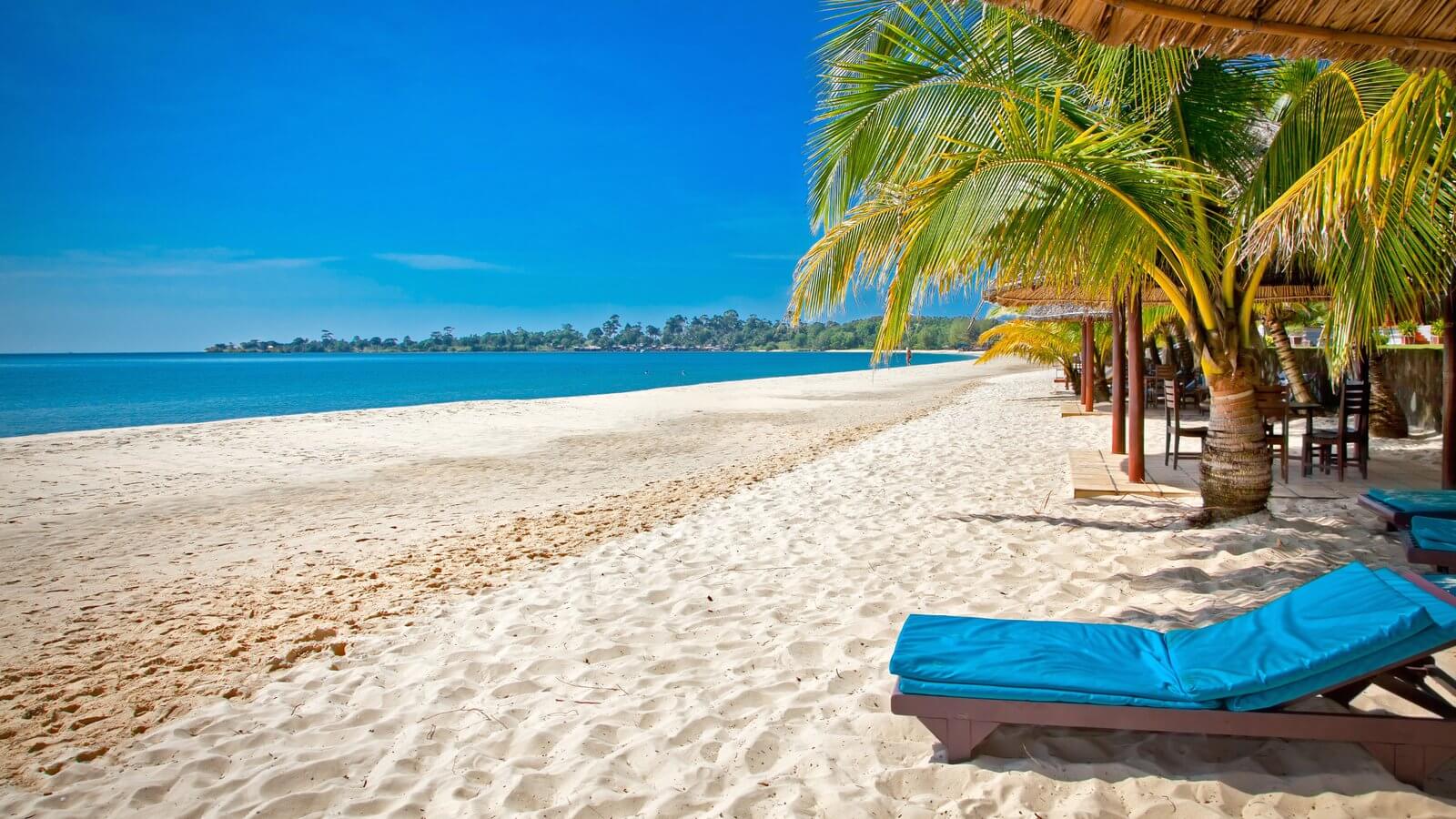 Interesting to know! Sihanoukville, like other coastal cities in southwestern Cambodia, is washed by the Gulf of Siam. It is shallow (an average of 10-20 meters) and fairly warm, which contributes to the rapid reproduction of corals and makes it attractive to fans of diving.
Otres
The beach is conventionally divided into three parts.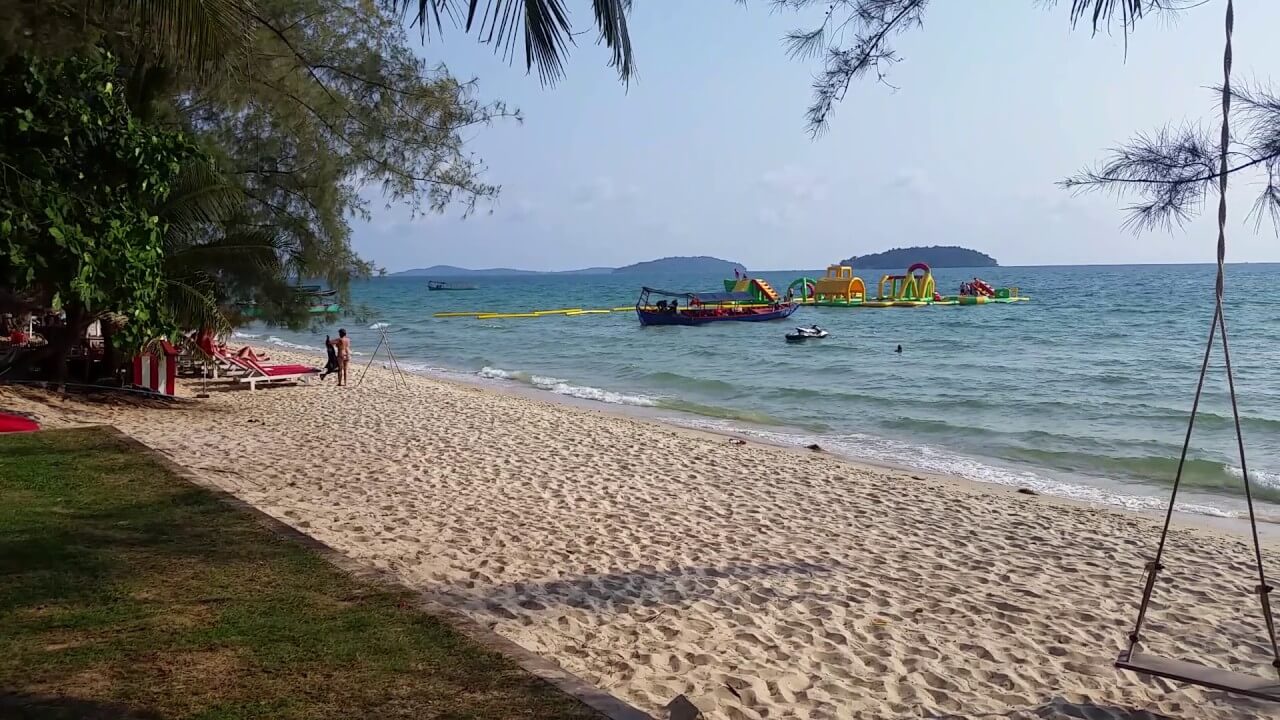 The well-kept waterfront area with free children's slides and inexpensive entertainment for adults (sailing boats, jet skis, diving, fishing and snorkeling). There are many different cafes and bungalows, with free sun loungers nearby.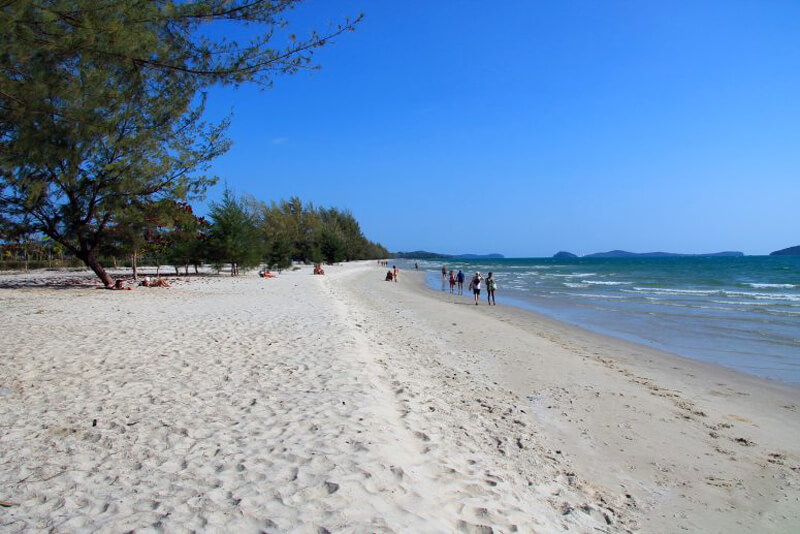 The two-kilometer coast with sparsely planted conifers and palm trees, where the locals often relax in small gazebos. In this area, the coast of Otres a bit narrow, littered with algae and other natural debris, so that the sand is brought here from other beaches (though infrequently). There are budget resorts, such as White boutique hotel, but no catering. This area is the most deserted and wild, but also the one with the most garbage, including construction.
A large wide beach with the most developed infrastructure. It is here that the most hotels, restaurants and options for outdoor activities. Sun loungers are free, you can book tours to neighboring islands (5-6 hours about $15 per person). Prices are slightly higher than in the first zone.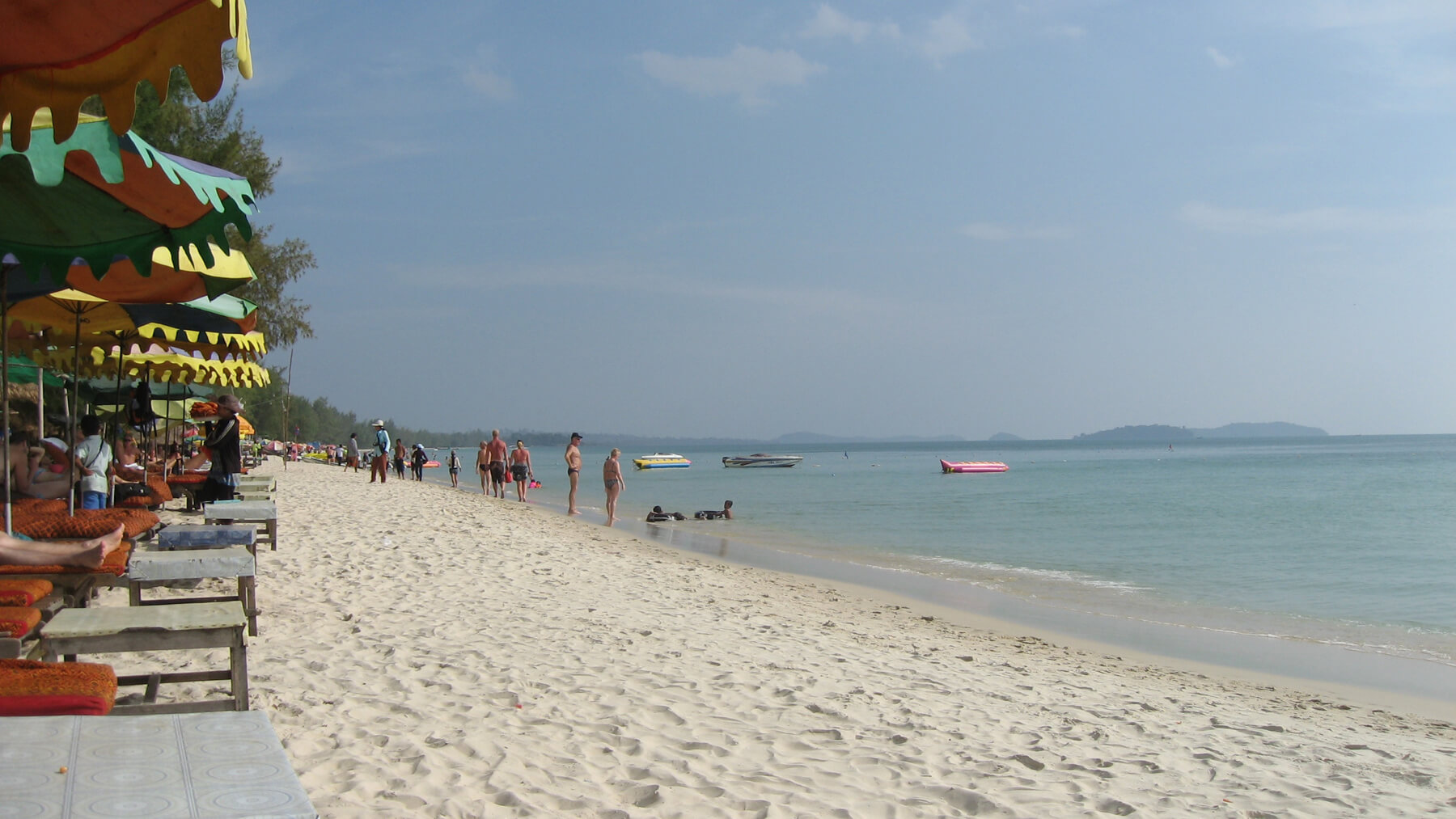 The beach Otres (Sihanoukville) is suitable for families with children: the water is calm and clear, the sand is fine and creaky, there are almost no jellyfish (rarely come at night). This is a quiet place where you can relax from the hustle and bustle and enjoy a beautiful sunset.
Otres is 8 kilometers from Sihanoukville;
There are no supermarkets nearby where you can buy ordinary food (and even water);
In some parts of it, especially on the wild beach, the roads are still unpaved, which causes a lot of inconvenience during the rainy season;
Otres is now being actively built up with a variety of hotels, so tourists have to put up with the sounds of incessant construction throughout the day.
Serendipity
Located in the central and densely populated area of Sihanoukville, it is one of the most visited in all of Cambodia. The bottom is shallow and the water is clean and clear, although at times the current brings garbage, which is cleaned up within a few days.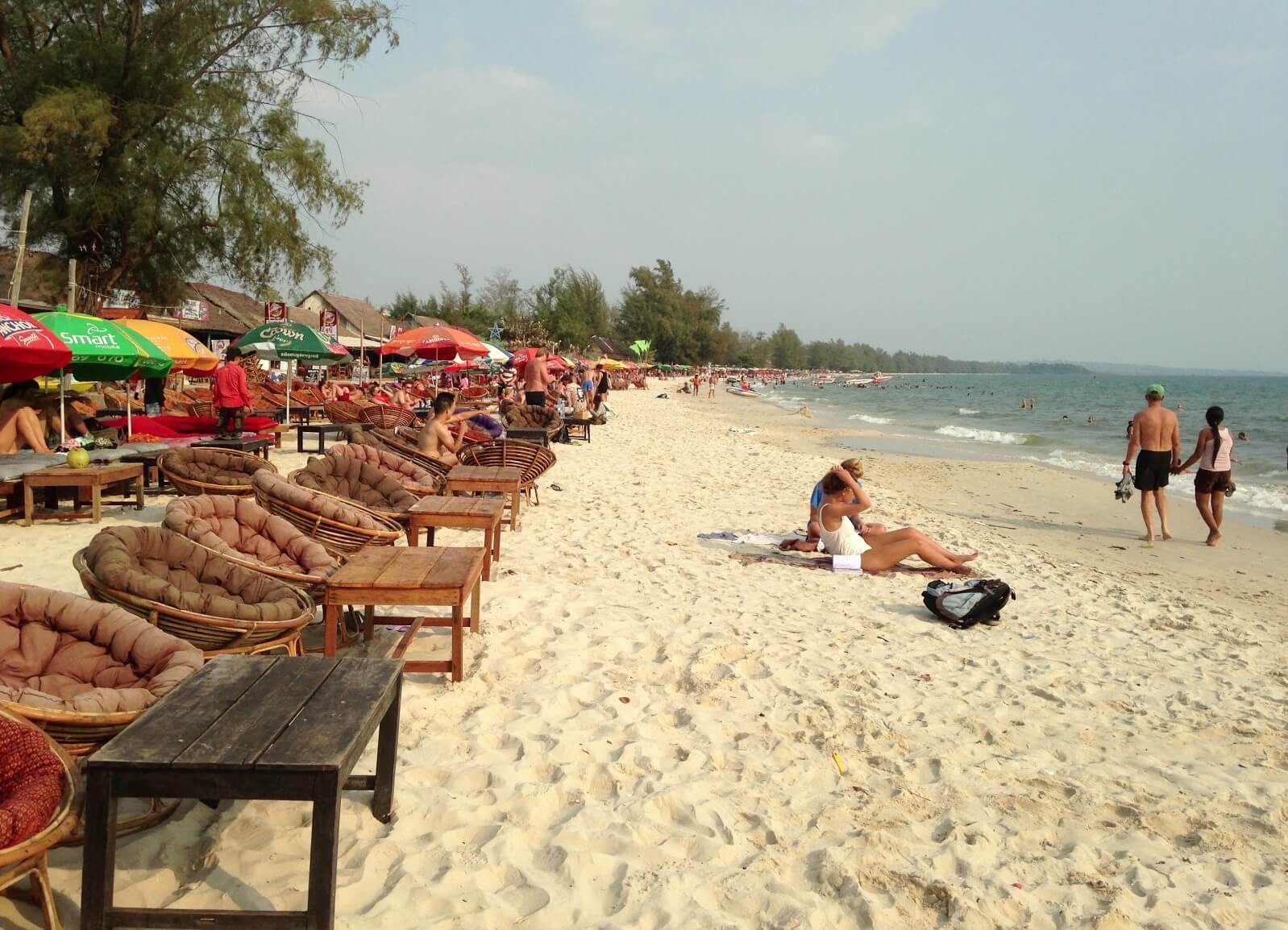 Serendipity is the beach of Sihanoukville, which allows you to experience the local atmosphere. Here life does not stop its course even at night – in the cafes, placed in a long row on the shore of the bay, constantly held discos, uninterrupted music, and on holidays fireworks are launched.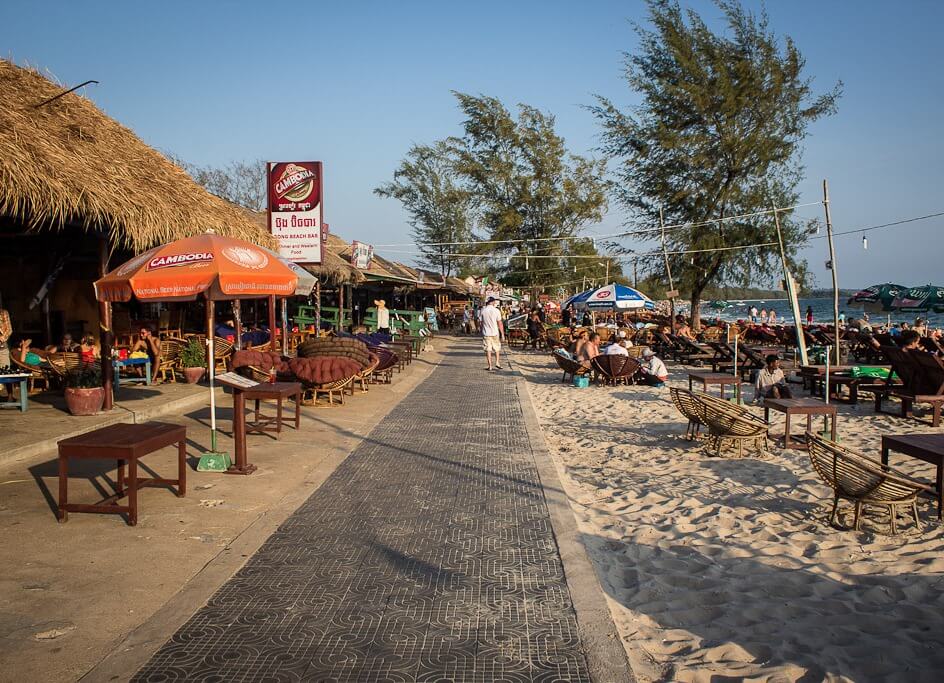 Serendipity has the most developed infrastructure of all the beaches of Sihanoukville (Cambodia). Nearby are hotels, restaurants, supermarkets, souvenir shops and several travel agencies offering tours.
The beach is great for nightlife lovers, but will be a bit uncomfortable for young children because of the constant noise, the smell of alcohol and the lack of special entertainment.
Serendipity has a lot of people on vacation;
Clingy vendors;
Lack of sun loungers (tables and chairs on the beach instead);
Sometimes there are muddy currents with trash and jellyfish.
On a side note! How to get to Sihanoukville from neighboring cities and countries is described in this article.
Independence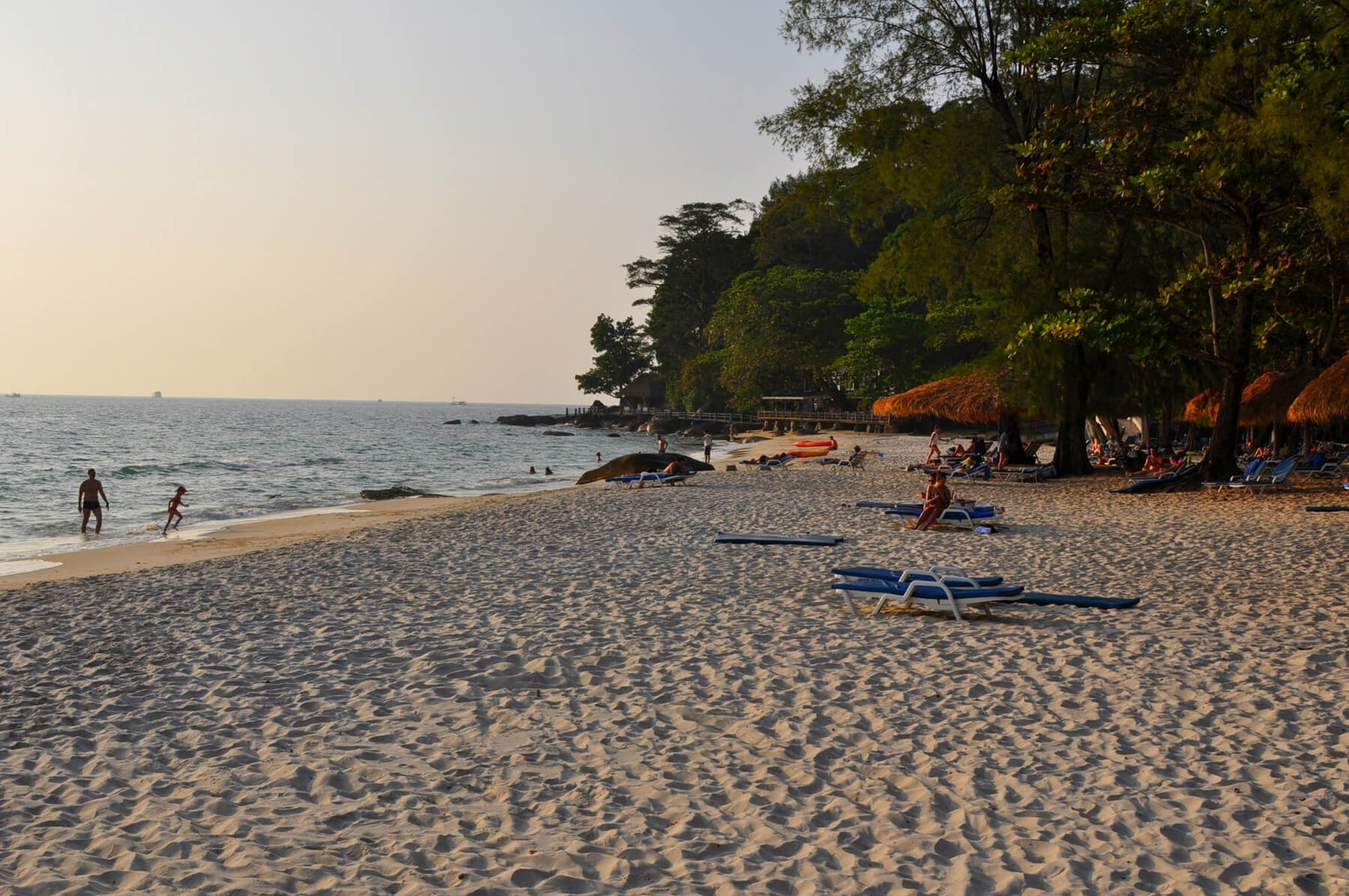 Like Otres, it is conventionally divided into several parts:
Belongs to the hotel of the same name. It has everything you need for a good holiday: several restaurants with local food, sun loungers, playground and a place to play tennis, awnings, massage and spa services. The beach is cleaned daily, its territory is guarded. But all facilities are reserved for hotel residents and Independence fitness club membership card holders, for other vacationers entrance is paid.
It is owned by the city and is open to the public. It's not as clean as the first area, no amenities, but plenty of diverse restaurants.
Like other beaches in Sihanoukville, Independence is covered with fine white sand and washed by clear turquoise water. This is a great place to relax with children – near the shore of a breakwater, so the bay in this place is always quiet. Also on the approach to the beach is a small public park and promenade for cozy evening strolls.
The high price for admission to the hotel area is $10 per person;
Lack of comfort in the free part;
Poorly developed infrastructure.
Ochutel
Another great place for lovers of fun and dancing. Masses of cheap cafes, extreme entertainment and all this among the tireless locals – experience what a traditional vacation in Cambodia is like.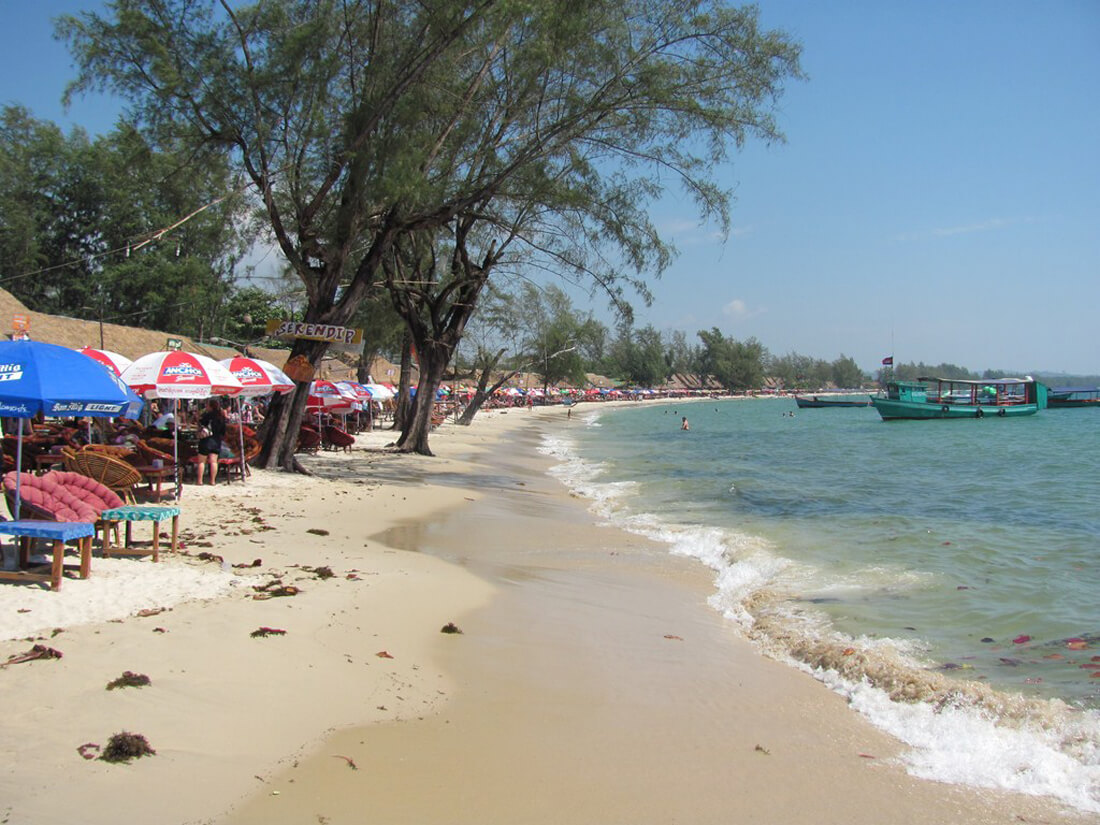 For those who prefer to bask in the calm waters, Ochutel is not suitable, as well as for families with children. Despite the fact that there is sandy bottom and clean shore, the waves often lash it with various debris and small jellyfish.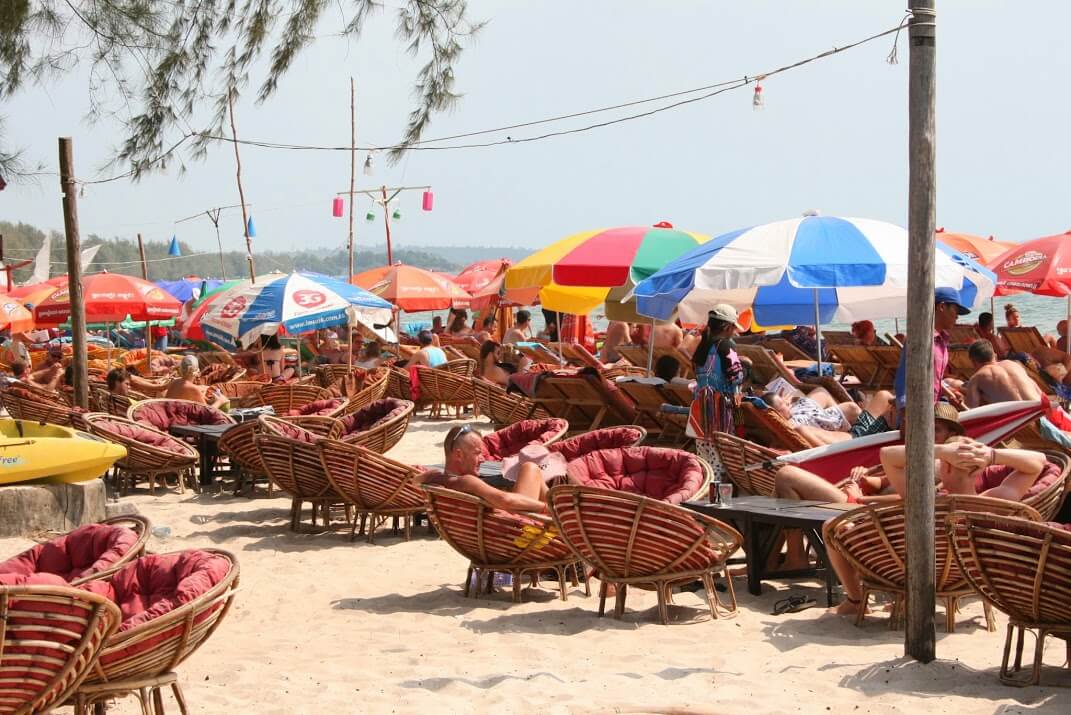 Located in the center of Sihanoukville, just behind Serendipity, Ochutel constantly crowded with people, which benefits beggars and persistent loud-voiced sellers. At the same time to find a quiet place is still possible – a little further away from the many institutions is a wild beach, but the silence will have to pay for a complete lack of amenities.
Noisy and dirty place;
Sun beds and umbrellas are paid.
Sokha
The most picturesque beach in Sihanoukville, photos of which are often used to advertise the rest at this resort. As in the case of the Indipendence Beach, it belongs to the hotel Sokha Beach Resort, but the entrance here is absolutely free to all comers.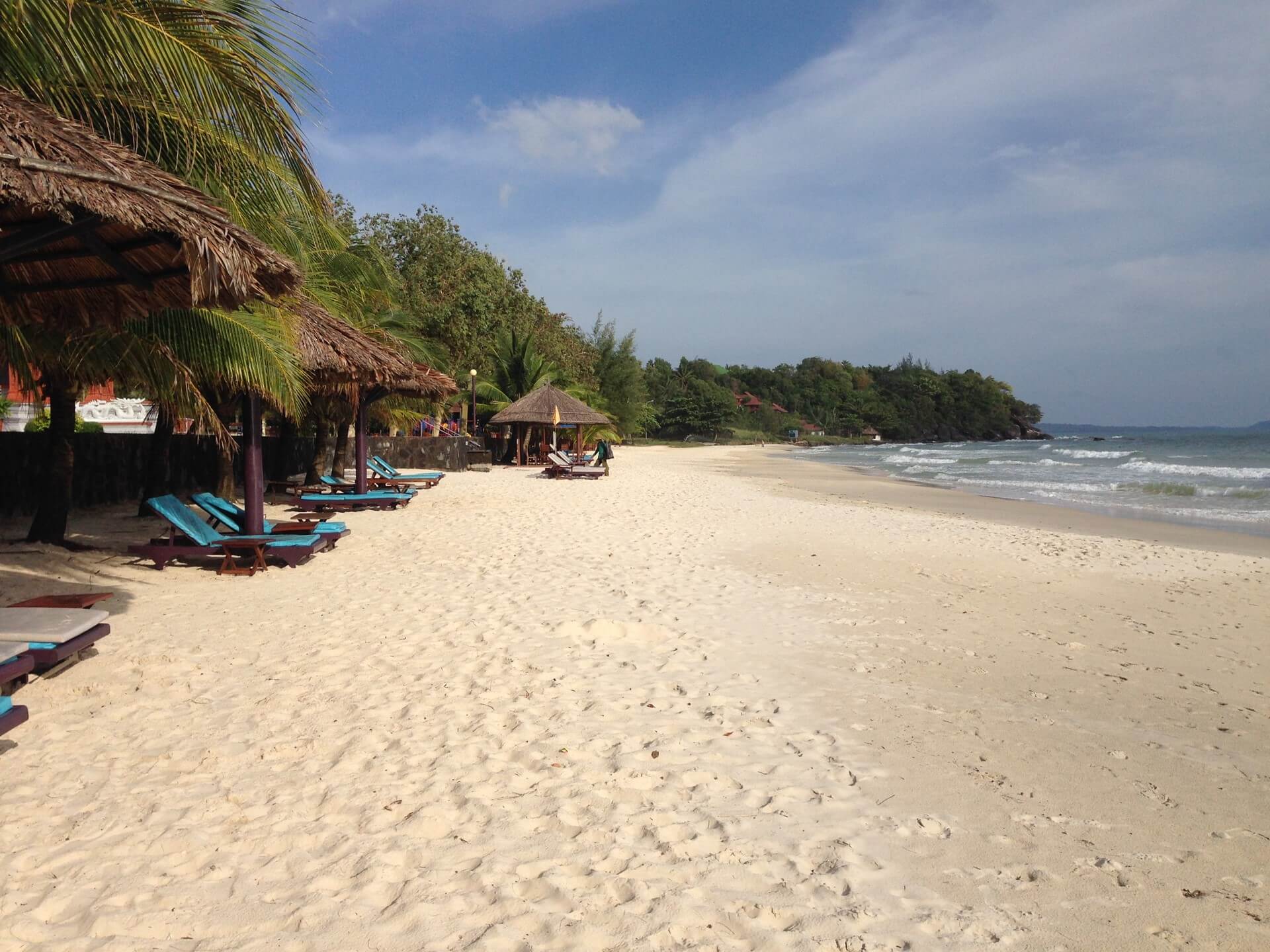 Sokha has a very clean beach, which is cleaned daily by the hotel staff. On the left side of the beach there is a small park with various trees and a couple of exotic sculptures. The water on the shore is clear, the bottom is gentle and comfortable even for children, but because of the large number of stones in this area there are strong waves. The beach occupies a small area and is guarded around the clock, there are no noisy hangouts or clingy sellers.
A little trick! To avoid paying to rent every chair and other amenities (including even the gym), pay to stay on the beach all day ($10 per person). As a gift to all the goodies of civilization, each vacationer will also be offered a complimentary soft drink.
All facilities – paid;
Underdeveloped infrastructure – there is virtually no entertainment on Sokha.
Hawaii
Conventionally it can be divided into two parts: the right coast is covered with warm white sand, and on the left – large and small stones. Located in the former Russian quarter, near the bridge of the same name and the island Snake. Not a lot of people, but the beach is dirty – the trash from the port, located nearby, the water washes up to the shore, and cleaned not more often than once a week.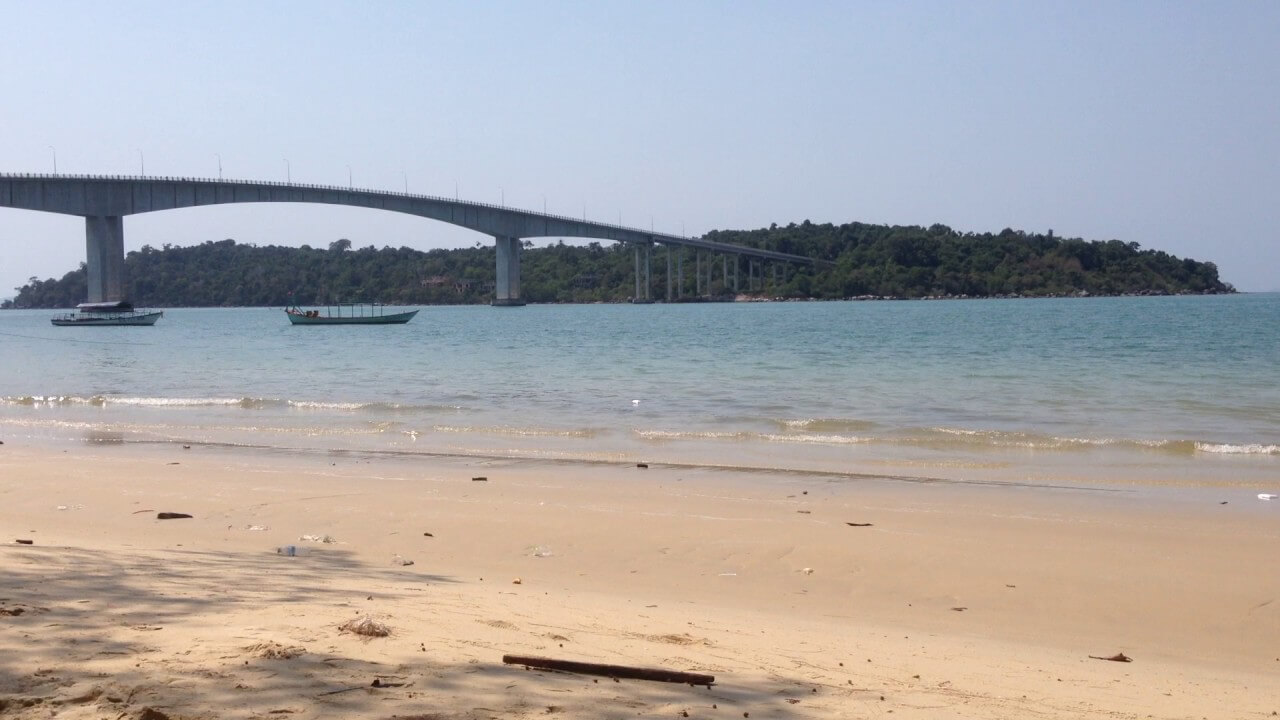 Although this is not the most comfortable beach in Sihanoukville (Cambodia), it too can have a good rest. Near the shore grow broadleaved trees, creating a natural shade, and along the water are a few restaurants with delicious and affordable food (including Russian cuisine). In addition, there are rarely any locals, much less annoying vendors, so the only noise you may be disturbed by is the noise of the water.
No amenities, entertainment and infrastructure in general;
Deeper than other beaches.
Ratanak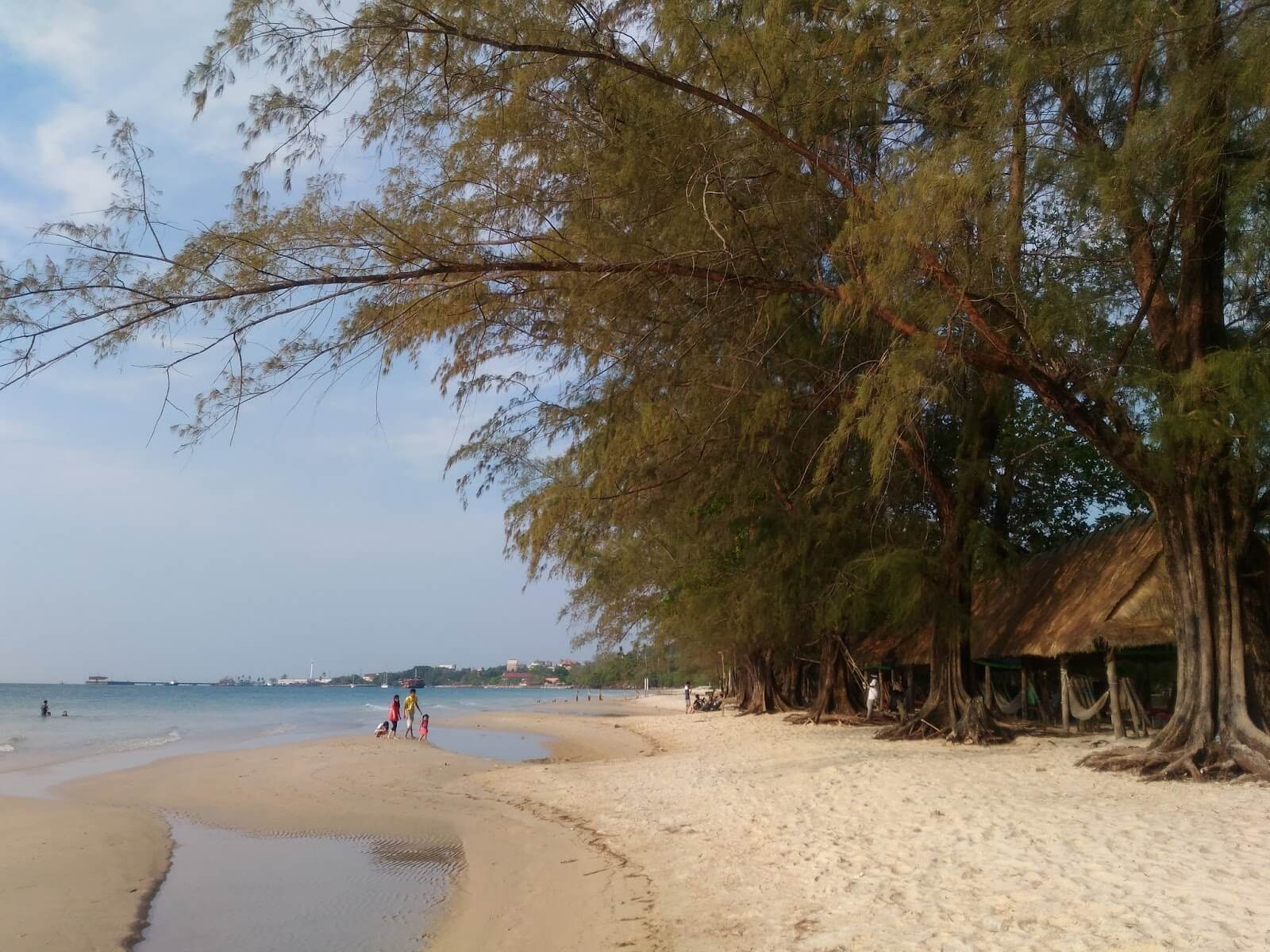 One of the smallest beaches in Sihanoukville, mostly used by locals for picnics. It is located behind Independence beach. Here the sand is muddy and murky, choppy water, there is not a wide variety of entertainment for tourists. The beach is sheltered by palm trees and other trees, and you can sit in one of the few gazebos and organize a cozy dinner outdoors.
Victoria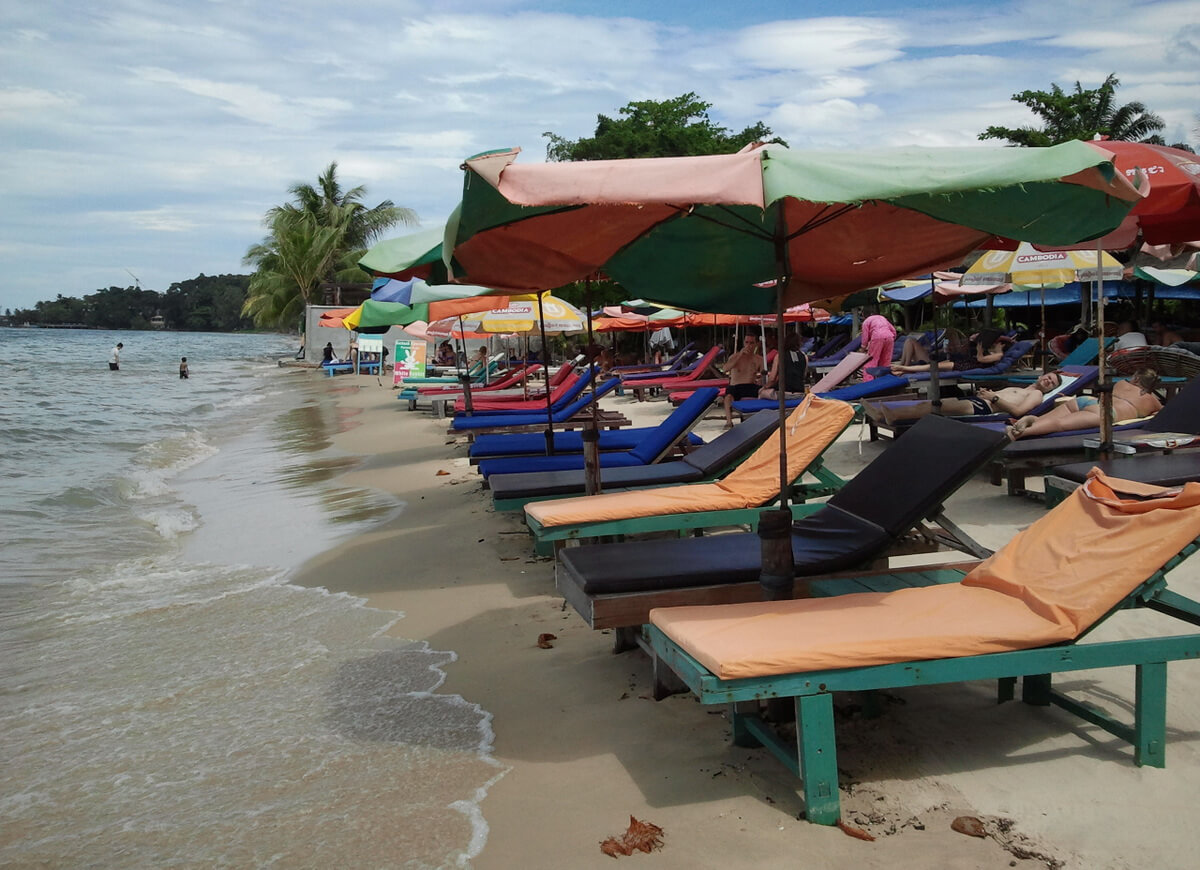 Located on the very outskirts of Sihanoukville, in an area where you can meet many foreigners who have moved to Cambodia for permanent residence. This place is very clean and comfortable, because many tourists do not come here, and, mostly, holidaymakers – locals.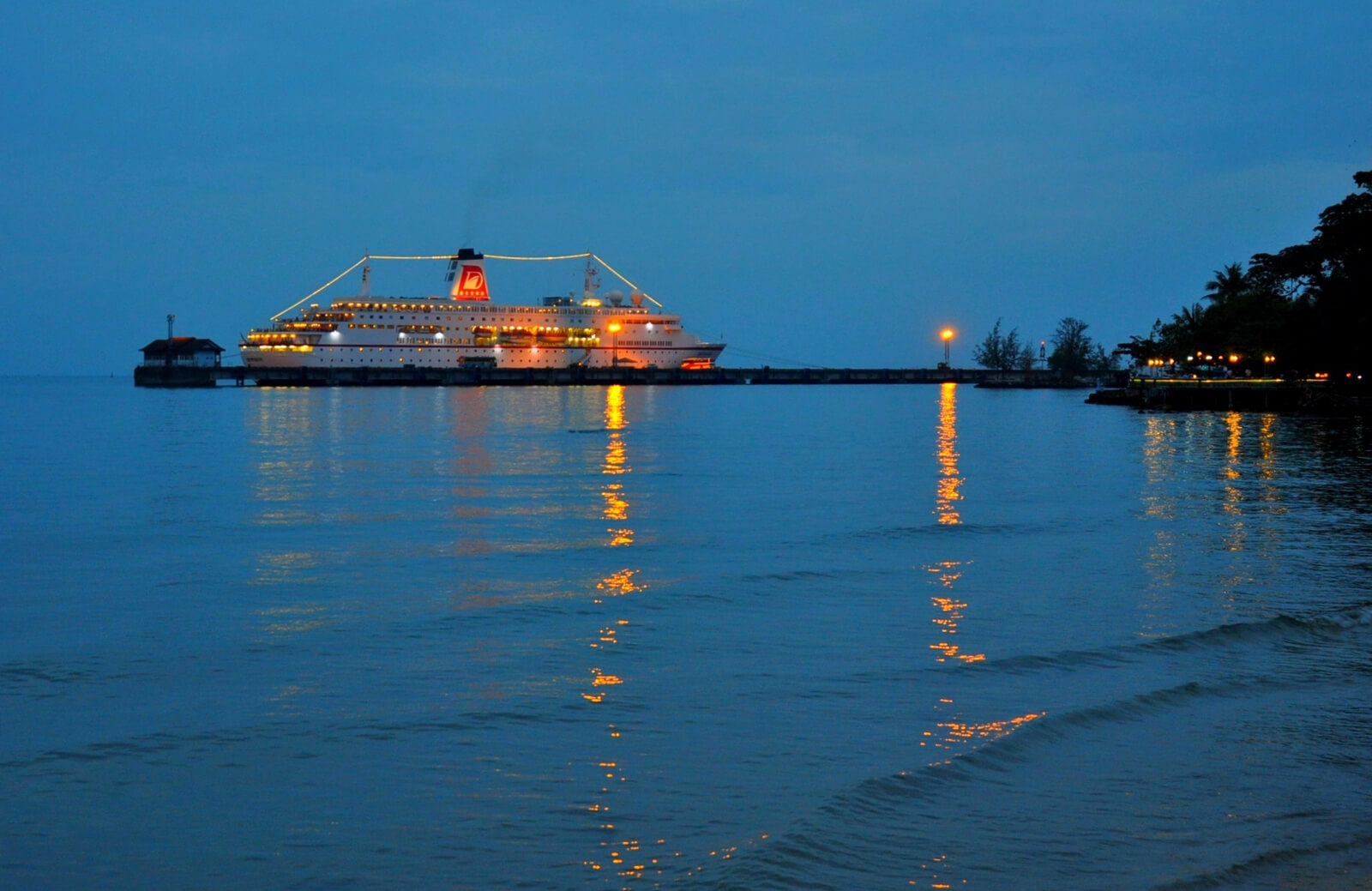 Along the coastline are built many inexpensive hotels and apartments, and previously here was the main attraction of the beach – the club "Airport", built in the form of a hangar with a real airplane inside. Now it has been closed, the aircraft was moved to the roof of a nearby car dealership.
Victori looks abandoned because of the untidy garbage, lack of cafes and any other infrastructure. The beach is not far from the port (which explains the dirt), where the ships leave with excursions to other islands.
The beaches of Sihanoukville are a real attraction in Cambodia. Visit Otres, Serendipity, Sokhu and other attractions – enjoy a great vacation on the shores of the Gulf of Siam. Have a great trip!
All described beaches and attractions in and around Sihanoukville are marked on the map in Russian.
About the construction in Sihanoukville and how the city – be sure to watch the video before the trip.
Author: Helen Lunina
Updated: July 10, 2021 Kemer is a port city on the Mediterranean coast of Turkey.
Updated: 1 Nov, 2021 Makarska is a small resort town in Croatia with a famous Croatian…