Bakuriani ski resort
Day pass adult – 35-40 GEL, children – 20-25 GEL. For more information, look in the text.
Bakuriani (translated from the original "Quiet Mountain") is a small village in Georgia and a popular ski resort. People's love this place has found due to the magnificent scenery of the Caucasus Mountains, the Georgian hospitality and diverse recreation for all tastes and wallets. But first things first.
History of the ski resort began in the XIX century, when this picturesque area with clean fresh air was a recreation area for members of the royal family. In Soviet times, Bakuriani was considered a recreation base, created for leaders and socio-political figures. Over time, Bakuriani began to attract more and more tourists, and gradually from a recreation base, it became a family resort with well-developed infrastructure and a center of skiing in Georgia.

Prices at Bakuriani ski resort in 2022
A ski pass, aka elevator pass, (in ordinary language means a pass that allows skiers to use the elevators) costs 7 GEL (local currency of Georgia) for a single lift, three lifts – 21 GEL on any day.
The cost of multi-ride passes depends on the number of days, season and age.
Low season: December 1-26 and March 15-31.
High season: December 27 – February 4.
High season: February 5 – March 14.
A one-day ski pass in the low season costs 35 GEL for adults and 20 GEL for children (6-18 years old). In high season adults – 40 GEL, children – 25 GEL. During high season adults – 35 GEL, children – 25 GEL.
The evening pass, from 17.00 till 21.30 is GEL 20 for adults, GEL 15 for children.
As for renting skis, you'll pay 10 GEL for one hour of skiing at Didveli and 15-20 GEL per day, and 30 GEL for snowboarding. If you want to use instructor services, be prepared to pay another 30-50 GEL for teaching.
Trails Bakuriani
At the moment in Bakuriani ski resort there are several tracks with varying degrees of complexity: "Kokhta", "Kokhta-2", "Plateau", "Didveli", "25-meter" and "Mitarbi" . All tracks are illuminated, which allows you to ski in the evening.
"Kokhta, translated from Georgian as "Beautiful," is ideal for experienced athletes. This two-step track is a 1.5-kilometer section with a sit-down elevator. Because of the steep descent and slope angle (is 52 degrees), the upper part of the track is considered the most difficult and dangerous.
"Kokhta-2 is suitable for those who are already confident on sports equipment, but have not yet reached the level of a pro. Beginners are not recommended here because of the steep slopes, which are replaced by gently sloping sections for a more relaxed ride. The length of the track is three kilometers.
Beginners can try Plateau track to gain some experience in skiing. This is the shortest 300-meter slope with a slight 10-12 degree slope. The track is also suitable for children.
The most popular course, "Didveli". The most popular course, Didveli, runs along the picturesque slopes of Mount Sakvelo and offers not only sporting excitement, but also aesthetic pleasure. The longest part of the trail is four kilometers long. The second and third parts can only be conquered by experienced skiers, beginners should not climb there, except to admire the breathtaking views.
"The 25-meter piste is the most crowded part of the resort. It got its name because of the nearby 25-meter ramp. It is easy and simple to ski on it, the track is ideal for learning. The only peculiarity is that the prices on the 25-meter ski slope are much lower than on the other slopes of the resort.
The Mitarbi track reopened to tourists two years ago. Once again, because it had been closed for skiing for 30 years. The section is designed more for professionals than for amateurs and in many ways resembles the Didveli track. The only thing Mitarby is inferior in so far is the infrastructure.
In addition, the ski resort has three ski jumps 70, 45 and 90 meters high.
Rest in Bakuriani in winter
Bakuriani is located on the northern part of one of the slopes of the Trialeti range, rising above the sea at 1700 meters. This location has had a significant impact on the climate of the village, which can be described as continental. Winters here are fairly mild, with lots of snow (the cover often reaches 60 cm in height). The average air temperature during the winter months reaches -6. -7 °C. Avalanches practically do not occur here.
Not deprived of the place and sunshine – out of 365 days a year, 210 sunny. In such clear weather from Bakuriani opens up a gorgeous view of the Caucasus Range and Mount Elbrus. Among the obvious pluses and windless weather – an absolute bonus for those who like to ski long and not shiver from a strong cold.
Skiing season in Bakuriani begins in December and ends in March. It is believed that during this period, the snow cover is best for skiing. For those who want to combine an active holiday with a light tan, it is better to plan a trip for February.
If you are not familiar with skiing and do not want to improve your relations, do not rush to think that the resort of Bakuriani is not for you. Believe me, there is more to do here than skiing and snowboarding. For example, you can rent a snowmobile – a vehicle designed to move through the snow, and explore the surrounding area. Another option is to master skating. Or maybe you want to go horseback riding, or enjoy the beauty of the mountain peaks from a bird's eye view, soaring on a paraglider? As you can see, there really are a lot of opportunities for leisure.
Ski resort Bakuriani: useful tips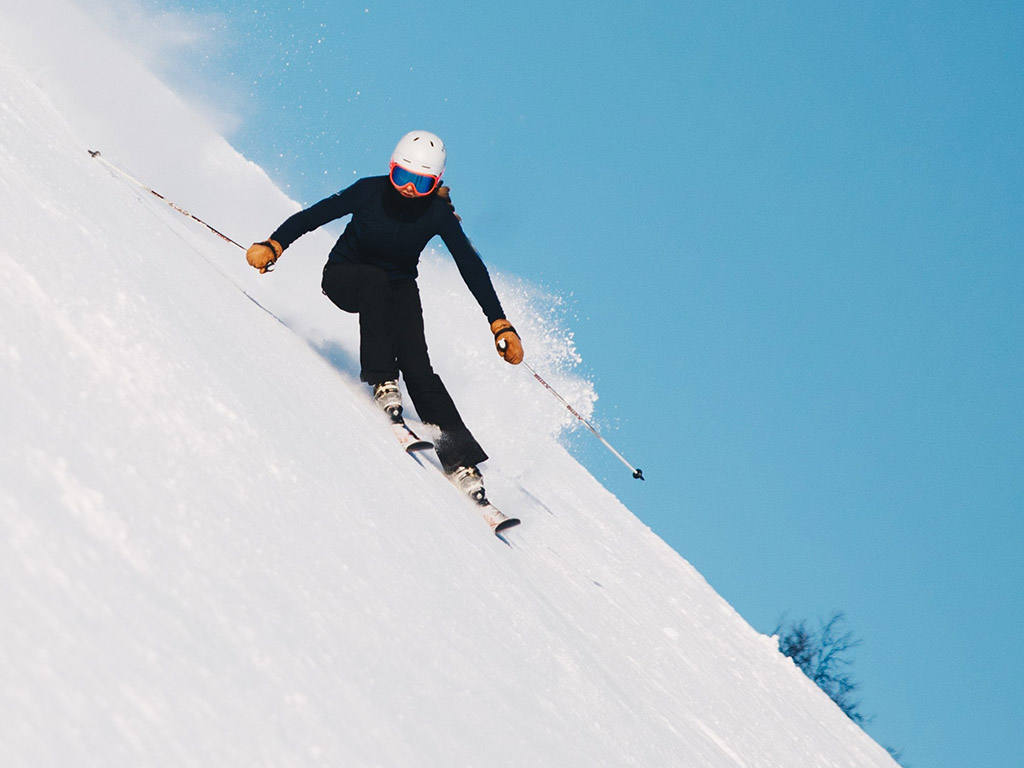 Colorful village Bakuriani is a recognized center of family winter holidays in Georgia. How to get to the ski resort? How long the skiing season lasts and how tourists say about the popular complex? Slopes, hotels and excursions, prices for food, ski passes and equipment rentals.
Among the ski resorts in Georgia, Bakuriani holds a special place. The oldest center of winter recreation in Georgia is located 186 km from the capital of the country and is very popular among fans of skiing and snowboarding. Every year tens of thousands of tourists come to the snowy slopes.
The exchange rate is 1 Georgian lari (GEL) ≈ 19 RUB.
Content:
Climate and weather in Bakuriani
The winter in Bakuriani is mild. The weather is usually good: there is always a lot of sun, so you can see skiers in bathing suits on the slopes. The average temperature is about -6. -7°С. Because of the high mountains there is no strong wind. The depth of snow cover reaches 0.65 m. Snow lies thick, and avalanches are a rare phenomenon.
Skiing season starts in late November and ends in early April. February is the sunniest and the most pleasant month for skiing.
Useful pic:
Winter in Bakuriani is mild. Because of the high mountains there is no strong wind. Photo: VictoriaBoroda / Depositphotos.com.
How to get there and how much it costs
The closest airports to the winter resort are Tbilisi (181 km) and Kutaisi (158 km). The way from the capital of the country is the most convenient, because most international flights arrive there. Look for tickets on Aviasales and Skyscanner.
From Tbilisi to Bakuriani take shuttles or cabs. The trip takes almost 3 hours. The buses go from 7:00 am to 6:00 pm from bus station, located near Didube subway station in Tbilisi. The fare is 18 GEL.
The size of the bus is not very convenient for carrying ski equipment, so most tourists take a shuttle bus. You can take a cab to the village in 2.5 hours. A trip in a car for a few passengers costs 70-120 GEL, and an individual transfer costs 180-200 GEL.
It is possible to get to the resort with a transfer to Borjomi. It takes 4.25 hours by train from Tbilisi to Borjomi, and the ticket costs 2 GEL. From here to Bakuriani there are cabs (20-25 GEL), shuttles (17 GEL) and trains.
Ancient narrow gauge railway in Georgia . The ski resort of Bakuriani and the resort town of Borjomi are connected by an ancient narrow gauge railway, 38 km long. It was built in the late 19th century, so that members of the royal family could easily travel to their Georgian residence. It is noteworthy that the bridge over the deep mountain gorge designed by Gustav Eiffel himself.
Rarity road continues to carry passengers today. There is a train, which consists of two cars and a locomotive. The fare in the first class costs 2 GEL, and in the second – 1 GEL. It takes 2.5 hours to get to Bakuriani. Conveniently, the schedule of the narrow gauge train connects with the electric trains, which run to Borjomi from Tbilisi.
Useful pic: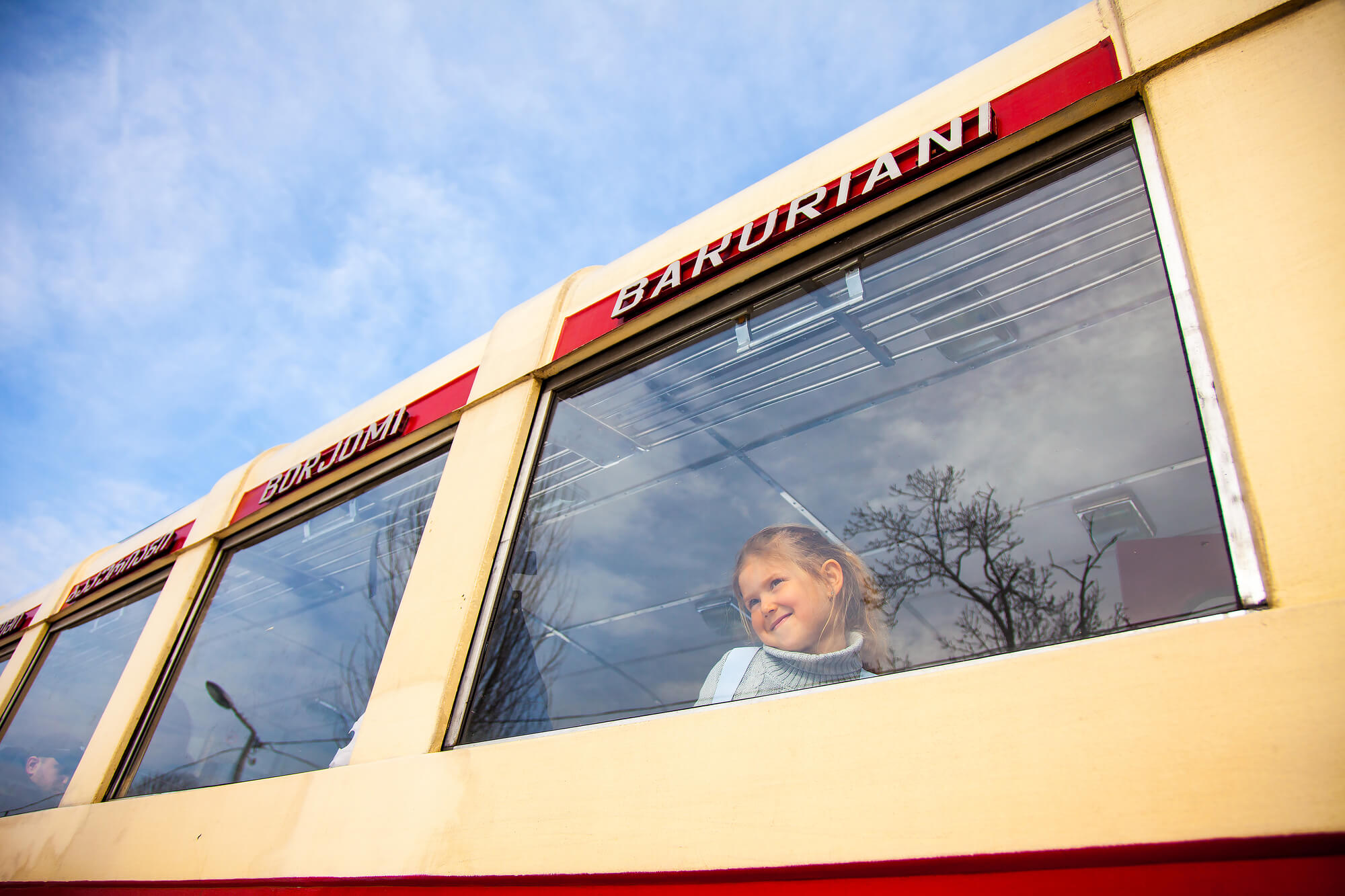 Borjomi – Bakuriani train. Photo: VictoriaBoroda / Depositphotos.com.
Trails
At the oldest ski resort in Georgia, Bakuriani, there are several ski areas with slopes of different levels of complexity. They are perfect for those who are just getting into skiing, and for fans of extreme sports.
"The shortest and simplest piste is 0.3 km long, which is located near the village. Since it is used by many beginners and parents with children, the gentle slope with a steepness of 10-12 ° serve four elevators. Another elevator is intended for those who want to ride a sledge.
"Kokhta-1, or Tatra, has two levels. The track stretches for 2.3 km on a slope and is served by one elevator. The lower part is 1.8 km long and is designed for experienced skiers, while the upper part is a black trail with a 52° gradient.
"Diveli is the newest track in the resort. It is 4 km long and has three elevators: a cabin, a sit and a rope tow elevator. Only experienced skiers can handle the difficult slopes at the top of the slope, and the lower part is suitable for beginners. The slope is illuminated, so it is accessible until 10 p.m.
"Kokhta-2" 3.4 km long leads to the top of the mountain at an altitude of 2850 m. There is only one elevator. In terms of the nature of the slopes, it resembles the route "Diveli". However, Kokhta-2 is shorter and on the lower 1.4 km is suitable for beginner skiers.
Luge lovers use the 1.4 km track. In addition, there are three ski jumps at the resort.
Scheme of the tracks in Bakuriani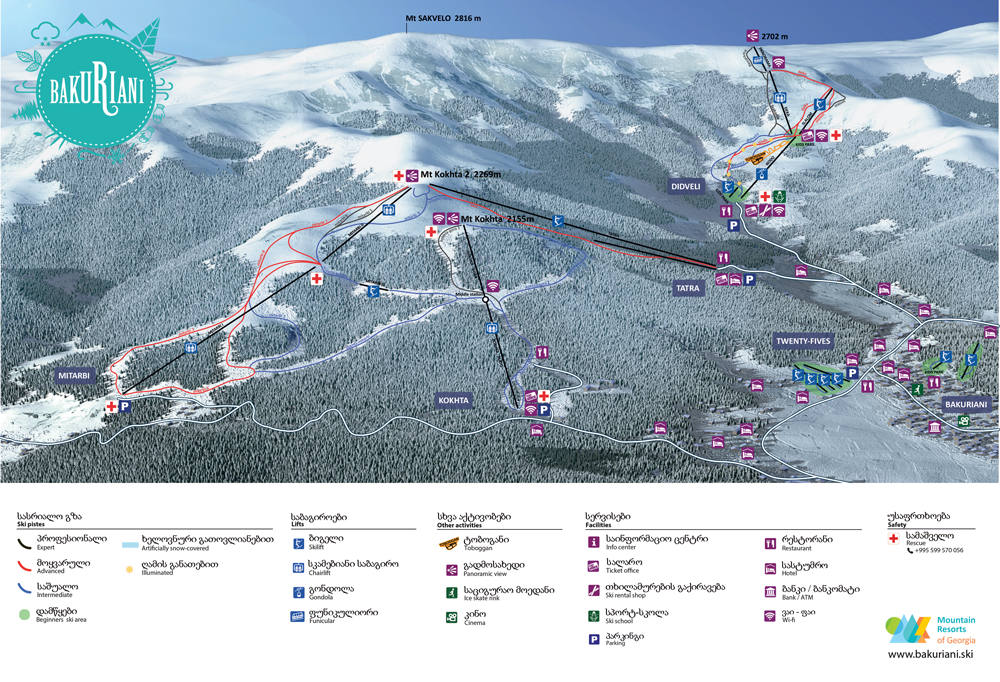 Trails in Bakuriani
Prices for ski passes
The cost of skiing varies. The highest prices are on New Year's holidays and weekends. Ski passes can be purchased locally or use a single multi-pass – it works in all ski centers of the country.
Children under 6 years old are free to ride the elevators when accompanied by an adult. Children's tickets are sold to young skiers from 6 to 16 years old. The daily ski pass for adults, depending on the chosen slopes costs 20-25 GEL at the beginning of the season and 40 GEL in the peak winter season. Skiing from 5 p.m. to 10 p.m. costs 10 GEL, and a single ascent costs 1-5 GEL.
Rental prices for equipment and clothing
The rental shop is open in front of the elevators. Renting a ski kit (skis, poles and boots) costs 10 GEL per hour and 15-20 GEL per day. If you rent a full ski set, you get a helmet and a mask for free. To rent a snowboarding kit (snowboard and boots) for a day, you pay 25-30 GEL. Sleds cost 3 GEL per hour and 10 GEL per day.
Instructor services will cost 30-50 GEL per hour. The lowest prices are in the ski area Twenty Fives, designed for beginners. In Bakuriani itself you can find sets of skis and snowboarding cheaper – for 15 GEL per day.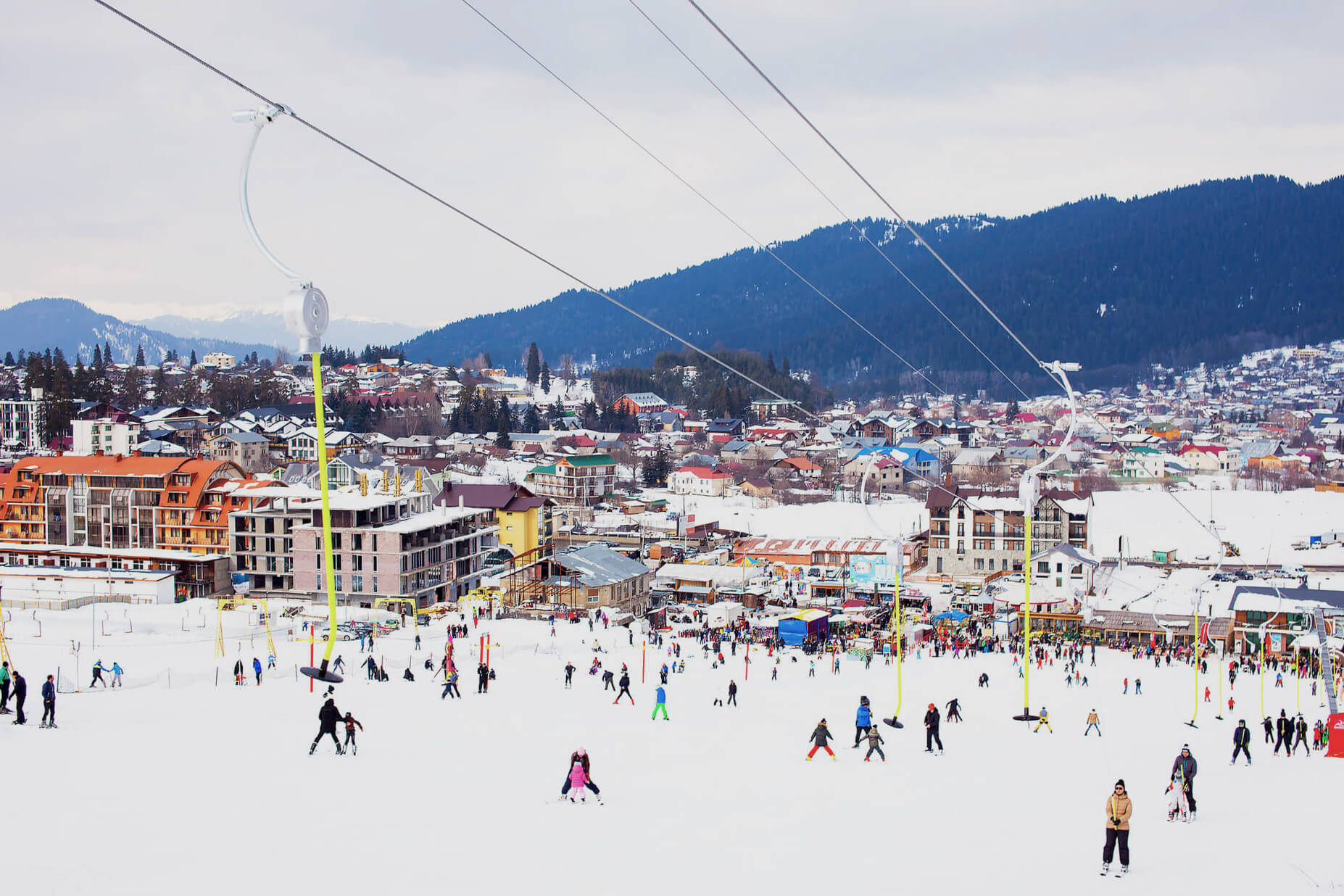 Instructor services will cost 30-50 GEL per hour. The lowest prices are in the ski area Twenty Fives, designed for beginners. Photo: VictoriaBoroda / Depositphotos.com.
Hotels in Bakuriani
In the resort village permanently inhabited by 2.5 thousand people. During the ski season at the expense of tourists the number of residents increases several times. There are many hotels here. These are hotels, rebuilt from Soviet times, modern gesthouses and luxury hotels.
Prices for a double room in hotels in Bakuriani in the winter season:
| | |
| --- | --- |
| Hotel 1*. | 25$ |
| Hotel 2* | 30$ |
| Hotel 3* | 60$ |
| 4* hotel | 70$ |
| 5* hotel | 80$ |
For $20-35 at the resort rent an apartment or apartment in the private sector. For $ 40-45 is easy to find accommodation with full board. Many tourists like accommodation with private individuals, as they offer a service tailored to the individual needs of guests.
Look for discounted lodging on Airbnb and Skyscanner Hotels. Here are the top rules for finding hotels.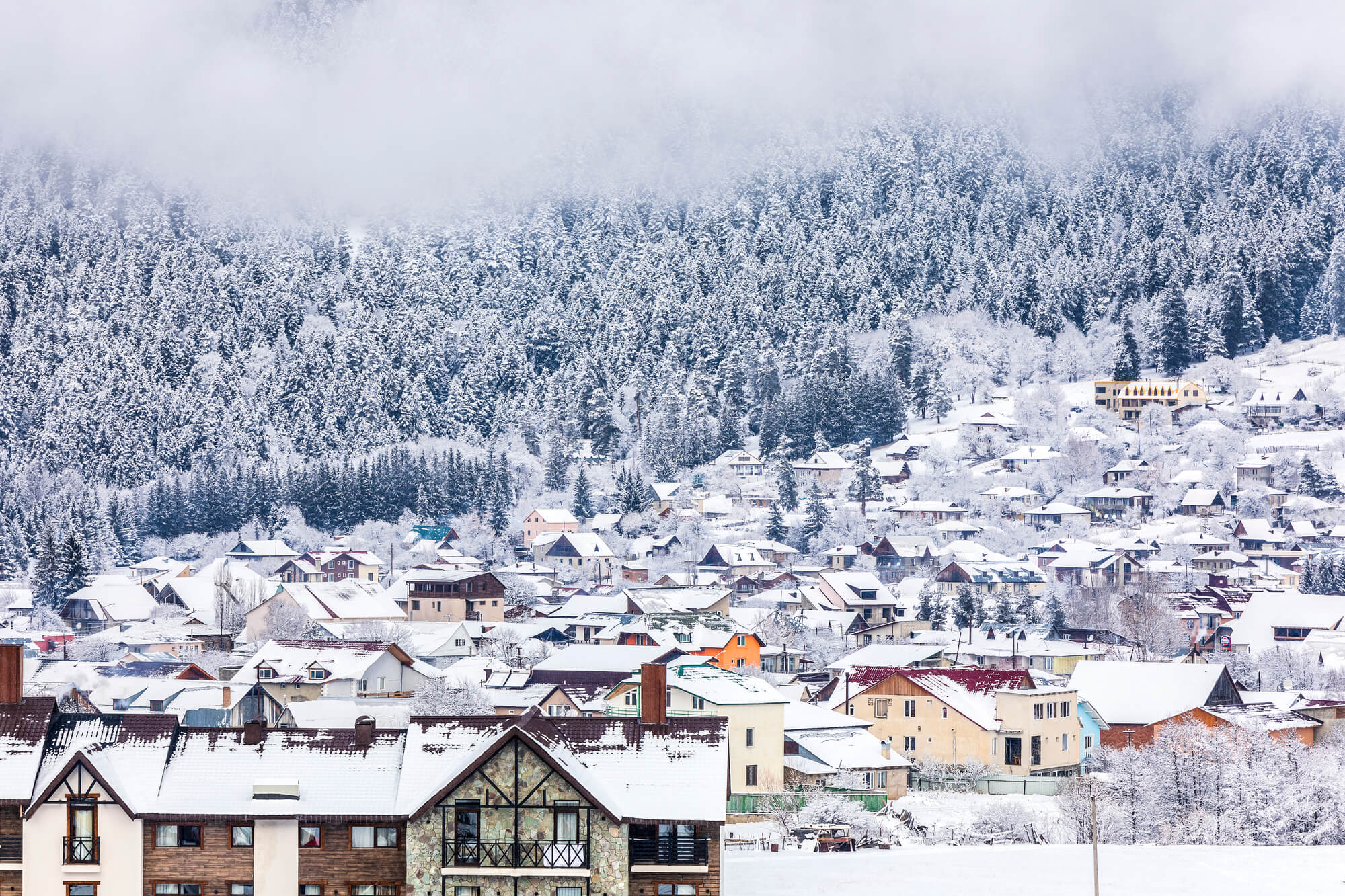 Accommodation in Bakuriani is plentiful . These are hotels, rebuilt from Soviet times, modern guesthouses and luxury hotels. Photo: alexma / Depositphotos.com.
Food prices in cafes and restaurants
Most small hotels and guest houses provide accommodation with three meals a day. Hosts always ask when tourists plan to return from the slopes, and set the table at an agreed time. This is very convenient! Large hotels that offer a pool and gyms usually include only breakfast in the price of accommodation.
Cafes are open at the cable car stations serving hot tea, coffee, homemade mulled wine and pastries. At the resort you can try delicious Georgian dishes – boat-like Adjarian khachapuri, khinkali, kebabs and lobio. The national delicacy, churchela, is sold for 1-3 GEL.
The average bill in an inexpensive place for two people is 25-30 GEL without alcohol, and with alcoholic beverages – 35-45 GEL.
Prices for individual dishes and drinks in cafes and restaurants in Bakuriani
salad – 5-10 GEL;
potatoes or rice as a side dish – 2-5 GEL;
khachapuri – 5-10 GEL;
Kebab in pita – 9 GEL;
khinkali, 1 pc. – 0,5-0,7 GEL;
lobio – 4 GEL;
shashlik, portion – 10-20 GEL;
wine, 1 bottle – 15-40 GEL;
sweet carbonated drink – 2-3 GEL;
tea – 3-8 GEL;
coffee – 3-5 GEL.
In the store you can buy lavash – 0.6-0.8 GEL, delicious suluguni cheese – 10-15 GEL per 1 kg and ground coffee – 2 GEL per 100 g.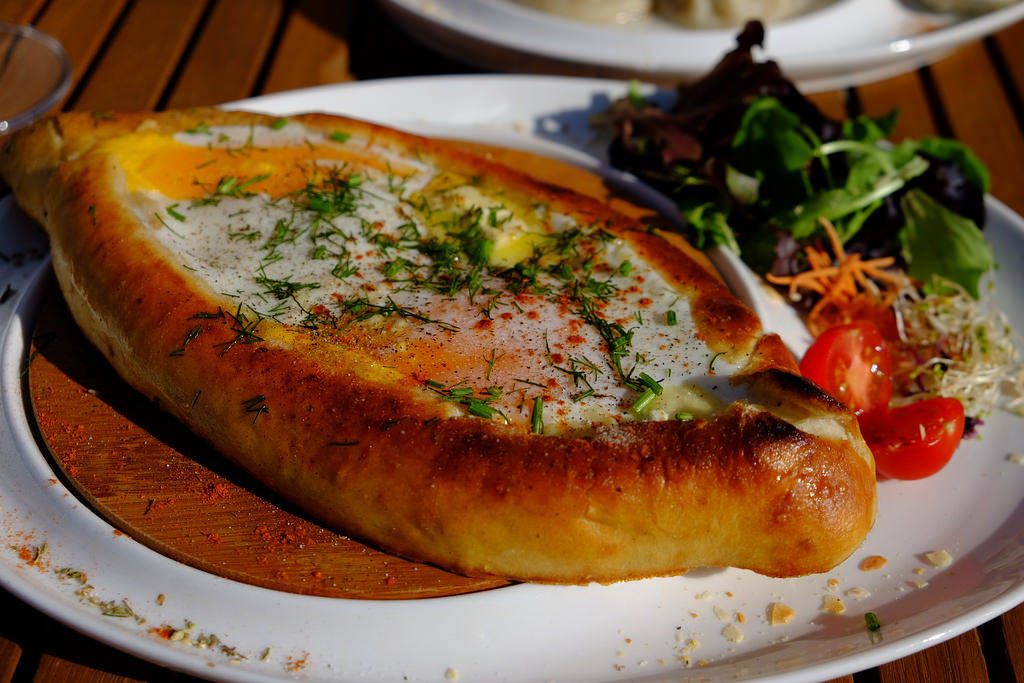 (Photo: Manu @ Lille / flickr.com / License CC BY-NC-ND 2.0)
Excursions and entertainment
Bakuriani, Georgia's sought-after ski resort, has a fairly diverse après ski program. Bakuriani has a couple of streets with nightclubs, bars, casinos, saunas, and billiards. There is also a movie theater, where movies in Georgian and Russian are shown. A ticket there costs 7-10 GEL.
Among active entertainment in winter, skating is popular in the park of the village and next to the Eden Hotel. Young people like driving snowmobiles and snowmobiles on the hills that surround the resort. Parents with children take horse-drawn sleigh rides or come to the Joyland tubing park. For fans of cross-country skiing there is a 13 km long track.
Many attractions in Bakuriani and its surroundings are easy to explore on their own. Tourists enjoy visiting the ancient rock-cut Vardzia fortress town, the Timotesubani monastery of the 10th century, the Chitagiev Monastery of St George, and the Church of the Assumption in Kvabiskhevi.
People come to the neighboring town of Borjomi to see the picturesque palace of the Romanov royal dynasty. Now it is under restoration, after which there are plans to open a museum in the old building. In Borjomi there is a park of mineral springs, a museum of local lore and openwork house "Firuza", which was built in 1892 by the consul of Iran.
Local travel agencies offer a variety of tours for vacationers. The most popular of them:
, full day – $43; – $50; – $27.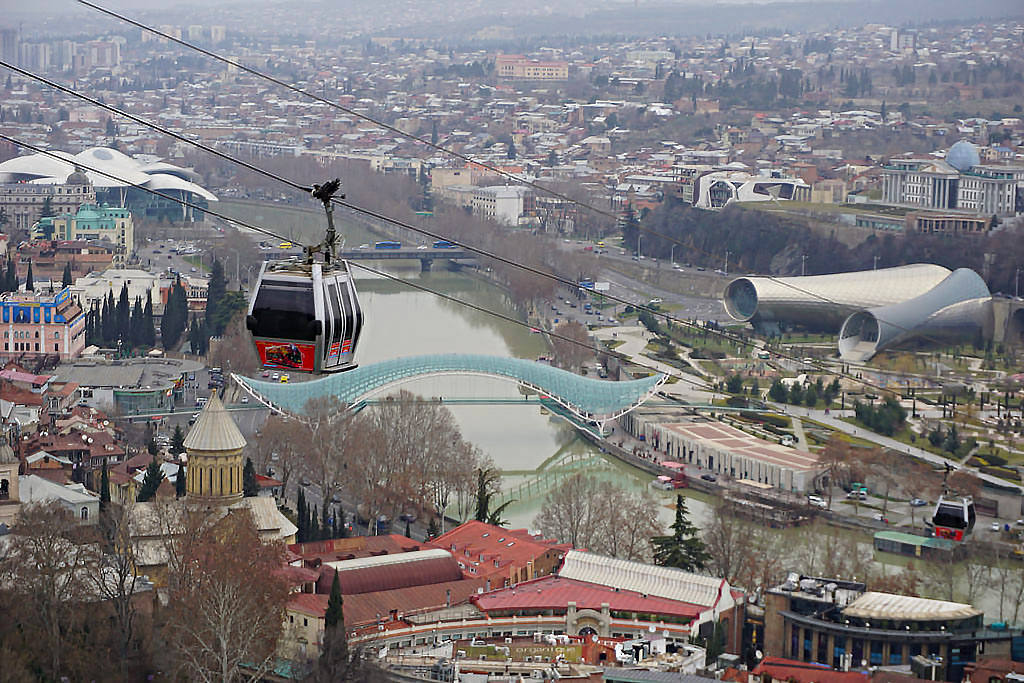 (Photo: Andrew Milligan sumo / flickr.com / License CC BY 2.0)
Tourist reviews and tips
Vacationers at the best ski resort in Georgia note the positive aspects of Bakuriani :
Skiing on the slopes is easy to diversify other types of outdoor activities, entertainment in the tubing park and informative excursions.
The resort infrastructure is convenient for families with children.
Slopes are suitable for skiers and snowboarders of all skill levels.
In November and April, thanks to special equipment, a good quality snow cover is maintained.
Disadvantages:
Large crowds in high season. To get to the most popular elevators, you often have to stand in line for 30-40 minutes.
Some experienced skiers complain that the complexity of the slopes is overestimated.
From the center of the village to the elevators you have to take a cab for 5 minutes (7 GEL).
Tips experienced travelers:
Vacations in Bakuriani are great for groups of friends, where not everyone likes to ski.
During the peak season, budget accommodation is in short supply, so you should book the rooms you like in advance.
If you want to save money on food, stay in small hotels and hostels with full board.
Other ski resorts:
Skiing on the slopes is easy to diversify with other activities, entertainment in the tubing park and educational excursions. Photo: samurkas / Depositphotos.com.