The resort of Soma Bay in Egypt.
55 kilometers south of the city of Hurghada is a small peninsula of Soma, which has become the center of the respectable resort of Soma Bay. We will tell you about it on this page.
Confusion in resorts or "Egyptian resort matryoshka
With the resort of Soma Bay begins difficulties at the stage of selecting a tour and hotel. Many systems of searching tours on the Internet do not know this resort, although you can find hotels in the area of Soma Bay and tours in them.
The reason for this is simple – many searchers assign the local hotels to Hurghada, without regard to the 55 kilometers distance. Some search engines classify local hotels as Safaga Resort, which makes more sense.
We separate these two resorts in our reviews, and most search engines do the same. This approach is the most correct, because there is a big difference between the resorts of Safaga and Soma Bay. If Soma Bay is an expensive resort with 5-star hotels, Safaga is a region for economy holidays.
The conventional boundary between Safaga and Soma Bay (see map) runs between the two hotels. Shams Safaga Resort hotel is still in Safaga, and the Imperial Shams Abu Soma following it is already considered part of Soma Bay.
The resort of Soma Bay itself consists of two parts. Its center with five of the most chic hotels is on the Soma Peninsula, but the resort also includes an area around it with more modest hotels. This whole area (see map) is considered a Soma Bay resort. No search engine separates the central part from the periphery
The result is a matryoshka (see picture). The Soma Peninsula is inside Soma Bay Resort, Soma Bay Resort is in Bur Safaga County, and Bur Safaga County is in a large area of the country called "Red Sea" (the administrative center in the city of Hurghada). Not surprisingly, search engines get confused between resorts, listing Soma Bay hotels as Safaga or Hurghada.
By the way, large areas of the country (the "Red Sea" area is one of them) in Egypt are very ridiculously called by the word "governorate". There are now a total of 27 governorates in Egypt. The Red Sea governorate is the third largest in size and only the 23rd (4th from the end) in population.
Soma Bay Resort Hotels.
Five hotels are located on the Soma Peninsula. They are the Kempinski Hotel, Sheraton and The Cascades. And the four Robinson Club and The Breakers Diving & Surfing Lodge.
Of these, only two are worth mentioning in detail. The Cascades is famous for its golf course, the only one in the area.
If you read the descriptions of these five hotels, they all have a golf course, but there is only one. Simply, each of the hotels attributes the course to itself, because it can be played by the guests of any of the hotels of Soma Bay.
The Breakers Diving & Surfing Lodge is positioned as, and I quote, "The first water sports lifestyle hotel." What kind of water sports lifestyle is that? No one really knows. Maybe it requires driving a car with a snorkel and a mask? Or ride the subway with a scuba? We don't know.
What exactly in this hotel should please fans of water sports, we did not understand. The equipment of the rooms and the infrastructure are quite standard, there is nothing unique in the hotel. Such statements are a PR move and additional advertising, but no more than that.
Outside the peninsula there are 6 other five-star hotels and 2 four-star hotels. The most famous of these are Movenpick Resort and Imperial Shams. There is nothing special about these hotels, and there is simply nothing to say about them.
It is worth noting that the resort of Soma Bay is very young. Construction of the first hotels in the area began in 1995, and the first hotel opened in 1997. However, now (this article was updated in 2021) does not "smell" of novelty. Immediately it is clear that many buildings have already frayed with time, and not much care about the repairs.
The resort of Soma Bay was built by one company on a single plan. This company "Soma Bay Development Company" was founded in 2001 specifically for the project. In this respect, Soma Bay is very similar to another Egyptian resort of El Gouna, north of Hurghada.
Features of the resort of Soma Bay
The main two local features are the giant pathos and very high prices for vacations. It is hard to know which of these is the cause and which is the effect.
If you take the five hotels that are located on the Soma Peninsula, the prices are at least two times higher than similar level hotels in Hurghada (see left example).
The price level of hotels outside the peninsula is more moderate, you can find proposals for 25% more expensive than the prices in Hurghada. Sometimes you can even find tour offers with prices comparable to Hurghada, but these are rare.
The areas on and off the Soma Peninsula are two different worlds. The peninsula is separated from the outside world, and you can get in only through the checkpoint. The common tourist from the hotel outside is not allowed inside.
Within the peninsula the principle of "common use" reigns. In other words, no one forbids you to go to the territory of neighboring hotels, visit restaurants and stores there; it is even welcomed. For example, animation and entertainment programs are held every day, but in different hotels. You look at the schedule, in which of the hotels today there is a show, and go there. If you like the green area of the neighboring hotel and want to walk there, it's no problem.
For the convenience of tourists throughout the peninsula there is a free bus that will take you to the right place. The Soma Peninsula is small in size – 5 kilometers long and 2 kilometers wide. The bus covers it all in 5 minutes. This transport starts at 9 am and ends at midnight.
Now, many will say that it is inconvenient to go to the neighboring hotel to watch the show, because All inclusive does not apply there, and they would be right. The administration does not even think about this topic, and they have their reasons.
All inclusive at Soma Bay resort is not widespread. For example, the Kempinski hotel has no AI system at all. The resort is oriented to European tourists, first of all Germans, who are used to buy everything separately. In local hotels even tourists with AI bracelets get bills, but in these bills there is 0 Egyptian pounds.
There is an interesting fact that clearly shows orientation of the hotels to the Germans. The resort Soma Bay has its own radio station. It is called FM-Robinson and broadcasts on 102FM frequency from the Robinson Club hotel. This radio station is in German only.
Russians are rare guests on the Soma Peninsula because of the high prices. After the fall of the ruble at the end of 2014, the number of tourists from Russia decreased several times less. And after the closure of the charters in 2015, even more so. Accordingly, the staff hardly speak Russian, and you have to rely only on your knowledge of English or on the hotel guides. Remember about this.
There are no big discos or nightclubs in Soma Bay, only modest discotheques in hotels. Visitors to the resort are considered wealthy enough to travel to Hurghada by cab for this entertainment.
It's about a 45-minute drive from Soma Bay to Hurghada. Tourists find the location satisfactory. Of course, the central resorts of Sharm el-Sheikh and Hurghada are more convenient, you can get from the airport to the hotel in 10 minutes. But in Egypt there are more remote resorts, for example, Marsa Alam, where tourists go by bus for four hours, or El-Qusair, which is two and a half hours away.
Soma Bay Development Company built this resort not only for the sake of tourism, but also to build and sell real estate. Villas and townhouses in Soma Bay are selling, although not very actively. Tourists can notice the marina, but it did not come to its own airport and soccer team like in El Gouna. This is where the difference between Soma Bay and El Gouna is felt. Soma Bay resort is more tourist-oriented, while El Gouna specializes more in real estate.
There are two positive things about vacationing in hotels on the Soma Peninsula. The first is the correct and polite behavior of the staff. The ladies are not pestered by Arabs with constant offers of joint pastime, and prohibited stimulants are not offered to all tourists.
The second – is, of course, the sea. English word "Bay" in the name of the resort is not accidental. There really is a bay where there are no waves, blows a pleasant wind from the mountains and very clean sea. Visitors to Soma Bay is not as many as at popular resorts, and the coral reefs are still full of fish and other marine animals.
There is a pontoon 450 meters long (photo above), which allows you to dive to many coral reefs without hiring a boat or boat. This can be recognized as "exclusive". Of course, all Egyptian resorts have long pontoons, but this one is a record-breaker.
This is where the positives end, and the negatives begin. The problems are the same as in all other Egyptian resorts.
Poor variety of food on the buffet and almost complete absence of meat dishes. Very low quality local Egyptian alcohol and insane prices of foreign liquor. Turtle-like tardiness of the staff.
And, of course, the occasional theft of things from hotel rooms. No checkpoint at the entrance to the Soma Peninsula saves you from easy profiteers sneaking in and getting into your rooms. There is a suspicion that the hotel staff themselves do not mind to steal something illegally.
In hotels outside the peninsula shortcomings are similar, only to them added staff's uncivilized behavior. From pluses remains only clean and pleasant sea.
In addition, the animation in hotels across the peninsula you have to watch only in your hotel, and only a few times a week.
Store will be available only in your hotel, but not in the neighboring. This can be a problem if you have not brought with you to Egypt special protective shoes against coral. If the local store has them, you're in luck.
There are no buses outside the peninsula, and getting to the next hotel will be a problem. There are no shopping centers at Soma Bay Resort, they are just about to be built (state of 2021). The only way out is to go to Hurghada or Safaga, but it's expensive and long.
Where to go and what to do.
At the resort of Soma Bay there is not much entertainment. Even the traditional safari in the desert do not arrange. A set of standard excursions – trips to Luxor in the Valley of the Kings, Karnak and Luxor temples, tours to the sights of Cairo or the city of Alexandria.
All of these places are far from the resort, and it is not recommended to go to them by bus in one day. For example, from Soma Bay to Cairo is 500 kilometers by road.
You should agree that it is exhausting to drive 6 hours there and 6 hours back in one day. And for what? For "one look" at the Egyptian pyramids?
In any case, we recommend always choosing a two-day tour with an overnight stay, so you will see more, will not be in a hurry and see other cities in Egypt.
There are no attractions of its own. There is nothing to see outside of the hotel, except for the desert and the surrounding mountains without any vegetation. Tourists are offered to visit the quarries of Mons Porchirits and Mons Claudianus of the Roman Empire, they are located 60 kilometers to the west. This is where marble was mined in ancient times. This place in general is hard to call a landmark, there is almost nothing left.
The resort of Soma Bay is positioning itself as an ideal place for relaxation and care for the beauty and health. Most hotels have their own SPA-centers, and on the island of Soma is the largest thalassotherapy center in Egypt. It is located in The Cascades hotel and is called Les Thermes Marins des Cascades.
Of course, thalassotherapy in Tunisia is much better developed, and for the procedures of "treatment by the sea" we recommend Tunisia, not Egypt. In the Egyptian center a course of thalassotherapy will cost from 500 to 1500 dollars, which, of course, is more expensive than even in the best Tunisian centers.
Water sports – another "horse" resort of Soma Bay. Especially for windsurfing, yachting or kiteboarding we would recommend Dahab as the wind conditions are better and there are a lot more rental possibilities.
The main center for kiteboarders in Soma Bay is 7BFT Kite Surf Center, located on Soma Peninsula. Yachts can be rented at Somabay's Surf & Sail Center. Divers can take advantage of the Orca Dive Club and Imperial Dive centers.
Diving is interesting, first of all, untouched reefs. In this regard, the high prices of recreation have a positive point. Few tourists – the sea fauna is more comfortable – the reef population is larger and more diverse.
Important Tips
– Soma Bay is a very expensive resort (by Egyptian standards). If you want to buy gifts and souvenirs, it is better to go to Hurghada. What better to buy, read our review "What to bring from Egypt;
– Everything is expensive here, including SIM cards and Internet. It is best to buy a SIM-card immediately after arrival at Hurghada airport. See our review "Internet in Egypt" for details;
– Similarly with imported alcohol and cigarettes. Buy at the airport DutyFree. Details in our reviews "Alcohol in Egypt" and "Smoking and Cigarettes in Egypt".
This concludes our story about Soma Bay Resort. Have a great holiday in Egypt, and read our articles about the country (links below).
Soma Bay travel guide


Veronika D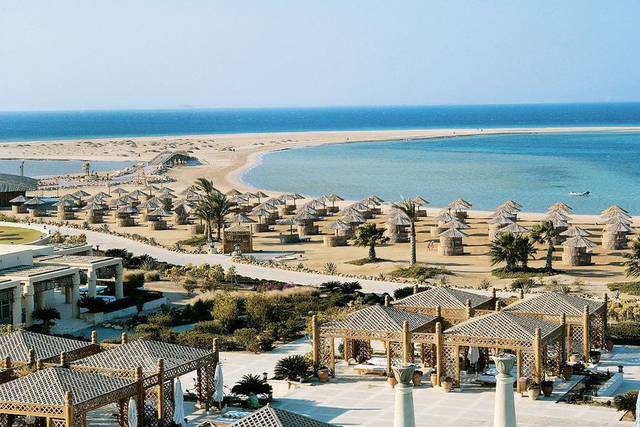 Soma Bay is located on the Abu Soma Peninsula. It is only forty kilometers from Hurghada International Airport. Abu Soma is surrounded on three sides by sea, which gives a unique opportunity to admire the picturesque seascapes. Stopping in Soma Bay, you can not dwell on the beach vacation, as there is a great opportunity to visit a variety of excursions and learn about the mysteries of Egypt.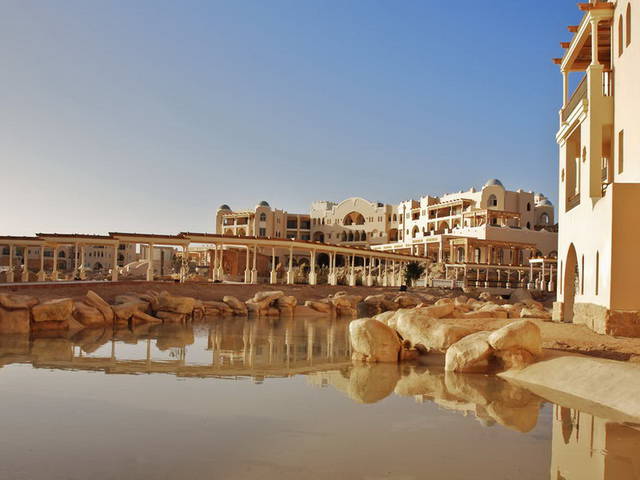 From Soma Bay are committed road, bus and air excursions. From here you can get to the Nile Valley, Valley of the Kings, admire the temples of Karnak and Luxor, make a pilgrimage to the monasteries of St. Anthony and St. Paul, which are located in close proximity to Soma Bay, and consistently observant rituals for sixteen centuries since their foundation. To learn more about the history of Egypt, you can visit the quarries of Mons Porphyrites and Mons Claudianus. It is in these quarries, the ancient Egyptians were mined granite and profiter for the construction of their facilities.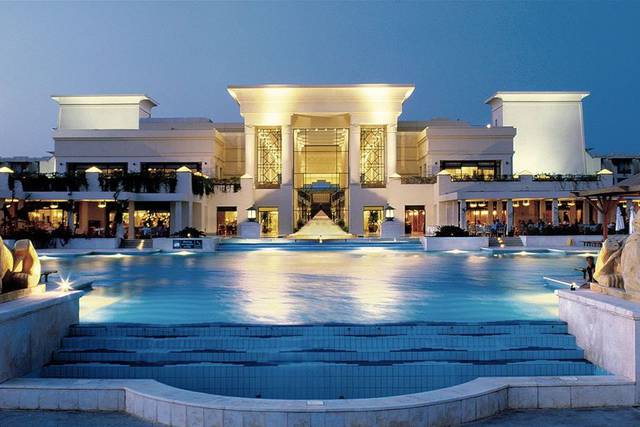 It rains very rarely in Soma Bay, and the holiday season here lasts all year. In winter the average daily outdoor temperature is about twenty degrees Celsius, and winter, about thirty degrees plus. Soma Bay, thanks to its fairly mild climate, is great for recreation for the whole family, including kids.
When it is better to have a rest in Soma Bay?

Elena
Since the peninsula of Abu Soma is located near the popular Egyptian resort of Hurghada, it can be considered a year-round vacation spot, because it is also very mild climate. If in winter the average temperature is at least plus 20 degrees, then in summer at least plus 30. As for the rain, they are extremely rare here, but it is nice that the sea breeze is very good humidifies and even slightly manages to cool the hot desert air.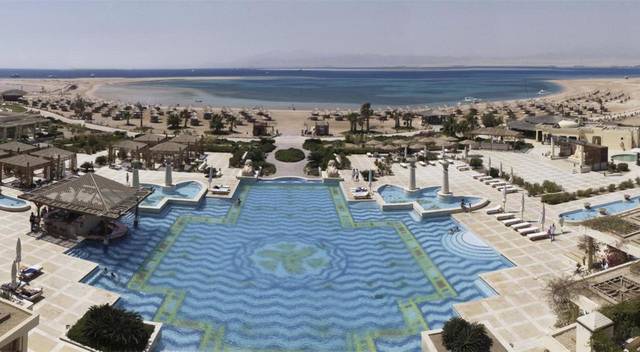 Spring at this resort generally begins in March and lasts until mid-May. However, despite the fact that the temperature is quite comfortable and decent for a beach holiday in Soma Bay, the sea in early spring is still cool. Only by the end of April the sea water is heated up and becomes comfortable enough for recreation with children.
Summer on this piece of paradise – on the Abu Soma Peninsula is of course very hot and without rain. In the summer months the average air temperature ranges from plus 36 to plus 38 degrees, and the sea is, in principle, very well heated.
Autumn at the resort of Soma Bay as it were quite imperceptible. First the air temperature drops gradually, but the sea is still warm. So this velvet season with a very mild climate and without the presence of stifling summer heat is a great time to relax with children or for older people.
Winter in the resort of Soma Bay is also considered.
Where to stay in Soma Bay?

Elena
There are a total of 5 hotels on the Soma Peninsula today. These are three five-star hotels – "Kempinski Hotel", "Sheraton" and "The Cascades" and two four-star hotels – "Robinson Club" and "The Breakers Diving & Surfing Lodge". Of these, only two are of particular interest.
For example, "The Cascades" hotel is mostly famous for its golf course, which is the only one in the area. However, if you read the descriptions of all of these hotels, you will see that each one indicates the presence of a golf course.
But in fact, the resort has only one field. The answer to the question – "Why does every hotel attribute this field to itself?" is very simple – because it can safely play absolutely all the guests of each of the hotels of the resort of Soma Bay.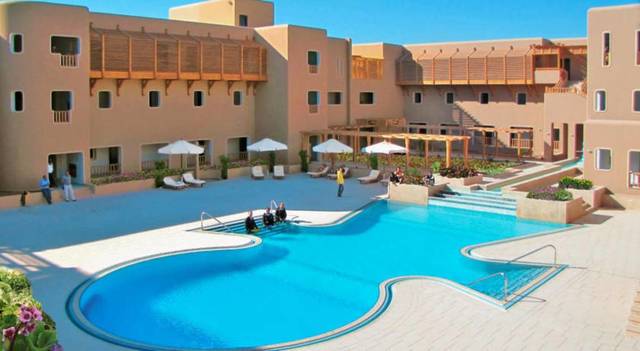 Another very interesting how the hotel "The Breakers Diving & Surfing Lodgeelle" positions itself. On its site there is a rather strange description – "the first hotel of a water sports life style". However, it is not at all clear – what watersports are meant here? No one knows the answer.
It is also not clear what exactly is offered to fans of these water sports in this hotel. Well, as for the equipment of rooms and infrastructure, they are quite standard, so there is nothing particularly unique in this hotel. So, it is possible to consider such a statement as a simple PR and additional advertising, but no more than that.
Even outside of the peninsula Soma located six more… read full story
How to get there?

Elena
In order to get to the Egyptian resort of Soma Bay must first fly to Hurghada. So far it is possible to do it with a connection, for example, through Istanbul, because there are no direct flights from Russia. All tourists who bought package tours and arrive in advance at Hurghada airport usually receive a shuttle service, because it is usually included in the price of the tour.
So they are met there by a driver with a sign and driven to the resort, the journey time is approximately 45 minutes to 1 hour. Of course, if you want you can always order a transfer yourself by using a special service, or rent a car.
If you first arrive in Cairo, then you again need to get some domestic flight to Hurghada, and there you have to hire a cab or order a shuttle service.
Well, the resort itself on the promenade along the beach is constantly running a free bus. So if you need to get from one hotel to another, you can easily take advantage of it.
Food and Drink

Elena
About the Egyptian cuisine can be clearly said that it absorbed a huge number of dishes that came here with the peoples who became so to speak "visitors" of this country. So you can see the whole world in one plate. But even among this great abundance, there are some dishes that are enjoyed by the natives of this country and its guests.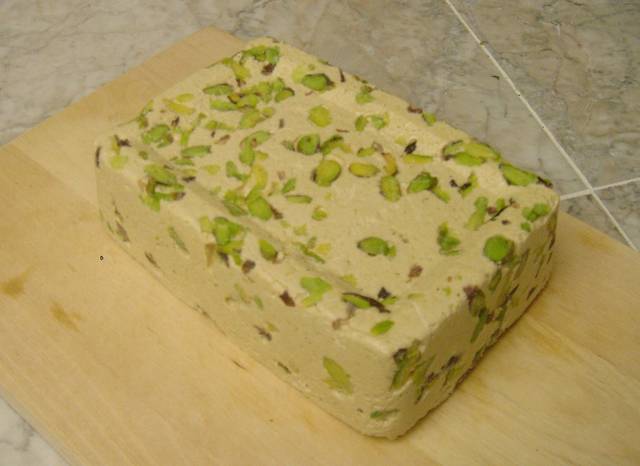 Halva, of course, came to Egypt from neighboring Mediterranean countries and then quite firmly established in the local cuisine. It is usually made from sesame seeds, but comes in many different forms. This can be a block, and a bar and the usual tortilla. In addition, halva is usually added a variety of spices and with their help, flavors this dish is only enhanced.
In Egypt, halwa is usually used as a snack, and it is served for breakfast, lunch and dinner. It is amazing, but this product is even a major component in some dishes. In addition, halva is incredibly convenient to use, because it is one of the few products that does not spoil at all in such a hot climate.
Another traditional Egyptian dish is called "kushari" and it is made from rice, pasta, lentils, onions, garlic, and chickpeas. This recipe is, in general, more than a hundred years old, but nevertheless it is still very popular.
However it is necessary to note that as such dish "kushari" appeared not in Egypt – it has been brought.
What to see in Soma Bay?

Elena
First of all, being on vacation in the Egyptian resort of Soma Bay should visit this incredibly popular monastery of St. Anthony and St. Paul. One of them, which is dedicated to St. Anthony, was built in 365 BC, and so naturally he is considered very old.
The saint himself lived elsewhere in his life, in the rocky canyon just above the monastery. Nowadays the monastery is surrounded on the outside by several churches and other buildings. Flowering gardens were then planted around the monastery and are still there.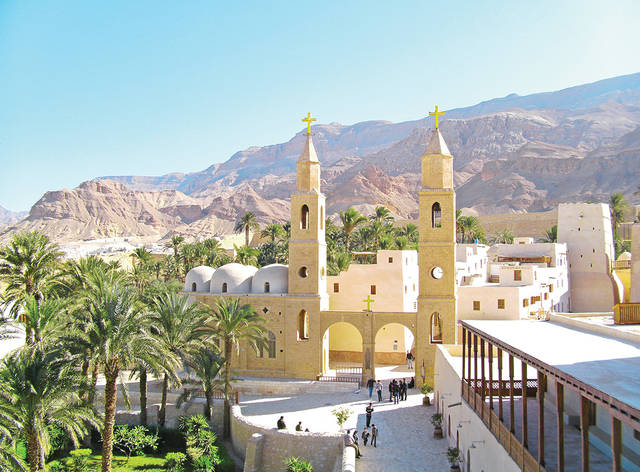 Inside the monastery you can see many icons depicting not only Anthony, but also other saints. Then of course about these ancient times are reminded by frescoes that were painted at least a thousand years ago. And of course it is worth a visit to the library with ancient manuscripts.
The monastery of St. Paul was built much later, that is, in the fifth century, but it was also built in honor of the saint. Paul himself also led a very secluded life and spent all his time in a cave just beyond the monastery. And the way to this particular life he chose exclusively by himself, and in spite of the fact that his parents were quite wealthy people, Paul decided to devote himself entirely to God.
Of course, another very interesting attraction in the resort is considered to be El-Qusair. It is essentially a fortress that was built by the Ottomans.
How to have fun?

Elena
In fact all the entertainment in the Egyptian resort of Soma Bay are grouped around the beaches, because the special attractions are not available here, and tourists come here mainly for the relaxed or active rest near the sea. In the north and even in the south of the bay there are a few places with classic water activities – with bananas, catamarans and boats.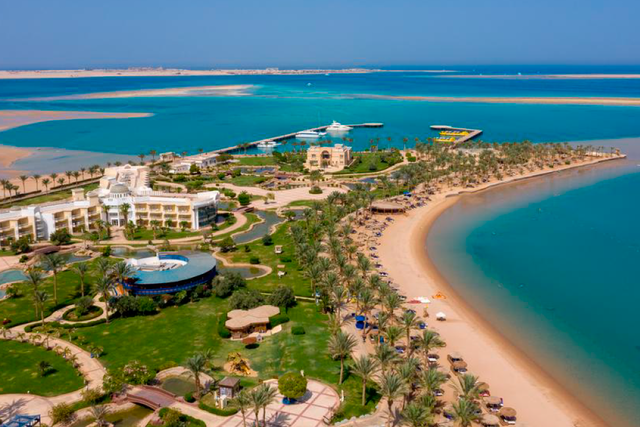 The resort also has its own and yacht club, where, if desired, you can rent a yacht at any time. This marina is located in the northern part and essentially separates the noisiest and most fun part from the sort of more deserted part in the center of the bay. Also on this beach there are a few platforms, to play beach volleyball, but the playgrounds for children, unfortunately, are located only directly in the hotels themselves.
In general, some of the most important activities on this resort are kitesurfing and windsurfing. The main kiteboarding center is located on the northern part of the beach. This is the ideal place for practicing the sport – there is almost constant little breeze, but strong waves almost never happen.
This center by the way has a powerful Wi-Fi, which almost covers all the nearby territory of the beach. It is quite possible to rent all the necessary equipment and also if you want to take kiteboarding lessons.
Well, in the southern part, that is, almost on the border with Safaga is center.