Meals in Sri Lanka. Prices of food in cafes and photos of dishes
November 2018 (updated: 14.04.2019) 27
In Sri Lanka, you definitely will not go hungry. But you have to be prepared for a lot of local peculiarities. Which we'll tell you about today, based on our fresh experience traveling in Sri Lanka in 2018.
Sri Lanka has many cafes and restaurants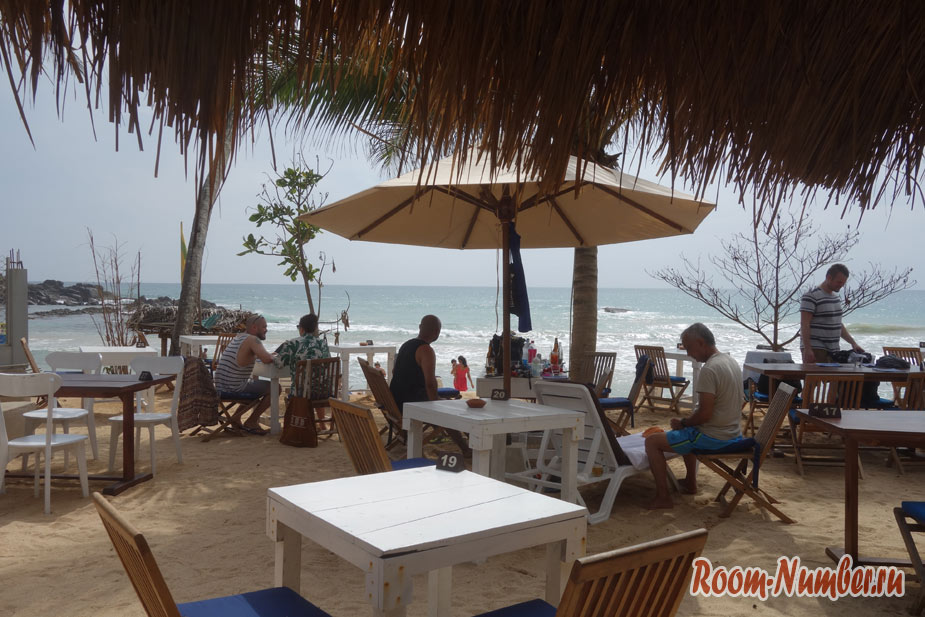 Cafes are styled like European cafes, but they are most often a far cry from the comfortable and cozy restaurants where you can sit in soft chairs and sip a cocktail while waiting for your meal.
In fact, many cafes are not exactly what we think of as a restaurant. It is usually a diner with plastic and perhaps not always clean tables and chairs, with stained menu pages.
In general, we were almost always lucky and found places to eat normally and not squeamish. But the key word is "found. Such cafes you have to look for, they are not at every step. In articles about the beaches of Sri Lanka, we always describe proven restaurants.
In establishments for locals probably you will not eat. At most once, for the extreme. The menu will be only curry, noodles, rice. But on top of that, a bunch of local men in the environment, stuffiness, sticky tables and flies.
It is better to choose a cafe for tourists. It is better not to save on your stomach in Sri Lanka and especially not to experiment on the body.
Very long service.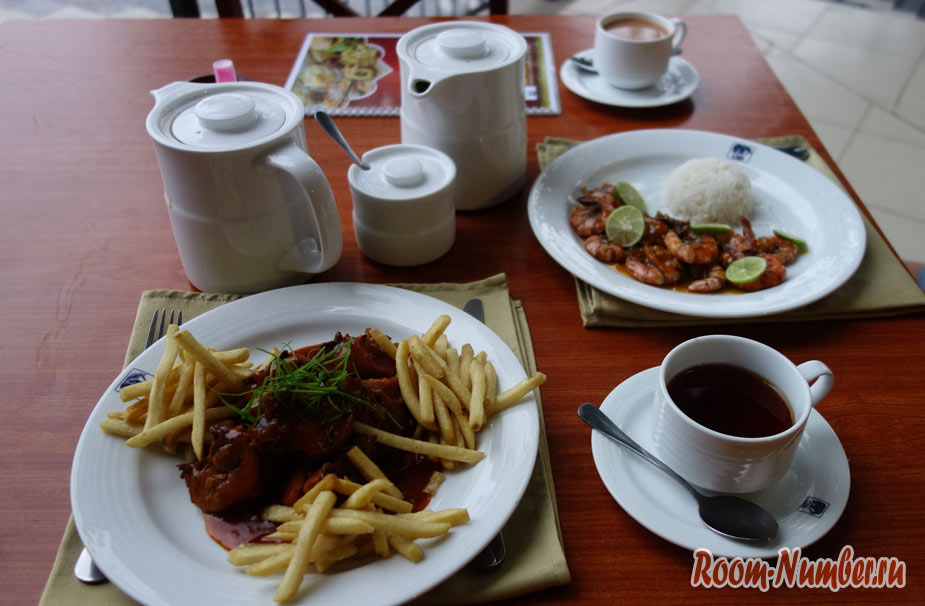 So what, 30 minutes, it's very fast in Sri Lanka!
If you can get your order in 20 minutes, you are very lucky!
In three weeks of traveling around the country, this has happened to us only a handful of times. Fast in Sri Lanka is when the food is ready in 20-30 minutes. Most of the time you wait 40-50 minutes for your order.
It happened more than once that we were cooked a simple dish like french fries or spaghetti for a whole hour in the absence of people in the restaurant.
There was a record when we waited 1 hour and 20 minutes for an order. This is the case when you first get really hungry, then you get angry, then you already want to eat 10 times, that's when they finally bring you your food. At such moments, it can be especially frustrating if it is not good or brought not what you ordered.
So wherever you vacation in Sri Lanka, come to eat before you are really hungry. About 40 minutes before your usual lunch time.
I don't know what the reason for such slowness is, but this is the case in 90% of establishments. And even with Sri Lankan airlines this happens.
Tipping in Sri Lanka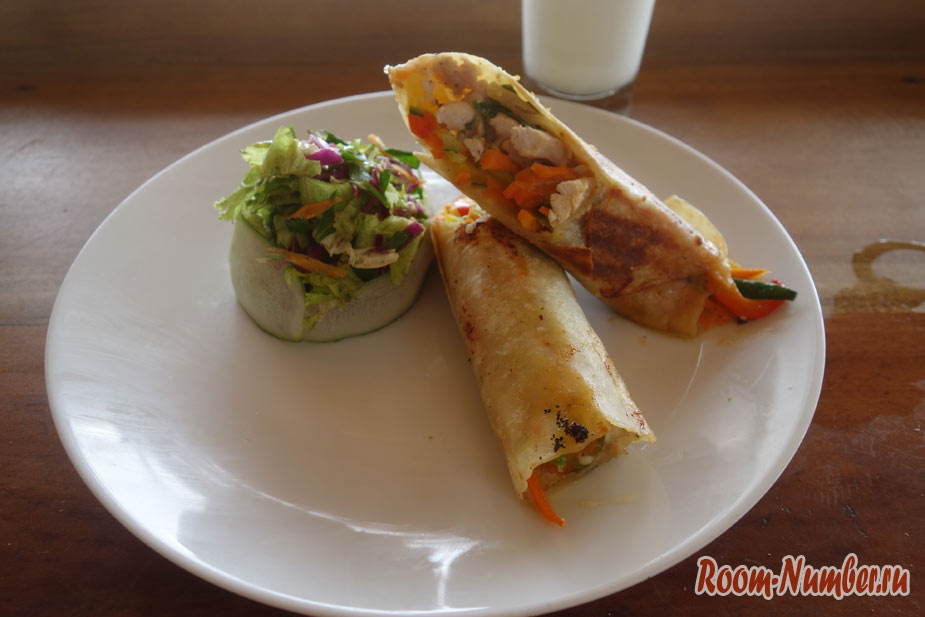 You can tip when the food is beautiful and delicious and the service is outstanding. But this is not always the case.
It is a paradox, but the country with the slowest service and the slowest serving of food is almost always the one where the tip (service fee 10%) is added to the check.
Surprisingly, in the country with the worst service, restaurants add a service charge to the bill by default and sometimes some other taxes as well. For what? For not getting what you ordered? For waiting 45 minutes for food? For putting onions in your omelet and not being able to eat it? For "spaghetti" without sauce and cheese?
The restaurant should tip you for bad service, not you.
Sri Lanka has few beach cafes.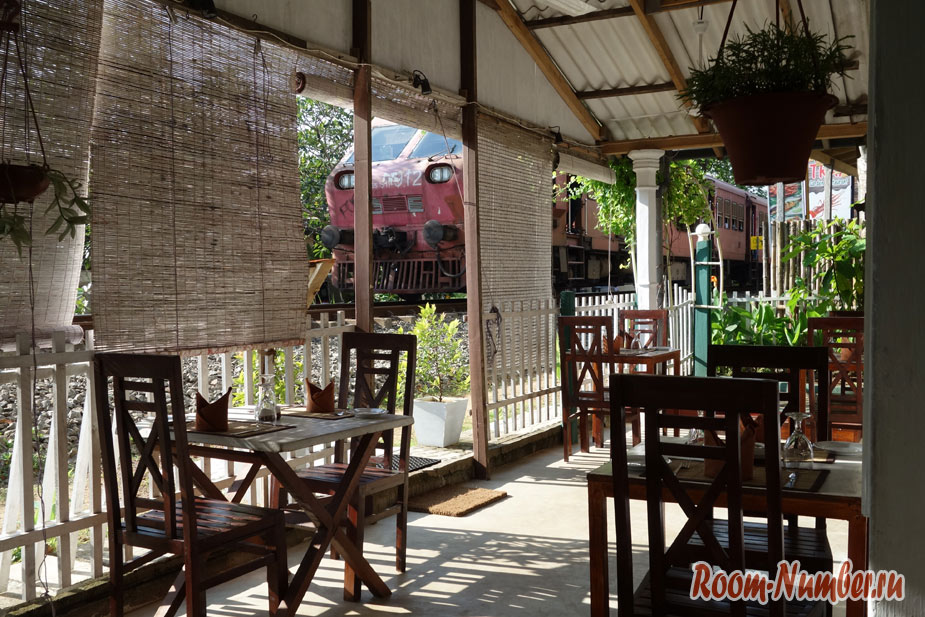 To eat, vacationers have to walk to the road, and sometimes even cross the train tracks to the nearest cafe
Even in the resort areas to find at least one beach cafe is already a great joy. Otherwise you have to go on a dusty and noisy road in search of something decent.
This peculiarity is very incomprehensible, because people come on vacation to have dinner on the beach, with a view of the sea, not the view of the construction site or the whizzing buses and tuk-tuks.
You could say there are beach cafes only in Mirissa, Hikkaduwa and Unawatuna. In other areas there is a lot of tension or complete absence of them. For example, in the no less popular resort of Bentota there is not a single cafe with a view of the sea.
Portions and Serving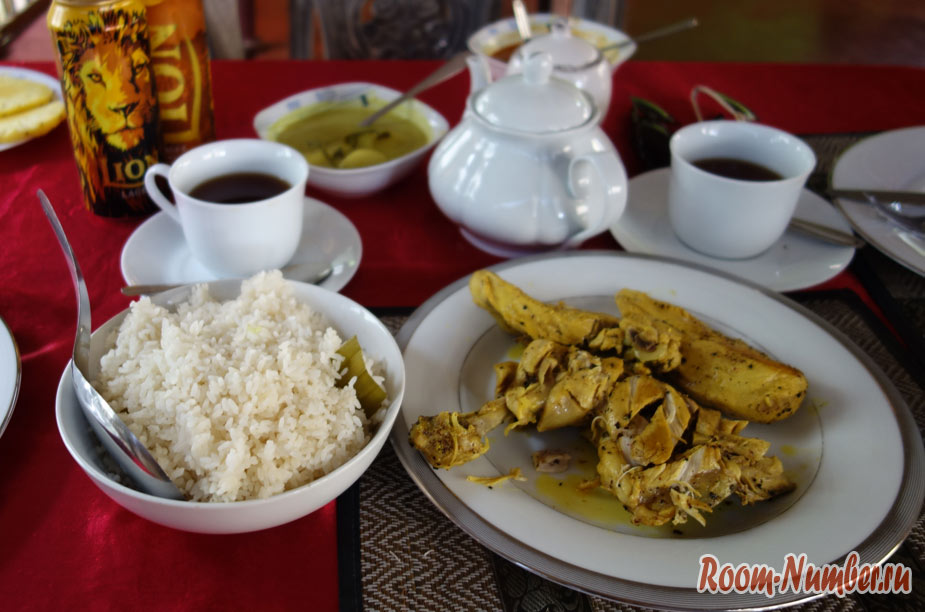 This is what "grilled chicken" looks like for 2,000 rupees ($11.5) at Red Lobster Diner near the AVANI Hotel in Calutara
Big portions of food everywhere, in some places so big and unappetizing that seeing your dish, you even lose the desire to eat. The association is piled like cattle. The aesthetics of food in Sri Lanka? No, not heard… If there was less food, but its appearance would be more attractive and whet the appetite.
Читайте: Отели «всё включено» в Шри Ланке. 10 лучших гостиниц All Inclusive >
French fries in all dishes.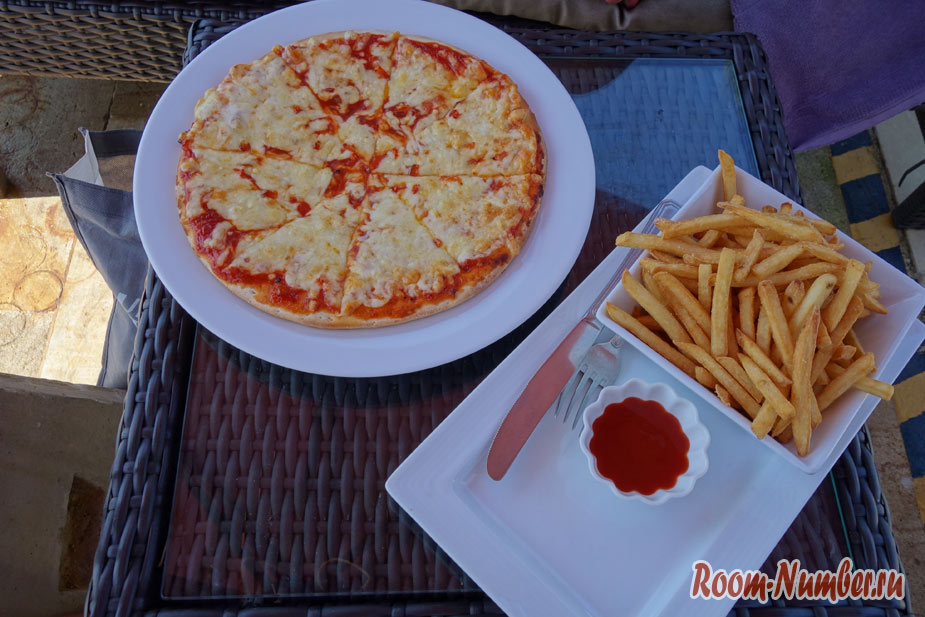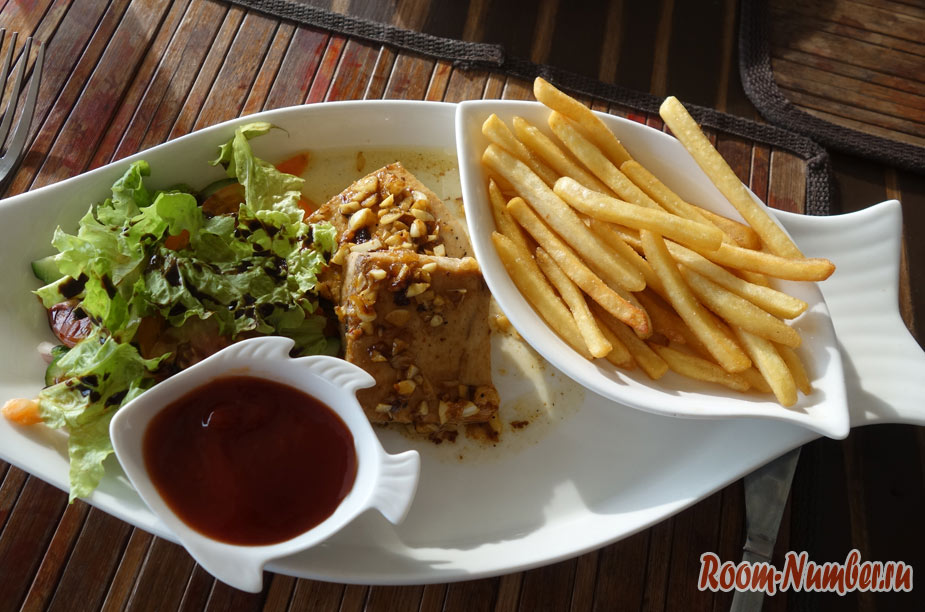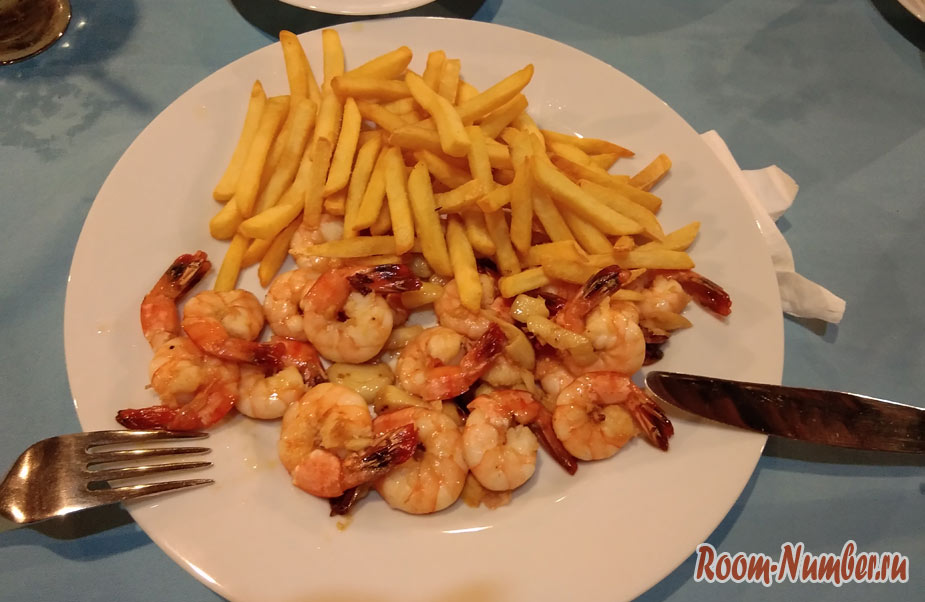 Whatever you order, whether it's meat or fish, it will most often come with fries on the side. Sometimes the side dish is included in the price, but it is not mentioned on the menu (clarify: does it come with fries?).
Rice is not as common in Sri Lanka. If you can not eat fries and you want rice, you must say in advance and thus slightly adjust your order. You will be exchanged fries for rice at no extra charge.
After 2 weeks on fries, we couldn't even look at them anymore, but still held on. Because not only is rice in Sri Lanka unpalatable, they don't even know how to cook it properly. How many times have we ordered rice, most of the time it was not good, and sometimes even disgusting.
Often the Lankans can chop onions or garlic into the rice, making it impossible to put in your mouth. Only once I had delicious rice, it was a real holiday and a break from potatoes.
Полезно: Страховка в Шри Ланку. Как купить недорого (от 39 руб) >
Flies in cafes and restaurants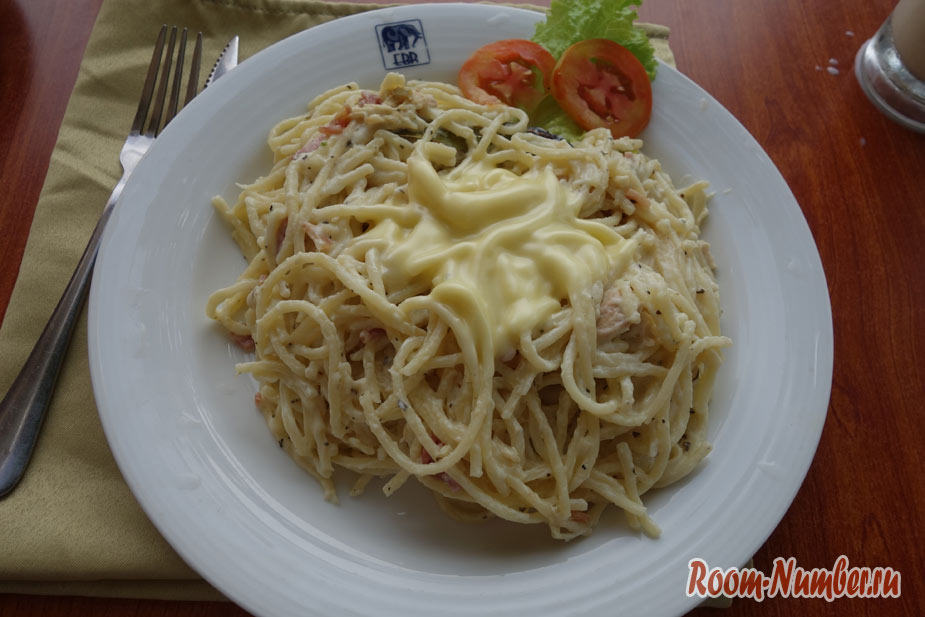 Lankans do not know how to cook spaghetti. You eat pasta with one hand and swat away flies with the other.
Sri Lanka is home to probably half of all flies from our planet. There are so many flies, you can't eat in outdoor cafes or eat breakfast in hotels in open rooms. Flies constantly distract you from your food, you have to eat everything quickly while working with your hands to drive them away from your food and drinks.
In rare places, the area is treated and you can eat without waving your hands and constantly straining.
Tea and Coffee in Sri Lanka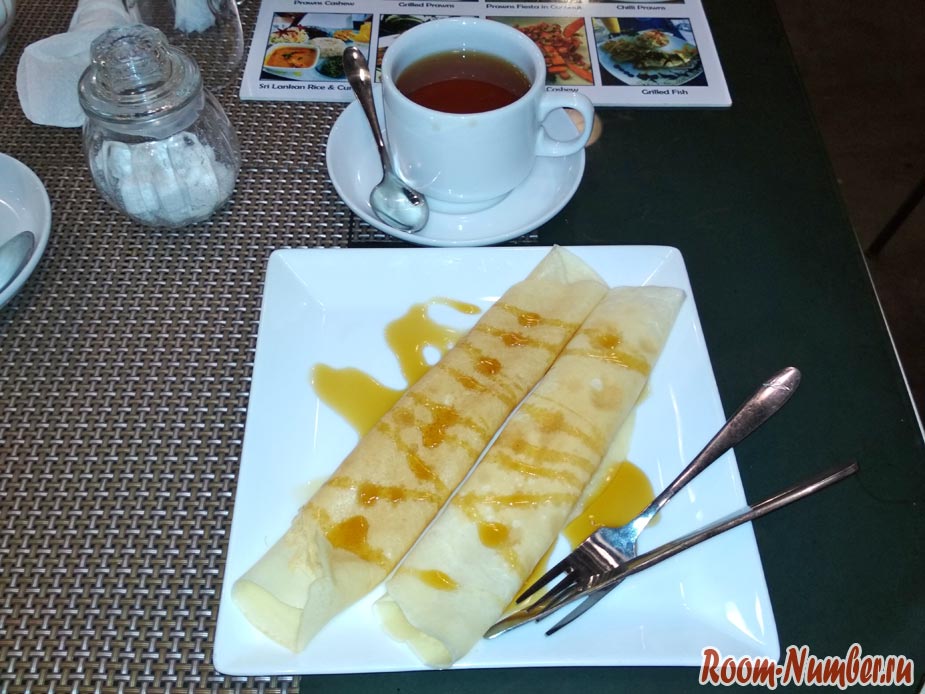 Sri Lanka has bad coffee and good tea. Even the bagged tea is good. We advise you to order tea from untested places, not coffee. Because coffee in restaurants in Sri Lanka tastes like coffee from a Soviet canteen. Something brown, diluted with milk, that we were poured out of large aluminum kettles as children.
Real coffee in Lanka can only be made in coffee houses and restaurants with a coffee machine. They will have cappuccinos and lattes on the menu. If you don't have a coffee machine, get tea.
Сейчас читают: Трансфер на Шри Ланке. Как заказать такси [пошагово] >
Freshly squeezed juices, frèches, and shakes.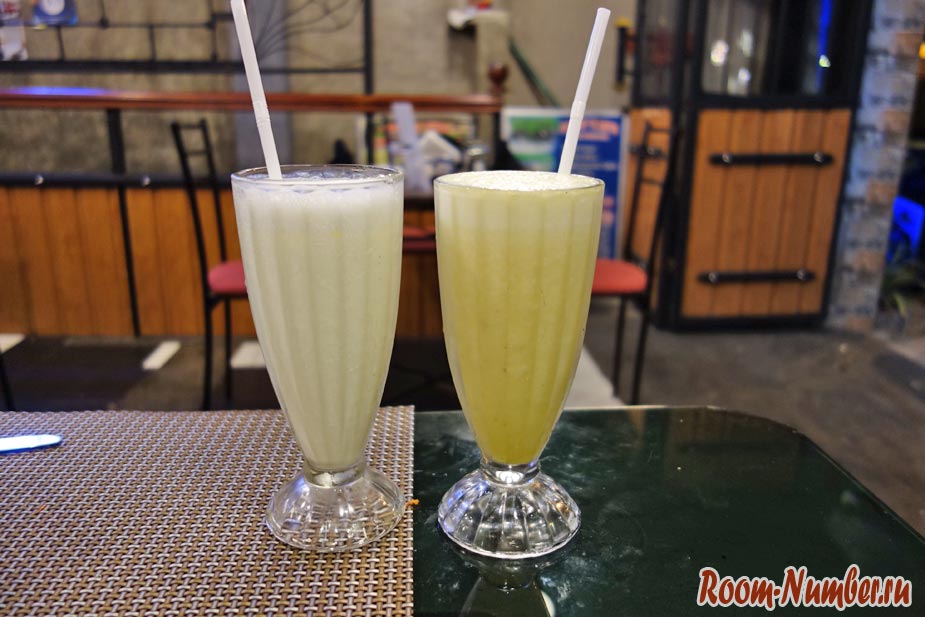 We really liked the Lankan drinks – milkshakes, smoothies, shakes, lassis, and freshes. Prices averaged 300-400 rupees per glass ($2 / 140 rubles). The banana lassi and vanilla milkshake are especially good. Sometimes they put ice cream in a milkshake. Unlike in Thailand, the drinks don't just contain ground ice alone.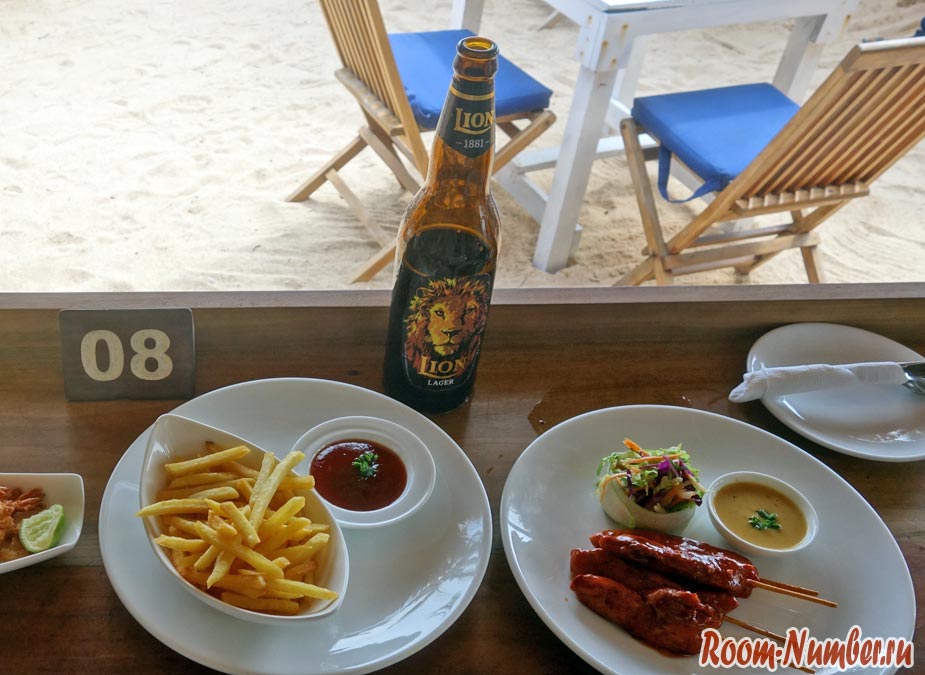 Alcohol prices in cafes are inexpensive. A bottle of local Lion beer costs an average of 300-400 rupees ($2 / 140 rubles). The most expensive beer in Pinavelle was 700 rupees.
Prices in cafes in Sri Lanka and photos of dishes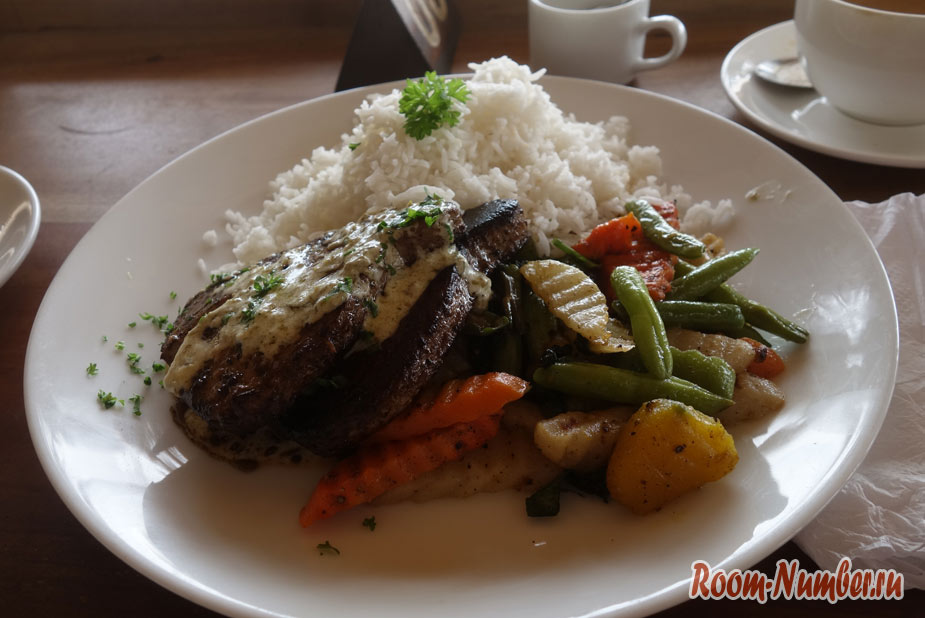 Grilled fish with vegetables and rice for $10
We'll make you happy because the prices of restaurants in Sri Lanka are affordable!
This does not mean that you will eat here for pennies, but you can afford to eat lunch and dinner at cafes and order whatever you want. Food in Sri Lanka is not the cheapest in Asia.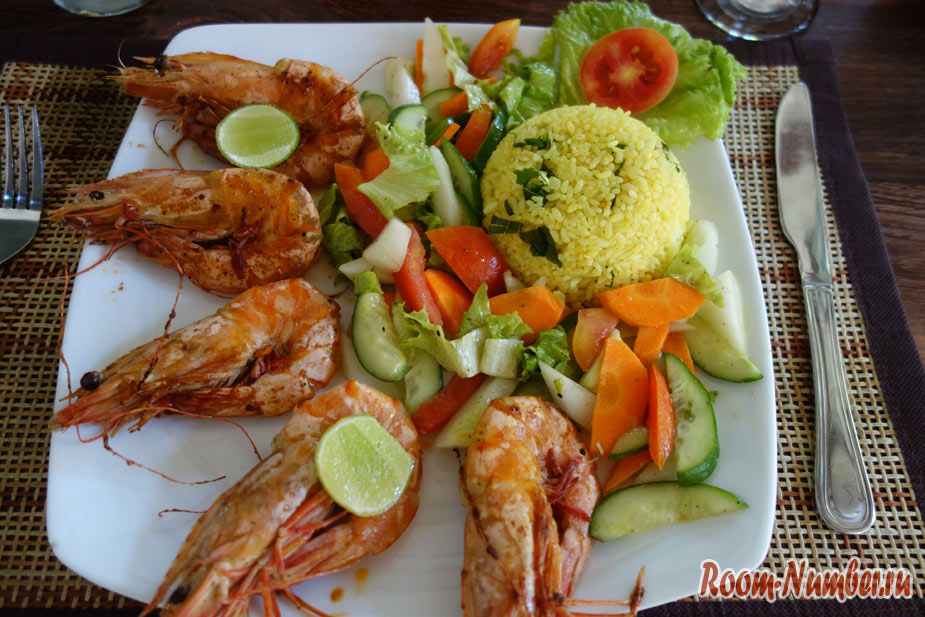 Five huge shrimp with rice and salad for 2,000 rupees ($11.5).
Our average bill for a lunch or dinner for two at a tourist restaurant is 3500-4500 rupees (20-25$ / 1300-1800rub). This is certainly more expensive than in Thailand or Vietnam, but there is a weighty but. In Sri Lanka, seafood is inexpensive.
Big grilled shrimps with side dish and salad will cost $8-12
Grilled fish with mashed potatoes and greens will cost $8-10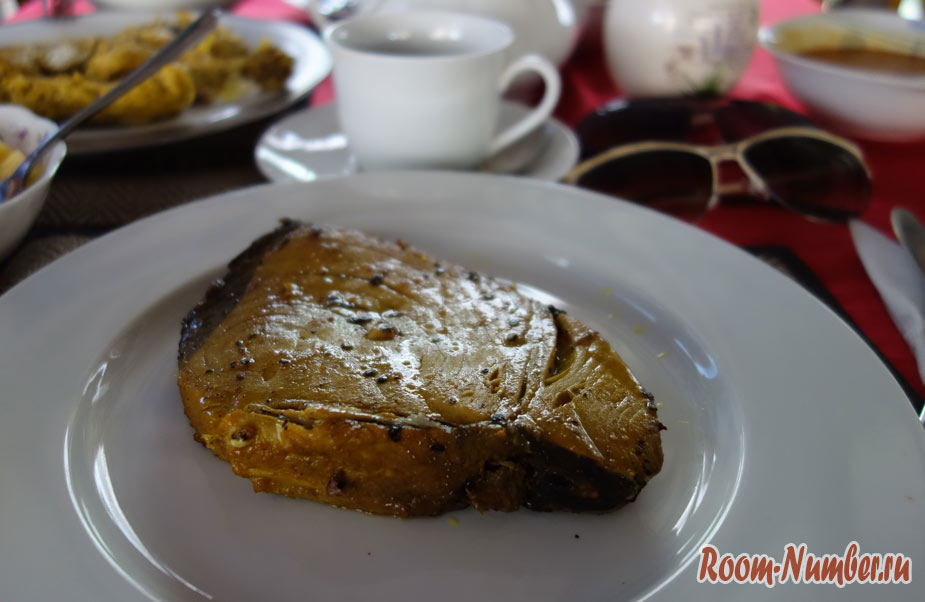 A huge piece of tuna, which I couldn't eat, cost 1,900 rupees ($11 / 730 rubles).
All sorts of plates of assorted seafood for 2-3 people will only come out at $30-35. That's very cheap. Even with the current dollar exchange rate is cheaper than in Russia or Ukraine.
Maybe that's why many people forgive Sri Lanka the extreme tardiness and limited choice of really tasty dishes, because seafood for pennies really pays off for most people.
You don't come to eat spaghetti and salad in a faraway land.
Читайте также: Лучшие отели на Шри Ланке и что нужно знать туристу о жилье >
Fresh white fish for 1500 rupees (8,5 $ / 580 rub) Fish fillet with sauce for 1200 rupees (6,8 $ / 460 rub)
Photo menus of restaurants in different cities of Sri Lanka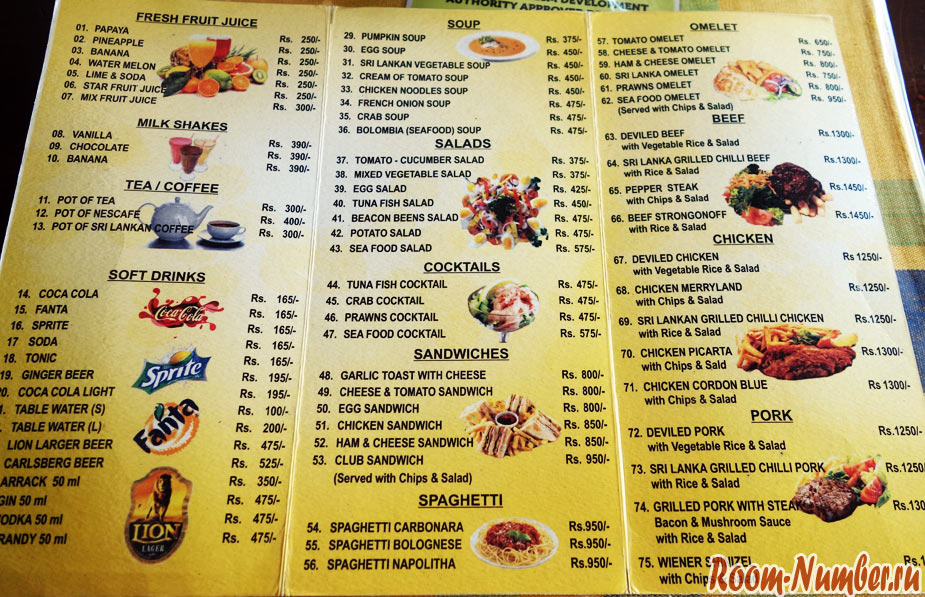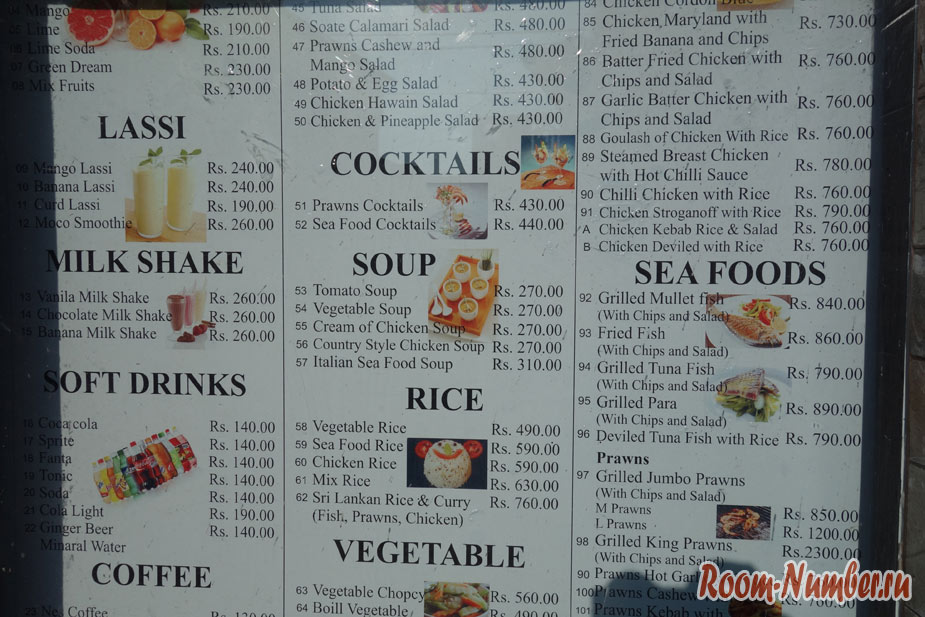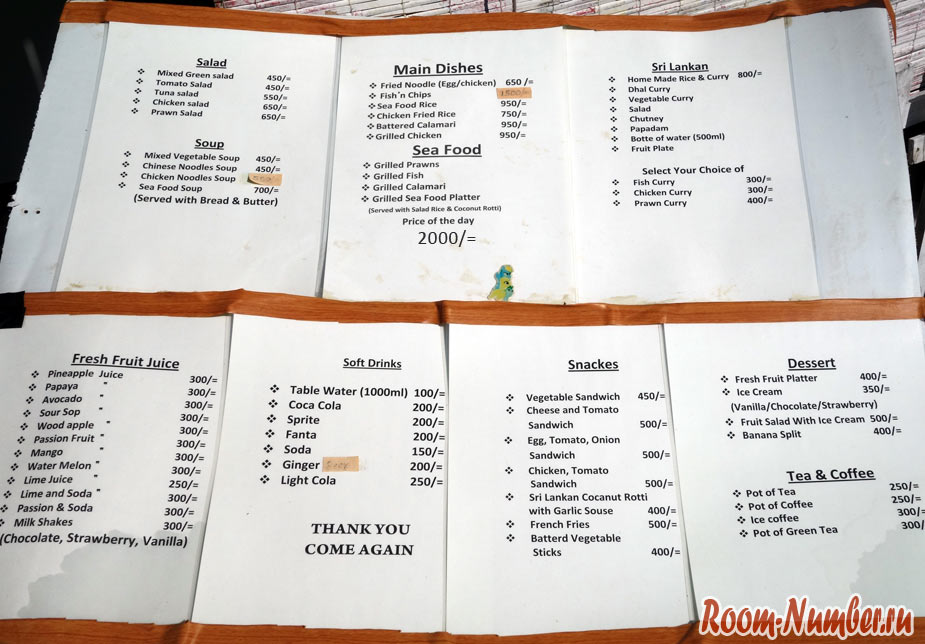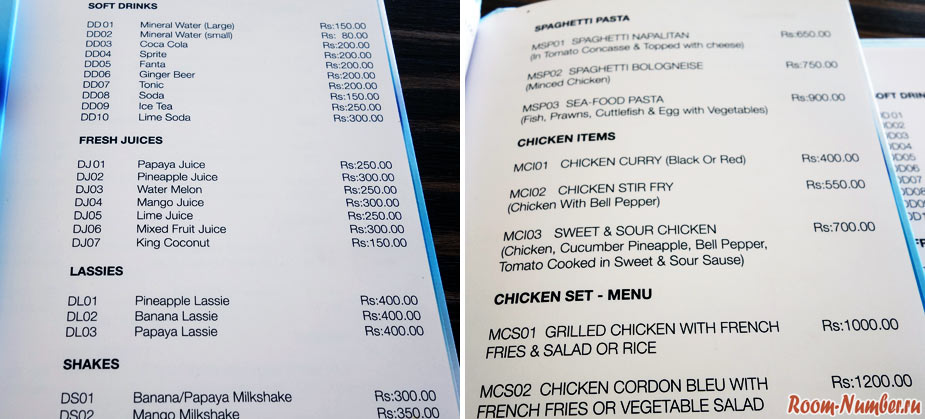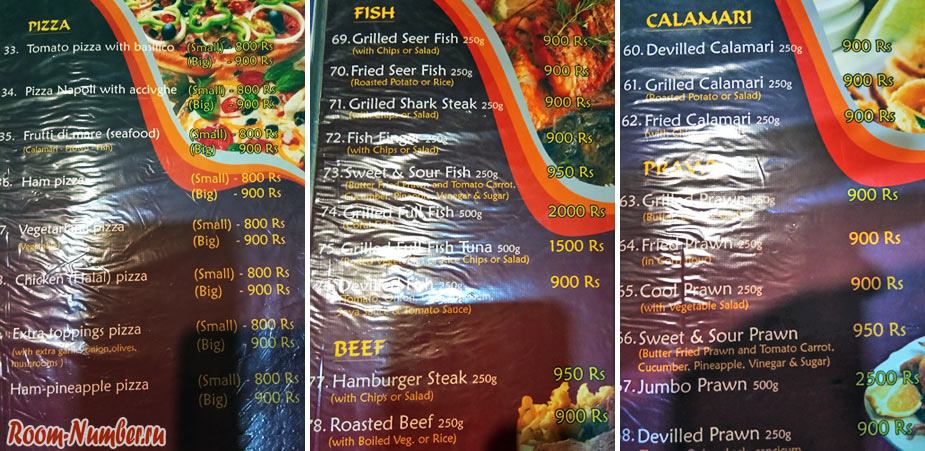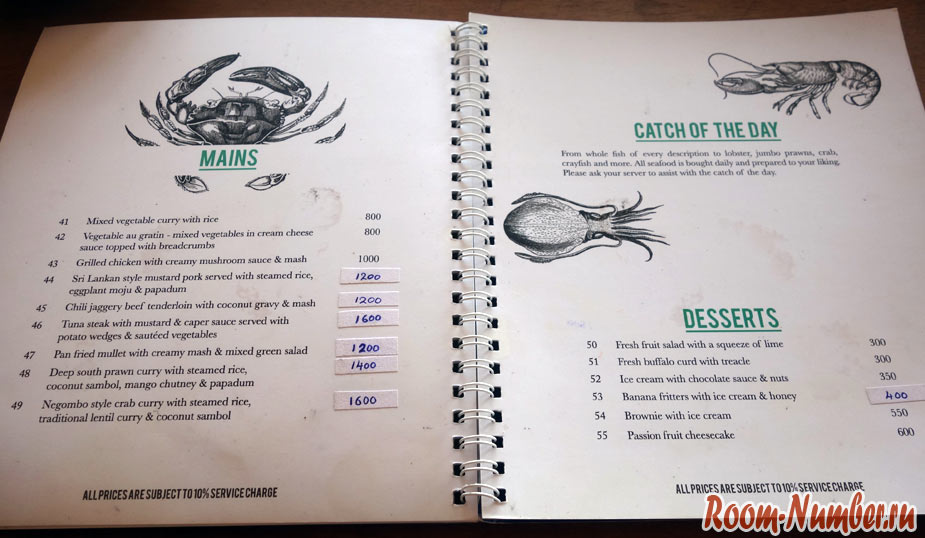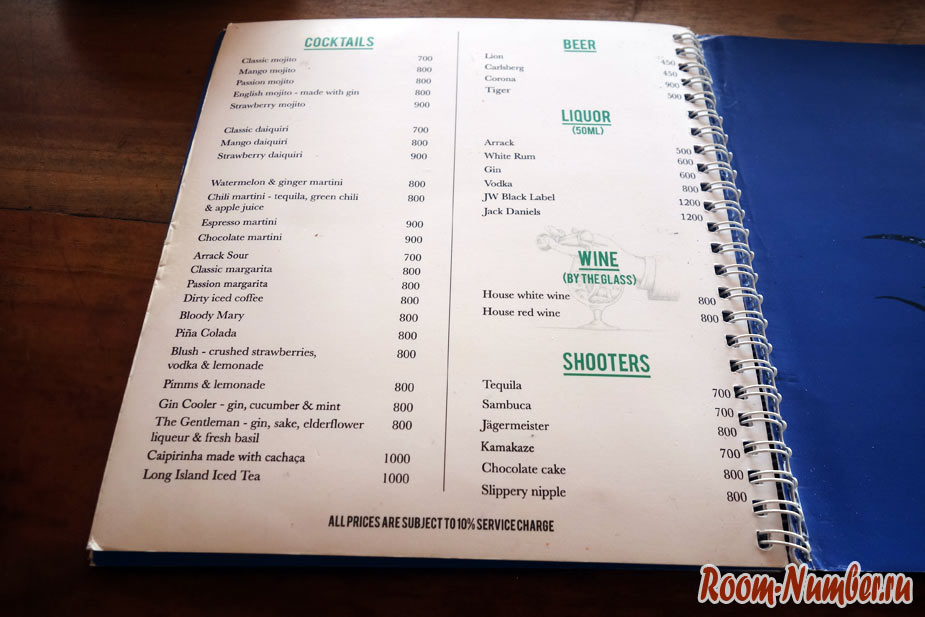 Breakfast in Sri Lanka. What do they feed tourists in hotels?
We want to tell separately what breakfast included in the hotel price means. In Sri Lanka, most hotels breakfast is included. This is very convenient, we advise you to choose the breakfast option.
But there are peculiarities. You will have a choice of a Lankan breakfast or a European breakfast, the so-called English breakfast, though without half of the ingredients included.
English breakfast.
The most delicious English breakfast we had was at the KAI Hikkaduwa Hotel The most modest standard breakfast was at a cheap geste in Negombo
More often than not, a standard breakfast looks like this: 2 fried eggs or scrambled eggs, 4 toast, jam, butter, fruit plate, tea/coffee of your choice (take tea!).
This kind of breakfast is made all over Sri Lanka. You can't call it varied, it lacks bacon and sausages, but overall, breakfast is quite hearty.
In large hotels, breakfast is a buffet system, it is better, more choice of food.
Traditional Lankan Breakfast
The Lankan breakfast is what the locals eat every day. They eat mostly white curried noodles and all kinds of tortillas, samosas and other cakes also with curry. Everything is served cold.
There are people who like it, but it's not for everyone. It is better not to be tempted and choose a standard European breakfast, because the curry in the morning, even with cold tasteless noodles – exotic for aficionado.
Важно: Что нужно знать о Шри Ланке, чтобы не испортить себе отдых >
Food in Sri Lanka: Our Reviews
Let's be honest, we thought the food situation in Sri Lanka would be much worse than it turned out to be. We tried different foods and went to different places in a dozen resorts in the country and made do with only two packs of charcoal pills for 3 weeks of travel
Prices in cafes in Sri Lanka are more expensive than in Thailand, but generally reasonable. Portions are large, seafood at an affordable price is plentiful. The pluses, as you can see, there are.
Despite the minuses, such as the slowness of staff, stupid, not always fried fish (ask in advance, as you need, well done or medium), the abundance of flies and tips are unclear why, we almost never had problems with food at any beach.
To summarize, we can say that there is no problem with food in Sri Lanka, come and do not have to worry about food.
Food – the main problem of Sri Lanka! What's the food like and what are the prices?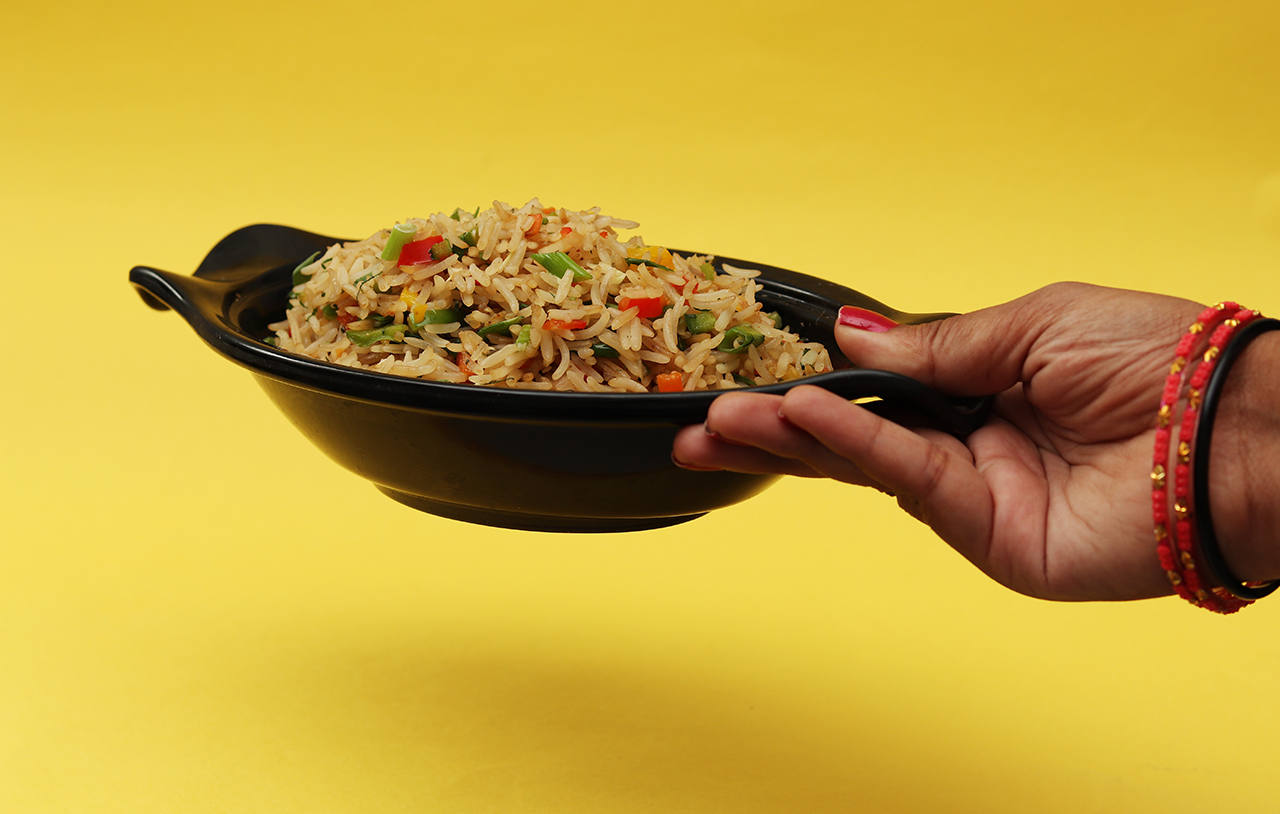 Find out what the food and grocery prices are like in Sri Lanka. What's worth trying? What to be wary of? How to save money? Read our tips to eat delicious and inexpensive.
and Travellata – Cheap Tours – Find Discounted Hotels.
Exchange rate: 100 Sri Lankan rupees (LKR) ≈ 70 RUB.
Contents:
Breakfasts
Sri Lanka is a land of big, hearty and delicious breakfasts. Nowhere else have we been so pampered in the morning! We were spoiled with everything: toast with butter and jam, freshly squeezed juice, fruit, pancakes with coconut filling, savory cakes, omelets, sandwiches and potatoes (surprise!), and tea / coffee, of course.
Usually everything was delicious, but in one hostess's house everything went wrong – every morning the entire corridor was drowned in smoke, like the Caucasian mountains in the fog. Burning eggs, burning sausages, like sinners in hell, in the already terrible palm oil. Fortunately, other Lankan hostesses are much more successful in their culinary prowess, and breakfast is always our little feast.
A royal breakfast! One can easily make it through almost dinner on this one. Another nice thing about breakfasts in Sri Lanka is that they are served on the terrace. It is very nice to eat surrounded by greenery singing birds.
Gastronomy Hole
The main disappointment from Sri Lanka for us and many other travelers is the food. Alas, there is a big problem with it. But trouble does not come alone – get five at once!
1. No place to eat.
The first time I encountered this problem in an Asian country! The Vietnamese, Thais, Chinese, and other Asians are obsessed with delicious food. They have a cult of food! In Southeast Asia, there are cafes, diners, and macaroons at every turn. In Ceylon it's the opposite, there's no street food tradition. That's why it's almost impossible to find a local eatery, there are only restaurants for tourists.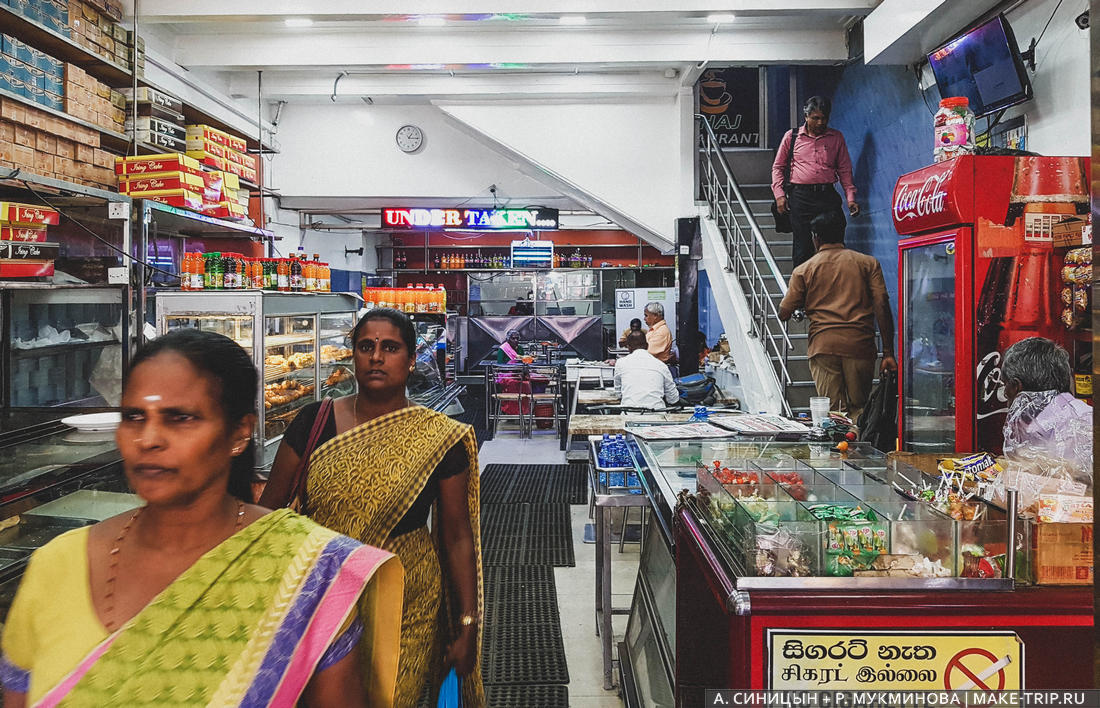 A local place in Nuwara Eliya. These are hard to find.
2. It is very expensive to eat.
As I said, there are no local eateries, only tourist ones, and the food there is expensive. The Lankan people are really pushing the price tag for tourists (they are pushing prices for foreigners atrociously – especially for the sights). Sri Lanka is currently the most expensive country in Asia in terms of food I've been to.
It's almost impossible to eat modestly for less than $10 for two people. And for this money you will get uncomplicated dishes: rice/noodles and juice. Meat, seafood, or even chicken do not even wait! Such luxury will cost even more. 10 bucks for one meal is a lot for a poor Asian country. In Vietnam, for example, our food budget for the whole day was even less than $10, even though we got more meat and freshly squeezed juices there.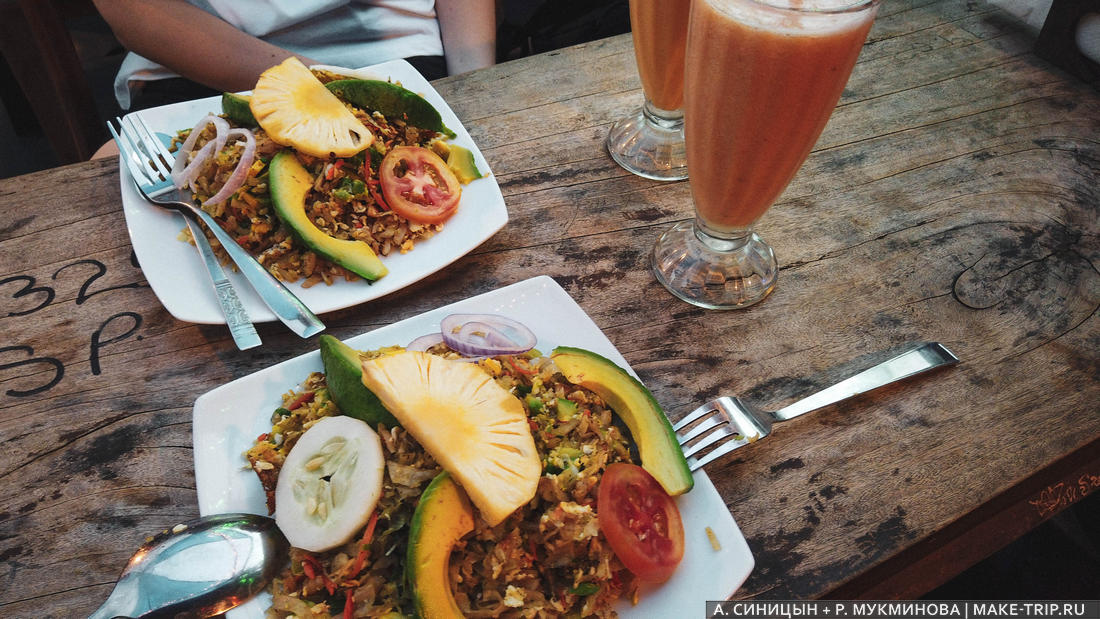 Two avocado kottu + two juices – such an uncomplicated meal (without meat) cost about 1,700 rupees, that is $10. This is very expensive for Asia! In Vietnam, it's easy to buy a portion of rice with a big piece of chicken for $1.
3. They can't cook here at all.
I have not met such culinary mediocrities anywhere! Going to a new cafe is always a lottery, and luck is usually not on your side. Often the food was so tasteless that we had to leave it on the plate almost untouched. This is very frustrating: you come hungry, tired, and here is such a set-up! And, remember, food in Sri Lanka is expensive. As a result, hunger was not satisfied, and the money was thrown away.
The main problem with local cooking is the disgusting oil (palm oil?) they use to fry food. The stench all around is unbearable, and the food itself gets a disgusting taste.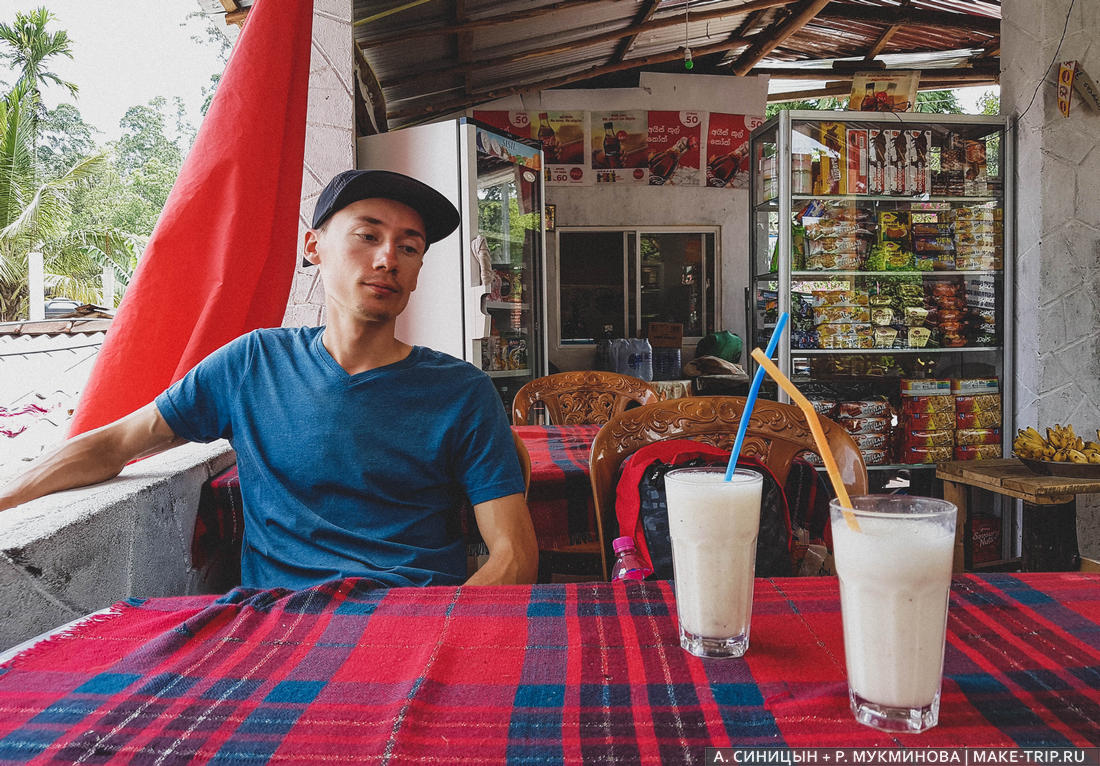 We wait to order at the cafe near the train station in Ella. We don't know yet that they will bring us very unpalatable rice and noodles cooked in palm oil. So we leave hungry.
With juice the situation is better, but also not always lucky: once we ordered orange juice – we were brought a terrible badyaga, where water is at least 95%, and the orange is only a hint.
That's not all! The products in the stores are also of poor quality. The worst is the sausages. Do not even dare to buy them. We ourselves did not take, but the owner of a hostel every morning they "pampered" us – a terrible thing, the meat there is definitely not, and that is, even scary to imagine. Soft drinks are also all nasty, and juices in packages are very expensive (from $ 2 per liter) and the reviews are very vilify them – we did not try. So we have to drink only water.
In fairness, I will note that sometimes we can find a cafe where the food is very good. Once you've found such a place, hold on to it tightly – don't look for new ones, don't risk it! For example, in our guesthouse in Ella, the hostess cooked fantastic rice and curry. Breakfasts at guesthouses are almost always delicious and hearty.
In Negombo we found a cafe that has good and inexpensive food. There are only 4 tables, and in the evenings there is often no room. We were accommodated by our hosts right in the living room. Good that no one slept there).
4. The food is the same.
When God gave out delicious and original national dishes to the nations, Sri Lanka apparently went out for a smoke. For the entire country, for all the thousands of cafes and restaurants in Ceylon there are only five dishes: rice and curry, fried rice, fried noodles, cotta (chopped flatbread with vegetables) and roti (flatbread). Moreover, all these dishes are not even Lankan, but borrowed from India and other Asian countries. It's both funny and sad: day after day you travel through the cities of the island, go to a new cafe and every time they give you a menu that you already know by heart, as if they had one for the whole country.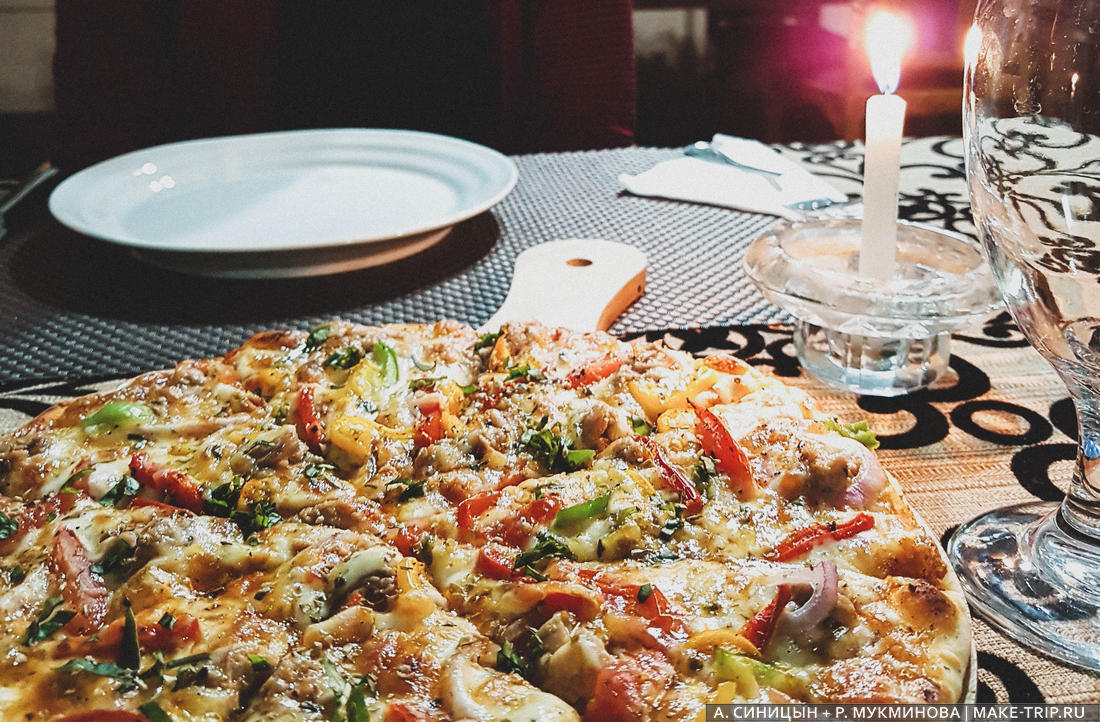 When rice and tortillas are boring, pizza comes in handy. Some places cook it to perfection. Take note: Dream Cafe in Ella and Restaurant at Trevene's in Nuwara Eliya.
5. And the final kick!
A stab at the very heart! Lankan coffee is a pain and a lover's nightmare of this divine beverage.
The problem of local coffee is very simple – Lankans are greedy and brew very little of it. I am not even talking about the fact that real coffee should be only freshly ground, of the right kind or blend, expertly brewed with good water – I'm ready to forget about all my strict requirements, if only it would be poured in three or four times more per serving. But, alas, every time I am served not coffee, but light brown water, lightly flavored with coffee dust, as rare as the snow in Ceylon (yes – very rare, but it happens). Terrible torture for a man who is ready to declare coffee the cause of causes, the second incarnation of Christ, the meaning of life, paradise on earth and utopia turned into life!
Learn: What to bring from Sri Lanka as a gift to friends and relatives.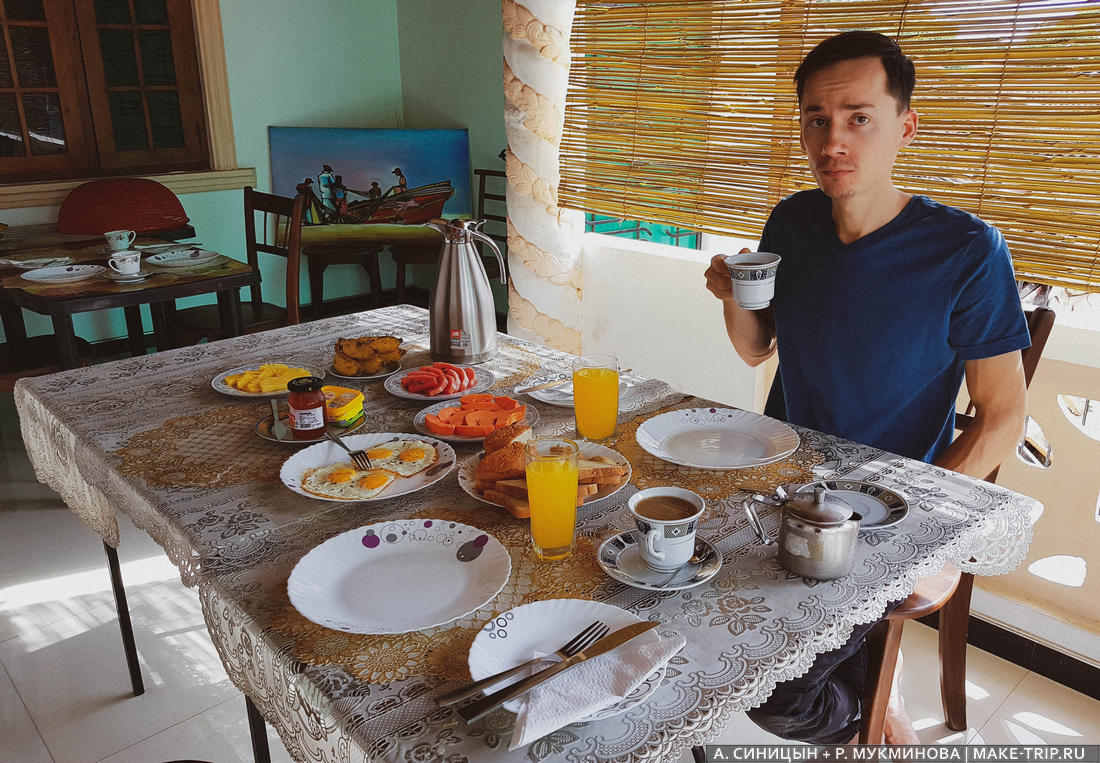 Every sip of morning coffee brings tears to my eyes. We even met Germans in Sri Lanka who travel with their own can of ground coffee.
Food Prices in Cafes
Lankans prefer to eat at home, so almost all cafes are touristy. Prices for foreigners are overpriced, and the service is severely underpriced.
Our average café bill for lunch and dinner is 1500-2000 rupees. That's 2 courses, 2 juices or lassi and service charge/tea.
Breakfasts cost 400-600 rupees per person, but are usually included in the hotel price.
Here are the minimum prices for food in cafes and restaurants in Sri Lanka in 2022:
Vegetarian curry rice – from 350 rupees.
Fish/meat curry rice – from 450 rupees.
Biryani – 600-800 rupees.
Kottu – Rs 350-650 (depending on toppings).
Roti – Rs 100-550 (depends on toppings).
Fried rice with egg and meat – from 300 rupees.
Fried noodles with egg, vegetables or meat – from 300 rupees.
Vatalappam – from 200 rupees.
Kurd with honey – from 300 rupees.
Lassi – from 250 rupees.
Juices – 200-400 rupees.
Milkshakes – Rs 250-350.
Phaluda – from Rs 300.
Soups – Rs 250-350.
About the price difference. Once in the business center of Negombo we found a place for locals – the prices of food there were 2-3 times lower than in tourist cafes and restaurants. But it's very difficult to find such places for locals, the catering system in Sri Lanka is completely undeveloped.
The menu at an inexpensive tourist cafe. The menu and rice Biryani in the cafe for locals in Negombo are the lowest prices we met on the island. We were lucky that time, the food was good and there were no problems with sanitation.
Prices of products in stores in Sri Lanka.
The assortment is quite sparse. The prices of products are fixed and written on the product. Some small grocery stores make a markup for cold drinks. A popular chain supermarket is Food City.
Here are Sri Lankan grocery store prices in 2022:
0.5L water – 35 rupees.
Water 1.5 liters – 70 rupees.
Aloe Vera drink 0.5 liters – 150 rupees.
Yogurt 100g – from Rs 30.
Coconut cookie 100g – from 50 rupees.
Chocolate bar – 130-300 rupees.
Giant shrimps per kg – Rs 1280.
Tuna steak per kg – Rs 750.
Seafood at the supermarket Food City in Nuwara Eliya.
Fruit prices in Sri Lanka
We did not see such a variety of exotic fruits on the island as in SEA countries. Limes, bananas, papaya, coconuts, apples, oranges, wooden apple, mango, mini watermelons, jackfruit and pineapples are mostly sold in markets and street stalls. Longkong/langsat, durian, sour apple, guava, mangosteen, star apple are rarely seen.
Fruit prices in Sri Lanka are low and depend on the season:
Coconut is 50 to 130 rupees. Royal coconut in the mountains costs 100-130 rupees.
Papaya – 80 rupees per kg in season, out of season – 200-250 rupees.
Rambutans – 100 rupees for 10 pieces.
Mangosteens, 100 rupees for 3 pieces.
Bananas – around Rs. 180 per kg. Price depends on variety.
Pineapples – about Rs. 200 per kg.
Wooden apple – about Rs. 230 per kg.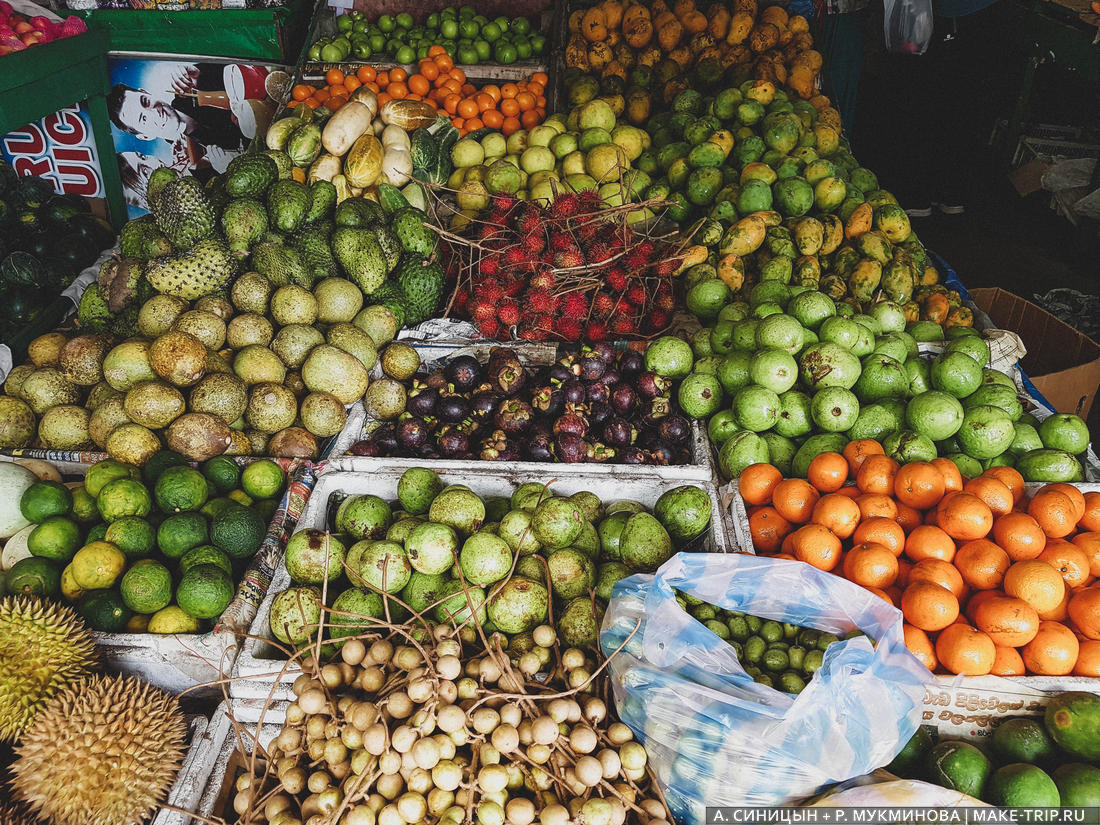 Fruit counter in Sri Lanka.
What to try in Sri Lanka
Cafes offer few Lankan dishes. Basically the assortment everywhere is the same:
Rice&curry – rice with a bunch of additives (papadam, pumpkin, dhal, potatoes, sambol, malluma, etc.). There are usually vegetarian, chicken, and fish options on the menu.
Kottu (Kotthu) – shredded roti with eggs, vegetables, and/or meat.
Rotti – A flatbread or "shawarma. Can be sweet, vegetable, or meat.
Buriyani – Basmati fried rice with spices, eggs, vegetables, or meat.
Hoppers – A thin pancake in the form of a bowl of rice flour. Sometimes with scrambled eggs in the middle or sweet coconut shavings.
Paratha – a fatty flatbread.
Vatalappam is a pudding made of egg, coconut milk, and cardamom. Poured with palm honey.
Curd is a Lankan curd that tastes like thermostatic yogurt.
Delicious rice and curry from our hostess in Ella.
If breakfast is included in the hotel price, you will get either a continental breakfast or national cuisine. Choose a hotel that serves traditional dishes, because it's hard to find them in cafes. Here's what we were fed for breakfast at the guesthouses in Ella and Sigiriya:
Lankan omelet with vegetables and spices.
Kiribat is rice with coconut milk. Served with fried onions and peppers or sweet.
Ulundu wadai – lentil doughnuts with spices.
Samosa and triangular roti. May be vegetable or meat.
Pani pol – pancakes with sweet coconut shavings wrapped in them.
String hoppers are open-work tortillas made of rice noodles and served with a topping sauce. We ate them with potatoes in coconut milk – incredibly delicious.
Hoppers are thin pancakes with or without egg.
Sri Lanka's best drinks are fruit lassi (sweet and salty), faluda, wood apple juice, Ceylon tea and ginger beer (non-alcoholic).
Resorts of Sri Lanka:
Prices for juices and lassi at a tourist cafe in Sri Lanka. Coconut and fruit vendor at Mt. Ella Rock.
Helpful Tips.
Look for good cafes on TripAdvisor . We went to a cafe a couple of times without reviews and were satisfied with disgusting food. Don't do that anymore.
The portions are usually large. Sometimes you can take one dish for two – for example, cotta . Ask about the size, they will tell you.
The 10% service charge is almost always included in the bill after the fact – it's unpleasant. Some cafes put it on the menu or don't charge it at all.
As strange as it may sound, in some establishments you can haggle if the price is not fixed on the menu. So we got a little discount on the price of curry in a roadside cafe in Nuwara Eliya. But this is a rare case. Many tourists write that Lankans are willing to haggle. From personal experience – almost no one discounts the price.
Not all establishments have toilets, but certainly – washbasins with soap.
Choose a hotel with breakfast! Read reviews and see pictures of what they serve. Sometimes breakfast is a full lunch.
Tourists are not advised to buy local products: chocolate, juices, drinks containing juice. They are unpalatable and expensive.
Useful selection: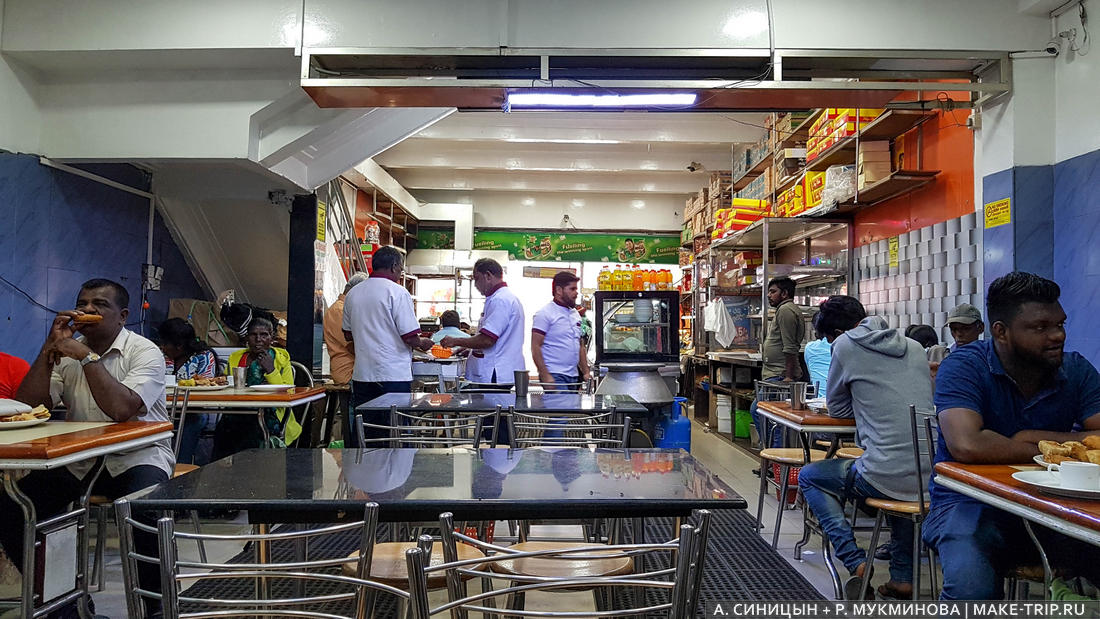 Cafes for locals in Nuwara Eliya.