Thailand's 10 Best Islands
Perfect tropical islands have become one of the main reasons why Thailand is visited by millions of tourists from all over the world. But how to choose the best islands of Thailand when there are hundreds of them.
But still some islands clearly deserve the first lines of all kinds of rankings of beauty and attractiveness. Take these 10 islands.
Khao Ping Han Island
Located in Pang Nga Bay in the south of Thailand, Khao Ping Han Island is better known as "James Bond Island". It is here where the famous movie GoldenEye was filmed.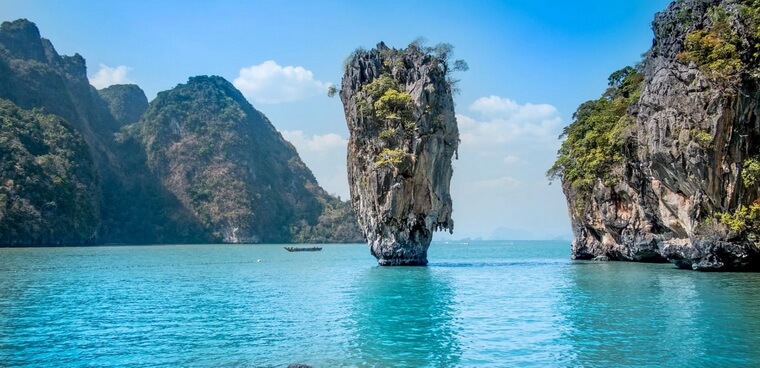 In addition, the island is famous for its impressive limestone cliffs, protruding from the striking green waters of the bay. Here, for example, a 20-meter standing rock called Ko Tapu – the most famous of them. It, incidentally, appears in the movie about James Bond. According to scientists, this giant appeared more than 200 million years ago as a result of erosion. Boating is probably the best way to explore stunning Ko Tapu.
Khao Ping Han is the perfect place to take a sea canoe trip. The island has some amazing caves in the rocks. In addition to the caves and emerald waters, you will see beautiful mangrove forests in the surrounding area.
Ko Poda.
A small but attractive limestone island nestled in the province of Krabi in western Thailand. Great beach with white sand and fantastic scenery.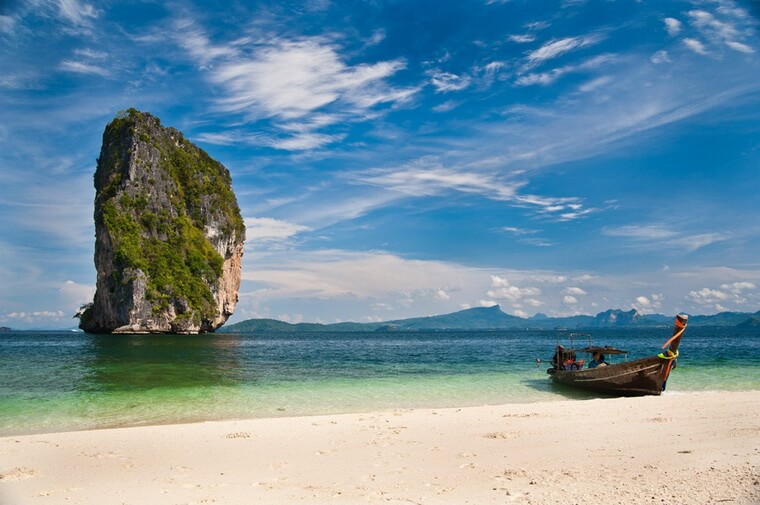 Koh Poda Island
Ko Poda is a quiet and comfortable island. There are few people here. A great place for a beach holiday. The snow-white beach stretches for 1 kilometer, and is washed by crystal clear blue water. This is a real paradise for lovers of sunbathing and swimming.
By the way, it is one of the best places in Thailand to watch the sunset.
Ko Samet
Also a relatively small island. It is located in the province Rayong. Like the previous island, Ko Samet is known for its beautiful white sandy beaches, spectacular nature and amazing sunsets.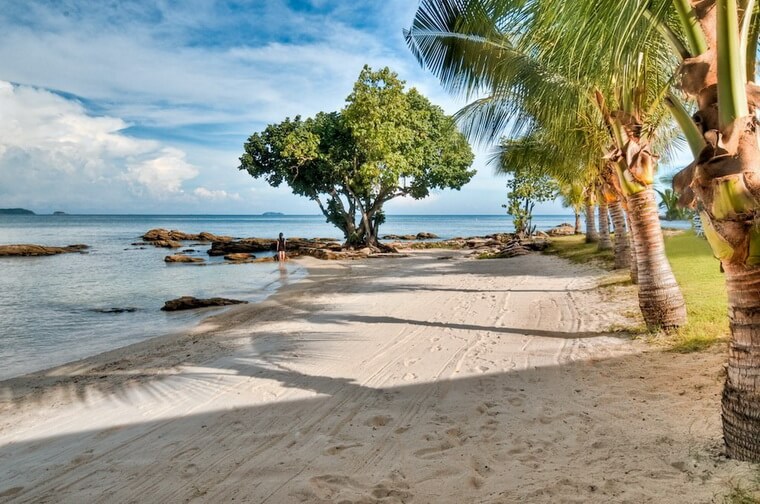 Ko Samet Island
The beaches of Ko Samet Island have exceptionally clear blue waters. The most beautiful and most visited beaches are located in the east of the island.
Hat Sai Kai (also called "Diamond Beach") is 1 kilometer long and is the most popular beach on Ko Samet. In addition to clear waters and white sands, this beach offers many activities, including snorkeling, windsurfing, water skiing and catamarans.
Koh Samet enjoys comfortable temperatures all year round. To enjoy the nightlife, there are many rousing bars and restaurants.
Ko Samet is an ideal place for water sports. Here you can do diving, snorkeling, boating, fishing, windsurfing. Boat trips are a popular activity for tourists on Ko Samet.
Phangan
Phangan Island in the Gulf of Thailand is famous all over the world for its fun moon parties. These are nighttime beach parties held at Haad Rin Beach every full moon. A variety of music and "dancing till you drop" – the main feature of the moon parties.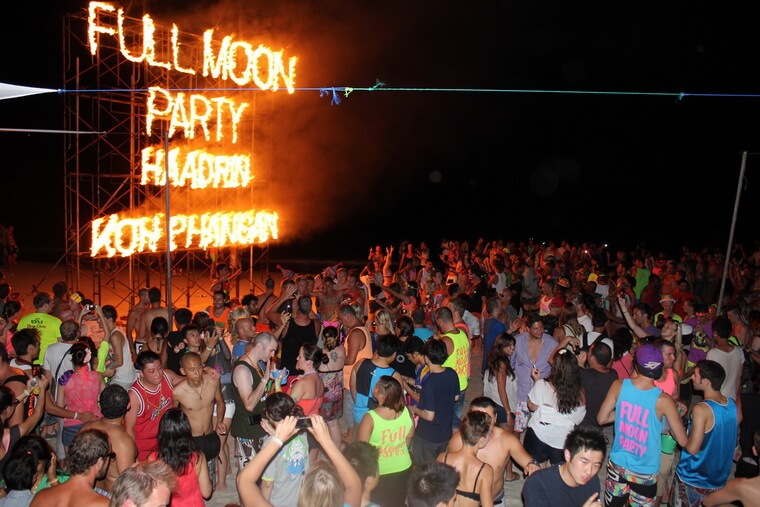 Moon party.
And, of course, there are many spectacular beaches. For example, Bottle Beach, located on the north coast of the island. This is the most isolated and most popular beach in Phangan. To get here, you need to take a boat, boat or get on foot about 3 hours. But the beach is worth it. The white sand and gentle aquamarine waters will definitely make you love it.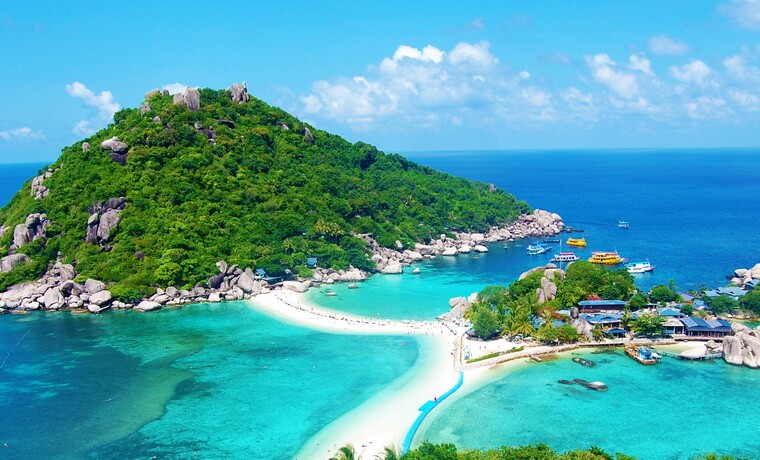 Phangan Island
In addition to the beaches and nature, here you will see some of the amazing temples of Thailand. For example, the temple of Wat Pa Sang. It is definitely a must visit. It is a colorful Chinese temple overlooking the beautiful Chalok Lam Bay. The temple offers stunning views of the surrounding mountains.
There are seven beautiful waterfalls in Phangan – Paradise, Shramanor Falls, Faeng, Wangsai, Than Sadet, Than Prapaad and Than Prab. Faeng Falls in the southwestern part of the island, is the most beautiful and largest waterfall of the island. The trail to this waterfall is no less scenic.
Ko Lipe
A small island of Ko Lipe is located in the province of Satun in southern Thailand. There are three main beaches on the island – Pattaya, Sunrise and Sunset. All three can be reached in less than half an hour from anywhere on the island. These beaches are famous for their clear, striking blue waters.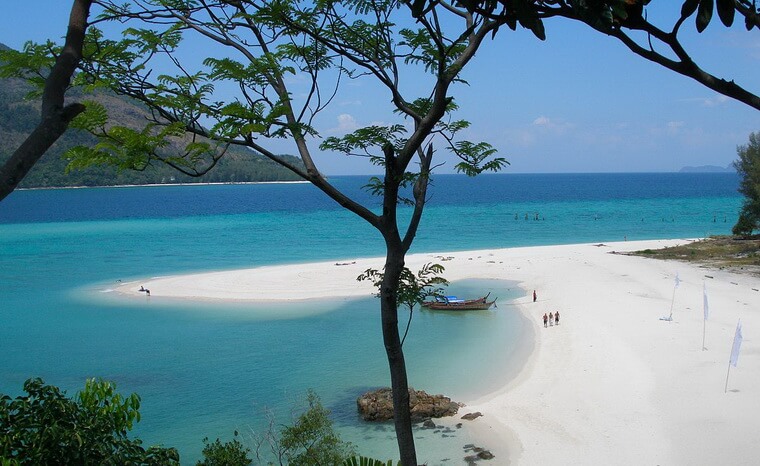 Ko Lipe Island
Ko Lipe offers great diving and snorkeling spots. Such as Eight Mile Rock, Yong Hua Shipwreck, Hin Takorn Dukong, and Ko Bu Thang.
And the shallow waters around this island will provide great opportunities for beginner divers. On Ko Lipa you can travel in traditional long-tail boats.
The island, (like most other islands) offers many bars, restaurants and discos. It is a good place for exciting night parties.
Koh Chang
Koh Chang is located in the province of Trat. It is the second largest island in Thailand. With pristine nature and plenty of entertainment, Ko Chang has become one of the top tourist destinations in the country.
On the island you will find several pristine beaches. The most beautiful are Kai Bae and Klong Prao. They are located on the west coast of the island.
Naturally a full range of water activities are included. On Ko Chang a few diving centers. From November to March is the best time to visit, as during this period, the sea becomes calmer. You can enjoy the view of beautiful corals and swim among the amazing marine life, including sea turtles, grouper, barracuda, and clownfish. In addition, you will be able to ride elephants.
Learn a little more about this island in our separate article on Ko Chang.
Ko Tao
The name "Ko Tao" means turtle island. The shape of the island resembles a turtle. This tiny island is located in the eastern part of Thailand.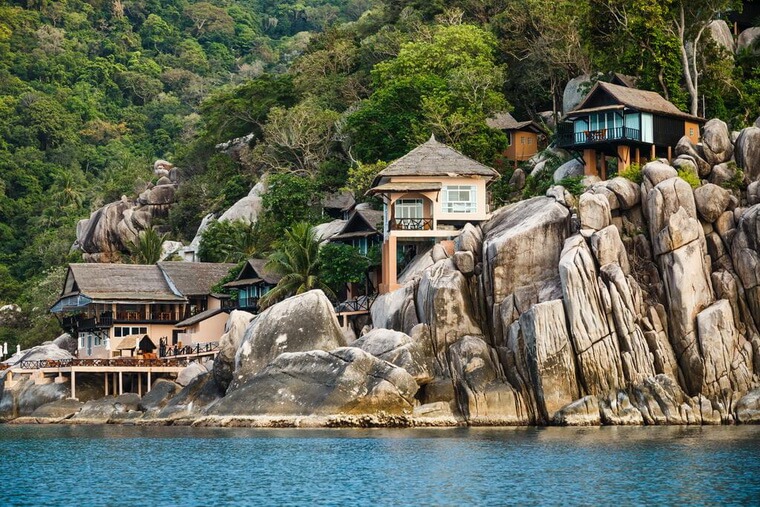 Ko Tao Island
Ko Tao is famous for its famous diving centers. There are more than 20 places for diving. Training centers provide training for beginners. The summit of Chumphon and the southwestern summit are the most popular diving sites in Koh Tao.
The beaches of Ko Tao with their soft white sand, striking aquamarine water and amazing marine ecosystem are definitely some of the best tropical beaches in the world. The beaches of Mae Haad, Sairi, Freedom and Jensom Bay are some of the most popular and beautiful beaches on the island.
Ko Tao is an island of vibrant nightlife. There are many bars, clubs and dance floors. In addition, you can enjoy live music and sports competitions on the beaches.
The hilly landscape of Ko Tao offers many exciting hiking trails for tourists. Climbing up the mountain to view the rocky scenery in Sairi Village is the most popular. You will see wildflowers and animals. The view from the top is breathtaking to the village of Sairi.
Ko Samui
Located in the Gulf of Siam, Ko Samui is the third largest island in Thailand. It is known for great beaches, mountain scenery, entertainment, shopping and delicious food.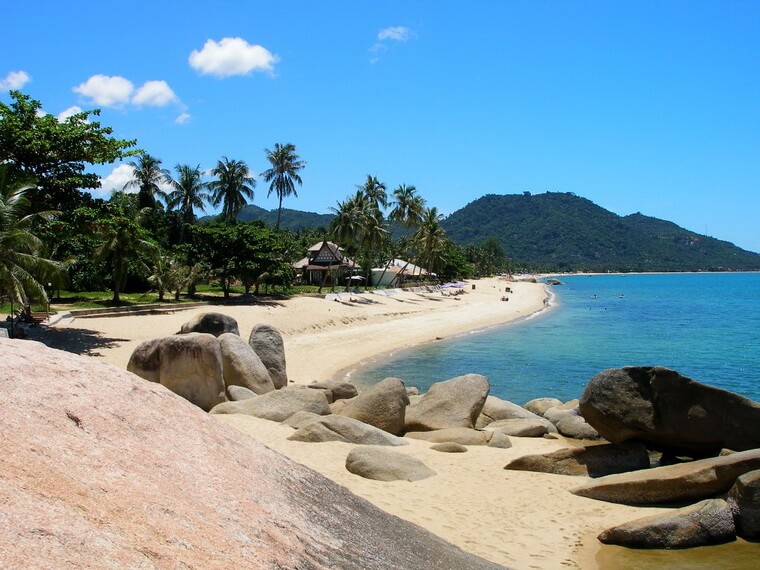 Koh Samui
Its palm-fringed beaches are famous all over the world. The clear blue water and fine sand will definitely please you immediately. Chaweng, Lamai, Bophut and Manam are the most famous beaches on Samui.
The Big Buddha Temple on the north coast is the most famous attraction on Koh Samui. The golden statue of Buddha is 12 meters high and can be seen from several kilometers away. There is also a small statue of Buddha, which depicts Maitreya or the future Buddha.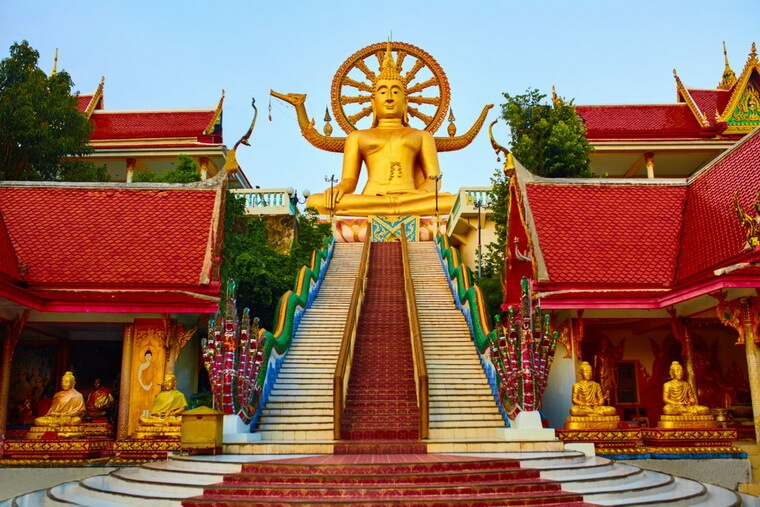 Big Buddha Temple
You can take a jeep tour through the beautiful forests of Samui. Such a trip will provide you with an introduction to the forests, valleys, rivers and small waterfalls.
Ko Lanta
Ko Lanta Island is one of the most beautiful islands in Krabi province. It is known for its long white sandy beaches, rainforests, colorful festivals and exotic food.
Ko Lanta Island
The crystal clear waters and amazing corals off the coast of Ko Lanta provide excellent opportunities for snorkeling. The places of Hin Daeng and Hin Muang are some of the best places for diving in Thailand. Here divers can enjoy the fantastic marine life, which includes more than 200 species of coral and 100 different species of colorful fish.
Go elephant trekking in Ko Lanta National Park to enjoy the beauty of the rainforest. A walk through the jungle can also be unforgettable for you. This national park is home to many amazing plants and animals.
The beaches of Ko Lanta are famous for their white sands and clear blue waters. Cor Kwang, Klong Dao, Pra Ae, Klong Hong and Klong Nin are the most popular beaches on the island.
Visit the deep and intricate caves of Khao Mai Keo in the central part of the island. The journey will be challenging but definitely exciting. Inside the caves you can see brilliant rock formations and amazing stalactites and stalagmites.
Phi Phi Islands
This is an entire archipelago in Krabi province. It includes 6 beautiful islands – Ko Phi Phi Don, Ko Phi Phi Lee, Ko Jung, Ko Mai Phai, Ko Pai and Ko Bida Nok. And this is a whole collection of stunning beaches, rock formations and world-class diving sites.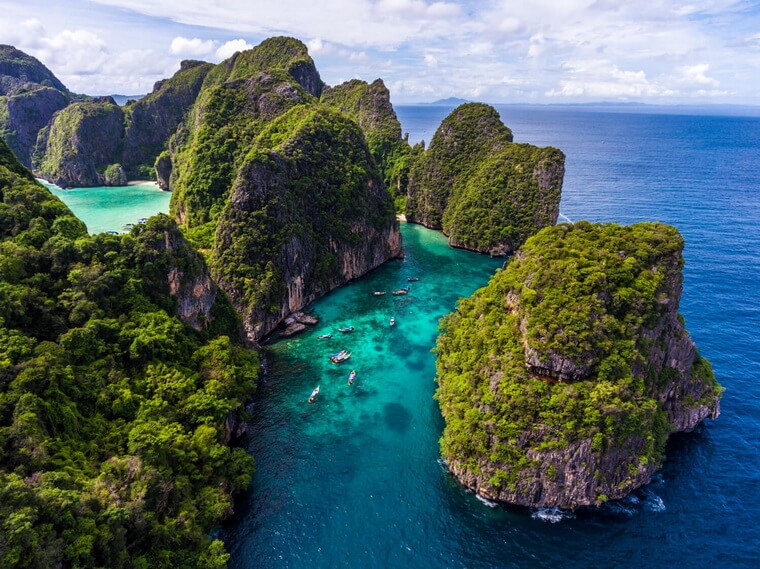 Phi Phi Islands
Ko Phi Phi Don is the largest island of the Phi Phi Islands. It is famous for its gorgeous beaches and amazing cliffs. Special attention should be a 100-meter narrow sandbar, connecting the two beautiful bays of the island (Tanum Bay and Tonsai Bay).
Stunningly beautiful Maya Bay on the island of Phi Phi Leh, perhaps the most beautiful place in the entire archipelago of Phi Phi. Surrounded by 100 meter high cliffs on three sides, Maya Bay consists of many beautiful beaches with exceptionally clear blue water. This is the bay that was filmed in the movie "The Beach" starring Leonardo DiCaprio.
The island of Koh Pai, known as "Bamboo Island," is covered with bamboo forests. This island with its fantastic coral reefs will be of interest to divers.
With warm waters, rich marine life and corals, Phi Phi Islands have become one of the best places for diving in the world. Anemone Reef, Maya Bay, the remains of the cruiser King, Ko Bidok and Shark Point are the most popular diving spots on Phi Phi. Beginners can take the best PADI diving courses in Phi Phi Islands. The certification from Phi Phi Phi is recognized worldwide.
Tonsai Tower on Phi Phi Don is a world-class climbing destination. The 200 meter high rock slope will provide more than 30 routes.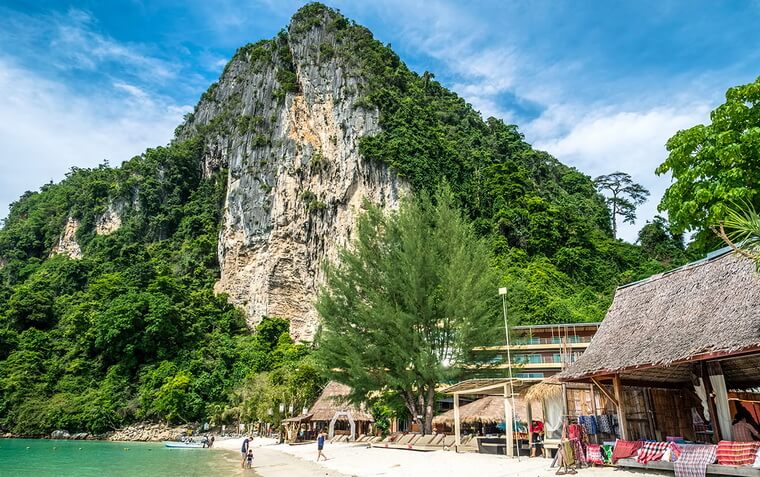 Tonsai Tower.
Thailand's top 10 islands for vacationing in 2019
All the islands of Thailand have something in common – soft sand, luxurious nature, relaxing and good-natured atmosphere. But each island is unique in its own way.
And if you are looking for something special in the "land of a thousand smiles," then choose from our top 10 best islands in Thailand for holidays in 2019 exactly the one that best suits your goals. The ranking is based on reviews from tourists and various travel publications.
10. Samui
Suitable for: families with children, honeymooners and spa lovers.
Once one of the largest islands of Thailand attracted not wealthy tourists and ravers with its beautiful beaches with cheap accommodation and parties at full moon. Now it has become more hyped and respectable, and has become the perfect place for those who want to enjoy a beach vacation in Thailand.
Honeymooners have a wide selection of cozy lodges, nightclubs and Michelin-starred restaurants, while couples with children can check into "family-friendly" hotels with babysitting, kids' pools and kids' menus.
Samui is one of the best places in the world for yoga and spa. The most popular spa on the island is the healing center of the five-star Kamalaya Hotel.
It is beautifully decorated with wood and stone, in the style of classic Thai architecture.
The spa has massage rooms, saunas (including infrared).
There are rooms for manicure and pedicure, pools with water of different temperatures and a steam grotto.
Yoga lovers can meditate in the pavilions for 10 or 30 people.
For those who prefer a relaxing swim to an active workout, various fitness programs and gyms are available.
9. Ko Tao.
Suitable for: snorkelers.
The coast of Ko Tao, or "Turtle Island," is dotted with small sandy coves, cute restaurants, and dive stores.
The island is one of the best places in the world to explore the most unusual fish and other inhabitants of the underwater world, and the active competition between dive stores allows you to buy everything you need at low prices.
If you're new to diving, get your PADI or SSI Open Water certification. It usually takes four days and includes four dives in the ocean. If you're short on time (or don't want to take the full course), most dive schools offer one-day Discovery dives, during which you can dive to 12 meters underwater without certification.
Teachers at these schools teach in a variety of languages, and children's courses are also available.
8. Phuket
Suitable for: high-service beach vacations and active shopping
Thailand's largest and busiest island offers all the Western amenities you can think of, and maybe some you haven't thought of yet. Thailand's best restaurants, high-end resorts, and even world-class plastic surgery clinics are all on Phuket and more.
And while the island may seem too poor and crowded in some places, it makes up for it with cosmopolitan entertainment in the form of designer boutiques, nightclubs, bars and huge shopping malls.
Phuket is rightly called the "beach capital" of Thailand: almost every local beach has coral reefs, and after sunbeds were removed from the beaches in the summer of 2014, they have returned to their pristine look.
7. Ko Phangan.
Suitable for: hedonists and lovers of dancing under the moon.
Tender sun, gentle beaches, and the famous Full Moon parties are what Pangan Island is famous for. Every month on the full moon, Haad Rin Nok Beach is the "Asian Ibiza". During peak season on the island you can see up to 20,000 people dancing, drinking and jumping on the white sands under the full moon.
If you can't make it to Pangangan at the right time of the month, don't worry – one night a week there's entertainment on the beach and in the island's cocktail bars. And while they may not be as crowded as the "full moon party," they are no less entertaining.
6. Ko Lanta
Suitable for: those who are still undecided what exactly what they want.
Of all the best islands in Thailand Ko Lanta is the most versatile. It is not one island, but a group of small islands, the most visited of which is Lanta Yai. There are nature reserves and beaches where you're unlikely to see crowds of tourists; and accommodations range from the most budget to super-chic, which attracts solid travelers.
Ko Lanta is one of the best places in Thailand for holidays with children. The local waters are calm and the islands themselves are safe. If you want everything as it should be on a good vacation: a tan obtained on the beautiful beaches, some world-class diving, great massage, fun beach bars, seafood food, then Ko Lanta is the place where your dreams will come true.
5. Phi Phi.
Suitable for: those traveling on their own.
If you're traveling to Thailand on your own or with friends, then this island with a funny name is just the thing.
With a reputation for having a lot of fun (diving, snorkeling, high-diving, boat trips, etc.), Phi Phi attracts young and energetic tourists from all over the world.
And in the evenings, vacationers huddle at beach bars, watching Thai dancers juggle fire and wriggle in sensual dances.
4. Ko Lipe
Suitable for: romantics and honeymooners.
This cozy and clean island of only 2 km² has three main advantages:
remoteness (which means there are far fewer tourists here than on Phuket or Samui);
Many beautiful beaches with "bounty" sand and clean sea;
Many luxury hotels with good reviews.
The island is small enough to explore on foot, perhaps hand in hand with a loved one. Pattaya Beach is the busiest of the beaches and home to most of the island's nightclubs, while Sunset Beach is the quietest and most secluded beach on Ko Lipe.
Snorkeling, diving, and excursions to nearby islets are readily available, though you may prefer them to a massage at one of the local resorts.
Important: You have to pay 200 baht to enter Koh Lipe, which is part of the Tarutao Marine National Park.
3. Ko Chang
Suitable for: exploring the nature of Thailand.
Less populated and more secluded than its "big sisters" – Phuket and Samui – Ko Chang is Thailand in miniature.
It can not be called untouched by civilization, but most of its territory is a national park, perfect for hiking in the jungle, and it is easy to get to small nearby islands. The island has a well-developed tourist infrastructure and there are no problems with accommodation and entertainment.
And yet on Ko Chang gorgeous sunsets, according to tourists. However, this is famous for most of the most popular islands of Thailand.
The main problem of the island are monkeys, which brazenly steal food and things from tourists.
2. Similan Islands
Suitable for: diverse and exciting excursions.
Crystal clear water, snow-white sand, spectacular scenery ensured Similan Islands title "pearl of Thailand". This chain of nine little wonders of the world forms a national park in the Andaman Sea.
Here are the most popular islands:
Thachai Island has the softest and shiniest sand and is the most popular of the magnificent nine.
Richelieu Rock is one of the world's best diving spots and whale shark territory (February-April is the best time to spot them).
Khao Lak Resort, an hour north of Phuket, is the starting point for some of Thailand's most exciting day trips and island hikes.
Ko Miang – one of the most beautiful islands of Thailand – is known for its turquoise water and white sand beaches.
Note: according to Russian-speaking tourists, these islands are swarming with vacationers from China. Quite noisy, so you just need to be prepared for this.
1. Ko Sichang
Suitable for: a quiet stay near the big and noisy Bangkok.
If you're only in Thailand for a few days, you may not be able to make the trip from Bangkok to the outer islands. Instead, take a day or two vacation to Ko Sichang (not to be confused with Ko Chang). It's a two-hour boat ride from the city, making it one of Bangkok's closest beach destinations.
The island is popular with Bangkok residents who come here for the weekend. While Sichang doesn't have the softest white sand of any island in Thailand, it offers another – an escape from the hectic, polluted streets of the capital. Quiet and almost free of foreign tourists, Ko Sichang is your best choice if you'd rather spend a few hours on the beach than on a bus or boat.