Tours of Thailand 2022
"Land of a thousand smiles" and the most popular destination in Southeast Asia, where you can find, perhaps, all the holiday options. Want a classic vacation at a modern resort? You're welcome. Dreaming of a wild nightlife and extreme adventure? Easy. Dreaming of secluded beaches away from civilization? In Thailand there is enough for everyone. The main thing is to choose the right resort, trusting the professionals. The absence of visa formalities greatly simplifies the choice of tours. Hotel base in Thailand on a rare variety – from luxury complexes to eco-bungalows, so vacation budget may vary. But, in any case, the bulk of the holiday will take place outside the hotel – sightseeing opportunities and an abundance of interesting institutions surprise even seasoned travelers. Separate attention should be paid to the wedding ceremonies held in Thailand. The ceremony can be held in the European style, as well as with the observance of Buddhist traditions. In any case, the memory of the young family will be incredibly beautiful photos.
Cities and resorts of Thailand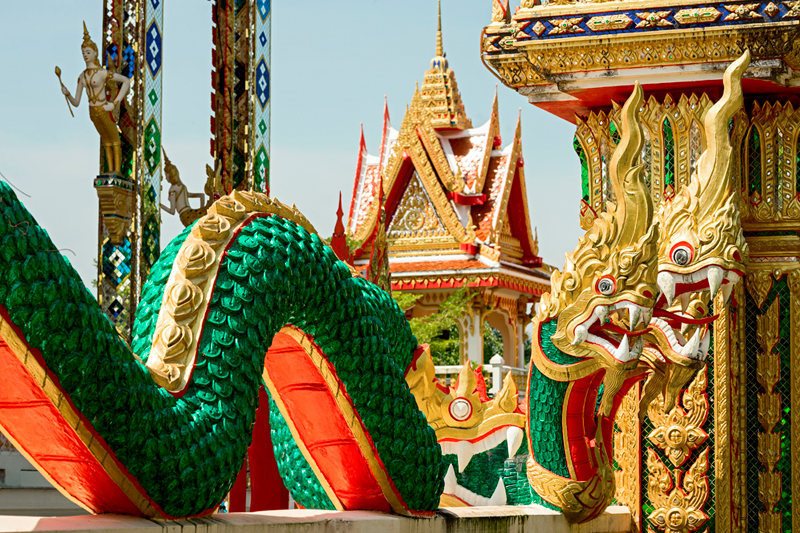 Phuket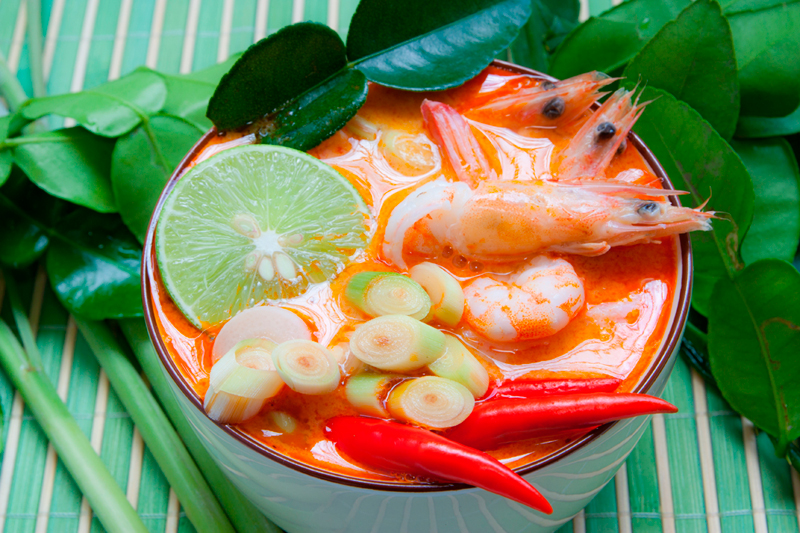 Pattaya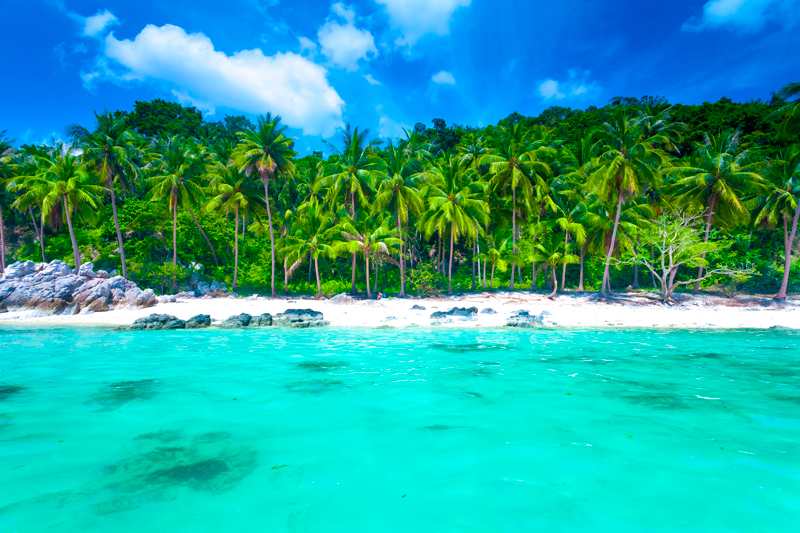 Samui
Short information
The full name of the state is the Kingdom of Thailand.
The capital is Bangkok.
The state language is Thai.
Currency is Thai Baht (THB).
Visa-free entry for RF citizens.
Why Thailand?
Comfortable direct flights with Coral Travel.
The warm Andaman Sea and the bright sun.
Clean wide beaches with soft sand.
Vivid tropical nature and exotic islands.
A lot of historical monuments, original architecture.
An original cuisine of Thailand.
Friendly local people.
What to do in Thailand?
Have a rest on the quiet beaches with soft crumbly sand.
Go to the party places or the epicenter of noisy discos.
Visit famous SPA centers.
Enjoy unique Thai cuisine: taste spicy tom-yam, hearty pad Thai, a variety of exotic fruits.
Go on a trip to islands or national parks.
Tourist Information
On the island of Samet is prohibited the use of plastic bags and Styrofoam packaging. The penalty for violation – 1500 baht.
Smile! As a rule, Thais are calm, patient, friendly and try to "save face" in any situation. But outright rudeness on your part can provoke retaliatory aggression. Do not under any circumstances discuss or insult the monks or the King and his family.
Show respect for Buddhist shrines: cover your legs and shoulders when visiting temples and never place your feet on the altar.
It is considered an evil gesture to pat on the shoulder, and the head of another person should not be touched at all – according to Thai beliefs there is the spirit of a person.
Visiting the streets with bars, be careful and obey the basic rules of safety.
You can not take out of the country statuettes depicting the Bodhisattvas and Buddha, the height of more than 13 centimeters and the monks' bowls for alms. An exception is for Buddhists who take these items out for cultural or scientific events. However, an export license must be issued by the Department of Fine Arts of Thailand.
The first Friday of February is the Flower Festival in Chiang Mai City. Early February – Chinese New Year, widely celebrated throughout the country. April – Songkran, or Thai New Year, on this day it is customary to pour water on each other, an ordinary walk down the street can turn into a real bathing. November, full moon – Loi Kratong, mass launching of paper lanterns and boats made of palm leaves. December 5 – King's Birthday, an official day off, on the streets of cities are parades and carnival processions.
Your own holiday in Thailand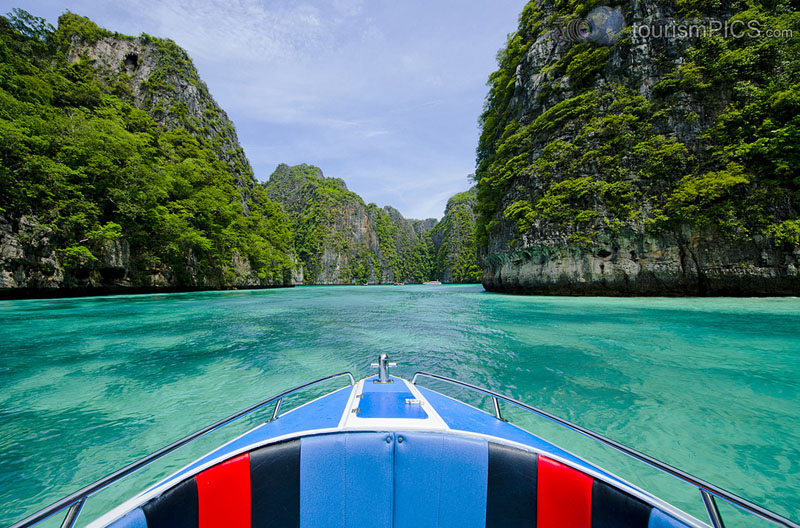 Tips and useful information for those who plan an independent trip to Thailand. When to go, how to find cheap flights and hotels, visa, price overview in 2022, low-cost and rental cars, money and ATM.
All information is based on personal experience of independent travel to Thailand.
Exchange rate: 1 Thai Baht (THB) ≈ 1.5 RUB.
As of May 1, 2022 Thailand is fully open for vaccinated tourists ("Sputnik V" is recognized). From now on, only unvaccinated persons need to undergo a PCR test before departure. In addition, all tourists must buy insurance and obtain ThailandPass. Tour from Moscow now costs from 120,000 ₽ for two people for 7 nights. Here are the optional prices for stays and flights. Information on flights and other aspects of holidays in Thailand may not be up to date now, check with official resources. Check the list of open countries.
Contents:
Airfare to Thailand
Airfare from Russia to Thailand eats up most of an independent traveler's budget. Tickets for a flight with connections to Bangkok and Phuket – from 25 thousand rubles, tickets for direct flights are more expensive – 30-50 thousand rubles.
Here are some useful tips for buying tickets:
Where to find cheap tickets? Use the Aviasales search engine – it compares prices of all airlines. Learn the secrets of finding cheap airline tickets.
Tours can be used instead of a one-way flight. So count for yourself: a standard non-stop ticket from Moscow to Phuket costs about 40 thousand for one person, and a tour – from 60 thousand for two. In this case you get everything that is included in the tour: hotel, meals, transfer, insurance. Isn't it a great way?
Search for last minute tours on Travelate and Level.Travel – they will find the best deals among different tour operators. Want to save money? Check out our 7 rules for buying tours online.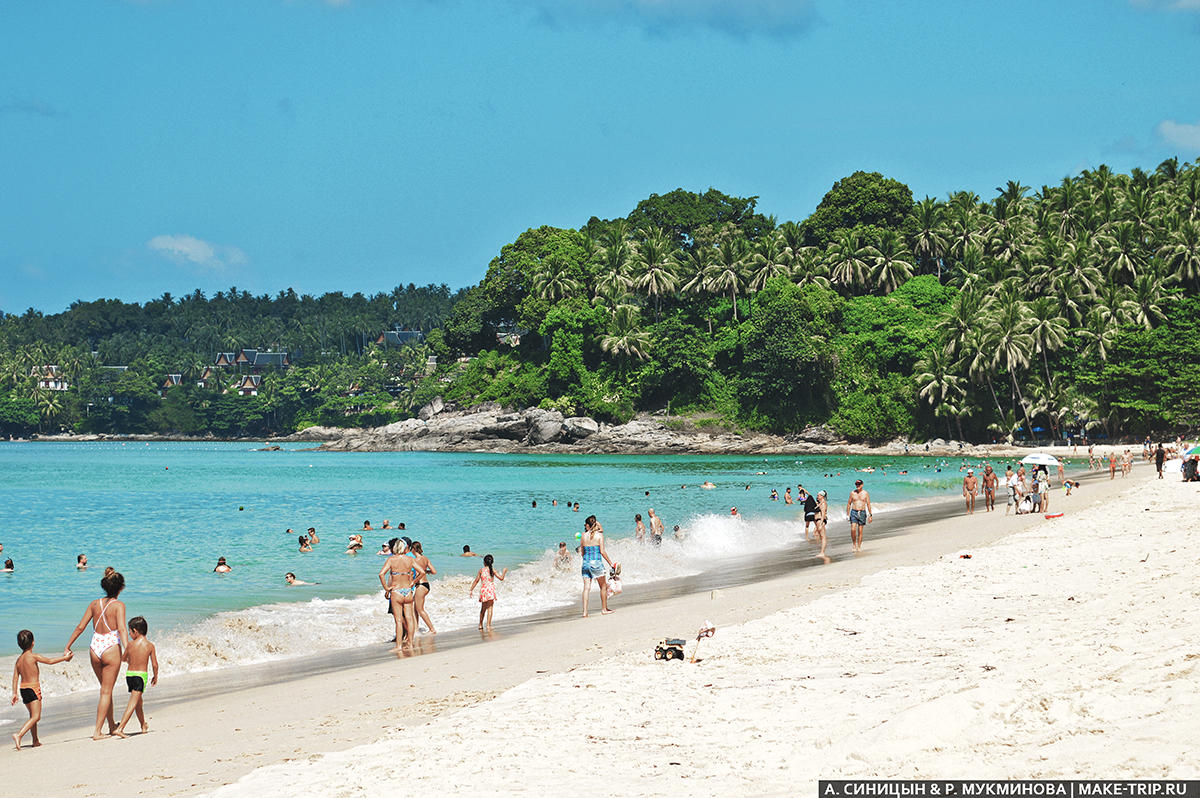 Thai visa
Russians can enter Thailand without a visa – stamped for 30 days upon arrival.
If you're going to vacation in Thailand for a long time, then:
Arrange a visa in advance in Russia (on your own or through an agency).
Get a Thai visa in neighboring countries. For example, just get a visa in Laos and Malaysia in 1 day. You can get a visa in another Asian country and go to Thailand, or you can fly straight to Thailand, get a stamp for a month, and then go abroad for a visa.
About boarder-rans. People used to live in Thailand for years without obtaining a visa: they would leave once a month for another country and return the same day back. Since the summer of 2014, however, the authorities tightened migration policy so that tourists would make visas. Now, the bad border-runners may not be allowed into the country.
At the border. When you go through passport control, keep a printout of your return ticket or ticket to a third country (you can do it electronically). According to reviews, it is advisable to have at least 20,000 baht in cash per person. Money is rarely checked, mostly by boarder ranchers for the purpose of bribery. We have never been asked for a ticket and money, but it's better to reassure yourself at least with a ticket.
Helpful selection:
Prices in Thailand – 2022
Due to the crisis, Thailand is no longer a cheap country to stay in and travel on your own. Local prices now have to be multiplied by almost two to be converted into rubles. However, it is still possible to live there quite reasonably, if you try hard.
Prices vary at the resorts. To give you an idea of the prices in Thailand, here are the main ones:
| | |
| --- | --- |
| Pad Thai or rice with meat | From 40 baht |
| Massage (price depends on type and time) | from 200 Baht |
| Pancakes (price depends on toppings) | 40-80 baht |
| Shakes | 25-50 baht |
| Shish kebabs | 10-50 baht |
| Rent a bike per day | From 150 baht |
| Rent a sun lounger and umbrella for the day | From 100 baht |
| Excursions to Phi Phi | from 1400 baht |
Information about prices in Thailand we have accumulated a lot:
We go to SEA primarily for the tropical fruits – they are delicious and cheap there. We've created a guide to exotic fruits with prices, names and photos.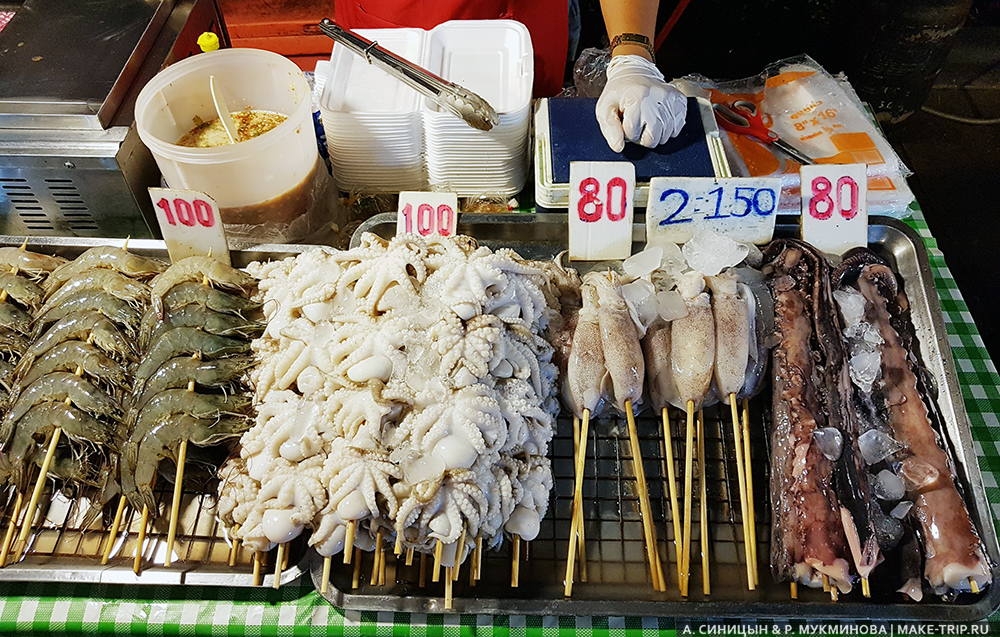 Lodging in Thailand
If you have planned an independent trip to Thailand, you need to take a responsible approach to the issue of accommodation. To stay in a good hotel for a low price, and even in the high season, you need to book several months in advance. In the low season it is not necessarily. Are you going for a long trip? Then book a hotel for the first few days and look for accommodation locally.
Look for hotels on Roomguru – the search engine will find accommodation with discounts and promotions. For example, you can get a decent room in a hotel in Phuket or Pattaya for $12 a night.
Booking.com has a lot of great apartments, houses and villas. At the resorts studios and apartments can be rented from about $ 17 per day. Villas and houses are advantageous to book if you're traveling as a family or a large group – it's cheaper than hotel rooms. Even with booking for a long period there is a discount.
Best hotels in Phuket with a beach on the first line.
When it's better to go to Thailand
The question of when it is better to rest in Thailand, more concerned about package tourists than independent travelers. Usually one goes to Thailand on his own for a long period (at least a month), so travelers do not care as much about how often it rains. On the contrary, the rainy season is a wonderful time: plenty of fruit, low prices, few tourists, the most beautiful sunsets. However, before you go read about the weather in Thailand, so as not to die from heat and smog in Bangkok, or meet the New Year on Koh Samui in the pouring rain.
Thailand is crowded with tourists in winter and spring. This is the high season, and the weather is dry and clear. From May begins the rainy season and lasts until November.
When are you going on holiday?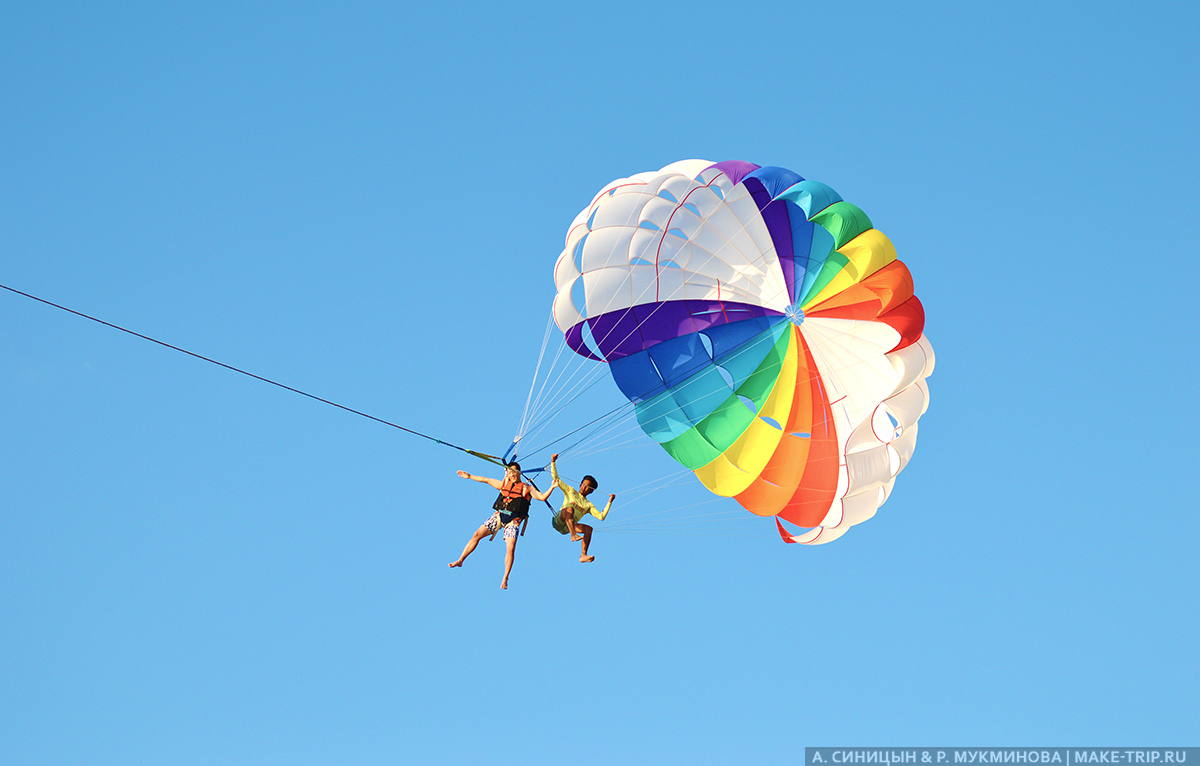 Where to vacation in Thailand
In Thailand, we lived in Bangkok, Krabi, Pattaya and Phuket. Of these four places, the best, of course, is Phuket. Most tourists are limited to Pattaya and Phuket. We want to gradually travel around the country.
Bangkok – for culture and sightseeing lovers. An interesting international city.
Phuket is a classic beach resort. Great beaches, clear water, lots of natural and cultural attractions. Phuket beaches overview →
Pattaya is contradictory: Russians go there with children for a measured beach and sightseeing vacation, while the rest of us go there for night adventures. The beaches and the sea at the resort are bad. Reviews of tourists about Pattaya →
Helpful selection:
Tourists favorably report on the islands of Samui, Chang and Phangan – there are fewer tourists than at promoted resorts, and the beautiful nature. However, the infrastructure is not much developed.
Krabi province has gorgeous cliffs and a nice beach. There are no package tourists. In Hua Hin the beaches are so-so, but the city attracts by its dissimilarity to other cities: it is neat, well-kept and Europeanized.
In Phuket we lived three times and learned the island best. Here are helpful articles about it: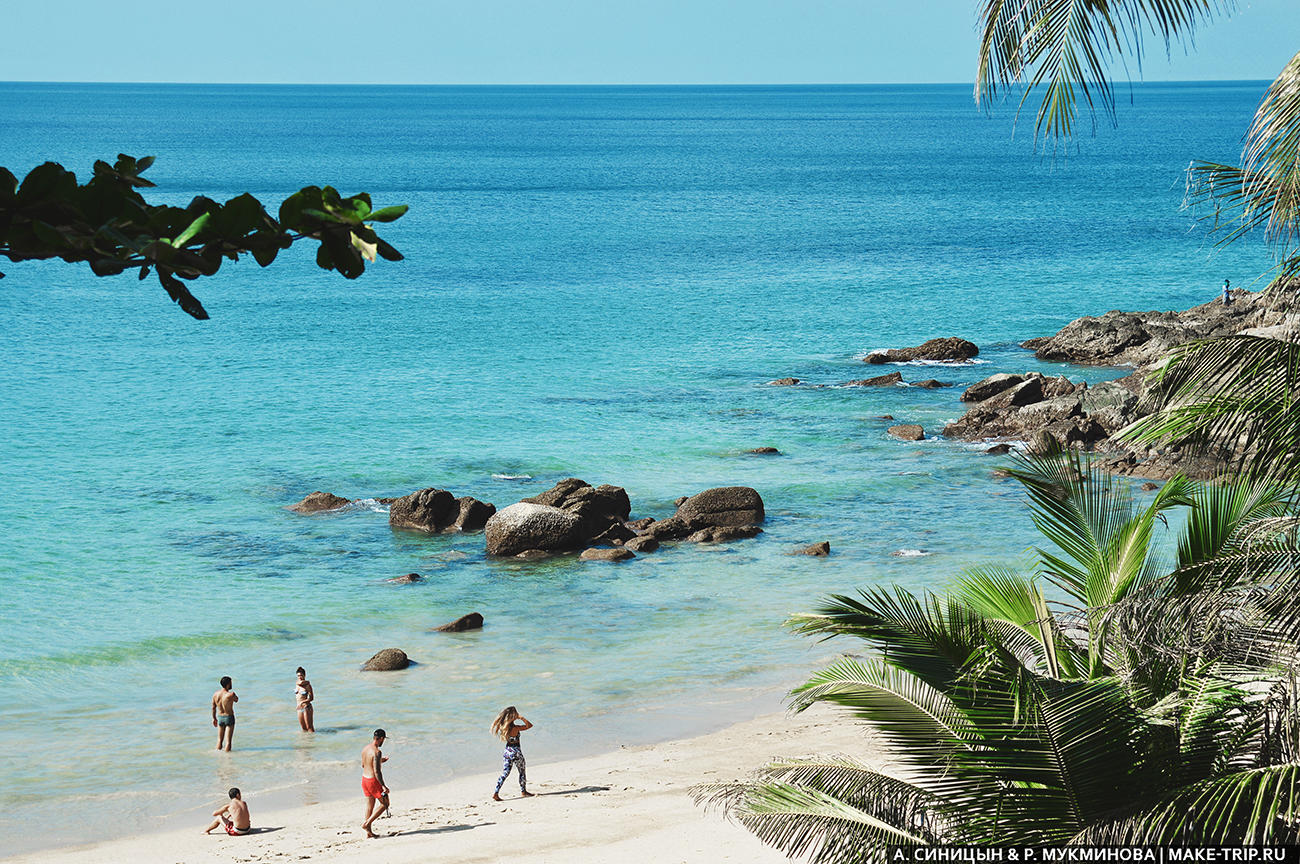 Thailand's low-cost airlines: low-cost airlines
Thanks to low-cost airlines, traveling on your own within Thailand and to other Southeast Asian countries is convenient, easy and budget-friendly. Often a flight is cheaper than a bus ride – tickets cost $10 to $30 each.
Read a detailed review of budget airlines: Low-cost airlines in Thailand.
Renting transportation in Thailand
Without renting a bike or car in Thailand is difficult: you have to spend a lot of money on cabs or excursions to see all the beauty. And you can rent a vehicle very cheaply! The usual price is 200-250 baht per day + deposit and passport.
Personal experience. In Phuket, we rented a bike on BikesBooking.com for 250 baht per day, and the passport to bail the owner is not asking. In Pattaya, we rented a cool Kawasaki Chopper for only 200 baht per day, and also without a passport! True, it's a little tired and shabby, but it's a chopper. The rental shop is called Tom Pattaya bike and car for rent (tel. 081 356 4906).
Rent a bike in the resorts a lot, but to rent a car is more difficult. You can rent a car at Rentalcars.com from $ 15 per day.
What you should know:
Traffic is left-handed and chaotic.
You need a driver's license.
Do not pledge your passport.
Photo of all scratches on the bike – a must.
Helmet and insurance are a must.
Red and white markings – parking is prohibited.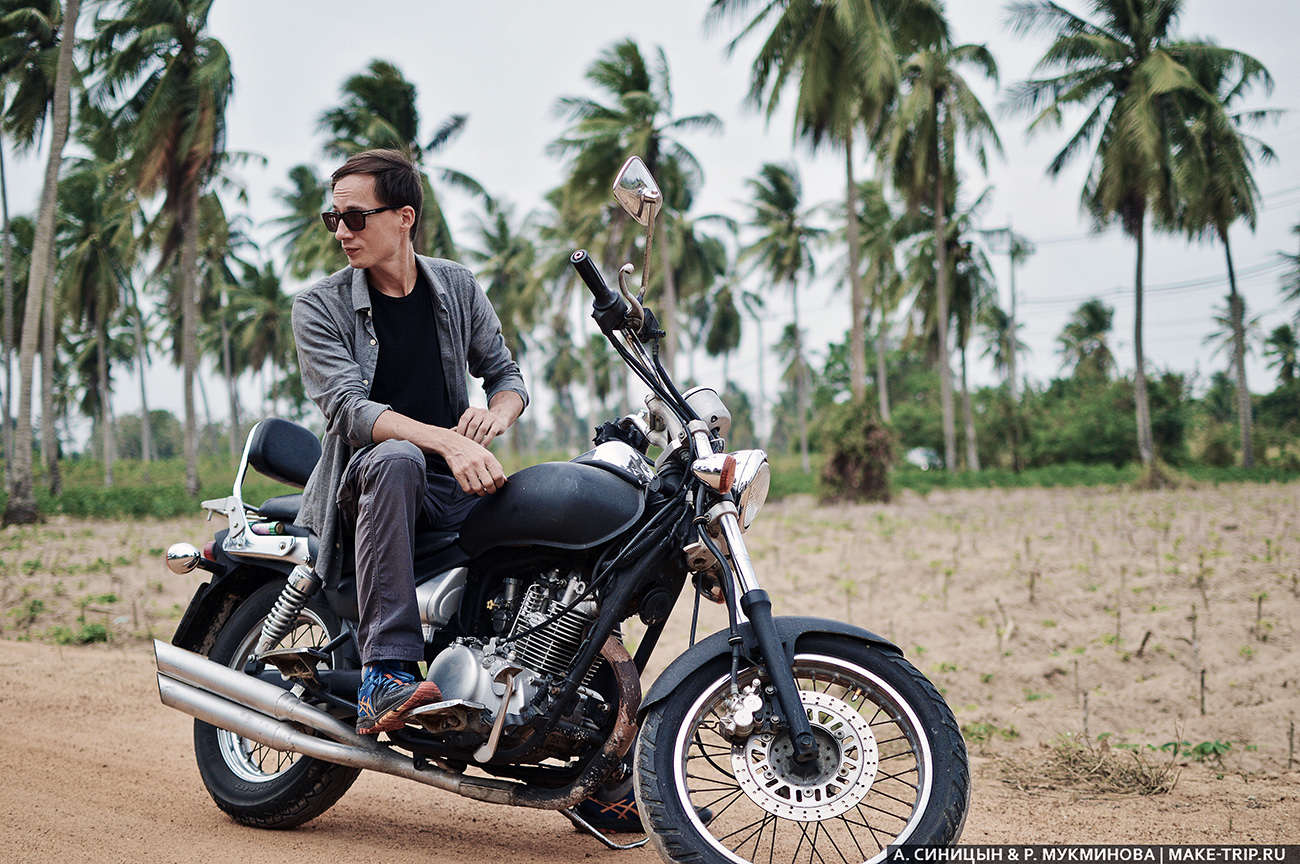 We rented a chopper in Pattaya for only 200 baht per day.
Money and ATMs
Take money in euros or dollars. There are plenty of exchange offices and banks in the resorts, the exchange rate is adequate. ATM charge 200 Baht + the bank commission.
Tips for traveling to Thailand on your own
What can we advise to those who decide to go on an independent trip to Thailand? Here are a few tips based on our experience: