The 15 best water parks in the world
Water parks are in no way inferior to other traditional parks. Endless slides, great pools and jacuzzis will provide you with a fun summer vacation. Here is a list of 15 water parks that are some of the most amazing in the world.
1. Schlitterbahn Waterpark, Kansas City
This park has the tallest and fastest water slide in the world.
2. Water World, Colorado
The water park is recognized as the largest in the United States. It contains 49 rides. You can even rent cabins here.
3. Aquaventure, Dubai
In Dubai, as always, all in a big way. The water park stands in the middle of the desert and there is even an aquarium with sharks.
4. Tropical Islands Resort, Germany
The water park was built inside a former airship hangar. It is completely enclosed and maintains a constant temperature of 26 ° C. Here is the largest indoor beach in the world.
5. Beach Park, Brazil
This water park has the second largest slide in the world and nearly vertical waterfalls. The thrill is guaranteed.
6. Sunway Lagoon, Kuala Lumpur, Malaysia
The water park is famous for the longest river and the largest artificial beach for surfing. Waves in the pool reach three meters.
7. Wet'n Wild, North Carolina
If you are a fan of fast-paced rides, you will love this park. You will find tunnels, dead loops, waterfalls, and other dizzying adventures.
8. Area 47, Austria
This park has 47 types of the most incredible and exciting attractions!
9. Adaland in Kusadasi, Turkey
This park consists of three parts with a dolphinarium, a marine park and an aquarium. There are water rides for the most intrepid and 20 slides.
10. Aquaventure, Bahamas
This park has a replica of a Mayan temple with a small river winding and a waterfall that takes you to a cave completely devoid of light.
11. Blizzard Beach, Orlando, Florida
This is an old ski resort with long runs that has been turned into a water adventure land. This place has the fastest river in the world.
12. Caneva, Italy
Caneva is just part of a much larger entertainment park, Canevaworld, which combines rides related to movies, music festivals and medievalism.
13. Wet'n Wild, Australia
This park has 40 varieties of attractions from completely relaxing to completely crazy. For example, you get into the water during a storm in complete darkness.
14. Wildwater Kingdom, Allentown, Pennsylvania
This popular park already has 30 rides and new ones pop up every year.
15. Water Cube, Beijing, China
The park was built for the Beijing Olympics in 2008 and is used for performances or sporting events. Among the notable rides, we will note the slide with water falling from the top and 180-degree turns.
New ranking of the 10 best water parks in the world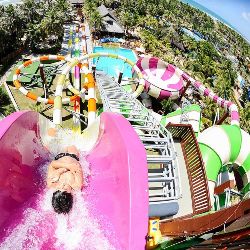 Culture
If you decide to go on vacation with the whole family, then, most likely, you will want to visit a water park.
There are a huge number of water parks, and almost all are able to bring joy to you and your children. But there are water parks, which, if you have the necessary funds, everyone just have to visit.
The world's most famous travel and booking site TripAdvisor has created a new ranking of the best water parks, based on an algorithm that takes into account the number and quality of reviews, as well as the rating of each park in the last 12 months.
The best water parks (photos)
Siam Park, Adeje, Canary Islands, Spain
This water park is not only the largest in Europe, but has also been voted the best water park in the world for the 3rd year in a row.
In 2015, the park opened a new 240-meter water slide called Singha, where guests can go down numerous curves at a speed of 18 meters per second, changing direction 14 times in one trip.
And as for the Tower of Power, it is first a 28-meter near-vertical descent that takes you through a transparent tube that runs through a shark tank. At the end you will land in a clear pool as usual.
Siam Park Waterpark (video)
Waterbom Bali Waterpark, Kuta, Indonesia
This water park is the best in Asia, according to a huge number of tourists. Its slides are located on 3.8 hectares decorated with tropical parks.
Among the rides worth mentioning is Pipeline slide, the entrance to which is at a height of 20 meters. Guests ride it inside a vertiginous transparent tube from which you can see everything around you.
Also worth highlighting is Fast n' Fierce, which is a two parallel slides in which you can gain speed very quickly.
We are on social networks



One of the scariest slides is called Climax. Here, a person enters a small capsule located at a height of 16 meters, the doors close, and the floor literally goes out from under your feet, you fall vertically down at high speed, experiencing a load of 2.5 g.
Waterbom Bali Waterpark (video)
Aquaventure Waterpark, Dubai, United Arab Emirates.
Located in the resort complex Atlantis the Palm. It was voted the best water park in the Middle East because of the many slides, shark ponds and clean wide 700-meter beach.
One of the slides is called the Tower of Neptune and it features dark and mysterious tunnels ready to catapult guests into Shark Lagoon as well as incredible water-coasters that will make you reach your limits.
In the Splashers Children's Play Area, you'll find a play area with hanging bridges and water cannons.
Aquaventure Waterpark (video)
Cool Waterparks of the World
Typhoon Lagoon Water Park (Disney's Typhoon Lagoon Water Park), Orlando, Florida
This is one of two water parks at the Walt Disney World Resort and it has attractions for the whole family, from fast slides to a playground with small rafts that you can ride quietly around the park.
You can catch 2-meter waves in the Surf Pool and swim in the Shark Reef with real sharks.
The Crush n' Gusher attraction plays the role of an abandoned and dilapidated fruit processing plant. Guests can enjoy three different slides: Banana Blaster, Coconut Crusher, or Pineapple Plunger, which are approximately 125 meters long.
5. Beach Park Water Park, Aquiras, Brazil
This is the largest water park in Brazil where you will find swimming pools, saunas, ecological areas, artificial river rapids and one of the slides is not for the faint of heart as high as a 14-storey house.
One of the attractions is called Treasure Island, where you will find water cannons, a wall with six pieces of water artillery, and a lighthouse with a spiral slide for families.
There is also the Chills attraction, where guests go down the slide at a 90-degree angle on twin laps.
Beach Park Water Park (video)
Water park in Dubai.
6. Wild Wadi Water Park, Dubai, United Arab Emirates
The park is located in front of the amazing Burj Al Arab building and you will find 30 different slides and attractions for the whole family.
The theme park was created based on the fairy tale of Juha, a famous character from Arabian folklore.
The most memorable rides in the park are Wipeout and Riptide Flowriders, which allow you to fully enjoy surfing. There are four of these rides in the world.
The Wipeout shoots 7 tons of water per second onto the blue water surface, creating small waves that guests can ride by laying or kneeling on small boards.
Wild Wadi Waterpark (video)
The biggest water parks
7. Blizzard Beach Water Park (Disney's Blizzard Beach Water Park), Orlando, Florida
The park is simply enormous and has plenty of slides, including some of the highest and fastest water slides in the world, as well as plenty of rides for the whole family. For kids, there are smaller versions of popular rides built in the ice palace play area.
In 2016, thanks to the enormous popularity of the "Cold Heart" cartoon, the park decided to hold a themed event. Guests were invited to join Christophe or Olaf's team and compete on various rides.
Friends could compete in the Downhill Double Dipper parallel slides. There's also a river where you can float safely around the huge park.
Blizzard Beach Waterpark (video)
8. Aquaventure Waterpark, Atlantis Paradise Island Resort, Nassau, New Providence Island, Bahamas
The theme of this 24-hour water park is Atlantis. In addition, various details related to the Mayan tribe can be found here.
Among the main attractions is the "Leap of Faith" from a height of about 18 meters, as well as the river with a very strong current and large waves of 1.5 meters.
In addition, the water park has 11 different pools and attractions such as swimming with dolphins and competitions in radio-controlled cars.
It is worth noting that the park itself is designed exclusively for family recreation, which means that there are no too extreme slides. But in the "Temple of Maya" you can ride the slides in the form of tunnels that descend into the bay, where the sharks are swimming.
Aquaventure Waterpark (video)
Where are the best water parks?
9. Yas Waterworld Abu Dhabi, Abu Dhabi, United Arab Emirates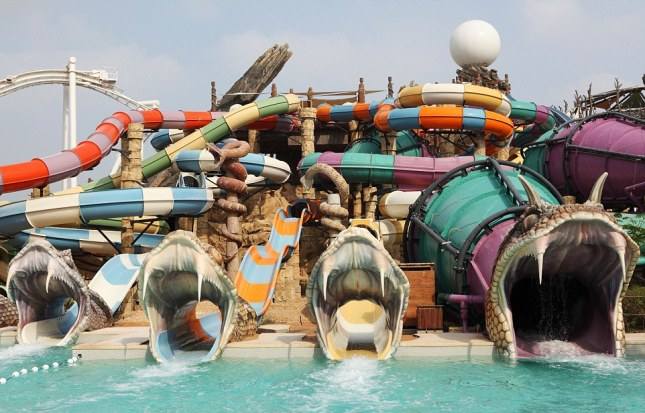 This is the first mega water park in the UAE. It covers an area of 15 hectares with 43 water rides for the whole family.
Here you can find attractions that you can't find anywhere else in the world. For example the longest and fastest tornado slide, the region's first death loop slide, and the world's first interactive water and laser roller coaster.
The theme of the park is built around the culture of the Emirates, and the main attraction of the water park is an attraction where guests can go pearl diving.
Yas Waterworld Abu Dhabi Water Park (video)
10. Hot Park Waterpark, Rio Kenti, Brazil
This is so far the only water park in South America where the reservoirs are filled with hot water.
One of the scariest slides is called Xpirado. Guests climb to a height of 31 meters and descend the 142-meter-long slide at an average speed of 8.3 meters per second (almost 30 kilometers per hour) past the piranha lake.
Another standing slide is called the Giant Slide. Here, guests descend a wide slide from a height of 22 meters on inflatable laps.
Like most of the water parks described above, there is a children's playground and many other slides including Half Pipe and a wave pool.