'Arizona Wave' – Jurassic inferno where tourists and photographers seek no matter what
Receive one top-read article in your inbox once a day. Join us on Facebook and VKontakte.
Whoever gets here has the impression that he is on some fantasy planet. The bright orange sand waves of many different shades, intricately changing direction, make the landscape incredibly beautiful and mesmerizing. This place is adored by photographers and extreme travelers, because the amazing natural wonder called "The Arizona Wave" is famous for both beauty and rich archeological findings.
"The Wave" – a mute witness to the age of the dinosaurs
Scientists believe this unique natural landmark is at least 180-190 million years old. "The Wave" is located in the Coyote Buttes ravine, which is located in an area of rocky mountains spanning southern Utah and north-central Arizona in the southern United States. The area is composed of aeolian sandstone from the Jurassic period.
Although the landmark is named in the singular, "The Wave," it is actually a large mountain made up of many narrow sand dunes-waves that have been calcified and hardened over many millions of years. Wind and water have given them their undulation.
Looking at this red-red-orange wonder of nature, time seems to have stopped, and in fact it has. What we can see today is the result of centuries of "work" of atmospheric and tectonic processes. And the variable wave-like coloring of sandstones indicates the presence of iron oxide pigments inside these layers.
The "Arizona wave" antiquity was confirmed by complicated scientific research. By the way, traces of the presence of many dinosaurs were found in these same areas. The place where the remains of ancient animals are concentrated occupies an area of 3 thousand square meters. It is determined that the terapod dinosaurs Eubrontes, Anchisauripus, Grallator, and giant dinosaurs of suborder sauropodomorphs inhabited here.
Heaven and hell for tourists and photographers
Interestingly, for a long time this unique attraction was not widely known. Rumors about the "Arizona Wave" were passed on by word of mouth, and if tourists did come here, it was mostly those who had heard about the wonder of the world from Arizona acquaintances or travelers who had already been here. There were no exact coordinates and the location of the "wave" people explained to each other literally on their fingers.
The mysterious place became popular after the 1990s, when first a German magazine wrote about the "Arizona Wave" and then a documentary film "Nature's Enchantment" was made.
The road to this miracle of nature takes several kilometers. It is a long way, so tourists are advised to start at dawn and always take a hat and a lot of water with them. Most of the way has to go on an open area, so that, as many tourists have noticed, during the trip they get dizzy from the heat and the view of the bright sand waves. But at the same time, the feeling is inexpressible: it seems that you were in some unreal fantasy world or on a distant red planet.
The only reminders of the presence of life here are rare thickets of sage and lizards scurrying back and forth on the sand hills.
As photographers have observed, the Arizona Wave is beautiful at any time of day. At noon it is good to photograph it, because there are no shadows, and at sunrise or sunset you can make especially beautiful pictures in terms of light and color.
Because the narrow natural strata, though hardened with the centuries, are still relatively fragile, the Bureau of Public and Public Land Management has limited tourist access to the "wave" to 20 people per day. It is necessary to sign up for a tour many months in advance or to participate in a daily lottery, where half of the allocated seats "for tomorrow. And, it must be said, there is no shortage of applicants. And this despite the fact that the journey to the "wave" – a very dangerous gamble.
After learning that he is ill with a rare incurable disease, photographer Trevor DeHaas went with his dog on a trip to America and, of course, visited the "Arizona Wave". /Photo: nv.ua
Every year there are recorded fatalities of tourists in this area. A person with a weak heart can die from the heat. Well, if you get lost in the endless waves (which here is easy), to find you rescuers will be very difficult, because in order to preserve the unique natural landscape of this area there are no paths.
Also known case when a young man decided to escape the heat and go to the wave in the evening. By the time he walked back, it was already pitch black. The poor man stumbled, fell into the gorge and died.
What can I say, the nature of the Earth changes a lot over time. And, alas, not always for the better. This is how glaciers have changed.
The Arizona Wave is a sandy sea without water. USA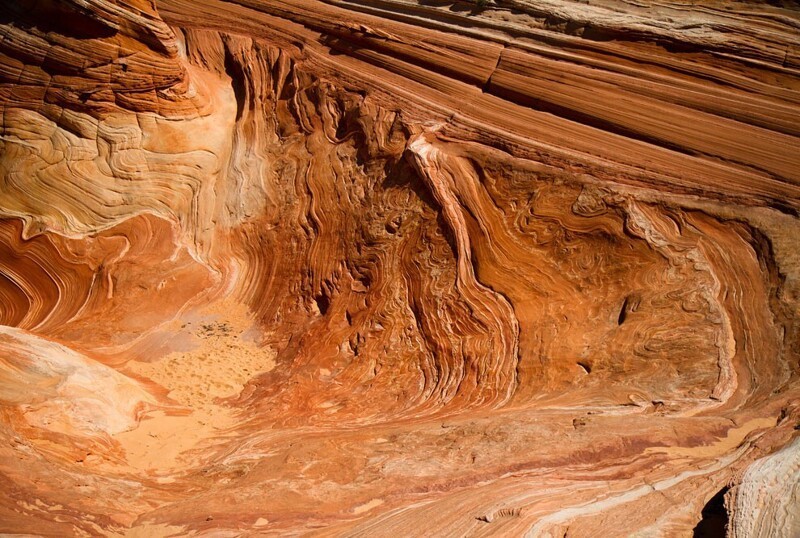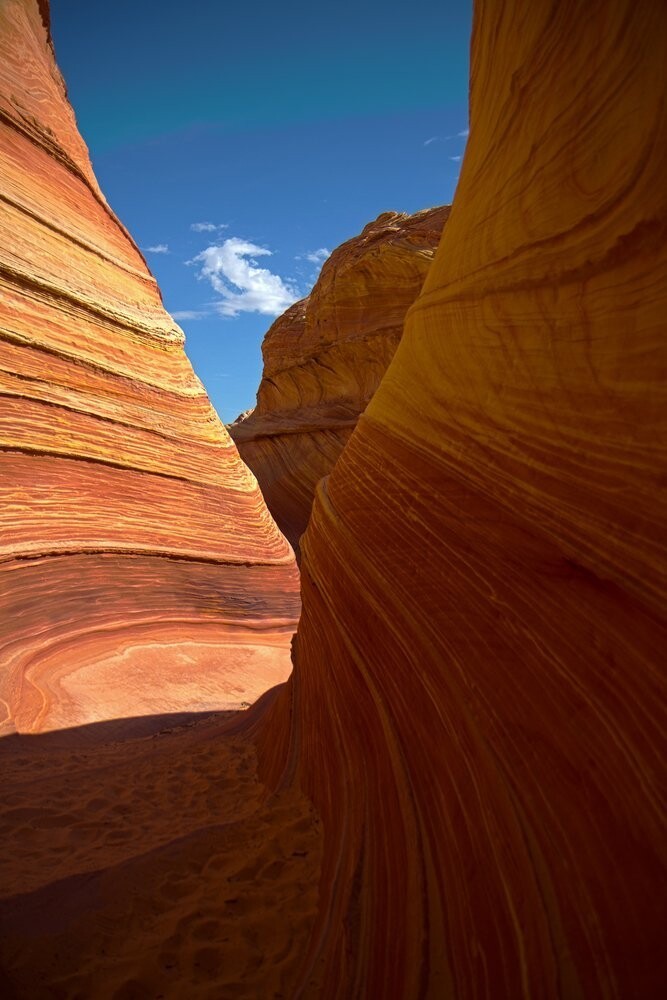 Okay, but I was very interested in another question: how was this miraculous place discovered? Looking from above at these geological waves and transferring the view to the surrounding scenery, you realize that there was nothing for man to do here if he did not know exactly where and why he was going – there are no scenic gorges along the way, no canyons, no forests, etc. – Hot, scorching mountain desert with great daily temperature difference and complete absence of water (except for puddles after the rain).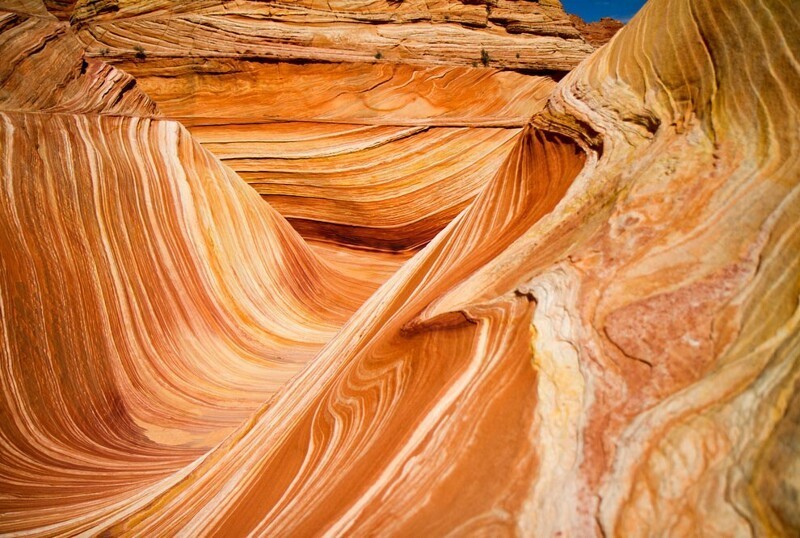 The only representatives of fauna you will see here are lizards, scorpions and rattlesnakes. No, a vulture will be circling above your head, waiting for your imminent death from starvation and dehydration. So, only some silly accident (getting lost drunk, or straying off another trail) could bring a pioneer here.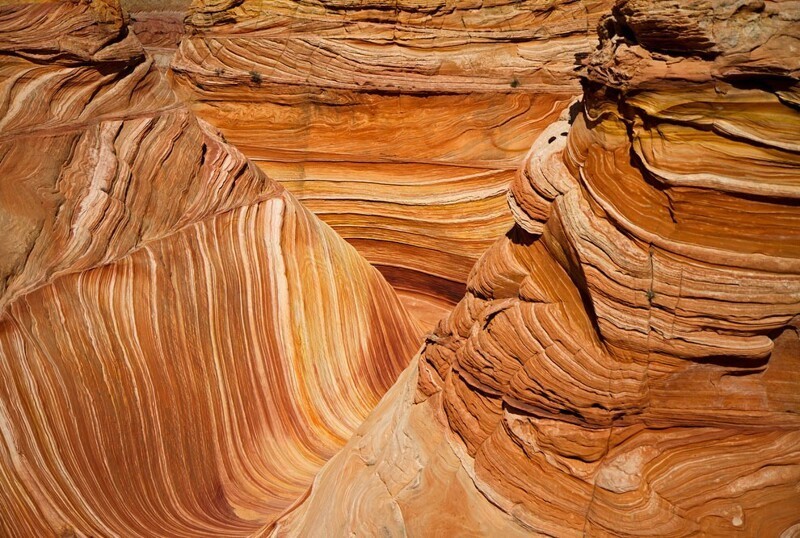 I tried to find an answer to this question on my return, and it turned out that before 1995 no one knew about this place at all and there was no mention of it. And in 1995 a German hiker published an article and a couple of photos in some trade journal, which then put on the cover of a geographical magazine, and by the end of the year a documentary of the German guy was released.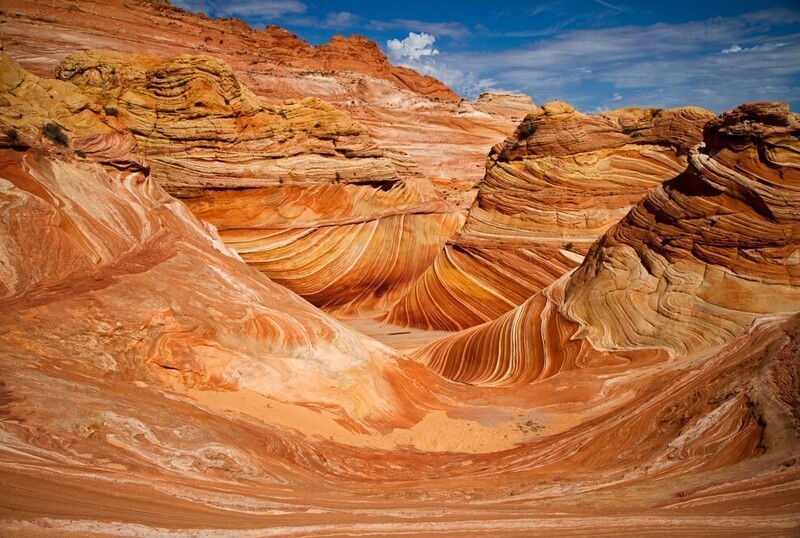 Since then, a pilgrimage of Europeans to this abandoned place began. Five years later, the Americans got involved in the process. By 2005, it was getting to the point where more than 1,000 people a day could visit the place. The fact is that, in general, hiking restrictions in Utah are very conditional in most cases. Like nowhere else in the U.S., you can just pitch your tent wherever you want and build an open fire without restrictions. That's when the U.S. Park Service and the State of Utah "woke up" and by 2005-2006 introduced numerous restrictions on visiting the area the most important of which is the issuance of no more than 20 permits a day to visit the place.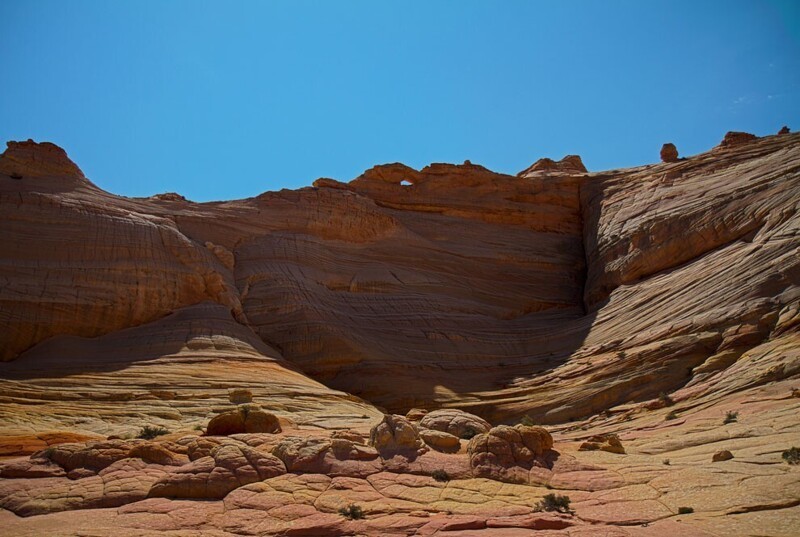 After being inside the waves to our satisfaction, having walked around all four rocks-hills, having climbed the nearby rocks, which were already a little different in pattern from the Wave itself, it became clear that we did not want to leave here. So we climbed up a little and came out on a kind of plateau. There were a few puddles on the plateau after the last rain that was 3-4 days ago. And what was interesting was that the puddles were crawling with tadpoles. How and where had they appeared here, and what would happen to them next? O Lord, your works are marvelous!
From here we could see an arch on top of the cliff above the Wave about 200-300 meters above us: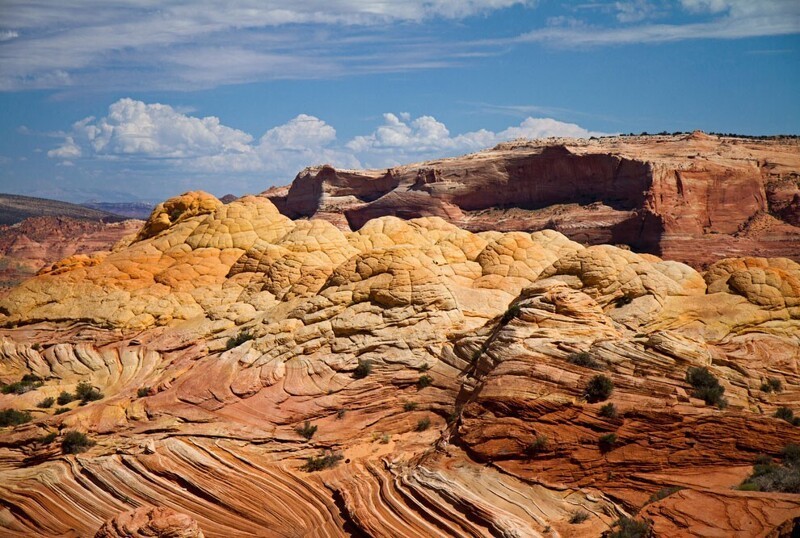 That's where I saw the "brains blown out" of the people who had been there. Somewhere there is still mine, too.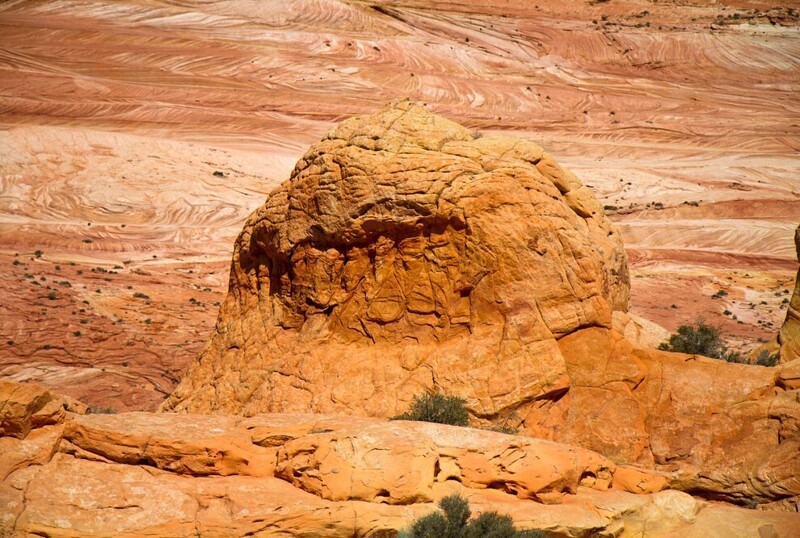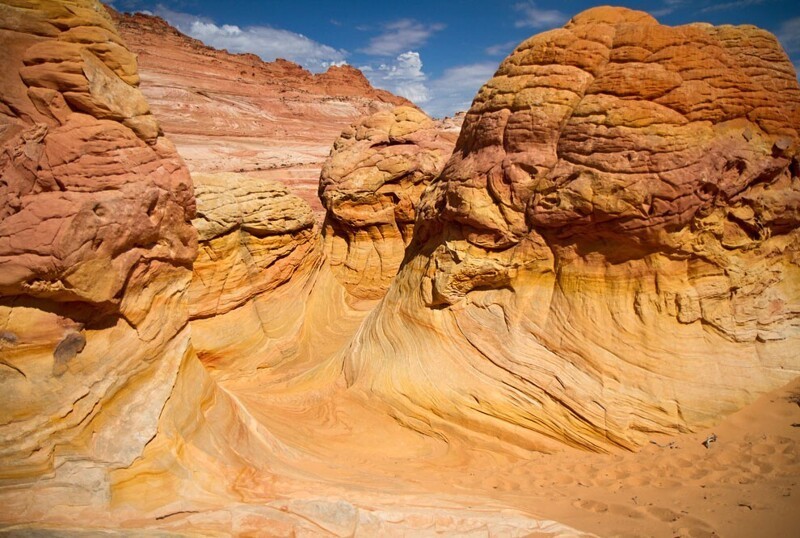 Some alien monsters were guarding the peace of the place from uninvited guests: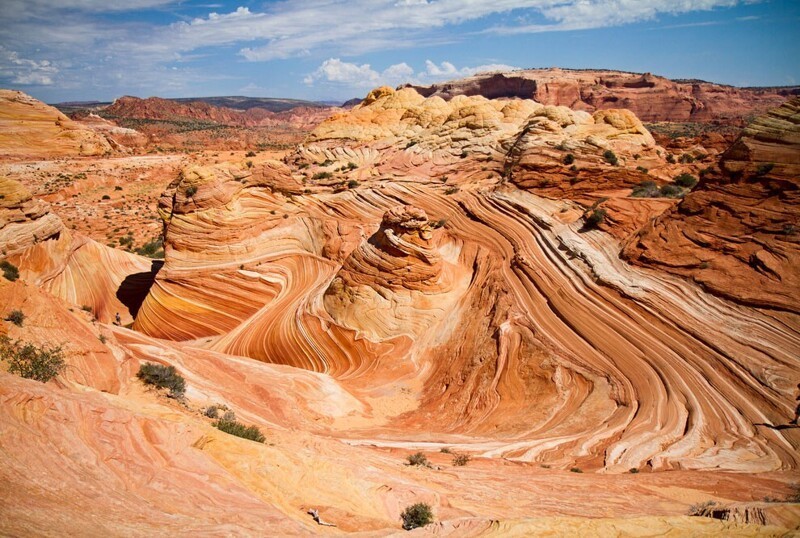 And in between these behemoths was a maze of canyons with new and interesting views of The Wave itself and the surrounding cliffs: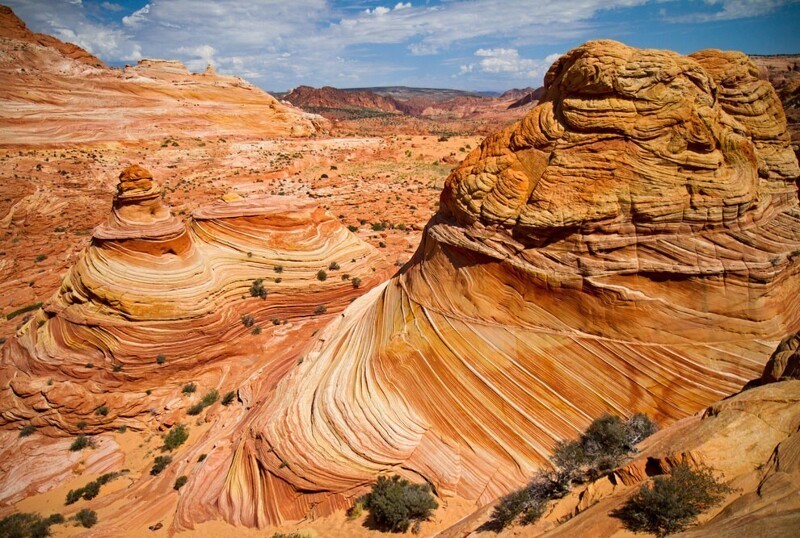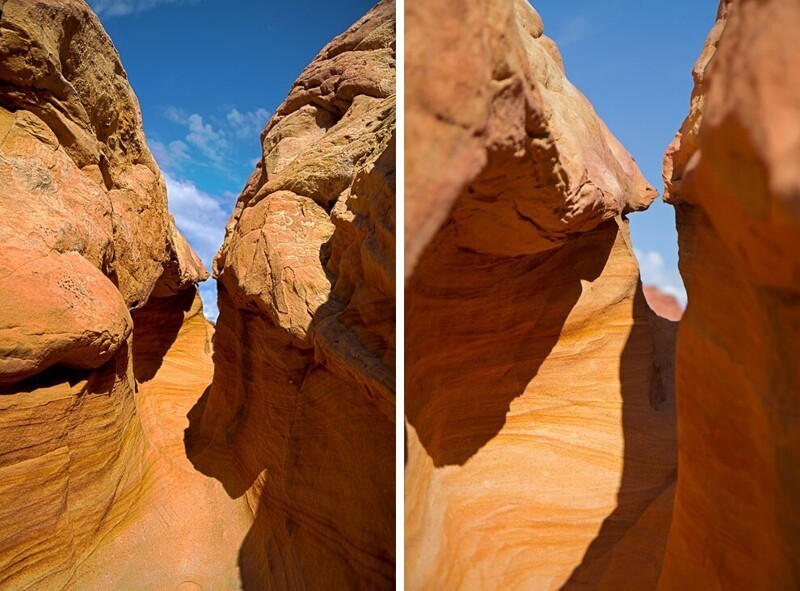 There was also a small canyon up here, only a meter and a half or two long, which I plucked up the courage to call Antelope Canyon. Why, Antelope Canyon is nearby, and what's the worse for a jerboa?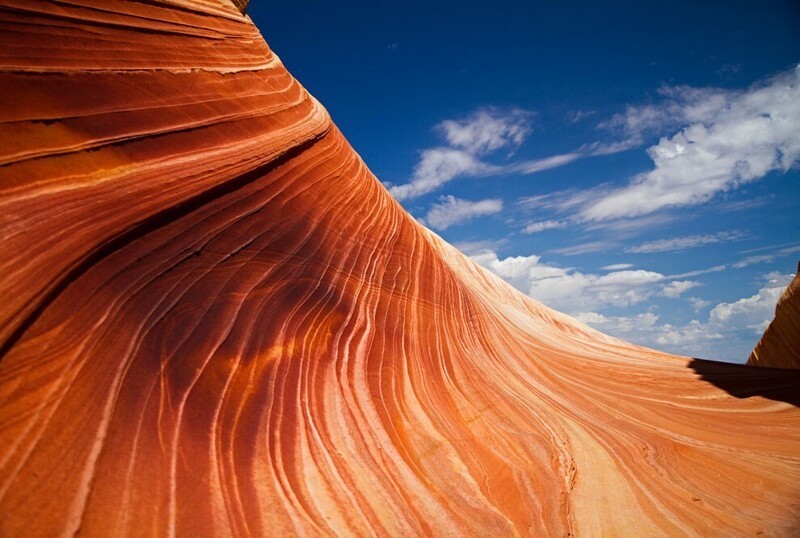 After about three hours on this patch, we started to pack up and head back. But The Wave kept us going anyway – we didn't want to go back, so we found more and more new angles to shoot: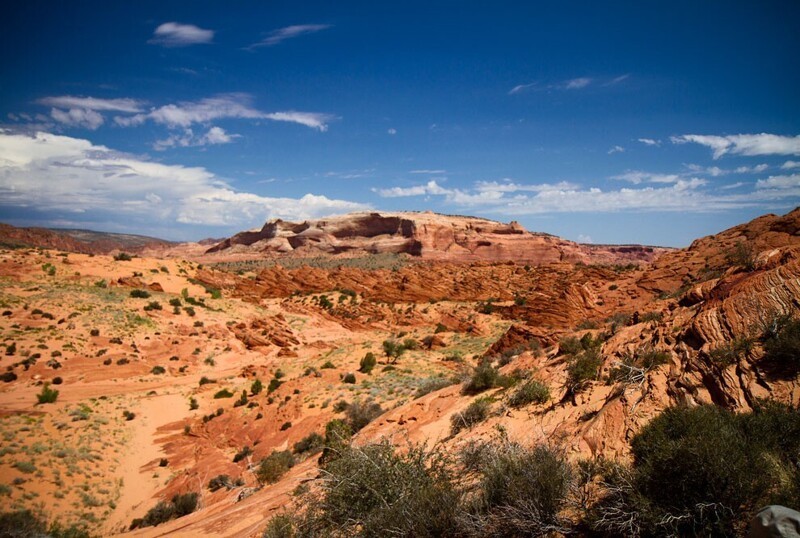 But there was nowhere to go, from the Wave we look at the way back and hit the road.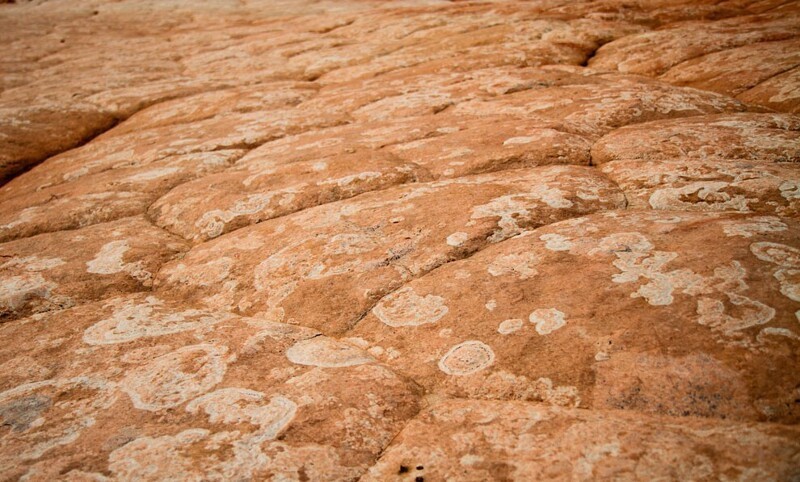 An interesting moment – look at this photo – the surface of the sandstone is usual for these places: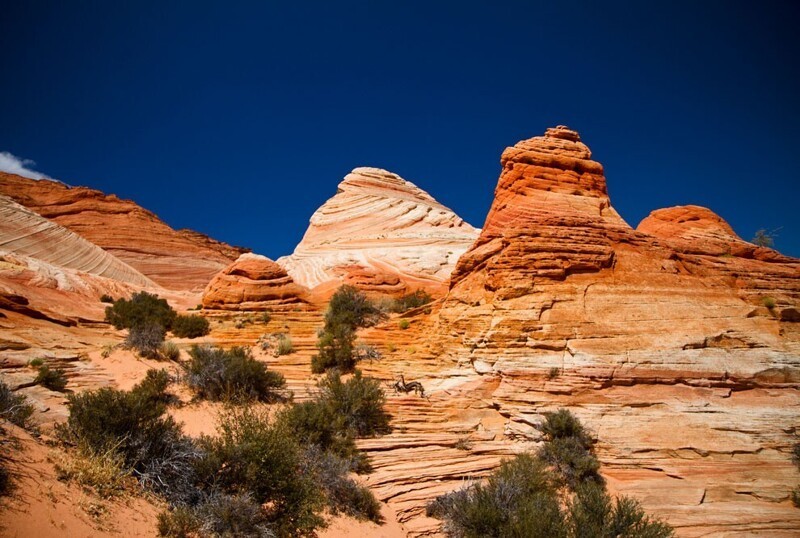 You can clearly see the rock itself and some formations that resemble salt. Less than 10 years ago, scientists determined that it was not salt, but an accumulation of "stone-eating" bacteria (a different name, of course). These bacteria devour cementing sand composition, thereby contributing to the destruction of the stone and turning it back into sand. So, not only water and wind are responsible for erosion of sandstone, but also some specific bacteria which gnaw on the stone. After that, it is hard to believe in the possibility of life on Mars.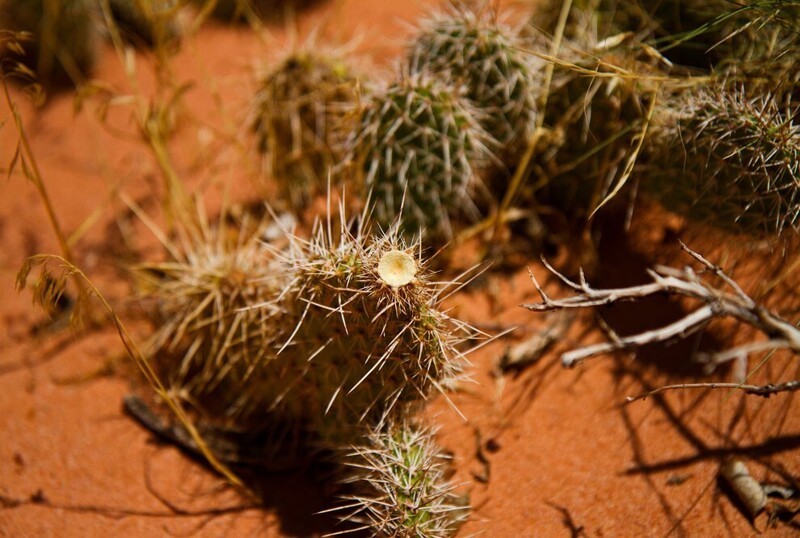 The way back was, as usual, shorter and faster than the way THERE. Along the way we still stopped to take more pictures of the surroundings – the light has really changed, and with it the view of the hills and cliffs themselves has changed.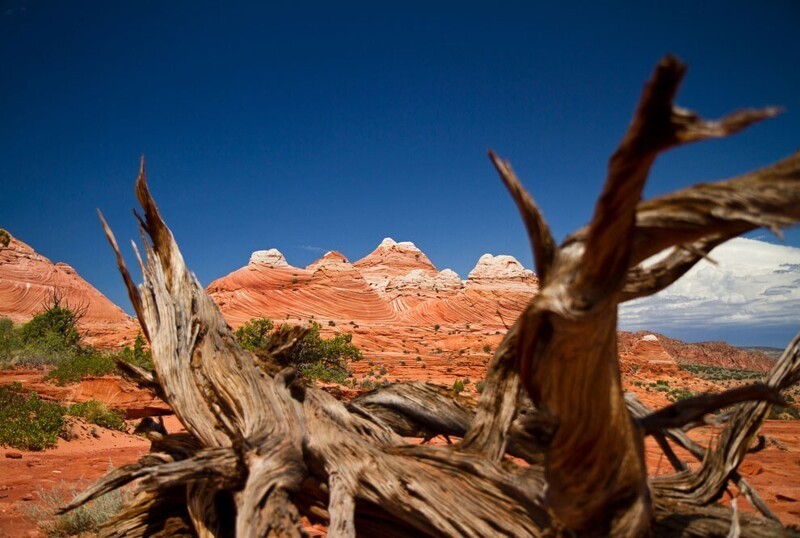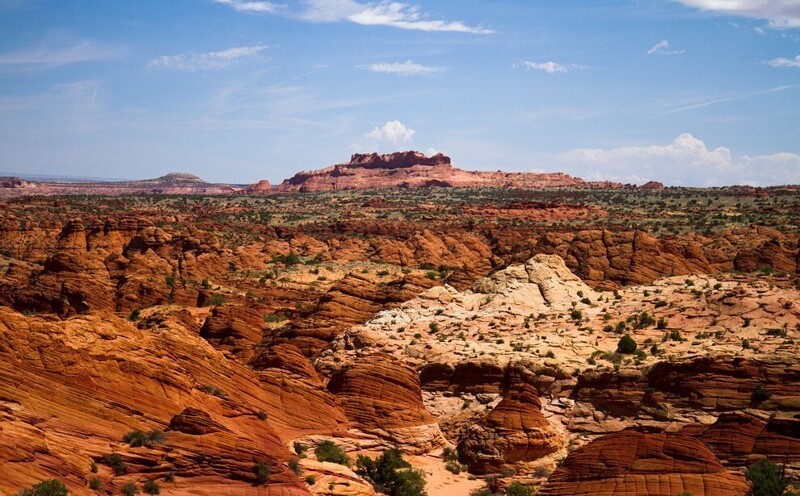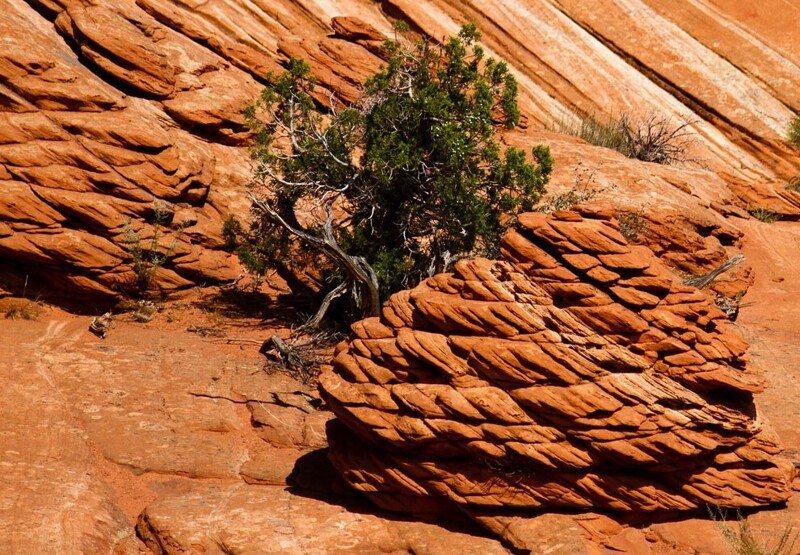 And this rock-eroded formation took out the rest of our brains – how could nature create such a thing.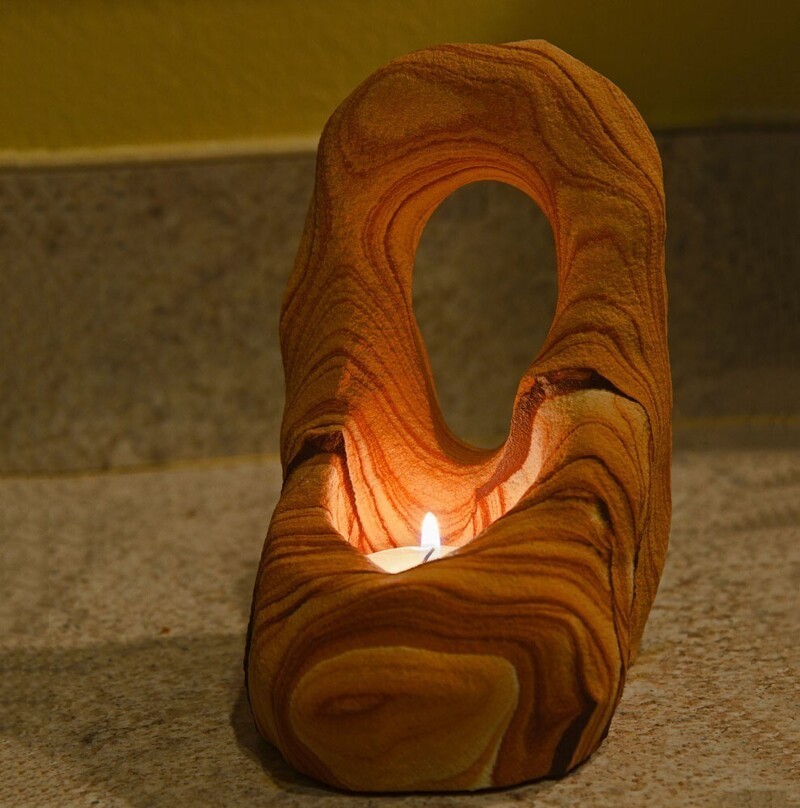 What can I say to conclude my description of this trip to The Wave? It is a place of crazy energy and it is a thankless task to describe in words what happens to you there. I stood there as if spellbound, and could not come to my senses from the rapture of the pictures and views opening before my eyes. If you can hike 15-18 kilometers through the mountains and you're near the town of Page, Arizona, I would advise you to try your luck and get permission to visit this one-of-a-kind place in the world. There is something similar in Australia, but not with such vivid colors.