I've never seen such beauty in my life.
I was in Bacalar, Mexico by accident. Since I am in Mexico on a visa (I can stay there 180 days, then I need to leave the country and immediately can come back, having the electronic visa), my husband and I and a family friend decided to do two things at once and started our journey to Belize. We drove our way by car, so we had all the time we wanted, so we stopped at various interesting places along the way! One of those places was the lagoon of Bacalar, which is located in the state of Quintana Roo, on the Yucatan Peninsula.
Originally it was just a resort village and it was only in 2007 that Bacalar was incorporated as a city!
Many tourists and do not know about this town, they often visit more well-known places like Cancun, or Playa de Carmen, or Tulum, and thus lose the opportunity to admire the unforgettable beauty of the landscape!
The name comes from the Yucatec bakhalal, which means surrounded by reeds. The Lagoon of 7 colors (so it is called), it is believed that in the water you can distinguish 7 shades of blue. I don't know if that's true, I didn't count, but the fact that the water was really shimmering in different colors was just adorable! It is a freshwater lake, 55 km long, with a maximum width of about 2 km. It is the second largest freshwater body of water in Mexico.
There are only a few hotels and restaurants in the village so it is not very large, but it is a unique place! It was destroyed by pirates in 1642 and rebuilt again in 1726. A fortress was built after a pirate attack.
Modern Bacalar is a tourist center with attractions such as Lake Bacalar Laguna, fortifications, and Mayan monuments!
Fort San Felipe- This fort was used by the Spanish to defend against many pirate attacks. The fortress is also worth visiting, because it has a museum and offers a remarkable view of the lake (it's open to visitors every day except Monday, from 9:00 to 17:00, the entrance itself is, to be honest, the exact amount I do not remember, but from 2 to 5 dollars)
Joy full pants (the very sight of charged sea of positive emotions) Fort looks beautiful, both outside and inside!
The old walls, guns (to which you can walk up and look at), casemates, moat, all well preserved.
It was very interesting to walk around this place and look at it all) I felt like a little kid who had just got into one of those tales about pirates!
So the fort looks outside, now a little of the museum, though it is not a big, but still worth seeing for such a small fee (the more there were interesting things that appealed to me)
Ships are handmade and of high quality.
Weapons used in defense against pirates!
Here are more things, which are unfortunately under glass (I am such a person – "lover of touching everything with his hands")
This is probably the first thing you pay attention to – a painting painted on the entire wall! And here's another work – I'm really excited about it – I do not know what it is a painting or something else, again, under the vertical glass (a couple of photos made, but because of the sun's rays are not clearly visible)
Something like a pirate painting! And this one I liked the best of them all:
And here's a skeleton under glass :
Also some stuff related to the history of Mexico:
The cannon is in great condition!
Strange Phallic Bird- I wouldn't have guessed what it is at all)
To be honest I am not sure what is it for and how do I use it (maybe for cooking?)
Layout of the fort! More many interesting things there is of course, but I showed those (for me) most interesting and memorable! In conclusion, I want to say that this is a great place for recreation, which has eco-hotels, restaurants, cafes, it is also possible to ride a kayak, try the traditional (national) Mexican cuisine and enjoy the unforgettable beauty of the area. Most importantly, if you do decide to come here to rest, it is still worth taking a weekend at work, at least a week (no way do not make our mistake (passing through to see all the charms of this town just unrealistic), you need time! Have a great trip, I hope my story will help you with the choice of travel on vacation)
Laguna Bacalar – the lake of seven colors in Mexico
Laguna de Bacalar in Mexico is famous for its endless shades of blue. Even the locals call it "Laguna de los Siete Colores" – which translates to "Lake of the Seven Colors." Although in the modern world, this place can safely be called "Fifty Shades of Blue".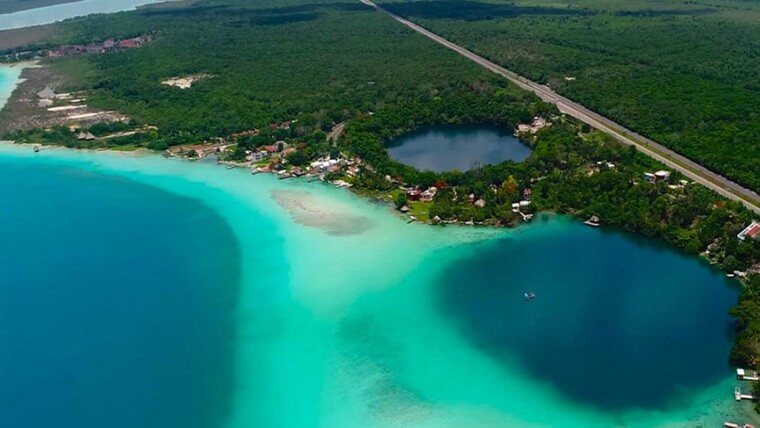 That is why the lagoon is called the Lake of Seven Colors.
Depending on the viewpoint and time of day, Lake Bakalar may appear turquoise, deep blue, or light blue. This ever-changing palette of colors inspired the locals to call it the Lake of Seven Colors.
The unusual transparency of the water here is due to the white limestone bottom.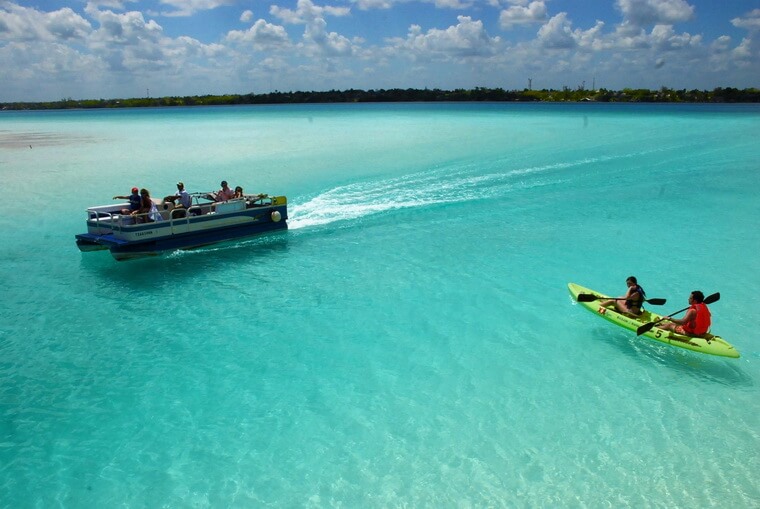 The lagoon is quite shallow, and the stunning sandy beaches create the illusion of a tropical island paradise. Sometimes this place is also called the Mexican Maldives.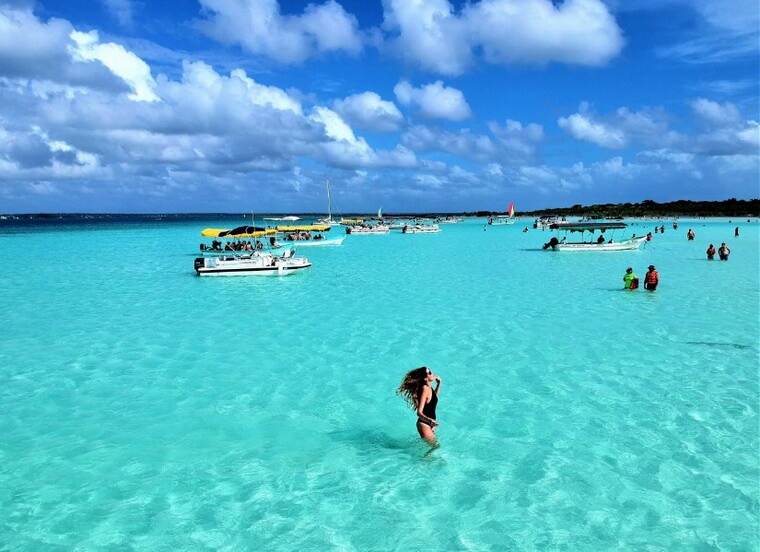 At first glance, you see a classic paradise beach on the ocean. But no, it's just a lake.
Despite the fact that in general the lagoon Bakalar is shallow, there are deep karst sinkholes. For example, the Cenote Azul.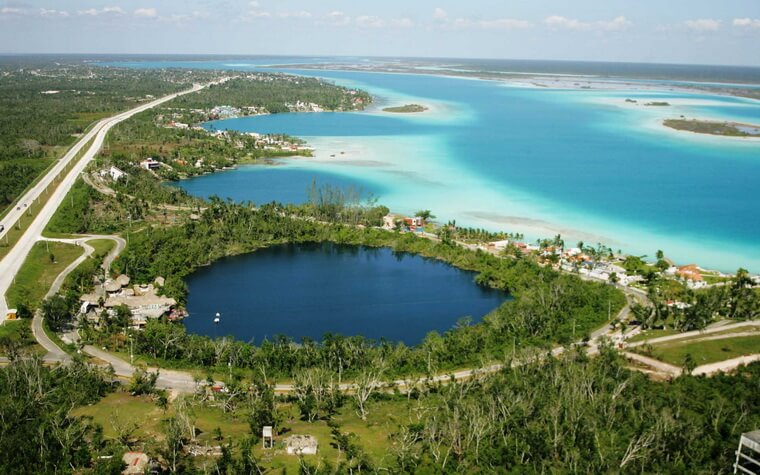 Cenotes are natural cavities in the limestone rock
Its depth is more than 90 meters. This place is very similar to the legendary Great Blue Hole in Belize.
Bacalar is such a relaxing lake that there are many swings and hammocks in its waters. They are great for helping tourists experience the harmony of the world around them.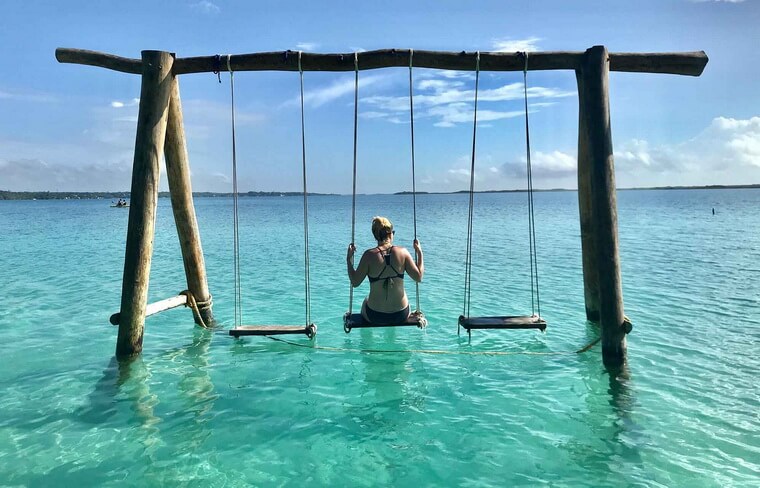 Nothing is as soothing as the gentle swaying over the mesmerizing waters of the lagoon.
But if you feel energized, then feel free to take a kayak or paddleboard to one of the local rentals and go explore the azure waters of the lake. Just be aware that the lake is very long. It stretches for more than 55 km. And its width rarely reaches 2 km.
Where is it
Laguna Bacalar is located in the Mexican state of Quintana Roo near the border with Belize, on the Yucatan Peninsula.
Geographic coordinates of the central part of the lake (18.724665, -88.344156)
Bacalar Lagoon and Pirates
In the early 18th century, Lake Bacalar was a major destination for smugglers and pirates who tried to smuggle illicit goods into Mexico. Fort Felipe (Fuerte de San Felipe de Bacalar), built in 1733 to fight piracy on the shores of Lake Bacalar, is now a "pirate" museum.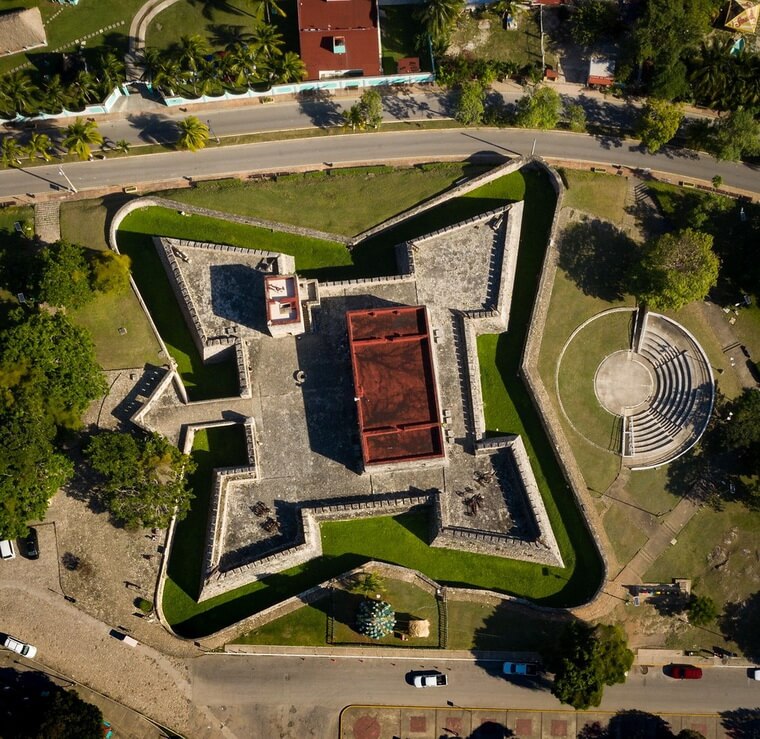 Fort Felipe has a rather interesting shape
It details the pirates and their violent confrontations with the colonial Spanish government of Mexico. You'll even have the opportunity to take a boat ride along the ancient pirate routes. The lagoon connects to the Chetumal Gulf of Mexico via the Ondo River and the Estero de Chahaca.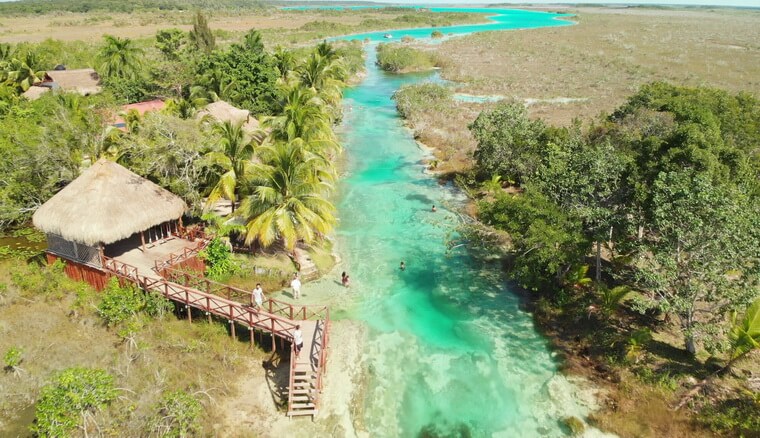 These rivers were used by pirates in the past.
Ancient inhabitants of the lagoon.
In Lake Bacalar you will find large colonies of stromatolites. Scientists believe they are one of the oldest life forms on Earth. Stromatolites look like corals.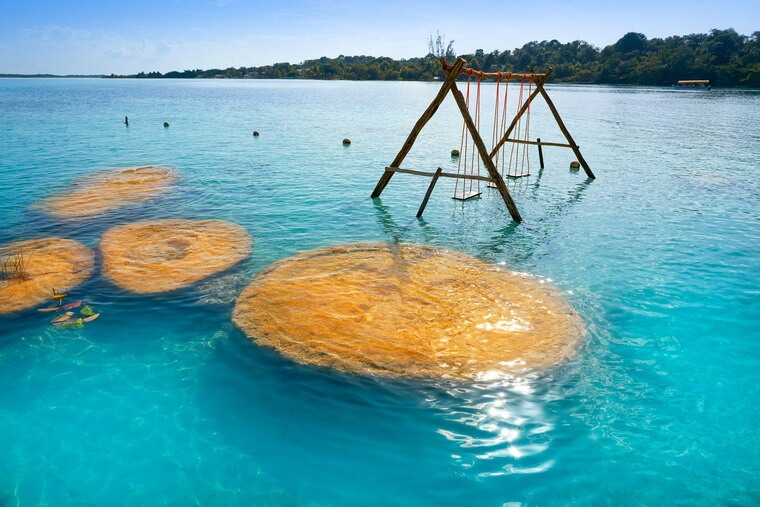 These "pancakes" are stromatolites.
To the naked eye, they appear to be inanimate. To the untrained observer, stromatolites look like fields covered with a crust of dirt or like coral reefs. In this regard, conservationists ask visitors to Lake Bakalar to refrain from using sunscreens containing harsh chemicals and to minimize motorboat traffic. This should help protect the lake's ancient inhabitants.
Bakalar in tourism
Lake Bacalar is a scenic paradise that is not yet as spoiled by tourists as other Mexican attractions like Tulum or Cancun. By the way, if you are in Cancun, be sure to visit its famous underwater museum.
In the nearby town of Bacalar (population about 11,000), don't miss out on the eclectic street art, delicious street food and charming bars and restaurants. There are plenty of places to sip Mexican cerveza beer and admire the sapphire waters of Lake Bacalar.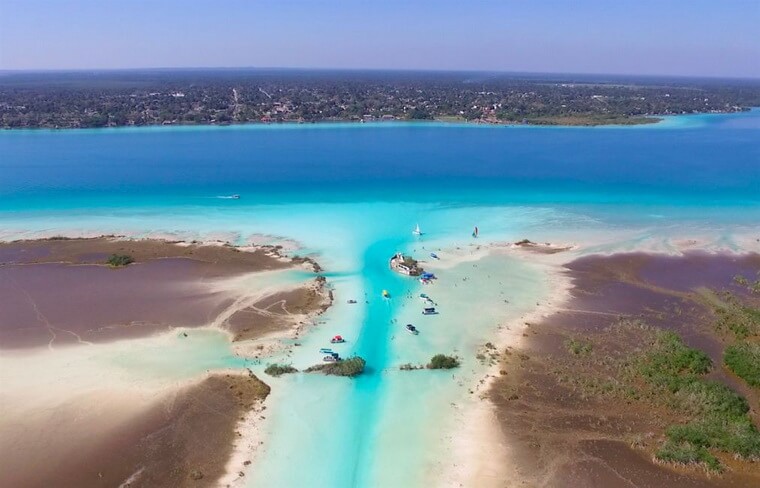 Perhaps this lagoon is the perfect place for a carefree vacation
You can see crocodiles in the surrounding area but the locals say that they are timid and do not attack people.