The Celaron Staircase is Rio's most abstract staircase. Brazil
The Celarón Staircase is a famous landmark in Rio de Janeiro. It was created over decades by one man from material sent to him from all over the world.
You've probably heard the expression "repairs can never be finished." And what would happen if, somewhere (in Brazil, for example), in some city (in Rio de Janeiro, for example), one man decided to do a little repair on a few steps of an ordinary public staircase in the street? You would never guess that this endeavor could result in a masterpiece of world significance.
So it was in Brazil, in Rio de Janeiro, that a man was found who, having started a small reconstruction of the stairs in the street, was so carried away that he did not notice how he turned an ordinary street staircase into a world famous landmark, known as the Stairs of Celaron. The man's name was Jorge Celaron – he was a cheerful and oddball (in a good way) artist of Chilean descent.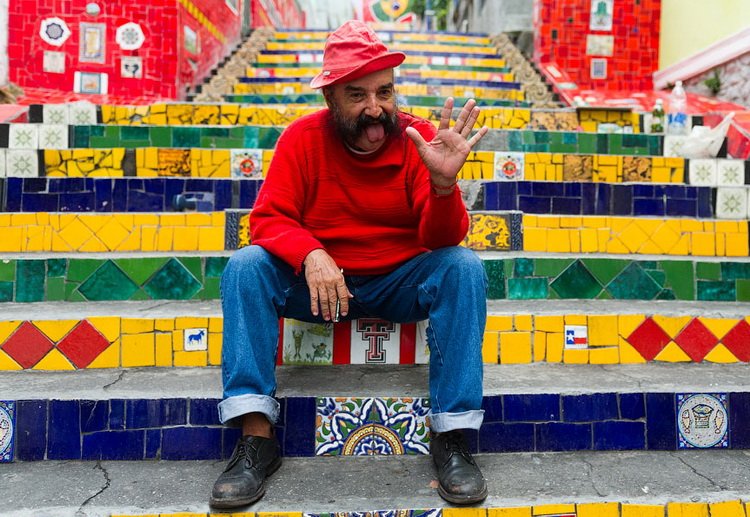 Jorge Celaron is sitting on his own staircase.
He lived in Rio in Manuel Carneiro Alley. Apparently, there were problems with utilities and road services in Brazil, as the steps of the staircase near the artist's house began to collapse. In 1990, Jorge decided to patch the steps. Acquaintances and neighbors laughed at him. But Jorge ignored it and painstakingly went about his business.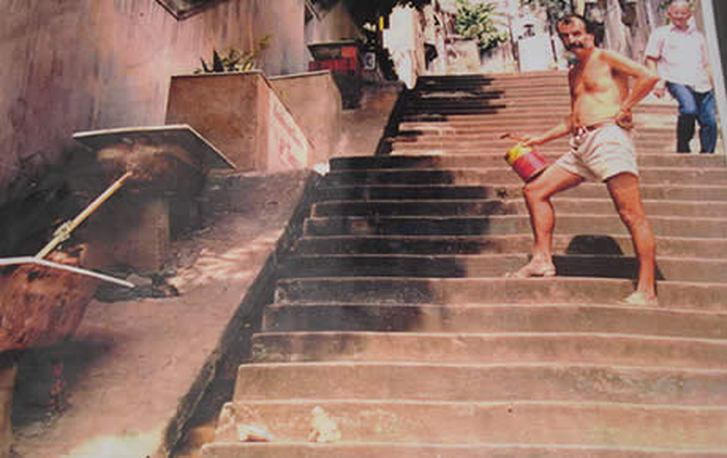 Celaron's staircase in 1990
After Celeron repaired a few steps of the staircase (then not at all famous, and known only by the name of the street), he was determined to transform it all with a mosaic technique. And the whole staircase – it is quite an impressive building about 125 meters long, and includes 215 steps. It is located between the streets of Santa Teresa (original Ladeira de Santa Teresa) and Lapa (original Rua da Lapa), a few dozens of meters from the convent of Santa Teresa.
The Staircase of Celarón on the map
Geographic coordinates -22.915329, -43.179277
The nearest airport to Rio de Janeiro is Santa Dumont just a couple of kilometers to the east
Jorge was so passionate about his creation that he spent all of his money on furnishing the stairs. He even had to sell most of his paintings. Step by step, step by step, Celaron's staircase acquired its present form. And the look is original and peculiar. This is not the banal paving slabs or even a luxurious tiled floor in a luxury hotel. It's a completely different, abstract, but very attractive style a la chaos. But it's as alive as our planet. And this is not a metaphor: in fact, ever since Celeron's steps became known far beyond Rio, the artist has had tile deliveries from all over the world. Jorge's diligence and irrepressible imagination knew no bounds. He was constantly making and remaking things. The stairs lived, changed and evolved. Jorge himself said – This crazy and unique dream will end only on the day of my death.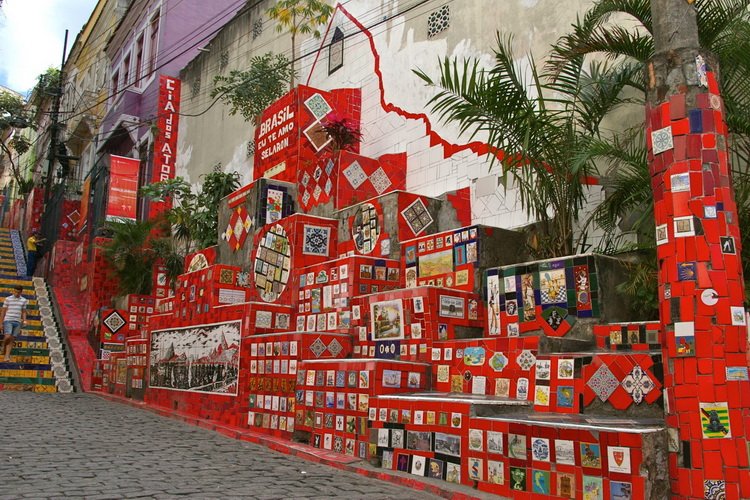 Unfortunately, those words turned out to be prophetic. On January 10, 2013 the body of Jorge Celaron with burn marks was found on the steps of his staircase. The exact cause of death has not yet been determined. The artist was 65 years old.
Interesting facts about the Staircase of Celarón
After the staircase became known to the world, the artist repeatedly said that his creation was a tribute to the Brazilian people
At the beginning, the Escadaria Selaron Rio de Janeiro tile inscription can be seen on the steps. Under this name, the staircase is known all over the world
We have often mentioned that Jorge Selaron was a painter, but his paintings became known only after he created his staircase. For example, his painting of a pregnant African woman has sold 25,000 copies worldwide. This painting is painted on a tile. Jorge himself would not comment on it, limiting himself to the phrase "a personal problem from my past."
Celaron's Staircase photo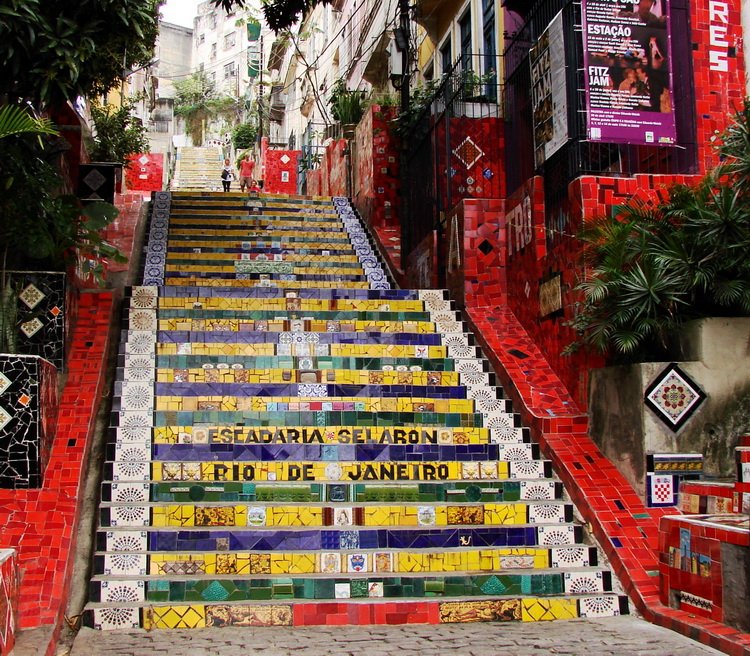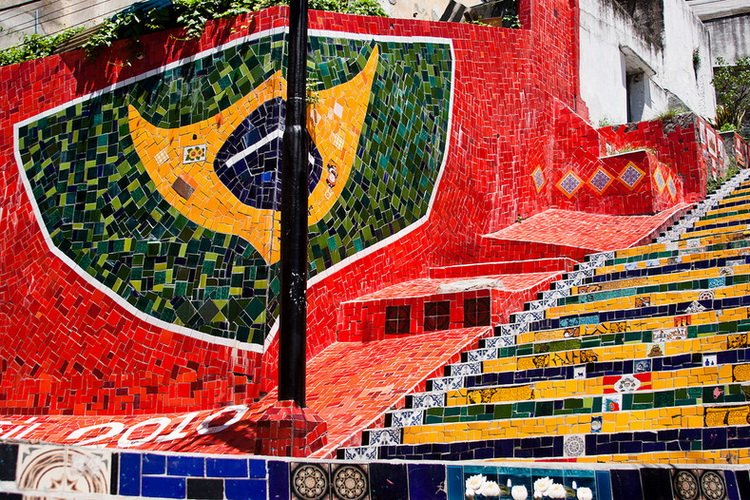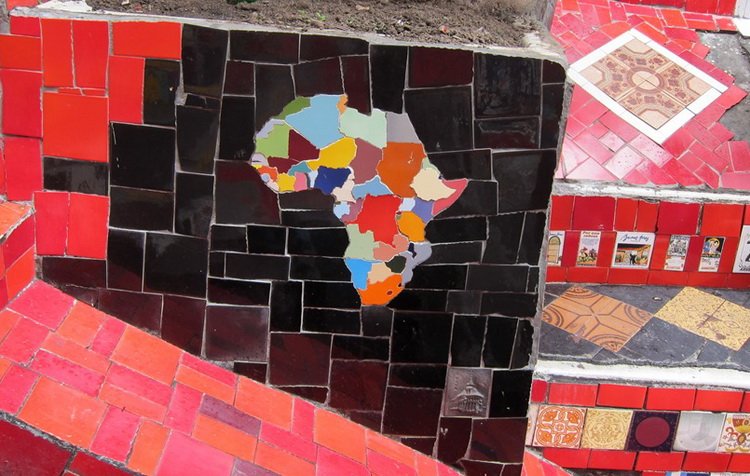 Map of Africa at the Staircase of Celaron
The Staircase of Celaron: an art object as vivid as Brazil itself
Why is Sugarloaf Mountain in Brazil a Sugarloaf Mountain? Some believe that the mountain got its name because of its resemblance to the conical "head" of sugar, which was the most popular way to pack sugar in the world at the time.
If, walking through the streets of Rio de Janeiro, you see a cluster of cheerful and curious people, multilevel colored steps, on which barefoot children run, and bright tiles, which are not just composed of pieces of factory ceramics, but sometimes have the most bizarre patterns and images – know this: you have come to the famous all-Brazilian stairs of Celarón.
As in the most unprecedented and romantic stories (just like a Brazilian TV series!), the artist who decorated it predicted his death as soon as the work was finished. And so it happened. According to one version, it was suicide. But who can say for sure? In any case, Celaron was a man of ideas and a fanatic, otherwise he would not have spent 23 years of his life on the decoration of the stairs. He left behind this life-affirming art object, one of the centers of attraction for tourists and locals.
Who is Celeron?
The artist Jorge Celaron was born in 1947 in the provincial town of Chile. As a young man, he traveled around Europe, earning money with tennis lessons. He visited 57 countries, even going as far as India. But after seeing and experiencing much, he decided to choose Brazil's Rio as his permanent home. In the early 1980s, he moved to the not-so-prestigious district of Lapa. His house was located at the then unremarkable long staircase.
And he began decorating it. At first, he began decorating it with tiles he found in the streets and city dumps. And when the project began to take off, he started getting tiles from other parts of the world. And he got his own tiles from Russia.
Jorge Celeron's extravagance was not to be denied: shorts and a red panama, a cheerful face… It was hard not to notice and remember such a man in a crowd.
What do we see when we get to Celeron's stairs?
The Celaron Staircase in Rio de Janeiro is an incredibly painstaking work of 215 steps. The length of this "colored path" is more than 100 meters. In addition to the staircase itself, the artist has decorated some nearby objects: for example, with the permission of residents, the walls of houses adjacent to the staircase. Along the staircase, Célaron placed cast-iron tubs with ornamental plants planted in them. The steps are decorated, including tiles by the author himself.
Celaron repeatedly painted a pregnant black lady on the ceramic squares. When asked by journalists about the reasons for choosing such an unexpected subject, he glossed over an unpleasant personal experience from the past. The characteristic colors of Jorge Celaron's paintings are red and black.
The staircase of Celarón has a lot of coloration à la Brazilian flag and, as the artist put it, "the color of Ferrari" – a rich red. The whole color scheme creates a sense of celebration and the ongoing Brazilian summer.
If at first Celeron didn't even have enough money to pay the bills, as the work was completed his business went uphill: the staircase was officially recognized as a work of art.
How to get to the Celaron Stairs in Rio?
The Celaron Staircase originates at Joaquim Silva and Pinto Martins Streets (another dedication is Manuel Carneiro). At the bottom there is a mosaic of the name. However, you can easily find it as it is. If you want a better view of the stairs and don't like the crowds, come on weekdays. You can get here by buses 006, 007, and 014 to the Rua Joaquim Murtinho próximo ao 210-238 stop.