The Monkey Forest is a sanctuary for long-tailed macaques. Bali
There are still a lot of forests on our planet. These are mostly traditional forests with trees, shrubs and grasses, among which there are surreal ones, such as the famous Crooked Forest in Poland or the Dancing Forest in the Kaliningrad region. There is, of course, a peculiar bamboo forest and even a stone forest in Madagascar.
Now we will tell you about another one.
In addition to the chic beaches and fascinating jungle, the island of Bali has in its piggy bank a very interesting Monkey Forest.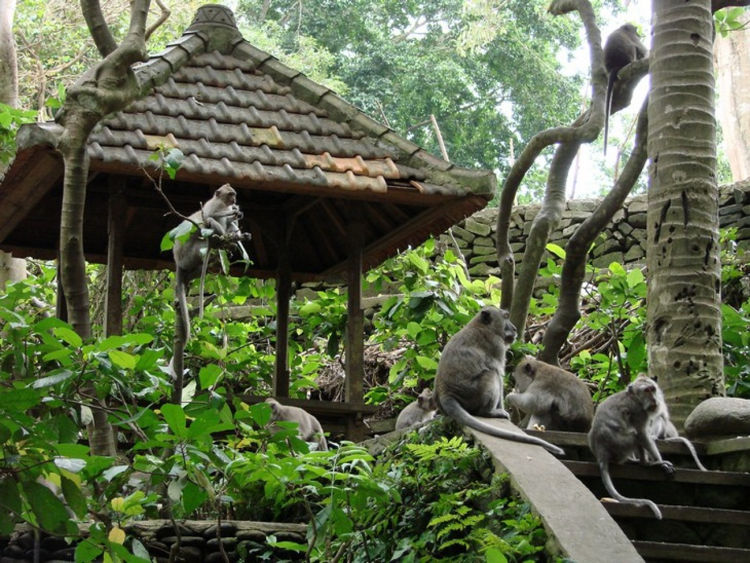 As is quite clear, it is a forest and monkeys "in one package. On the one hand it is a classic South Asian jungle. On the other, it is the same classic jungle inhabitants, the monkeys.
The Monkey Forest is located in the southeastern part of the island of Bali in the south of Ubud between Nyuh Bojog Street and Monkey Forest
Monkey Forest on a map
Geographical coordinates 8.518645, 115.258876
Distance from Jakarta, capital of Indonesia approximately 970 km
Distance to the nearest airport in Bali Ngurah Rai approx. 30 km
Officially this place is listed as a nature reserve. Its dimensions are quite modest. Length of about 550 meters and width of 70 to 200 meters. However, this small area is inhabited by an untold number of monkeys. To be more precise, they are long-tailed macaques. But, since for us it does not really matter, we will call them more simply – monkeys.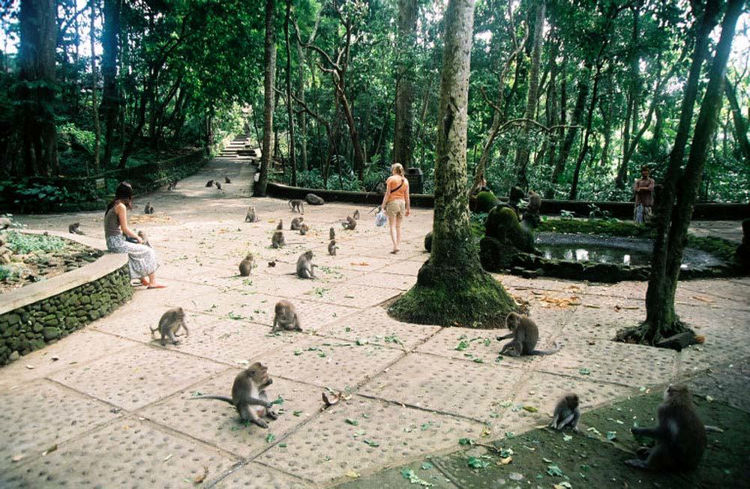 Monkeys here are literally at every step, in every tree, and behind every bush. They cheerfully and carelessly scurry back and forth through the forest. The animals are so accustomed to their "home" that they rightfully consider themselves the masters of the place and are not the least bit afraid of humans.
In general, the monkeys feel quite comfortable here. They are guarded and fed at the reserve. The staff mostly feed sweet potatoes – yams, which, it must be said, macaques devour without much enthusiasm, sometimes just biting and throwing away pieces. But coconuts and bananas, which tourists bring with them, they have a taste. As you can understand, the monkeys are not hungry here.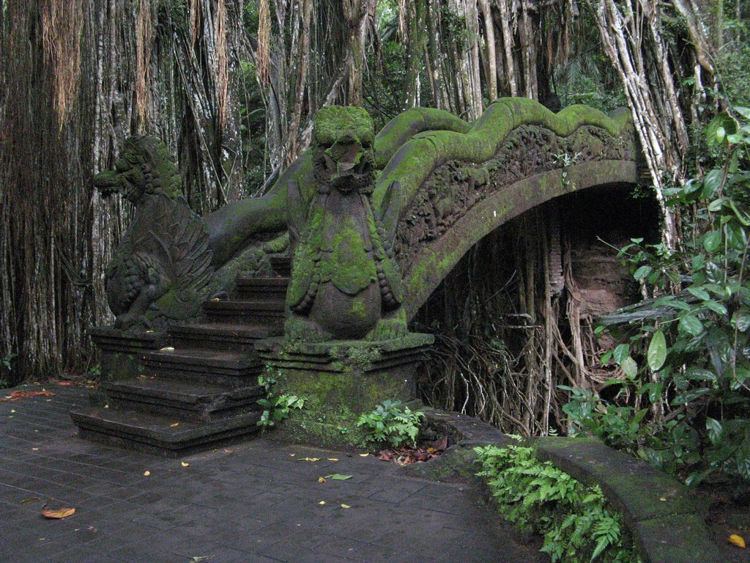 In addition to the monkeys there is a temple, a bridge and small statues. Particularly in the Monkey Forest is the temple of Pura Bukit. Its walls are covered with moss. Trees densely surround the temple. But despite this, ritual ceremonies are still held here. By the way, you can visit this temple, having a sarong (a piece of cloth that you have to wrap around your waist, a kind of pareo). If you do not have it, for a small donation it will be given to you by the caretakers.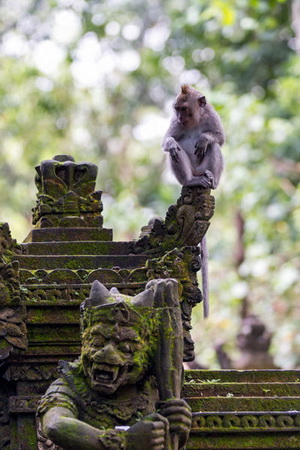 In general, the Monkey Forest is very reminiscent of pictures from the Soviet cartoon "Mowgli. Especially the part where banderlogs listened to the mighty Kaa.
The reserve is open daily from 8-00 to 18-00. Admission is paid. There are three ticket office, through which you can get in. But you can also get in for free. First, after 6 pm ticket offices are closed and you can safely go inside. But in this case you do not have much time. With the onset of dusk, the attractiveness of the forest fades, and the photos you take will not be so juicy and expressive. Second, you can enter the park from the street that runs alongside the forest and connects Monkey Forest and Nyuh Kuning Streets. There is also an entrance, but without a ticket office.
The trip will be fun, interesting, and most importantly safe, if you follow the basic rules of safety and listen to some tips.
Advices of experienced hikers
remember that, no matter how cute you may think the monkeys, they are, above all, wild animals and their bite can be dangerous
Although it is very difficult, looking at the cheerful jumping here and there monkeys, but try not to smile, because it can be perceived from their side as a threat. You might get bitten.
if you want to feed the monkeys, you can buy some bananas. The macaques like them very much.
Don't tease the monkeys. If you're going to give them a banana, give it to them right away and don't provoke them. After all, you're their guest, it's rude to tease them.
Avoid walking off the footpaths in the reserve.
Visitors monkeys are not ceremonious and can easily get on you and even dig in your bag, so try to hide all valuable items from their attention. Headgear, chains, watches, glasses, and even earrings must be hidden so that you can hardly get them out yourself.
Believe me, the monkey is much quicker than you, so don't try to catch up with him. If it does snatch something valuable from you, try to attract its attention with food (a banana, a coconut or something else). It's quite possible that the cunning macaque will lose interest in the unnecessary trinket and will switch to food. You will have a chance to get your property back
It is said that locals train monkeys to steal valuables from careless tourists, and then they lure your stuff from the animal using the method described above.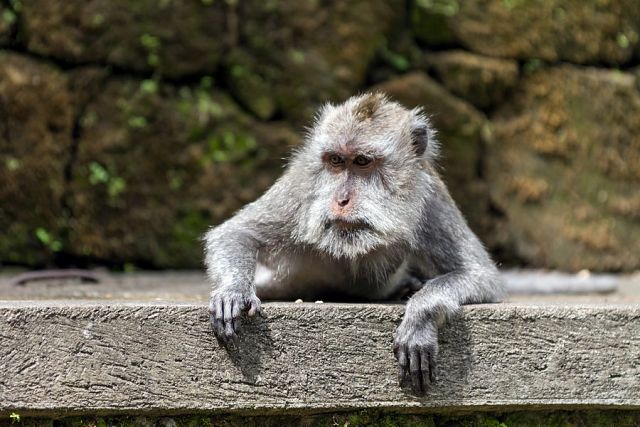 The place is worthy of your attention. You can not only walk around surrounded by funny monkeys but also just sit in the shade of giant banyan trees. This exotic plant resembles a huge rope woven from vines.
If you come to Bali to lie on the beach and sunbathe, be sure to set aside just one day to visit the monkey forest – it will be a lot of impressions.
The Sacred Monkey Forest Ubud in Bali is a great place to visit.
The Monkey Forest in Ubud
The Monkey Forest in Ubud is another very popular attraction of this island. After living in Asia for a long time I am not surprised by monkeys, for me the "monkey forest" sounds like a "forest of cats" – to my liking. But it is in Ubud this forest is unusually beautiful. Fabulous statues covered with moss, amazing jungle with huge trees, a beautiful temple – all this makes the forest of monkeys really interesting and unusual. It is located on the outskirts of the town of Ubud, the exact place I marked on the map. The price of an adult ticket is 20 thousand rupees. There is some tricky path that leads to the temple grounds, which you can ride there for free on a bike or bicycle, but since we were by car I can't tell you anything, look for others
There are a lot of monkeys here, more than 600 individuals. They are divided into four packs and each occupies its own territory, each has its own leader, who will not let his own to harm. They talk a lot about their aggressiveness, which made me hesitate to take my child to this forest. In addition, I did not take any food, no valuables, and almost everything except the bare necessities we left in the car. Monkeys grab everything they can, so you have to hold tightly or hide in inaccessible pockets – water bottles, glasses, wallets, phones, jewelry… Something they take away to the forest, something they hold in their hands in the hope of exchanging for bananas. It is useless to take something by force. First, they are faster and quicker, and secondly, they can show aggression and even bite. Even though all monkeys in this park are vaccinated, you will have to get rabies shots after a bite just in case. For the same reason, don't tease the monkeys or try to pick them up forcibly, even if they are baby monkeys. If you really want to touch them or take a picture nearby, then you can only help bananas, which can be bought in the forest, and because of which the monkeys will not leave you alone until they take everything, which usually happens very quickly .
As I said before, during our stay in Asia we got tired of monkeys and did not cause any bright emotions. Therefore, we went to the Monkey Forest mainly for the forest, a walk with the child and the general development. I did not even expect that it will be so beautiful! Unfortunately, the quality of pictures was not good because of the humidity, and there was no time to play with the settings because of the baby. I had to watch him all the time not to run anywhere, not to touch the monkeys and not to get into their poop, which are sometimes found on the road.
Here is such a monkey welcomes you at the entrance and tells you that you have come to the right place Cute family – mom, dad and two kids Despite the fact that it is still out of season and a weekday, there are still a lot of people. Unreal beautiful and fabulous statues overgrown with moss Moss decorates not only the statues, but also the walls of the temple Not all the statues are cute and kind Not forgetting the monkeys. Since we have no goodies for them, they just do their usual monkey business near us Nature in Bali from the first days strikes my imagination, but the beauty of this forest still pleasantly surprised me. A real jungle! Eh, I didn't have time to shoot how the monkeys were swimming in this fountain. In order to lure them there it is necessary to throw bananas in the water Very positive spectacle. A Balinese family with many children took the kids for a walk I took very few pictures of monkeys and no soul How can you look at the monkeys, when there is such beauty around! I am not a right tourist Sasha meanwhile was running back and forth and my husband and I took turns catching him. And this huge banyan tree with roots hanging down, I did not think that I would ever see this live. It didn't fit all the way into the lens! It was an amazing tree with dangling roots On dangerous paths only with daddy holding the hand Sasha liked walking on narrow paths very much, he did it with pleasure, but he tried to run away all the time On relatively safe places we let him run – that's the happiness He tried to walk by himself too On the stairs ) But at the last rung he gave up and let me help him ) Refueling The locals were looking at the little white boy with interest. In my opinion he was more interesting to them than the monkeys ))))). Finally he ran around and sat in the stroller For how long? Sashka in the forest of monkeys in Bali The forest monkeys in traditional clothes Indescribably beautiful nature Local kids make extra money arranging the show for tourists and collecting money for it And then I remembered that I did not take pictures of monkeys The caretakers threw them something strange, monkeys are lazily chewing on it The kids snuggle up to their parents just in case But the forest is more beautiful than monkeys! ) Monkey massage Sasha can not sit in the stroller, it is more comfortable in his arms)). Accidentally in the middle of the forest was a cemetery Cemetery in the Monkey Forest Sasha was not interested in the monkeys and the monkeys were not interested in Sasha. As if they had lived next door all their lives ) Another incomprehensible object blocked the passage ) The only ones that made me laugh were the babies. But it's almost impossible to play with them, there are some stern parents around! Monkey crook Attempts to open the prey This is it, the Forest of Monkeys in Ubud on Bali
Photos do not convey even half of the emotions that this fabulous place evokes. There are other equally beautiful forests, but they are harder to get to and not as easy to navigate. Therefore, if you happen to be on the island of Bali, then try to allocate a couple of hours to visit this forest. Especially, you should still visit the town of Ubud. After all, to be in Bali and not visit Ubud would be the wrong Bali