Top 10 largest water parks in the world
Water is a powerful source of tranquility, peace, relaxation, and at the same time unearthly joy. A great water park should give people of all ages a lot of positive emotions! This is the rule and adheres to most parks. They are great to forget about the gray of everyday life and a break from the bustle of the city alone or with the family.
Advantages of water parks can be listed for a long time, because there are so many of them! We suggest you see with your own eyes and know what water parks are the largest in the world.
Today, water parks are being built at an astonishing rate. Who wouldn't want to take a high-speed ride down a crazy slide? It is unlikely there are such. So, are you ready to dive into a virtual tour? Let's go!
10. Ocean park. Hong Kong
Hong Kong is one of the most amazing Asian cities. Among its many attractions, Hong Kong has Buddhist and Taoist temple complexes, museums, cathedrals, and, of course, one of the largest water parks in the world, which is called Ocean park. Want to have fun with your kids? Then come here!
What's there to see? Well, everything you can: penguins, pandas, theater-pavilion with jellyfish, an ice room, you can swim in the pool with dolphins and seals, to ride the rides, ride the cable car, etc. Here is a very scary attraction Flash – for the most fearless and daring.
9. Port Aventura. Spain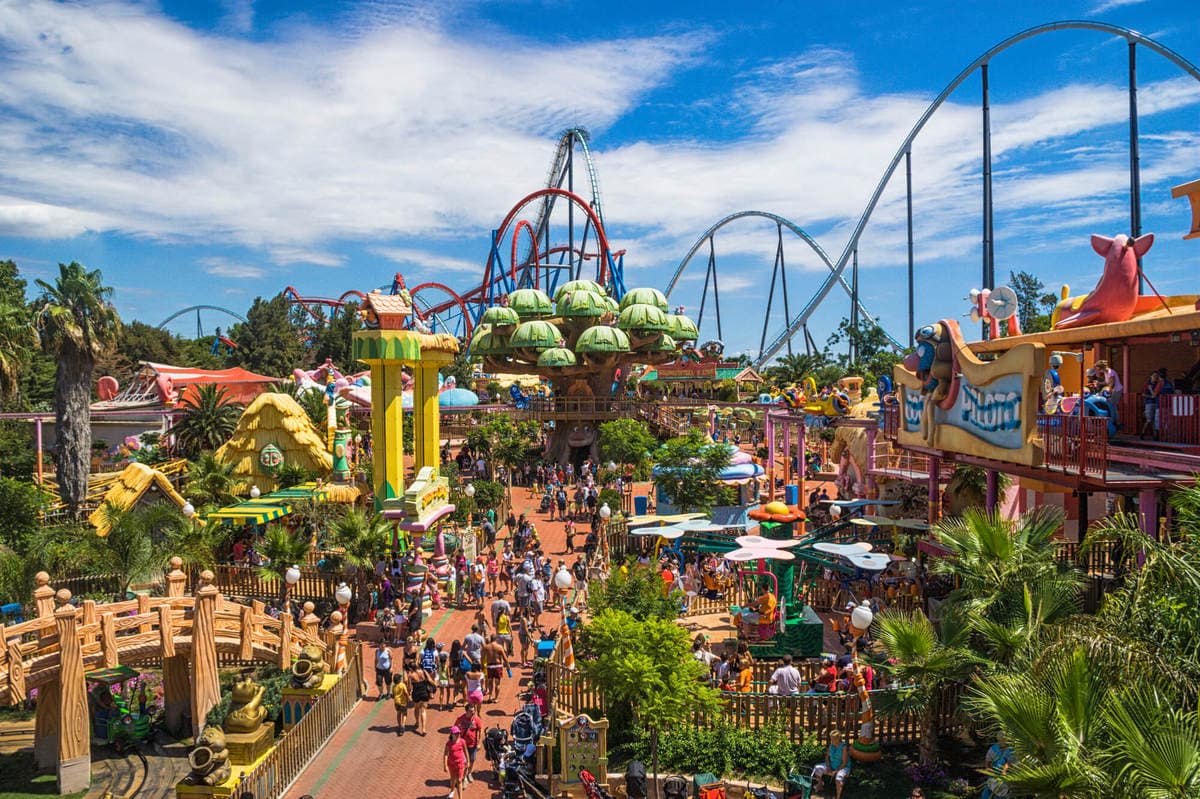 Once you get to this park – the fun is guaranteed! Fun, exciting and adrenaline in the blood, designed for people of all ages. It is considered that Port Aventura is the second-largest amusement park after the French Disneyland.
The park is divided into six thematic zones, passing through which its guests are in five zones of the globe (the sixth zone is aimed at children). Realistic installations are scattered everywhere in the park, people are walking, music is playing and exclamations of delight are heard from the rides…
If it is your child's birthday, there is nothing better than to spend an unforgettable time with him at Port Aventura in Spain.
8. Fasouri Watermania. Cyprus
Cyprus is a great country for a beach holiday. Fasouri Watermania is a great way to spend an unforgettable time.
With 25 rides to choose from, a steep Kamikasze slide and 50 km/h twists and turns, how could it not be otherwise? This attraction is not for the faint of heart. And those who dare to take such a step feel like a "human-core", which with the help of water (1000 liters) is launched into a deep pool.
In addition, there are many slides – closed and open type, which delight you with exciting descents and adrenaline rides! In addition to water slides, of course, the water park has other, no less interesting rides.
7. Wet n' Wild Water World. Australia .
Due to its uniqueness, Australia attracts tourists from all over the world. However, on this continent the encounter with some animals ends tragically at best… The fauna of Australia (just think of those numbers!) includes 200,000 animals.
Wet n' Wild Water World is the equivalent of Sydney's water park. Walking around the park, you can notice the pool, but it is not usual, as it may seem at first glance, but with waves! From the side it looks incredibly beautiful. Wet n' Wild Water World has wonderful tables and shelters where you can grab a bite to eat after you get tired of the fun.
There are so many interesting corners, and the park is great for people who like slides because there are 15 of them.
6. Chimelong Water Park. China
Chimelong Water Park is located on a huge area in China. It has a large number of water rides. There are a lot of people even on an "off-peak day". – Monday, and all the slides are crowded.
One of the peculiarities of the water park is a "river", long and quite nice, but you can ride it only in special inflatable boats (they are purchased in the park). The advantages in Chimelong Water Park – in the presence of attractions for children, for them there is a special separate complex. All attractions are quite different – from simple to complex.
What else I want to note is that throughout the park is well-groomed trees and shrubs, the air here is very clean, and on the benches it is nice to take a break.
5. Disney Typhoon Lagoon. USA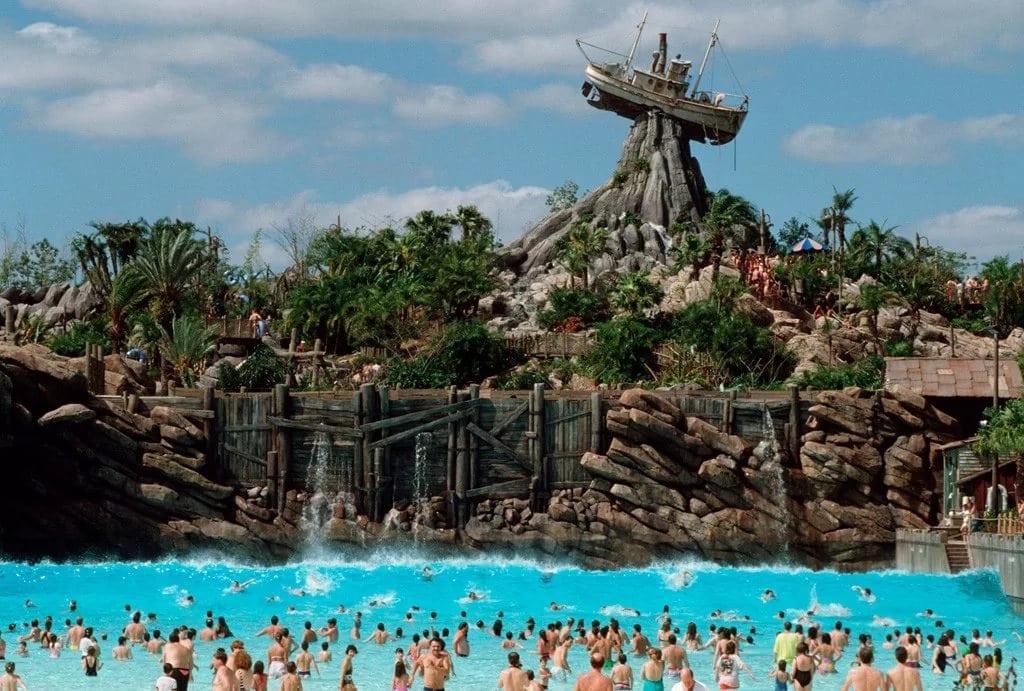 Disney Typhoon Lagoon is a place where you can explore countless canyons, raft down winding mountain rivers, wrestle with the waves. Once here, you will never forget this place!
Disney Typhoon Lagoon, which is located in the U.S., has a large pool in which from time to time appear funny waves. The water park slides are unparalleled, and visitors also noted for themselves the attraction "Shark Reef" – a pool in front of which are given a mask, flippers and snorkel, a vest if necessary, and swimmers swim with the fish and sharks!
There are a lot of impressions. The park has a store, safes, locker room, showers, toilets, etc., which makes the visit comfortable.
4. Golden Bay. Russia .
Golden Bay is the largest open-air water park in Russia. Recognized as the best place for recreation and entertainment – today it is not only the largest water park in Russia, but has earned the reputation of one of the best in Europe.
The park is located in Gelendzhik. There are a lot of slides and pools, descents, rides – and all this surrounded by magnificent scenery and clean air. The water park is so vast that visitors can visit all its corners without passing through the same area twice.
Those who prefer a measured relaxation can sunbathe on the lounge chairs, swim in one of the pools or take a trip to "Golden Bay" on an inflatable circle in a swimming pool with a circular motion!
3. Schlitterbahn. USA
Once you visit Schlitterbahn in the USA, you'll see for yourself why it has repeatedly been called the most beautiful water park in the world. And even if you do not agree with it, you certainly will not deny the fact that Schlitterbahn is one of the best water parks for children.
There are seven children's areas with playgrounds and small pools, 17 water slides and other attractions. However, the rides are divided by the level of danger, differing in the intensity of the current, which allows parents to choose a safe place for their children to play.
2. Wild Wadi. UAE
If you are in Dubai, you should definitely check out the stylized Arabian fairy tale Wild Wadi (the name translates as "mountain river").
This water park is a paradise for those who prefer a relaxing holiday, as well as for fans of extreme sports. Wild Wadi includes 30 slides, tunnels and rides for all tastes!
Here guests find themselves in the Aladdin's cave, or in the fairy tale from the Thousand and One Nights of Scheherizade, and some feel like a little Mook flying over the ancient eastern city. The park has a charming, unique atmosphere, as well as lots of greenery and, of course, water.
1. Aquaventure. Bahamas
Aquaventure in the Bahamas is synonymous of luxury vacations. It is one of the most expensive and yet famous places for aquatic entertainment.
The water park is located next to the hotel "Atlantis", of which it is a part. The park is designed in the style of the lost Atlantis, and is suitable for family holidays.
Private cabins with a fan, refrigerator and personal safe are available for secluded relaxation – they are within walking distance from the beaches.
Visitors are offered a ride on a river with a strong current through caves, jungles and rapids. For those who want to bask in the sun, swimming pools are provided.
The largest water parks in the world
Over the past few years, the number of water parks in the world has increased dramatically. They are not limited to certain countries or cities far from the sea. To give you an idea of their diversity, we have gathered the top 15 largest water parks in the world . Keep in mind that this is a rapidly growing industry, and new waterparks are constantly popping up and old ones are expanding.
15. Aquaventure – Paradise Island, Bahamas
This is the largest water park in the Caribbean. It features magnificent towers with high-speed waterslides, 20 swimming pools, an impressive kids' water club and 11 refreshing pools.
Aquaventure is a lush, tropical environment that is perfect for all vacationers, whether young or old.
14. Siam Park – Tenerife, Spain
If you like to ride fast, high and thrilling waterslides, we recommend putting Spain's Siam Park on your list of suitable vacation destinations,
It's not just a water park, but an entire amusement park. It is home to the longest "lazy river" in the world. It flows past cascading waterfalls and other local beauties. You have a choice of a fast or slow route.
Adrenaline junkies are waiting for the "Tower of Power", ready to take the brave from a height of 28 meters and at speeds up to 80 kilometers per hour.
Also on the territory of Siam Park is a swimming pool with a wave height of 3 meters.
A big advantage of the park is a free bus service with pick-up and drop-off points near the local resorts.
13. Disney Water Park – Orlando, USA.
This water park opened on April 1, 1995 – Fool's Day, and it is symbolic. The fact is that originally Blizzard Beach was supposed to be a ski resort. However, the snow didn't last long, and began to melt rapidly, turning the ski slopes and slopes into water slides. That's when it was decided to repurpose Blizzard Beach into a winter themed water park, with artificial snow, icicles, and a ski jump converted into a fast slide.
In the center of the water park is Mount Gushmore, which is an artificial structure with a height of 27.4 m. It has three colorful slopes: green, red and purple.
On the green slope there are one-slope water slides.
On the purple slope there are two tracks designed for water races.
On the red slope is Runoff Rapids, sending visitors on a ride through a system of closed and open tubes with a pool landing.
Disney Blizzard Beach has over twenty slides in all, and for young visitors its own area with a sandy beach.
12. Sunway Lagoon – Kuala Lumpur, Malaysia
Malaysia's largest water park consists of several theme parks and boasts an abundance of exciting water attractions (including an artificial wave for surfers), a zoo with predatory animals and turtles that are allowed to feed, as well as an artificial beach with clean and natural sand. It is almost as comfortable and crowded as the best natural beaches in the world.
For the main entertainment line up a huge, where you can stand for half an hour or longer. Therefore, Russian-speaking tourists who were in Sunway Lagoon, recommend taking express tickets, they are more expensive, but you can go to the rides without waiting in line and all the parks.
Wild Wadi Water Park – Dubai, UAE
Dubai's water park offers many exciting opportunities for entertainment for the whole family. However, the reason for its popularity also lies in the very high temperatures in this part of the world. Tourists especially praise three attractions:
Jumeirah Sceirah, a free-fall capsule slide.
Master Blasters – an entire "waterpark traveler's kit" consisting of a chute with turns, climbs and descents through the entire waterpark.
Breakers Bay is a wave pool, with a wave height of up to one and a half meters.
For all guests of the Burj Al Arab Hotel, next to which Wild Wadi is located, and guests from nearby hotels belonging to the Jumeirah Group, access to the water park is free.
10. Wet'n'Wild Gold Coast – Oxenford, Australia
In addition to the beaches of Queensland's Gold Coast, Australia also attracts many tourists to its largest water park. It is open all year round, mainly because of its popularity. Thus, you can plan a vacation at any time of the year to include this park in your itinerary. It has quiet and peaceful corners for the little ones, a "lazy river," adrenaline water slides, hot tubs, and even a crazy "black hole" – two encapsulated downhill chutes with many twists and turns.
9. Sandcastle Waterpark – Blackpool, UK
This is the largest indoor waterpark in England and a great recreational choice for families, especially during the winter months. It has over 18 attractions. Highlights of this park include: two children's playgrounds, a spa, a wave pool that simulates the movements of the ocean, and a large water cannon.
8. Las Cascadas Water Park – Aguadilla, Puerto Rico
This park may not be as pompous as the others, but it more than makes up for it with stunning water slides and beautiful scenery. It is surrounded by a lush tropical garden and features a wave pool, a lazy river, a children's playground, the Rio Loco (crazy river) – a fast tube ride – and many other attractions. A strong argument for visiting Las Cascadas Water Park is its proximity to the airport and local hotels.
Many believe that swimming in this largest water park in the Caribbean is better than swimming in the chilly waters of any river in Puerto Rico.
7. Schlitterbahn – Texas, USA
When you visit New Braunfels, Texas, you'll appreciate why the city's water park has repeatedly been declared the finest water park in the world. And even if you don't agree with that statement, you can't deny that the Schlitterbahn is one of the best water parks for kids. There are seven children's areas with small pools and playgrounds, water pipes stretching for 4.8 km, and 17 water slides for every age and sense of fear. Along the course of the Comal River, on the banks of which is a water park, there is a super-long descent, which takes 30 minutes.
By the way, there are three water parks named Schlitterbahn in Texas: New Braunfels, South Padre, and Galveston.
6. Chime-Long Water Park – Guangzhou, China
Stretching over thirty acres (or over 12 hectares), Chimelong rightfully holds the title of the largest water park in all of China. Of course, it has pools, water slides, "lazy rivers" and other water attractions, just like any other water park.
But beyond that, the Chinese water park offers quite a few special water rides that are not found anywhere else in the world. For example, in the extreme zone, there is a projectile in the form of a skateboard, with carousels built into it. Super-fast rotation guarantees a lot of unforgettable experience. Just do not eat too much before visiting this attraction.
In total, "Chimelong" has more than 100 different attractions.
5. Noah's Ark Waterpark – Wisconsin Dells, USA
This is one of the largest water parks in the United States. It occupies four separate buildings. Their combined area is 22,300 square meters.
Noah's Ark has the longest waterslides in the United States and two giant wave pools plus over forty water slides and a couple of "lazy rivers". The pride of the water park is: "Scorpion's Tail," a looping water slide, and Raja, the world's largest cobra-shaped water attraction.
4. Kalahari Pocono Mountains – Pennsylvania, USA
The Kalahari Resort Hotel expanded in 2017 and doubled the size of its water park to 2,438 square feet. By comparison, Russia's largest water park, Golden Bay, is 154,000 square meters.
"Kalahari" in the Pocono Mountains is considered the largest indoor water park in the country under one roof. That's the difference from number four on the list, Noah's Ark Waterpark, which has spread the entertainment across four separate buildings.
For younger children, there is a spacious and quiet area that doesn't overlap with the adult areas. Water tubes of all kinds, family attractions, hot and cool pools, bright and cozy atmosphere will not leave visitors a chance to get bored. A special attraction is the "Screaming Hyena" – a vertical descent from the capsule through the tube. Here, perhaps, not only the hyena will scream.
World Water Park – Edmonton, Canada
Since Canada's climatic conditions are not conducive to building water parks outdoors, the World Water Park is indoors. This means that if you find yourself in Canada even in winter, you can have fun and enjoy all the water park activities without fear of getting cold and cold.
The park has a capacity of five thousand visitors a day. According to visitor reviews, it is very clean and well maintained. The average water temperature is kept at 28 ° C. It boasts the world's largest indoor wave pool with a capacity of 12.3 million liters of water, as well as 21 unique waterslides. The highest slides in Water World are the Cyclone and the Twister. Both are 25 meters high.
2. Tropical Islands – Krausnik, Germany
The second largest water park in the world is created in a building that once housed airships. It covers more than 7 hectares and can accommodate up to 6,000 guests at a time.
Tropical Islands has many different themed areas. For example, there is a "tropical village" that replicates the traditional buildings of Bali, Borneo, Samoa and Thailand, and there are about 50,000 plants growing in the "rainforest." "Bali Lagoon" is extremely popular because of its artificial currents, beautiful fountains, two water slides and fun whirlpools. The water temperature is kept at 32 ° C. For lovers of relaxation there is a sauna and spa center (where you have to be completely naked), and for the kids – the children's area of 4,000 square meters.
Tropical Islands is open 24 hours a day, all year round, but be aware that there is a fee to access the different areas of the park.
1. Watercube Waterpark – Beijing, China
The first place among the largest water parks in the world was taken by Beijing's Water Cube. After the amazing success of the Water Cube at the 2008 Summer Olympics in Beijing, the waterpark was transformed into an incredible (and massive) indoor waterpark. The owners transformed the space into a fantasy world with slides, a "lazy river," a wave pool, artificial jellyfish floating near the ceiling, and more. Now it is the second most visited water park in Beijing (after the Great Wall of China) and the largest water park in the entire world.
The facility, which occupies an area of 70,000 square meters, has a special design. It uses strong elements, similar in appearance to a crystal lattice of water bubbles. The building takes in solar energy and uses it to heat water and rooms. The crystals have a reflective coating; it keeps the air from heating to an uncomfortable level for people.
There are about 10 different rides in this Chinese water wonderland, including speed slides and a wave pool that imitates the ocean, which many Chinese visitors have never seen.
And the largest non-functioning water park in the world is Japan's Ocean Dome. It is located on the island of Kyushu, and is under a giant dome (length 300 meters, width – 100 meters). For financial reasons (bankruptcy to put it simply) the water park has been closed since 2007.