Toy Stores in London
Toy shopping for children in London is the perfect gift for any child, the main thing is to stock up on an impressive amount of money.
It is impossible to find a person who would not be satisfied with shopping in the UK. Children are twice as happy to go to the store, especially if it is a children's toy store in London. British children's stores are popular all over the world, which can be explained by the excellent quality of products and the creation of a real fairy tale in the room.
Hamleys .
Hamleys, a huge 7 storey shopping mall with a 260 year history, is located at 188-196 Regent Street, 8a, St Pancras International, Euston Rd, Kings Cross, Oxford Circus tube station. The store is centrally located near St Pancras Station and the British Library. You can come here any day from 10:00 am to 8:00 pm on weekdays, until 9:00 pm on Saturday and until 6:00 pm on Sunday.
The giant teddy bear is the symbol of the flagship brand. They sell it here for a ridiculous price, but the other 50,000 toys are sure to empty more than one wallet. Each of the seven floors is associated with a particular theme – soft, mechanical, handmade. Children are also allowed to play and be photographed. A large assortment is represented by control cars, dolls, game consoles, and souvenirs.
Harrods
Europe's largest toy department store, Harrods is located at 87-135 Brompton Rd, Knightsbridge. Buses 10, 19, 22, 137 and 452 go here. The nearest subway stations are Knightsbridge, Sloane Square, and South Kensington. There is paid parking for cars in Brompton Place.
"Harrods is a favorite shopping and strolling spot for royalty, oligarchs and show business stars. The space, which contains more than 300 departments, has a dress code – an elegant appearance and no sloppiness. The diverse assortment is impressive:
Life-size toy car models;
Game machines, consoles, consoles;
Real exotic animals;
Soft toys, dolls, kits;
Children's clothing, shoes, accessories.
There are also restaurants, a movie theater, a bank, a drugstore and a bridal salon. The store's signature feature is a Ferrari covered in black velvet that stands at the entrance.
The Disney Store.
Loved since childhood by children and adults, the Disney brand has opened five of its outlets in London, scattered around the city, in the best shopping centers:
Westfield Stratford City;
Intu Uxbridge;
Westfield London;
Harrods.
The main complex is located at 350-352 Oxford Street, within walking distance of the famous Bond Street. The huge space houses toys, casual and carnival clothing and accessories. The entire assortment is divided into departments with characters:
Star Wars;
Mickey Mouse;
Spider-Man;
Avengers;
Monster Corporation;
Princesses;
Cars.
The hall features a princess palace of incredible size, guarded by Donald Duck and Mickey Mouse.
Selfridges
Selfridges department store is the second largest and largest selling children's products in London and can be found at 400 Oxford Street, Marylebone district, Marble Arch subway station. The retail chain has been in business since 1909 and they also have branches in Manchester and Birmingham. The famous building is just north of Bond Street.
The children's department contains toys, a giant constructor, sets of leading brands:
Tinylove;
Lego;
Barbie;
Babyborn
Transformers;
My Little Pony.
Parents can safely leave their child with the animators, and in the meantime occupy their leisure time – do their hair or makeup, buy groceries, go to the movies. Stylish clothes from top manufacturers are also sold here.
Selfridges prices are designed for upper-middle class residents and tourists. But every year there is a clearance sale. You can tell by the crowds of passersby carrying their bright yellow Selfridges-Sale bags.
Benjamin Pollock's Toyshop.
One of England's oldest shopping complexes, located at 44 The Market, Covent Garden, has been open since 1856. The store is located in the heart of London and occupies two buildings of the past centuries. Get off at Piccadilly-Circus subway station.
Shop-museum contains collectible toys from different eras, including the Victorian. Entrance to the museum is 1.50 EUR for children and 3 EUR for parents. On the floor above you can shop. Opening hours are from 10:00 to 17:00 daily except Sundays.
The main emphasis of the store is fairy tales and theatrical performances. Here tourists can buy carnival costumes, 3D theaters, handmade toys, books based on English folk tales and works of Carroll, Kipling and Milne. There is a large variety of theatrical masks, ballet dresses, puppet theaters, music boxes, instruments, kaleidoscopes.
Cachao Toy Café.
The original toy cafe store is located at 142 Regents Park Road, Primrose Hill NW1 8XL. If coming from Bond Street, head north-west as far as Harringay, then turn south-west on the A503.
The entertainment venue is not far from the London Zoo. Usually after visiting the zoo, crowds of tourists with children go to the cafe. Here guests will be offered a children's play area with animators, fairy tale plays, delicious dishes that kids are crazy about – ice cream, pancakes, puddings, berry and fruit pizzas.
Family gatherings at Cachao are accompanied by children's goods shopping:
Creation kits;
Radio-controlled cars;
English dolls;
Tin soldiers;
Scaled-down replicas of cars;
Constructors;
Books.
Honeyjam
Honeyjam is an unusual children's department store located at 2 Blenheim Cres, in the Notting Hill neighborhood. The building stands east of the intersection of Westway and Ladbroke Grove. Its creators and owners are parents of seven children, so they know exactly what little shoppers need.
Locals have long nicknamed Honeyjam a treasure trove, a hundred easy to explain when you visit the store. The range impresses with a combination of classics, antiquity and excellent quality products. It is impossible to leave without shopping. Jasmine and Honey, the couple owners, have stocked the halls with all kinds of goods:
Warships and pirate ships;
Princess castles;
Dollhouses;
Teddy bears;
Heroes of the puppet theater;
Cars, designers.
In the collection of the store there are rare items made in the early twentieth century.
Mystical Fairies.
Large playhouse located at 12 Flask Walk, NW3 1HE in the city center between Oxford, Reading, Colchester and Canterbury. Exit at Hampstead station. The department store is designed more for girls than boys. All the sales clerks on the sales floor are dressed up as fairy characters – fairies, princesses, butterflies. A favorite of all generations is the famous Tinker Bell, who sprinkles magic dust on the guests.
Young female customers can pick up fashionable outfits – scaled-down copies of dresses by Dior, Versace, Lagerfeld. Skilled craftsmen do fabulous makeup and aqua makeup. Tourists buy the most trendy toys and accessories:
Dolls, houses, baby borne dolls;
Theatrical costumes;
Old English books;
Tea sets;
Game developmental sets.
The range is represented by such companies as Fisher Price, Tinylove, Lego, Hasbro, Monster-High, Littlest PetShop.
Science Museum Shop
The Science Museum Shop can be found on Exhibition Rd, SW7 2DD, in South Kensington. Drive to South Kensington station. Nearby are the Albert Hall, the Art Gallery and the Victoria and Albert Museum. It is open from 10 a.m. to 6 p.m. every day except Christmas and admission is free.
The Science Museum Shop includes 7 glass-roofed floors. The exhibition includes 10,000 rare objects from the field of science and technology. Each floor is decorated according to a specific theme. Among the exhibits are chips and gears of watches, car engines, ships and helicopters. On the first floor you can buy the items you like:
Radio-controlled airplanes;
Voice Transformers;
Microscopes of the last century;
Telescopes, telescopes;
Constructors of motors, engines.
The collection is collected from exhibitions, fairs, and royal galleries over 150 years. Each item has a telephone number beside it, from which you can find out information about the item.
Trotters
The Trotters shopping and entertainment complex at 34 King's Street, SW3 is an entire children's kingdom. Located in Richmond, Sloane Square Metro. Englishmen know the characteristics of Trotter's Bazaar, which appeared in the mid-19th century. Back then, a wealthy landowner allocated the street to the wives, daughters and widows of soldiers who had died in the Napoleonic wars. The women traded handmade goods, but the area soon became popular with parents.
Today, Trotters is a huge building on King Street, offering tourists and locals a good assortment of goods:
Brand-name toys;
Stylish clothes and shoes;
Rare souvenirs;
Toy replicas of cars;
Teaching aids, books.
Here it is not necessary to make purchases – any toys are allowed to play for an unlimited time in specialized rooms.
Other children's toy and merchandise stores in London
"Traditional Toys – Godfrey Street, SW3. Traditional products with no frills, but perfect quality;
"Early Learning Сentre – 74 Kensington High-Street. Department store with educational games for toddlers;
"Catimini – 52a South Molton Street, W1. Contains an expensive assortment of premiums;
"Compendia Traditional Gamеs – 11 The Market, Greenwich, DLR Cutty Sark. Board games for teenagers;
"Slam City Skates" – 16 Neal's Yard, WC2, Convent Garden. Children's sports goods, bicycles, skateboards, skates.
A shopping tour to London is often a dream for women. Children do not have to be bored while moms try on outfits, they can be taken to one of the toy stores in London – emotions are provided for the whole family.
Fun with the family: 10 fabulous places to take the kids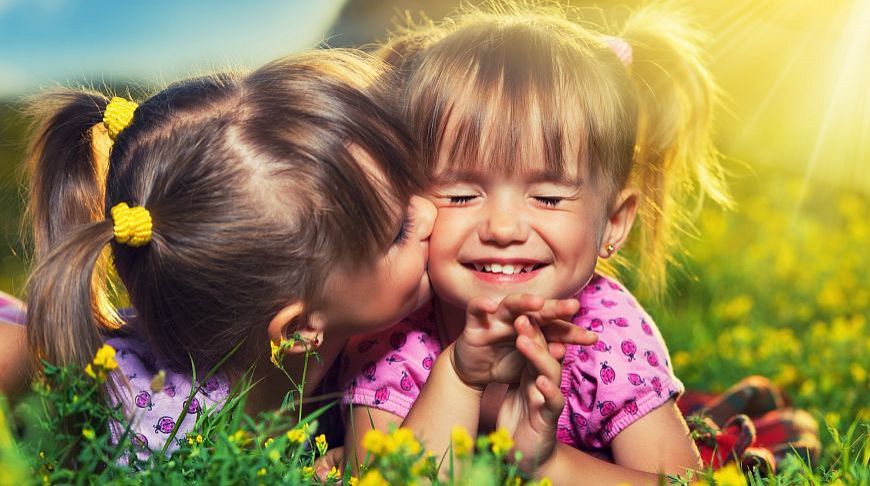 Planning a weekend in and around London with your child? Zagranitsa has listed ten great places for you to go! You will have lunch accompanied by the sounds of nature, meet predators, Lego mazes, shop in a huge toy store, extreme attractions and Harry Potter himself! Fledgling toward childhood?
Hamleys Children's Shop
A toy paradise that leaves no child indifferent! London's oldest children's store is located in the main entertainment district – Soho. The store occupies 7 floors, and its range of goods – more than 50 thousand items. Among them: stuffed toys, dolls, designers, cars, board games and educational games. The store also regularly holds entertaining themed events. Be warned: you cannot leave Hamleys without buying!
Price of the issue: the cost of toys starts from 3 pounds.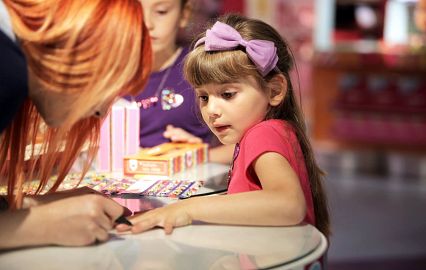 Princess Diana Playground
The playground at Kensington Gardens is named after Princess Diana. Here your child will feel like a real Peter Pan, as the place is decorated in the style of the famous story. Kids love the giant wooden ship. The adults are not ignored here, too: there are a lot of benches near the playground. If you're hungry, you can buy fresh salads and drinks there. The playground is open from 10 am until dark.
Price of question: free of charge.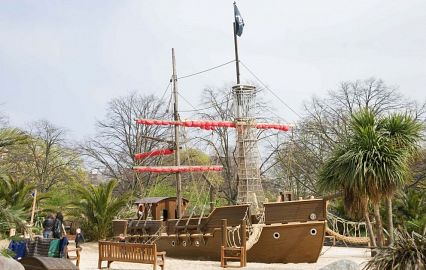 3
Legoland
A huge amusement park will appeal not only to children but also to adults. It is located in Windsor, 20 km from London. The park has 55 themed rides: cars, water slides, puzzling mazes and models of sights made from Lego. Do not forget to take a bathing suit for a child, because your child is sure to want to play in the pool with bright toy animals or climb the Drench Towers – the largest water constructor in the UK. For those who want to spend a few days at Legoland, there's the Legoland Windsor Resort nearby.
The cost is £48 for adults and £44 for children.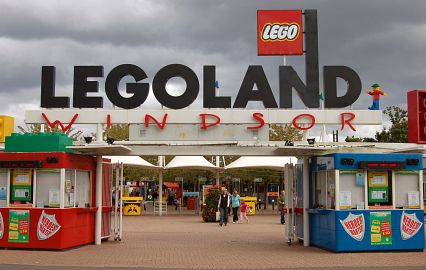 4
Harry Potter Museum
If your child is a Harry Potter fan, this place should definitely be on your weekend program! The museum is located in the pavilions of Warner Brothers Studios in Hertfordshire (30 km from London). This place keeps all the sets from the filming of the movies. Not only can you see Harry's house and Dumbledore's study and then check out Slanted Lane, you'll become part of the magical world yourself! After the tour, you, just like the characters in the franchise, can have a creamy beer at the Studio Café and try the famous "surprise" sweets. Don't forget to pop into the gift store for a magic wand – you won't find a better gift for a child!
Price: £33 for adults, £26 for kids.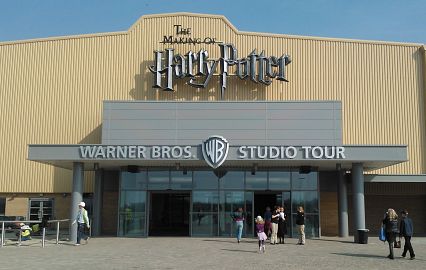 5
Thorpe Park.
Want to spice up your weekend? Thorpe Park is one of the most adventurous parks in Europe. It's in Surrey, just half an hour from London. Thorpe Park has a mix of aerial and water fun. One of the most popular attractions is Nemesis Infernu, where you can hurtle under the wings of a tumbledown plane at 50km/h and hurtle through a billboard. The highlights are Loggers Leap (a boat trip down a fast-flowing stream) and Wet Wet Wet, which is a waterslide for the whole family.
Price: £50.
6
Chessington World of Adventures Resort
It is a synthesis of all kinds of entertainment! Here you can ride rides, swim in the pool and come face to face with wild animals. The extreme part of the park is divided into 10 themed areas with rides for both children and adults. Seastorm (wooden boats on water), Flying Jumbos (merry-go-round in the form of animals) and many others are popular with children. Do not forget to visit the zoo to see the wild animals. Here you can see lions, tigers, gorillas, penguins, zebras, flamingos, rhinos, etc.
Price: from £26 for a guided tour of the Aquarium.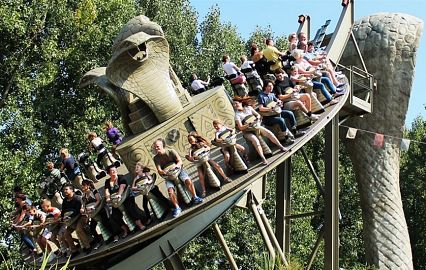 7
Sea Life London Aquarium
London's largest aquarium is located in the historic County Hall building. Your child will certainly be interested to watch the sea creatures, of which there are more than 500 species from all over the world! From crabs and tropical fish to rare sharks. You can see penguins, seahorses, stingrays, piranhas, etc. If you want to make a trip to Sea Life London Aquarium a memorable one, you can dive into the aquarium and feed the fish.
Price: £26 for adults, £20 for children.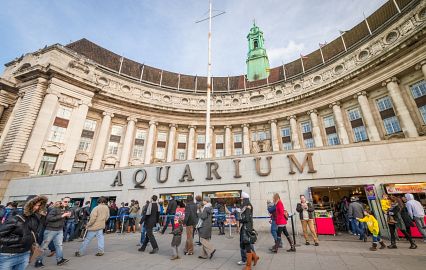 8
London Transport Museum
The London Transport Museum contains vehicles, some of which are almost 200 years old! It includes Britain's first transport – the omnibus (horse-drawn carriage) – and the first Tube cars, as well as modern forms of public transport. You can also buy souvenirs from the museum and sample themed dishes at a local cafe, such as a cocktail featuring the Underground logo.
Price: £16.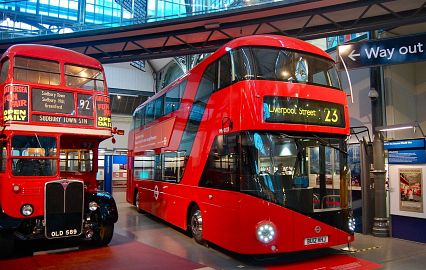 9
Hyde Park
Hyde Park is one of the capital's "royal" parks. Both tourists and citizens love to relax here. Despite the fact that it is always full of visitors and sometimes there are rallies, everyone can find a cozy place for themselves thanks to the impressive size of the park. There are lots of fountains, beautiful alleys and benches. Picnics are often held right on the lawns. A popular place in Hyde Park is Serpentine Lake, where you can go boating or swimming. Or take your child for a game of tennis or horseback riding.
Price of question: free of charge.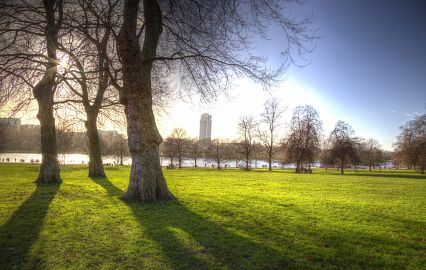 10
Rainforest Cafe
Your child will definitely not refuse to eat here! The design of the restaurant is made in the style of the jungle, and as audio effects are used sounds of nature and the voices of animals. You will feel as if you are in a forest thicket! The menu is designed both for adults and children. Children will be definitely pleased with a huge choice of ice cream and sweets. Particular attention is paid to the design of dishes, which is also sure to awaken your child's appetite.
Price point: the average bill is 25 pounds per person.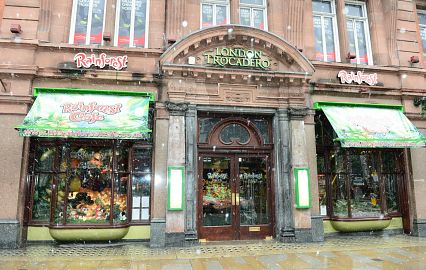 For even more London places that will interest you and your kids, check out our Guide.