I want to share here my FREE Travel and Tour in Camarines Sur with my mom, aunt and cousin. It was my aunt who invited us there, meaning, she took all the expenses even the gasoline. LOL!
Actually, getting there in Camarines Sur was our third stop, if I'm not mistaken, after Legazpi and Naga Cities.
Shown in the image above are some colorful inflatables which we enjoyed most and also me and my mom. We're supposed to try the water sports – water boarding, in Camarines Sur, unfortunately, exactly the day we arrived there was the same day the cables were out of order. So we just decided to feel our moments at CWC: Lago del Rey, just in front of the water boarding area.
That's me above, so silly me. I fell to the lake and that so-dark-colored lad there helped me got back to the, I don't know how to call that, something something. LOL! Just so, I got wet.
This is my entry for: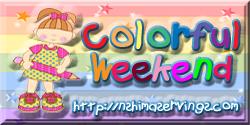 Pardon me guys if I can't drop at your blog this week, I still am sick today, and hoping to get well very soon. I will drop at your entries next week. Have a great week ahead!