tatianaksii
I hope that my last post cheered up everyone who reads my diary a little bit, but I don't have to talk about me… So today I'm going back to my usual routine of taking notes about Japan, where I am now! So I'm in Hokkaido! For those who don't quite know where it is, I'll tell you that it's only 40 km from Sakhalin. It's the second largest island in Japan (after Honshu). Hokkaido is connected by a long tunnel Seikan, which is 240 meters deep and 100 meters below sea level. The underwater part of the tunnel is 23.3 kilometers long, and its total length is almost 54 kilometers. Today it is the longest railway tunnel in the world. But it was boring and long to drive through it, so we took a plane and flew from Tokyo to Obihiro in just 1.5 hours. In the winter we already flew to Hokkaido to take pictures of cranes (who remembers), but then we flew to a different airport named Kushiro and now we have to explore the other, more western part of the island wonderful for its natural wonders. From the airport to the hotel we got for a long time, about an hour and a half, the views were beautiful, no buildings or cities – only nature and the road. Our first destination is a place called Tomamu. There we are going to spend 4 days to see a stunningly beautiful phenomenon – Unkai Terrace. Approaching the hotel, which is a large hotel complex Alpha Tomamu Towers, located in a mountain valley. The unprepared tourist will have a culture shock, because in the natural area you expect to see anything but 4 skyscrapers. And when I was still in Moscow, I looked at this hotel, at first I thought it was a joke. J Actually, to dwell on it does not make sense, I will only indicate that anyone who wants to see their eyes terrace Uncai, stop here, because every morning, from the doors of the towers begin to walk to the bus shuttle, which then takes tourists up the mountain to the observation deck. I had to get up early, almost at 3 am, because the first bus left at 4:30 am and when I saw the queue for that bus, it was clear that one had to take it at 4 am, otherwise one wouldn't be able to stand in it. When you see that line, it is clear – why these high-rise hotel buildings were built here. So many people simply would not be possible to place on such a plot of land. We were the only two Europeans my husband and I were with, while the rest of the tourists were half Japanese and half Chinese. So it was impossible to get lost there, we could be seen from a kilometer away J Access to Uncai Lookout is open in the morning hours from May 16 to October 17, and at noon hours from July 25 to August 2. To see the unforgettable natural creation in all its glory, it is best to visit in the morning. The first gondolas start going to the top of the mountain, to the terrace, depending on the period at about 4:30-05:00 am and stop at 07:00-8:00. You have to pay about $20 for one such climb. And everything would be fine, except for one big BUT – all the beauty with a ridge of clouds, which I dreamed so much, it is actually very, very difficult to see.
The temperature regimes in this place must somehow magically create these very clouds and then they really cover the whole valley, but this happens quite rarely, and we, having arrived there for 4 days, did not see all this once. To get up every day at 3 a.m. and in the middle of the day eyes already did not look at anything, and in the head was only one thought – would it be possible to see these clouds tomorrow. One day, coming up in full gear to the parking lot of the bus shuttle, we were all sent to their hotel rooms because of the strong wind, which rocked the cabins elevator. You should have seen the disappointed faces of the people… because 95 percent of all those who come there stay only 1 night, in the full belief that the clouds are there waiting for the tourists. And those people were with babies, I felt sorry for them, I can imagine what a struggle it was to get to such a far away with their children, and even get them up in the middle of the night in the dark and cold, because it was +5 outside. So I didn't take good pictures (sorry), though it was beautiful to watch the sunrise, cutting through the black peaks of Tochachi and Hidaka. By the way, that's how Uncai is translated from Japanese – "sea of clouds. Well, maybe I'll get to enjoy this beauty someday!
Uncai Terrace – grab a cloud by the tail. Japan
Amazing beauty of our world surrounds us everywhere and always, gives us unforgettable moments and leaves an indelible mark in the memory forever. Especially if you find a place where a concentration of adrenaline and impressions just off the scale. These qualities are famous for mountain viewing platforms. You can get your nerves tickled and feel the power and primordiality of the Earth. And if you are lucky with the weather, you will take two suitcases of photos.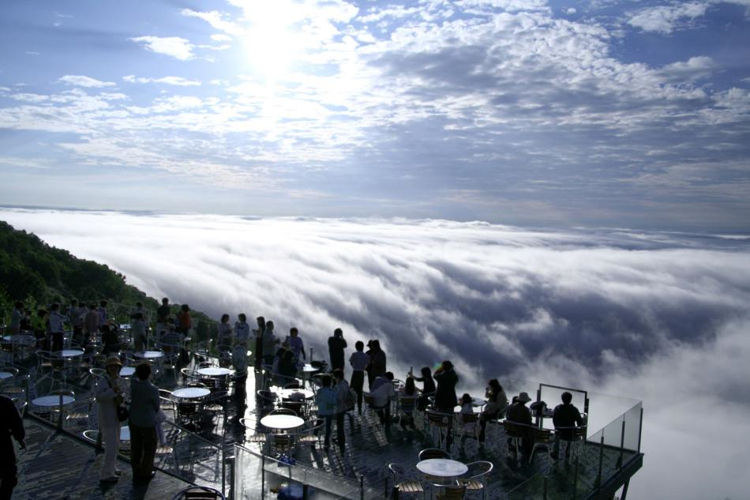 For those who love mountains, clouds and serenity our planet has saved a lot of wonderful places. For starters, it's worth visiting the famous observation deck "Five Fingers" in Austria. But if Austria is far away and Japan is close by, there is also a truly mesmerizing place. The Uncai Terrace (which means "sea of clouds" in Japanese) is an amazing observation deck above the clouds.
It is located on the big northern Japanese island of Hokkaido, about 100 kilometers to the south of the interesting Blue Pond Beey (if you have time, you should definitely go there). The nearest large city is Obihiro, 55 km to the northeast.
Uncai Terrace on a map
Geographical coordinates 43.076933, 142.598682
Distance from Tokyo, the capital of Japan approximately 860 km
Distance to the nearest airport is about 85 km
The viewpoint is located at an altitude of 1088 meters above sea level. You can't say it's crazy high. But it is not the altitude that attracts travelers.
What is it that attracts tourists from all over the world? After all, a countless number of mountains on the planet has grown. What is so remarkable about this place?
Uncai Terrace is one of those places on Earth where you can see how clouds are born. Fluffy white waves float right under your feet, swirling in a swirl and creating whimsical splashes. "Sea of Clouds"-another name is simply inappropriate (well, if only "Ocean of Clouds").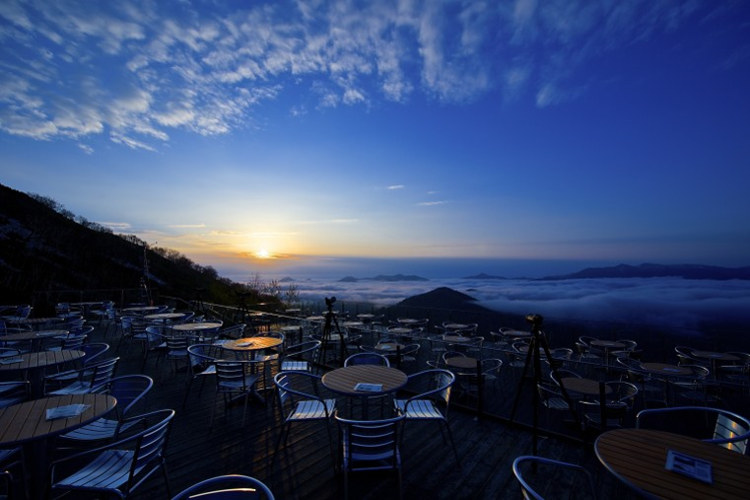 Here thoughts stop before the pressure of disarming beauty. There is no desire to be angry, no desire to swear – only contemplation and appeasement. True, the sea of clouds does not always appear here, but only at dawn.
Scientific explanation
From a scientific point of view, the appearance of such an interesting natural phenomenon is explained simply. At dawn creates the maximum temperature difference in this area. Plus there are geothermal springs in the valley. Together, this creates such an unreal fluffy ocean. If the weather conditions are perfect, Uncai Terrace finds itself literally on the shore of this white and enchanting sea. Right at the feet of visitors, cloudy waves roll over peacefully.
Unfortunately, this does not always happen. You can observe the sea of clouds here no more than 40% of the time, and that mostly only in the mornings. At other times, the cloudy ocean "shrinks and dries up", exposing the beautiful mountain scenery.
Uncai Terrace became widely known in 2005, when the ski elevator system was launched here. Only 13 minutes on the way and you are on the terrace. In general, the area is very cozy, there is a small café, tables and railings in case someone wants to swim in the "sea of clouds".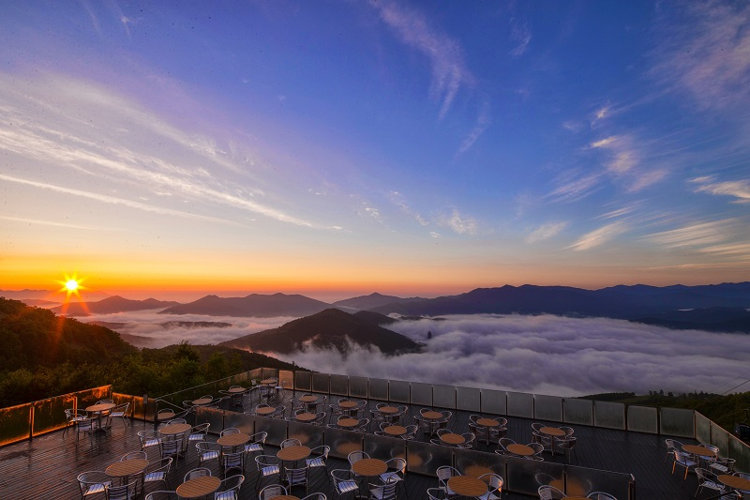 Uncai Terrace is available to visitors in the mornings from mid-May to mid-October. The elevators start running from about 4:30 to 8:00 a.m. Then at lunchtime from about 11:00 a.m. to 2:00 p.m. There is a fee to visit the attraction, but it is worth it. It is best to get here before sunrise, then in the rays of the rising sun ocean of clouds looks especially amazing.
But you can not count on the solitude here. Such a stunning place sometimes attracts up to 2,000 tourists a day.Sometimes, in a particularly cloudy weather valley obscured by heavy fog, then you can enjoy the cleanest mountain air and walk the trails. But the next morning, run to the elevator and back up again. It's a great crime not to take the opportunity to contemplate such a natural effect.