All about vacations in Uruguay in 2022
A diminutive country with a vibrant character and pure soul is what the people of Uruguay say about their country. A tour to Uruguay will bring a touch of freshness to your life. Vacation in Uruguay is a great opportunity to sunbathe under the gentle rays of the hot sun. The best time to lay on a Latin American beach is from December to April. You can see snow-capped peaks and crisp snow from May to November. Read about this interesting country, who knows, maybe you will go there on vacation in 2022?
General information about Uruguay
A brief historical background
As in many South American countries, before the colonization period, Uruguay was inhabited by members of Indian tribes, not united in any state. Colonizers from Spain discovered the territory in the 16th century, but it was not until the end of the 17th century that the Spaniards gained a foothold in the area, establishing the settlement of Montevideo. A century later, the territory of Uruguay – then called the Eastern Strip – officially belonged to Spain.
The 19th century was marked by the beginning of the struggle for independence. Courageous gauchos fought against several major powers, and in 1825 the territory gained sovereignty.
After independence, Uruguay followed a path of political and economic development. The world crises of the 20th century hit the country, but by the end of the century the situation had leveled off. Uruguay is now one of the most developed economies in Latin America, and the country has adopted many liberal laws.
Geographical information
Uruguay is located in the southeast of the South African continent. It has access to the Atlantic Ocean. It borders on Brazil and Argentina. By its relief the country is various: there are both hills and lowlands. Numerous rivers flow through the country. The largest rivers are Uruguay and Rio Negro. There are not many forested areas in the country. As for the fauna, it is quite diverse, but some species are threatened by fishing activities.
Uruguay on a map
Climate of Uruguay
The climate of Uruguay can be attributed to the subtropical type, felt the proximity of the ocean – high humidity and fogs. The country has almost no sub-zero temperatures, except when the air currents from the south – pambero – intensify. The average temperature in January fluctuates around 25 degrees Celsius, in July – about 10 degrees Celsius. Since the weather in Uruguay clearly depends on the time of year, you should plan your trip to the country with these features in mind. Of the unpleasant weather phenomena, periodic storms can be distinguished.
The high season for summer, beach holidays is considered the period from December to April.
Safety in Uruguay
Uruguay belongs to the stable and calm countries of South America. There are no special disturbances or uprisings in the country. Even the capital, Montevideo, is safe in almost all areas. Many travelers note that Uruguay, more than any other neighboring country, has a European spirit and approach.
Therefore, in terms of safety travelers can give only general recommendations: do not carry all available funds, carefully handle expensive equipment, do not leave your belongings unattended, behave respectfully – and then the friendly Uruguayans respond to the tourist the same.
Visa to Uruguay for Russians
This friendly country also shows this quality in its visa regime. If the purpose of travel is tourism, there is no need for preliminary registration of a visa to Uruguay, and you can stay in the country for up to 90 days per half year. Crossing the border, the traveler simply presents documents, return tickets and gets the cherished stamp in the passport.
How to get to Uruguay and travel around the country
There are virtually no direct flights from the Russian Federation to Uruguay, so the traveler will most likely have to make a connection in Europe – as a rule, this will be the capital of Spain, Madrid. A one-way flight will cost about 40,000 rubles. International flights land not far from the capital – Montevideo.
You can also get to Uruguay from Argentina by ferry.
As for travel within the state of Uruguay, there are different options. Air service within the country is well enough developed, but those who like traveling by train will have a hard time, as passenger transportation is not available to all destinations.
But in Uruguay excellent bus service between cities and even have routes to neighboring countries. The authorities of the country are trying to ensure safety, comfort and even environmental friendliness – so, a couple of years ago were introduced eco-friendly tourist buses running on electricity. The buses have air conditioning and even free Internet connection.
As for travel within the city, it is also mostly buses – both public transportation and tourist routes. Traveling by bus in Uruguay, you can save money: the prices for transport are quite tolerable. There are also shuttle buses and regular cab services, you can rent a car. It will cost about 3000 rubles per day.
As for the cab drivers, you can "catch" them with the usual gesture – a raised hand. Free cabs are marked by red signals. A cab ride is inexpensive, but it is customary to leave a tip.
Hotel infrastructure of Uruguay
As for the major cities, especially the capital, Montevideo, hotel infrastructure offers different options for all tastes and wallets. So, to stay in a 5-star hotel of a world brand, which has bars, swimming pool and casino, will cost a tourist an average of 6,000 rubles if booked early. But there are more expensive and elite and budget options. For example, the economical and unpretentious tourist can spend the night in a hostel for 700 rubles, and the one who arrives for a long time, can rent an apartment – a month will take about 20,000 rubles.
Speaking specifically about Montevideo, the safest area of the capital, in addition, having all the conveniences, is the beach district of Positos.
Those wishing to experience the unique atmosphere can be advised to find small and private hotels, which exist in all major tourist cities. Sometimes such hotels are not as comfortable as typical institutions, but make up for the inconvenience and the price, and a unique atmosphere – for example, the location in an old mansion.
Attractions in Uruguay
The fabulous country of Uruguay surprises with its truly rich cultural and historical heritage. On the territory of the state you can find fortresses, defensive constructions, attracting mystery. Amazing Uruguay is famous for its picturesque landscapes and wonderful tourist opportunities. For those who like to plunge headlong into the boiling and bustling night life there are all conditions to make the cherished dream come true.
Montevideo
Montevideo is the pearl of the country, its capital. Virtually 80 percent of the country's population lives here. In Montevideo, you can combine beach holidays and sightseeing, which certainly is not enough for a couple of days. Montevideo can be divided into three parts: the old and new town, as well as the beach and tourist area.
The old town of Montevideo is the heart of the capital. The narrow streets, nestled next to each other, are perfect for a leisurely stroll. Montevideo was founded by the Spanish colonizers, which is why the old neighborhoods have a lot of architectural monuments from the colonial period.
The majestic cathedral of the Uruguayan capital is located in the oldest square of the city, Constitution Square, in the center of which there is also an interesting fountain. The basilica was built in the neoclassical style and is an architectural landmark of the country. In the cathedral rest the remains of famous national heroes.
Near the Constitution Square is a pedestrian street Sarandi, the local equivalent of the Arbat. Artists and musicians create a unique atmosphere. It is worth visiting the souvenir shop and bringing something from traditional Uruguayan souvenirs:
Mate tea brewing utensils;
soccer paraphernalia;
leather goods: bags, belts, shoes;
Clerico drink made of white wine and fruit;
products made of wool, wood, ceramics.
Another famous square – Independence Square – is also a must-see tourist attraction. There is the Salvo Palace, once the tallest building on the continent. In addition, the square stands the majestic building of the Solis Theater, on the stage of which world stars of opera and ballet have performed, the theater is available for visit with a guided tour.
Those interested in learning about Uruguayan traditions should go to the Gaucho Museum. The gaucho is a socio-ethnic group, a kind of local cowboys. At the Gaucho Museum you can learn in detail about the history of this group, its traditions, and admire objects of everyday life and art.
On the high hill of Cerro de Montevideo there is another attraction – the local fortress, the last of the forts erected by the Spaniards. It is now home to an exhibit that will be of interest to all fans of military art.
For food, hungry after a long walk, be sure to visit the local market: Mercado del Puerto.
Other attractions in Uruguay
In addition to the capital, the traveler will be able to find many other wonderful places to visit around the country, each of which is interesting in its own way.
Island of Lobos
The island of Lobos will appeal to everyone who loves natural beauty and is moved by the exotic representatives of the animal world. The fact is that this island, located in the waters of the Atlantic, is home to the largest colonies of sea lions and harbor seals. You can get to the reserve by boat. The animals don't wait long; they feel at ease and swim right up to the piers.
Punta del Este
Punta del Este is both one of the country's best resorts and a haven for entertainment enthusiasts. However, the most interesting thing to see here is live, real whales. If you go to the resort during the period from July to December, you can see the individual whales just off the coast. These majestic animals as if performing a dance.
Also in Punta del Este is an interesting sculpture – an example of late 20th century art. This sculpture is a hand, sunk in the sand.
Places to stay in Uruguay
Not all tourists want to live in the capital, there is a category of travelers who seek a more peaceful and secluded vacation. In addition to Montevideo, Uruguay has several villages that have proven to be excellent vacation spots for some time.
Thus, a village called Jose Ignacio used to be a simple fishing village. Tourists learned about this place, and slowly hotels began to appear there. Now it is a great place for those who value peace and quiet.
Away from Montevideo with its throngs of tourists are a few more small villages where vacationers are waiting for clean water, beaches and tranquility. These settlements include La Paloma (great choice for surfers) and La Pedrera (good place for fishing).
Entertainment in Uruguay
Uruguay is known not only for its natural beauty and wonderful architecture. Every year there are jazz festivals and national carnivals. The most famous of them held in Montevideo, interesting that this carnival is the longest in the world and lasts about 80 days. All this time in the capital city are parades, masquerades, you can enjoy music and dancing and watch the magnificent fireworks.
In addition, the country can be entertained in international ways. Major cities and especially the capital offer tourists a lot of entertainment: nightclubs, amusement rides, water parks, parks and more. Montevideo offers windsurfing and kitesurfing, where you can rent equipment.
Cuisine in Uruguay
Uruguayan cuisine is a mixture of Indian, Latin American, and Spanish traditions. Fans of hearty and meaty dishes will love it in Uruguay: the main method of cooking is on the grill, the best meat is beef. Sweet tooth will love churros, richly flavored with powdered sugar or stuffing. Uruguayan cuisine is heavily influenced by Italian cuisine, so fans of pizza and pasta will also have something to eat. Mate tea and good local wines are also worth a drink.
Dinner at an average restaurant will cost about 1000 rubles.
So what is so interesting about Uruguay? Of course, what makes this country different is that it is friendly to all tourists. An excellent level of security and a good environment are favorable for the most wary travelers. Along with the fact that Uruguay has a certain European mindset, there is also a strong influence of tradition. Uruguayans value their culture and are willing to let everyone experience it. Positivity, tranquility and a pleasant atmosphere await everyone who goes on vacation to Uruguay in 2022.
Uruguay vacation reviews
Uruguay is a country in South America and has a capital city. Really! Montevideo is the capital of Uruguay. From here it will be clear even to a fool – how to get to Uruguay, as well as what it is – Uruguayan visa for citizens of Russia. Uruguay is bordered to the north by Brazil and to the south and west by Argentina. The country is mostly agricultural.
More than a third of the population lives in the capital, Montevideo, which is a major port on the Atlantic coast of South America. Uruguay reviews . Self-guided travel in Uruguay. And in general I don't take you for fools by writing this – all just for my favorite spyders.
Got off the B-747 flight to Sao Paulo, Brazil with great pleasure. What old stuff Lufthansa uses – just creepy. Went out into the fresh air of a Brazilian early morning. It's not hot yet. All the usual – it's Brazil, almost home. But what about my travel companion, with whom I must make a decision now, so to speak, to keep the briefing – what to do next? No companion, does not respond to sms.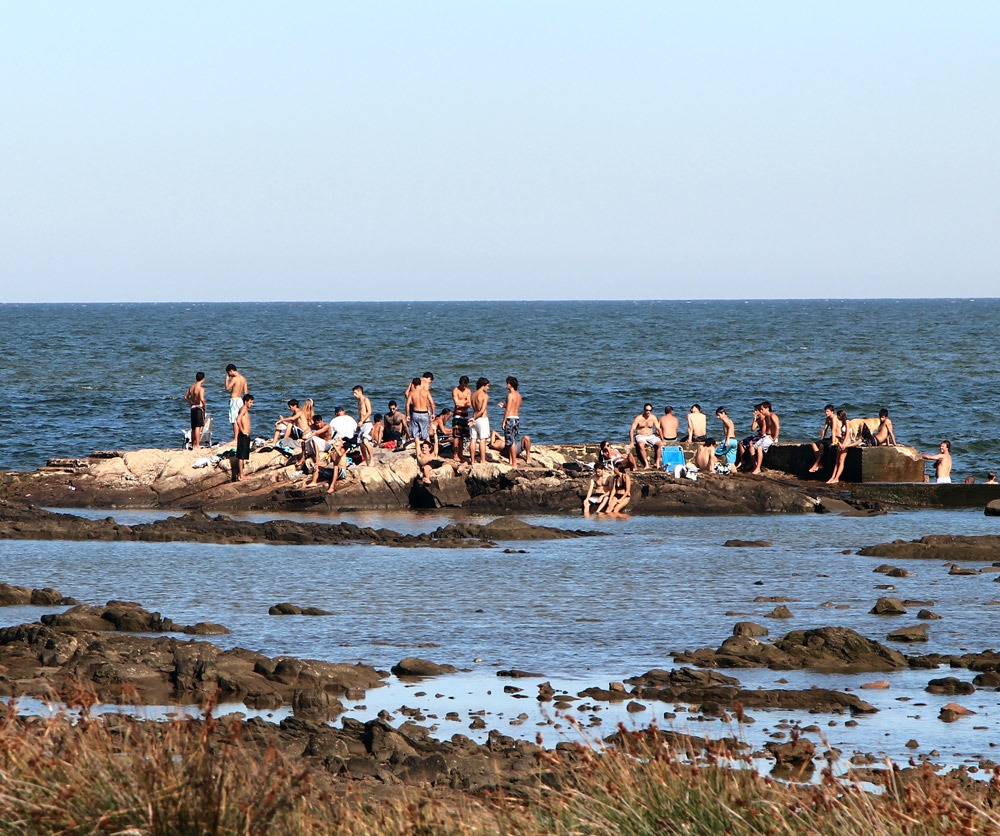 Ok. I finish my cigarette and go up to the departure lounge: the decision to go to Uruguay goes without saying: I've never been to this country, so why not have a meal in a restaurant, swim in the ocean, and meet the Miss Uruguay? I don't see any barriers.
How to get to Uruguay
There are several companies flying to Montevideo. While still in Moscow I found out via the cheapest ticket search site that the most convenient for me flight to Buenos Aires via Montevideo leaves at 10 am. And the two shoulders are cheaper than just the direct flight to Montevideo.
I go to the Plune airline check-in counter in the departure hall of the airport in Sao Paulo and find out where the ticket office is. At the ticket office I check the price again (it was the same as the one I found on the Internet), and buy a ticket to Buenos Aires via Montevideo. Then I check in and buy the boarding pass from Montevideo to Buenos Aires, because I didn't need it. Then I go to the nearest cafe, order a beer and buy a month of VEX WiFi Internet available at all airports in Brazil – it will come in handy. It costs 19 reais.
Now I have a connection. I find out that Oleg Embrujo (a citizen of Ukraine) has not received a visa for Uruguay and is currently on a bus to Foz de Iguasu, in order to cross over to the Argentine side and continue to Buenos Aires. I go to a hotel search site and book a hotel for one night in Montevideo Hotel London Palace, choosing it because of the location, free parking, reviews, and availability of internet in the room. Everything.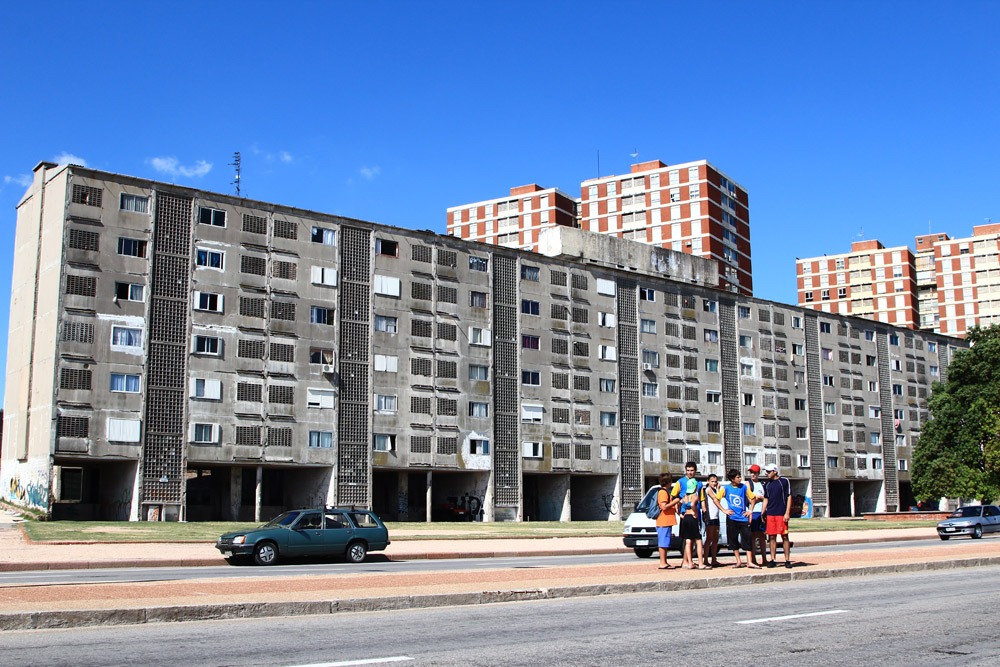 Time enough for one more cigarette outside and then it's time to board the plane. The flight time from Sao Paulo to Montevideo is 2.5 hours.
Flying over Uruguayan territory. What can I say: fields, fields and fields all around. The land is as flat as a pancake, plowed and sawed off between peasants.
Uruguay visa for Russians
Russians in Uruguay do not need a visa. Passing passport control in a few seconds. No questions asked. A simple immigration card is filled out on board. That's it.
Welcome to Uruguay! The first signorita you meet will pour you a glass of Chivar Regal whiskey (depending on whose promotion this week).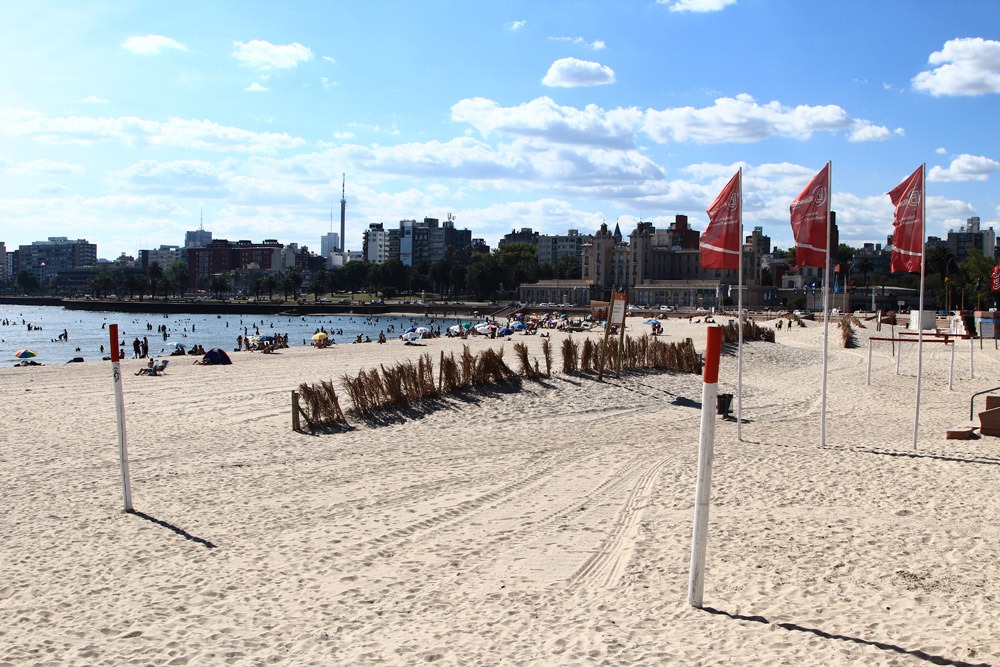 Money in Uruguay. Currency exchange.
It is better to change some money at the airport. I didn't really change – I withdrew from an ATM in the city, but it took me a while to find it.
So have plenty of cash: in Montevideo restaurants when you pay in cash you can get discounts, some restaurants don't accept cards. For some reason they don't like MasterCard very much, it's more about Visa.
I did not see any currency exchange in the city – maybe they change it in the banks, I do not know. As usual in South America, there are huge lines at the banks. So avoid wasting time and plan for the amounts to be exchanged. There are exchange offices on the main street, Lenin Avenue in Montevideo, on Avenida 18 July. In Montevideo there is a cashier's office with several windows, to which serious lines line up.
Rent a car in Uruguay
You may puzzle over whether to rent a car or make do with a cab… When I say that a cab from the airport to the center of Montevideo costs $30 you may make the right decision, as I did when I booked a car at the Montevideo airport through the car search and rental website abroad (including Uruguay). By the way, if you decide to rent a car locally, you will only overpay 20%, so decide – driving in Uruguay is easy and safe. The roads are good, no traffic jams.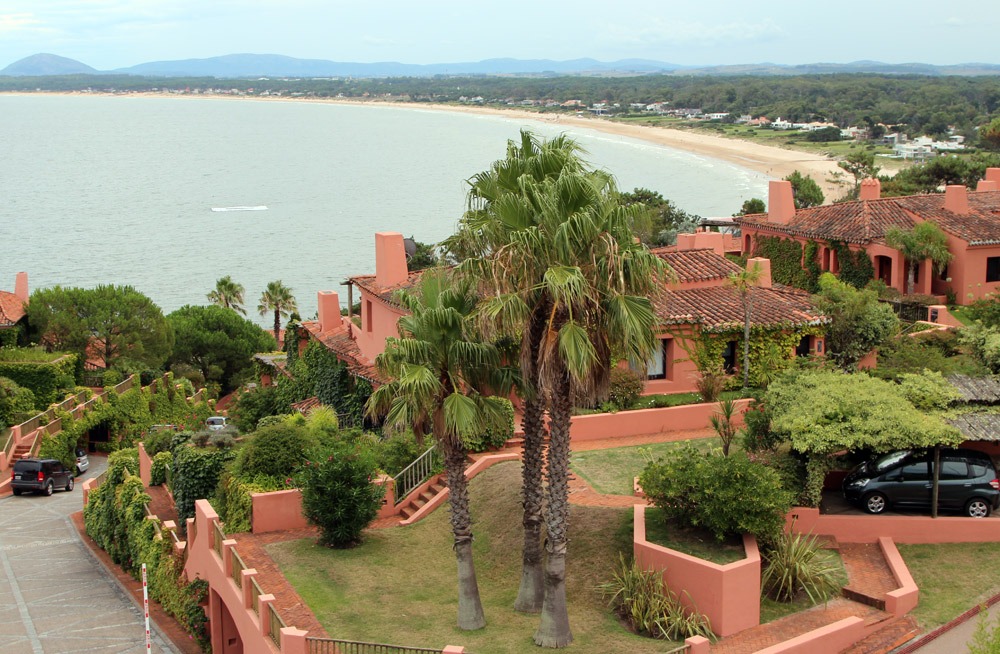 I'm not going to sit in the city: the first day I'll walk around, scout the nightlife, and the next day I'll drive along the coast. So I rented a car with change in 2 days in the port of Montevideo to continue my way to Buenos Aires.
When booking through the website, I have already paid the entire amount ($100), and there is no deposit because I booked a car with full insurance. Just took a slip off the card in case I didn't return the car by drowning in the ocean. They give me the keys. Drive the car to the exit of the terminal.
What does the traveler, that is me, have to do – to throw a backpack in the trunk, turn on the navigation, which I took from home with a map of South America (we have to travel a lot this time in different countries), smoke a cigarette and turn on the radio: the station to which the receiver is tuned responds to a beautiful song of Bee Gees and I leave in the direction of the city and my hotel.
The roads in Uruguay are good, no traffic jams. The drivers are polite and not jerky as in some places in Brazil, for example. It is sunny outside, about 30-35 above zero, the mood is relaxed: it's easy for me here in South America. I feel like I'm at home here.
Around the corner from my hotel is a good restaurant El Fogon The choice of meat is wonderful, almost Brazilian shurascaria: picanha, lamb, veal…. But, I take the grilled octopus. I wonder how they make it.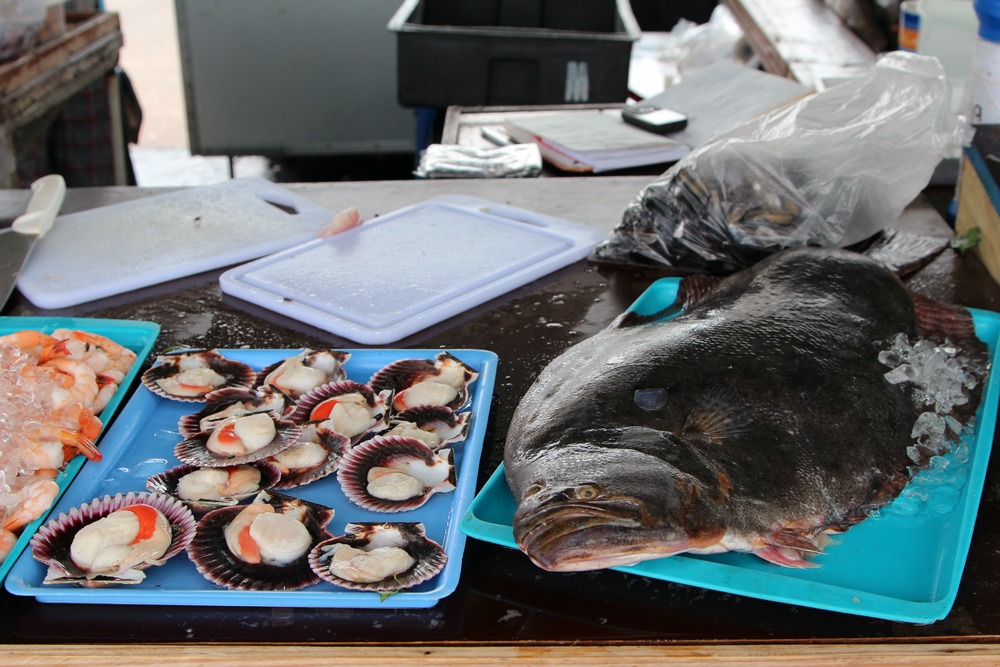 They do it beautifully: just the way it should be done – little peas of fallen off suckers separately on a plate, the dish is sprinkled with red allspice pepper and drizzled with olive oil. The quartered potatoes in the side dish are good – homemade baked. Everything is balanced and tasty. But the white wine makes me sad – worse than Argentine wine. In general this is not the place for good white wine – too hot in Uruguay, so the wine is sweet.
Cell phones and mobile Internet in Uruguay
Three cellular operators offer prepaid SIM cards. I chose Antel because the 256M tariff for 100 pesos suited me.
It has 3G, but for some reason the internet is not working. I was told that it would work in a couple of hours, but I didn't have micro SIM cards.
I did not have a micro SIM card, or at least Claro did, but Claro does not offer mobile internet, only calls and sms. To buy a card from Antel you needed 250 pesos and a passport. I didn't have my passport with me, so I made up his number and the office employee put it down in the contract. Of this amount the account contains 200 pesos, and 50 costs the chip itself.
The sea in Uruguay
I get in the car and drive out through the central Independence Square to the Rambla, as it is called here. The sea, of course, is so-so – you wouldn't think of swimming: in fact, the water here is a mixture of brown river water from the Rio de la Plata and Atlantic water. The color of the sea is brownish-greenish in places. There are almost no waves. The beaches with yellow sand are filled with locals.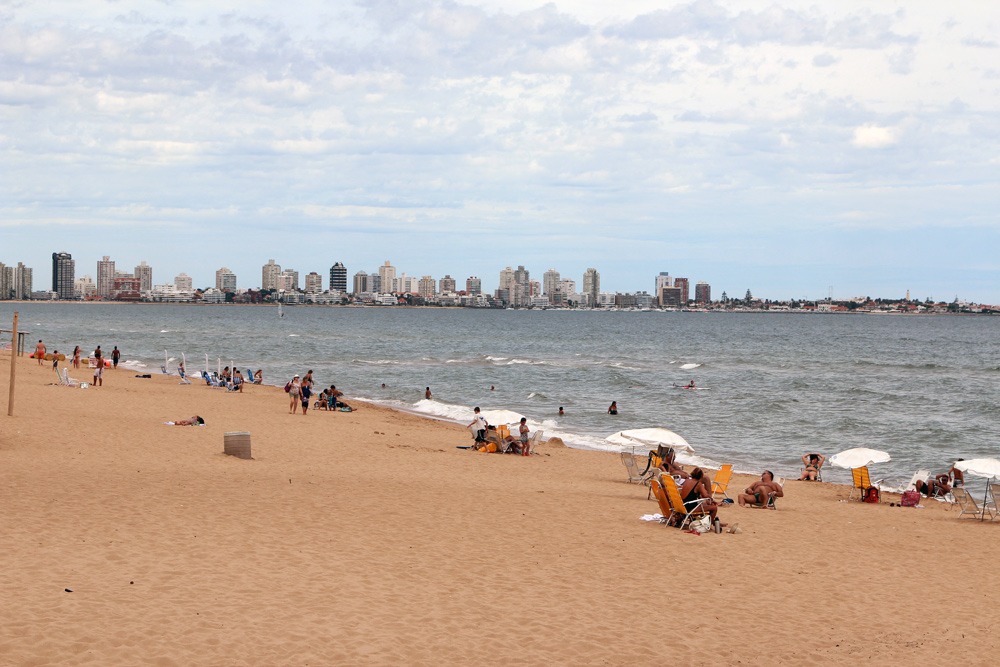 Almost like in Rio: life on the beach . In the morning with a chair under his arm and a cooler with beer people come here. But still not the same: in Rio is life, here is some kind of existence. There are no cafes, no tents with soft drinks, nobody plays soccer, and the beaches themselves are narrow and not very big.
The city of Montevideo: quiet, I would even say provincial and sleepy. Maybe this is the first impression during the day when it's hot and the inhabitants of the city, if they're not working, sit on the beach.
The houses are a bit monotonous, there are just ugly brick boxes. People are mostly white, very much like the inhabitants of a provincial town in southern Spain.
Women are very pretty, but most of them are some sissies. A lot of women look like Russian women, I admit that this is the case – I'm not going to harass tired housewives.
Money and credit cards in Uruguay
Mastercard, and I have cards of this particular payment system – all ATMs accept it. There are just not as many places with ATMs as in Moscow or any European city.
Hotels and restaurants also accept mastercard. Do not accept mastercard on board the airlines Pluna (booze is paid), where I was looking out the window sipping red Uruguayan wine. But that's no problem.
Punto del Este
What can I say: I've seen quite a few places like this around the world. From southern Spain to the Gold Coast in Australia. Family vacations with kids. Family vacation with colleagues at work. Family vacation in retirement.
A beer on a loggia under the shade of pine trees and overlooking the brown-green ocean. Discussing soccer under a barbecue in a designated area.
Folding chairs, moccasin shorts and a hawaii shirt on the mall promenade…. It's all so far away from me and so not my thing… Going back to Montevideo.
Took the ferry ticket from Montevideo to Buenos Aires with BQB (about it and the ferry below). It's $84 one-way. I'm sailing tomorrow at 1pm to see the Argentinians. Now to find a restaurant with good seafood dishes – can't find crab here.
Question on online forum:
Sergey, what navigator do you use on the road? What maps – Navitel? Which maps do you use – Navitel?
My navigator is Garmin, of course. I downloaded the maps of South America from torrent and uploaded the program Mapsurse.
The road from Montevideo to Punta del Este is very good. You can say that it is an autobahn. A wide lawn separates two lanes: two rows in one direction, two rows in the other direction.
There are two toll plazas along the way: there is a toll road. 50 pesos + 50 pesos is $5 for 100 km on a good highway. As soon as you leave the center of Montevideo, there are beautiful buildings along the road.
Almost Europe or Australia: glass in the windows to the floor, huge loggias, individual projects. I now understand why many people ask about Uruguay as a safe haven at the end of the years.
Yes, maybe, but it's not my thing: I'm not going to have a safe haven anytime soon. I am of course a retiree, in terms of my activities, but the retirement spirit is not even close to me: there is so much to see and do in the world that I just can't think of where to warm my bones.
In Uruguay is not expensive, so a lot of residents of the Argentine capital have apartments-houses here, the young rent apartments in condominiums, which are growing here like mushrooms – for residents of America Thailand is very far, so the Thai boom here in Uruguay, for example. Yes, the devils are wintering….
If you compare Honduras for example and Uruguay, personally for me Uruguay looks quieter and of course mini is good for exploring new places, although I suspect that Canada is still more beautiful, although much more expensive. It's only clear to a few people – what I wrote.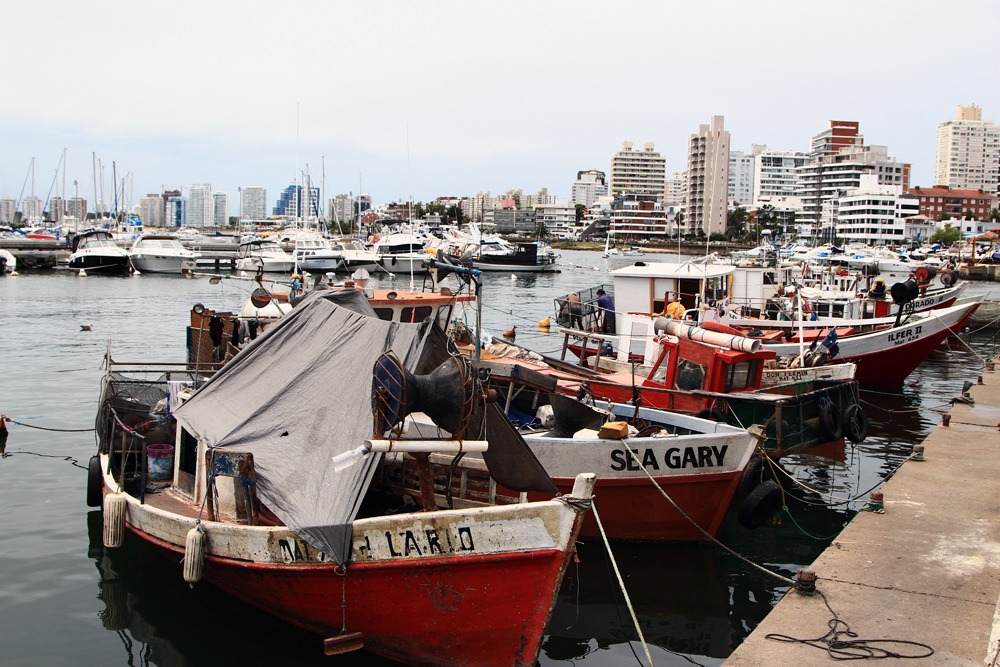 So, on your right as you drive from Montevideo to Punta del Este there will be many branching paths, trails, etc. All these paths lead to small villages that are built for Argentinians and other tourists looking for tranquility. But, the beaches will be the same everywhere.
You can drive off at any point and you will see the same picture: brown sea and yellow, wet sand. True, there are sand dunes, but it is nothing like the dunes of northern Brazil in the Recife area.
As I noted through the lines of my letter to you, Punto del Este is a ghost town – a town of condos and vacation rentals. It is likely that the locals live somewhere as well, but the nice, good-looking houses and settlements of nice houses cover the usual gray skeleton of local housing in South America.
One of the advantages of this compact living of Argentinians and wealthy Uruguayans is a kind of centralization of the centers of cultural activities. I have seen pubs and nightclubs.
I have not seen them in action, because I went back to Montevideo, where I will be visiting the Argentinians tomorrow. But everything is neat and tidy. A lot of young people.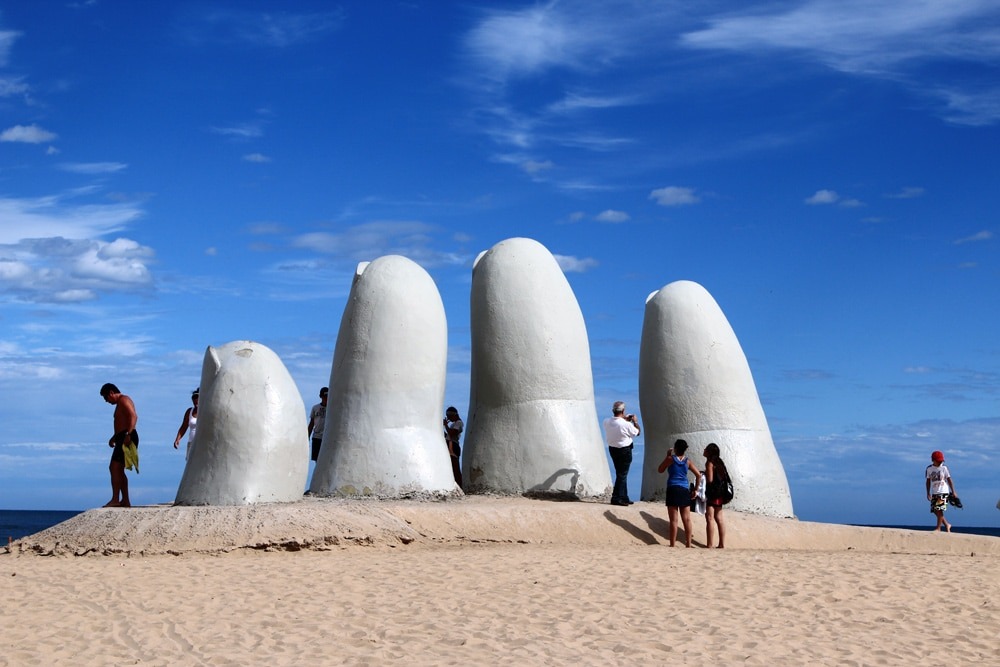 College girls from Buenos Aires go to the stores, which are in abundance here. Older people go to yacht clubs and supermarkets. The very elderly feed the seagulls and everyone is happy here… But I got bored with this measured reality.
I drove along the ramble (the road that runs along the coast), found a good restaurant Boca Chica near the yacht club and had a good lunch, ordering a few legs of large octopus. Of course the chef overdid it with salt – he must have fallen in love with the canal, but I wasn't upset because he grilled it right: the octopus was tender, juicy and sweet.
I just asked Anna – my waitress – to bring me some olive oil, red paprika, and lemon, and I did everything to my own perverted taste – so that not only you can lick your fingers, but also bite them.
So my verdict is: Uruguay is a nice and calm country. It is a good choice for those who are looking for a place to spend the rest of their days.
It's safe, there are a lot of stores with rags (I would not call it clothes) and food.
It's easy to solve problems if you have an annual income or rent in the area of 60,000 dollars. But it's not my kind of place to come back to, much less stay for an extended period of time.
Tomorrow in Argentina, but in the meantime we'll go with a forum member I met here to drink refreshments and continue the delights of nightlife – yesterday I was after flights, tired. And today I'm chipper and want some adventure.
How to get from Montevideo (Uruguay) to Buenos Aires (Argentina)
Ferry from Montevideo to Buenos Aires An economy class ticket costs $84. Buy it at the BQB office in the city (near the central square in the casino building), or at the pier where the ferry starts. Any Montevideo resident will tell you where it is.
Well, I'm moving from Uruguay to Argentina and a new journey begins – through Argentina. But first, a night out in Buenos Aires (Buenos Aires at night).
If you liked this article – share the link to it with your friends in social networks. Buttons below