Vertical landscaping in the apartment: methods, designs, nuances
The limited space of the apartment – not a reason to give up gardening and spectacular living decor. A detailed guide on vertical gardening in the interior with comments from landscape designers.


Designers
Plants in the house
Designer tips
Apartment
Interior decor
From the Hanging Gardens of Nebuchadnezzar to Patrick Blanc's phytowalls, vertical gardening has come a long way on its way to fame. Today, in the age of the stone jungle and the scarcity of living space, it's booming. Let's tell you how to do vertical gardening in the apartment?
Effective green accent in a minimalist interior
What is vertical gardening?
It is a way of cultivating plants with the help of different types of structures, arranged vertically. With their help, you can organize a green corner even in the most modest in terms of space, adding a unique living aesthetics and coziness to the interior.
History
Inhabitants of ancient Babylon learned about vertical gardens for the first time in far 605-560 B.C. Their king Nebuchadnezzar II, having decided to please his wife, who missed her native land, built four-tier palace, surrounded by exotic trees and flowers. It is known as the Gardens of Semiramis – one of the Seven Wonders of the World.
Important: According to legend, the Hanging Gardens was the world's first large-scale hydroponic structure where plants were grown without the use of soil.
The Hanging Gardens of Semiramis – the seventh wonder of the world
In the mid-1940s, New York landscape wizard Stanley White invented "Botanical Bricks," a structure of green plants grown on the facade of a building. Interior phytopannos were first mentioned by the Frenchman Patrick Blanc in the mid-1970s. His collapsible phytocomposition consisted of 30 species of plants mounted vertically.
Fact: Blanc's construction was supported by a metal frame and a plastic frame, and polyamide plates acted as the soil.
Phytowalls by Patrick Blanc
Pros and cons
The demand for vertical gardening is due to a number of its clear advantages:
Space saving : suitable even for small spaces,
Visual interest: phytowalls are aesthetic and eye-catching, appropriate in decor of different styles,
Important: with the help of "living" vertical structures can mask the flaws of the walls in the interior and dilute the monotonous palette.
Improved air : the concentration of living green masses more effectively purifies the air, releasing more oxygen,
Strengthening noise insulation : green walls are capable of reducing the entry of external sounds into the apartment,
Air-cooling: freshening and humidifying the air in the apartment, plants provide a pleasant coolness in the hot season,
Wide choice of design: different constructions and types of vertical greenery offer a lot of design possibilities,
Easy to care for: modern phytostructures are equipped with auto-irrigation for easy care of the plants.
Phytowalls can reduce noise levels in the apartment.
But before you get a vertical garden on the wall, consider its disadvantages :
Dampness accumulation : if not properly installed and maintained, a vertical garden at home can lead to the formation of mold and mildew on the walls.
Tip: For upright flora to accumulate less damp, choose a warm, dry wall of the house, install a protective sheet and adjust the watering.
Destruction of wall coverings : some plants cling directly to the walls when they develop, disturbing its finish. It is important to trim in time.
Reduced light : phytostructures attached to windows or balconies can block daylight.
High price: ready-made modules, equipment and their installation are not cheap, but you can always find affordable homemade alternatives.
Types of vertical gardening in the interior
There are many ways to create a vertical garden at home. But in general it can be done with :
Ampelous plants : the most traditional and affordable type of vertical gardening, when a green wall is formed by different kinds of climbers,
Living wall of ampelous plants in the interior
Floor vertical structures (arches, shelves, towers, pyramids, lattices), on the shelves of which containers with plants are installed,
Wooden narrow shelves for plants saves a lot of space
Pots or shelves suspended from the ceiling or walls: they are zoned, decorated windows and walls (including kokedama – ground balls),
Hanging planters are an unusual way of zoning in the interior.
Phytowalls and phytomodules : a modern and popular type of vertical gardening, when plants are placed on the wall in felted canvases or modules.
Phytowalls are a harmonious addition to the eco-style
Vertical gardening in the house with their own hands is most affordable to master with the first three methods. To create phytowalls and phytopanenos without special equipment and skills is difficult to do without. It is easier to trust the experts.
The inhabitants of phytoconstructions can be :
Live plants (indoor, spicy herbs, vegetables),
Artificial flowers (plastic, fabric, silicone),
dried flowers (dried and fixed with wax or varnish plants),
Stabilized plants (soaked in a special composition based on glycerin).
Important: Artificial flowers do not require care, except for periodic wet treatment of dust and dirt.
Lush phytopanos of artificial flowers
Variety of designs
You can buy them in a store or make them yourself according to numerous schemes and recommendations on the Internet. Design and materials depend on the style of the interior and the preferences of the owners. Among the common designs are:
carpeted canvas : a large (sometimes on the whole wall) mat made of polymer felt with numerous pockets-cells, where plants are planted. Thanks to the flexibility of the fabric, it can be used to decorate surfaces of different shapes.
Fact: Due to the plastic base felt does not rot and is well permeable to water, the excess of which is collected in the container under the cloth.
Carpet landscaping in the living room
Tip : the easiest way to make a phytocover yourself is to sew a hanging planter with pockets of dense textiles.
Modular designs : several ready-made modules of metal, plastic, textile with a frame and cellular containers for planting plants. All elements are assembled into a single vertical unit or bi-directional structure, which can be mounted on a wall or ceiling.
Installing prefabricated phytomodule – the process is easy even for beginners
Important: most purchased modules are equipped with auto irrigation and mechanism of aeration of the root system.
phytopainting and phytopanel: a single canvas based on a dense frame, mesh or plastic cells, framed in a baguette. The plants are grown in hydroponics and are equipped with automatic irrigation.
A phytomap is an expressive composition for a wall décor.
stands and crates: vertical wall supports in the form of grids or shelves with shelves or holders for planters. Available in various shapes and materials.
Tiered stands for vertical gardening in apartments
How to choose a place for a green corner
All the same as for the usual indoor flora is relevant: you need to take into account the level of lighting, humidity and air circulation. The optimal option – walls opposite the southwestern and southeastern windows, where the sun looks out almost all day. In the north or northwest, the moisture from the plants will evaporate a little longer, which can provoke mold and mildew on the walls.
Important: Keep in mind that most plants do not like drafts and direct sunlight.
On the phytostructure with live plants should get enough daylight
Placing ready-made systems with auto irrigation and phytolamps, take into account the proximity of the socket and the possibility of connecting to the water supply. The easiest way to organize a green corner in the apartment with artificial plants – for them there are no restrictions, whether it's a dark bathroom or hallway. Phytowalls with dried plants are also not afraid of shade, but it is better to keep them away from moisture.
Types of bases for vertical gardening
By and large, there are only two types – with soil and without. The first includes natural types of soil. They are available, hold moisture well, are easy to care for and suitable for beginner gardeners. But for phytowalls can be too heavy and impractical.
The second type is artificial substrates (coconut chips, mineral wool, perlite, sawdust, sphagnum moss, expanded clay). They are associated with the method of hydroponics – the most advanced and popular for vertical gardening. Its main advantages are:
the ability to control the condition of the root system,
rapid and pointwise access of nutrients to the roots,
economy of water and space,
lightweight construction and easy to move.
Hydroponics-based phytopanic wall
But hydroponics is not suitable for all types of plants and is not forgiving of mistakes. Delivery of fertilizer to the plant is faster than in conventional soil, and if the wrong dosage, the green pet can die. There is also the danger of overheating: at a temperature above 35º C, the plant roots begin to die off. Another disadvantage of hydroponics is the high price of the equipment, including the cost of electricity.
Suitable plants
When choosing them, you need to proceed from the size of the wall, the type and strength of the structure, the degree of light in the room. For large-scale phytowalls in large supermarkets, even tree-like specimens can be used. But plants for vertical gardening in the apartment are more compact. It is best if they possess:
A dense and decorative crown,
A small but strong root system,
Short or climbing stems,
Temperature and humidity extremes.
Important: when choosing plants make sure that the householders are not allergic to them.
Phytomodules with an anthurium in the center of the composition
The inhabitants of vertical gardens can be both indoor exotics and miniature vegetables, garden greens, spicy herbs. It is important that the plants work well together and do not interfere with each other.
Vegetables, herbs
Tip: To dilute or complement the vertical phytocomposition use decorative moss and lichens.
Fragrant herbs in vertical designs – a great solution for kitchen design
Expert comments:
"Today among the most popular plants for phytopanoes and phytowalls are ampelous species, ferns, inhabitants of the tropics (monster, banana leaf, strelitzia). Additional decor in the form of natural snags and roots is actual".
Golovanova Yana, landscape designer of the company "Alcide".
The subtleties of design
Thinking through the design of a vertical garden, not only aesthetics and spectacular forms are taken into account. The design should be convenient for watering and caring for plants. Plant them tightly, but not against each other, to give them more air and not allow them to suppress each other.
Tip: If you plan to grow several types of plants in the same container, choose smaller or slower varieties.
The larger fern is installed at the bottom of the composition
The bottom row in the phytopannos is usually thicker and more lush than the top one. At the top of a vertical garden, place plants that are more drought tolerant because moisture evaporates faster at the top.
Expert comments:
"When creating vertical compositions and phytowalls, one of the main principles is the harmonious distribution of plants. Harmony in the composition is achieved by the correct combination of plants in texture, shape, size and color. It is interesting to consider multifaceted compositions with a well-defined rhythm – there is something to catch the eye.
Yana Golovanova, landscape designer of the company "Alcide".
Equipment for vertical gardening
It depends on the chosen design and method of care of plants. For a small green corner (shelf with plants, pendant pots) may be enough for a normal watering can, a mixture of fertilizers and daylight. With complex modular compositions and volumetric phytowalls it is impossible to do without special equipment.
Watering systems
Many ready-made phytostructures are already equipped with a system of drip irrigation. It can work from the network or battery. Its key components – pump, water tank or tap, micro-drip hoses, water filter. At the bottom of the phytowall install a tray for excess water, which returns to the system.
Important: Modern automatic irrigators are equipped with timers and controllers, with which it is convenient to adjust the volume and frequency of water supply
Diagram of automatic irrigation integrated into a phytowall
For watering plants in large phytowalls it is convenient to use systems with remote control. In the case of a small vertical garden, you can make irrigation independently.
Tip: In hydroponic systems, fertilizer can be fed during irrigation, but it is important to respect the dosage.
In the care of ceiling phytomodules, auto irrigation is the only practical solution
Expert comments :
"The larger the living wall, the more I recommend using drip irrigation, which allows for an even distribution of moisture."
Becky Bourdeau is a landscape designer for Potted (Los Angeles)
Green wall lighting.
It is individualized based on the size of the structure and interior design. Smaller phytopannos can be made by whiskers (5W), for larger compositions track projectors (34-40W), located 60-70cm from the wall will do. It's convenient to direct them for even illumination.
Lighting with track projectors – a modern solution
If you don't want to submerge the room in red-pink light from greenhouse phytolamps, use fluorescent and metal halide lamps. They have a good light output and a balanced color spectrum. Their power and quantity are chosen according to the size of the structure and the needs of the plants.
Care of living walls
Much depends on the variety of plants and the type of vertical structure. But in most cases, the list of mandatory activities:
Timely manual watering or control of auto-irrigation,
removal of withered and diseased parts of plants (if necessary, replace plants with new ones),
keeping the structure clean,
control the draining of the drainage system and cleaning the automatic irrigation filter,
pruning plants when necessary,
Timely fertilization.
Important: adjust the frequency or duration of watering according to the ambient temperature: water more frequently in hot weather.
A regular check of your phytopanel will allow you to spot withered leaves or sick plants in good time.
Expert comments:
"Keep a few extra plants from your phytowall in separate containers to quickly replace the wilted ones."
William S. Sullivan is a landscape designer and lecturer at the University of Illinois
Ideas for a vertical garden in an apartment
Mesmerizing vertical kokedama gardens – plants in earthen balls
Mesmerizing vertical kokedama gardens – plants in earthen balls
Ceiling phytomodules – a spectacular but difficult way to garden at home
Wall of artificial plants – a spectacular and practical decor for the bathroom
Staircases can be an excellent basis for vertical gardening at home
Compositions of stabilized moss – a fashionable decoration of the bathroom walls
Living wall of plants: simple tips on how to create and examples that will inspire you
We suggest how to arrange an oasis in a city apartment and show beautiful examples in different rooms.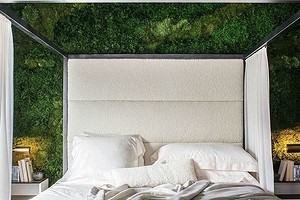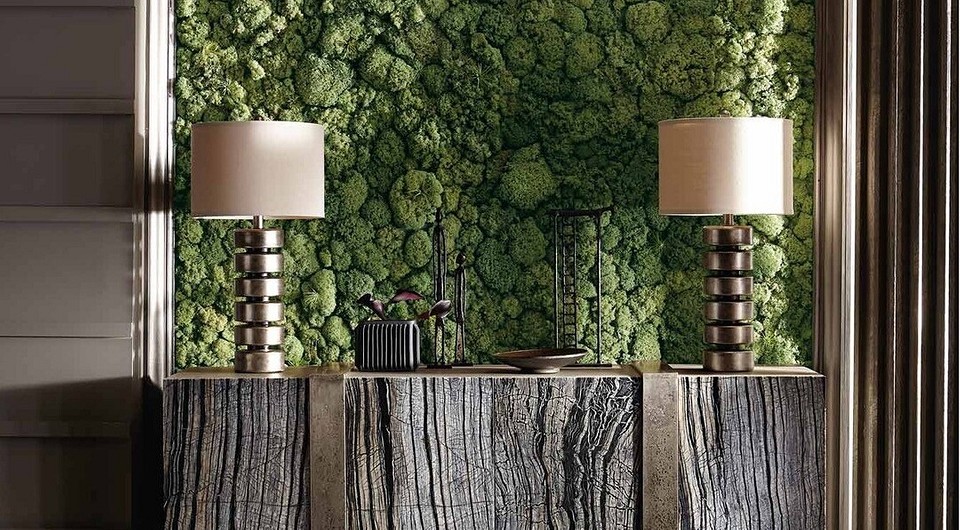 Advantages of a living wall in the interior
Greenery in the interior is always cleaner air and less dust.
The accent of natural bright color is one of the best ideas to dilute a monochrome interior.
The wall of plants will become additional soundproofing – that's why some people choose to decorate the wall, bordering the apartment of the neighbors, in this way.
This is an opportunity in small apartments to create a kind of greenhouse and at the same time do not take up much space, because the vertical space is not involved in any functional way.
Finally, we should not forget that greenery contributes to a relaxed atmosphere and has a positive effect on the mental state.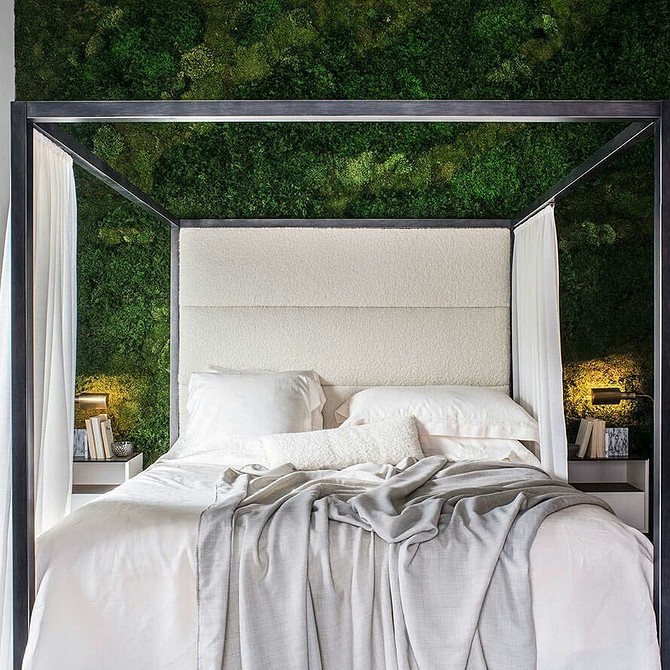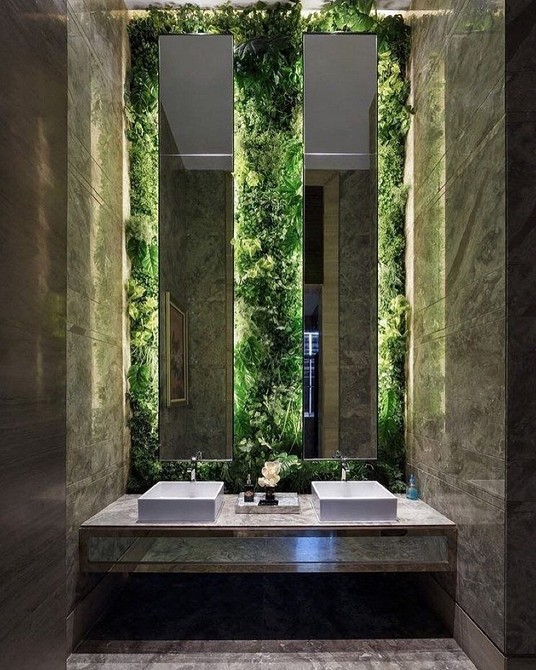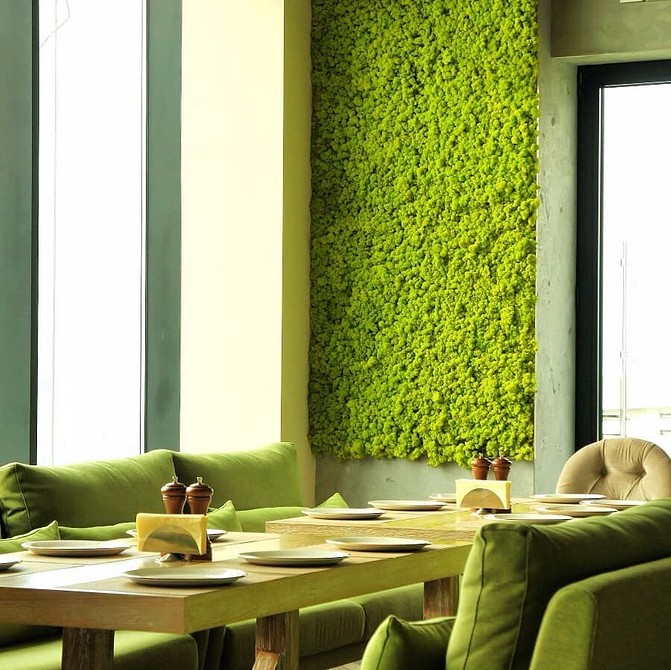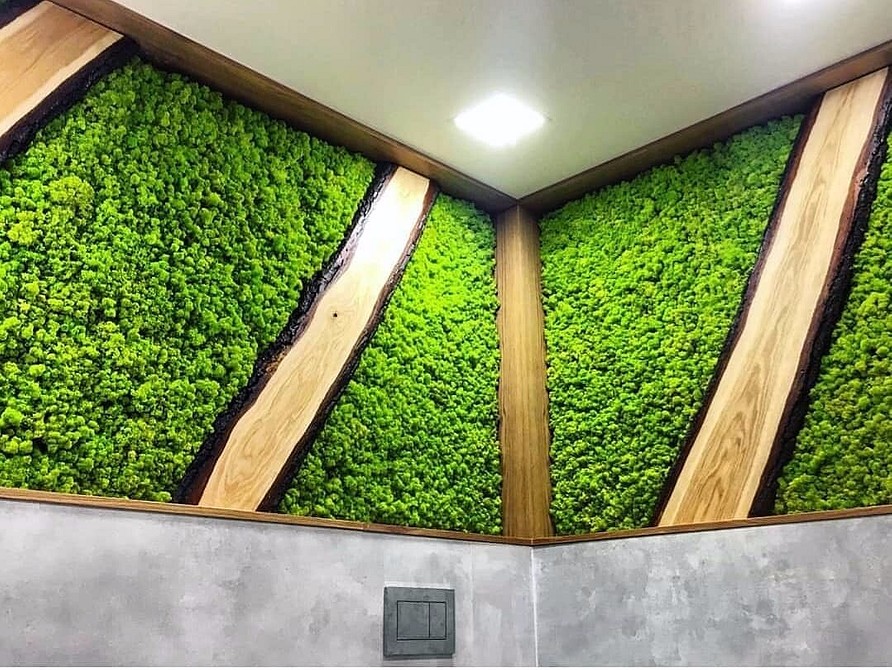 What flowers to choose
Pay attention to flowers that are easy to care for. Otherwise, there is a risk of spending a lot of free time trying to save them and make them bloom and fluffy. Here is a list of plants that can be used: decorative grapes, ampelous plants (such as philodendron or scindapsus). You can also safely hang succulents on the wall – unpretentious and pretty plants. And, of course, do not forget about moss.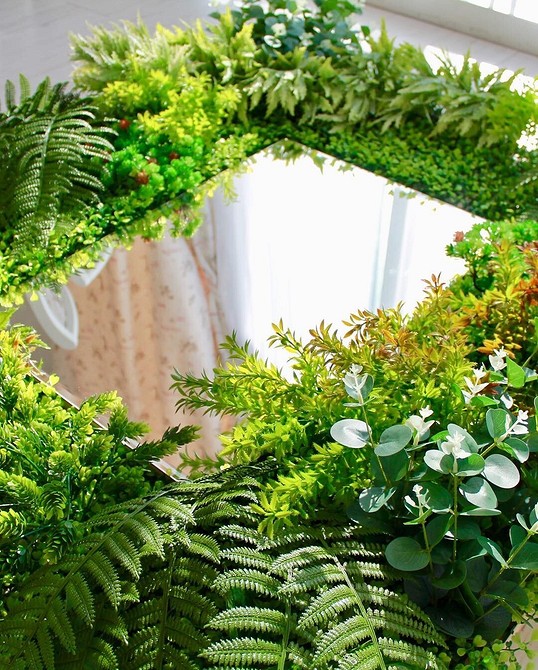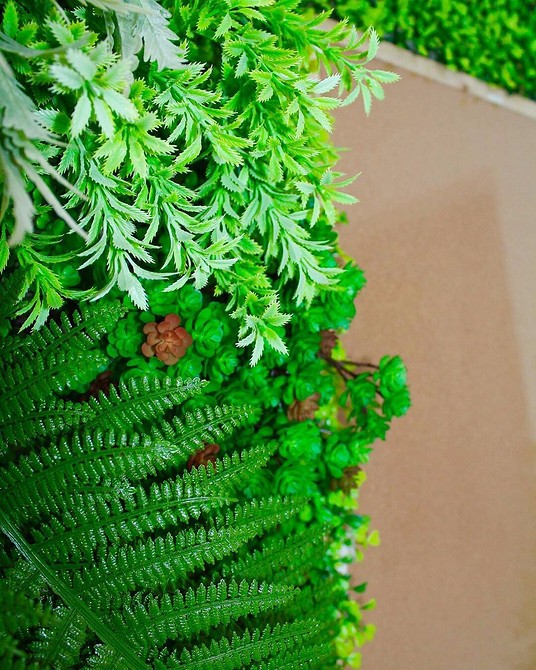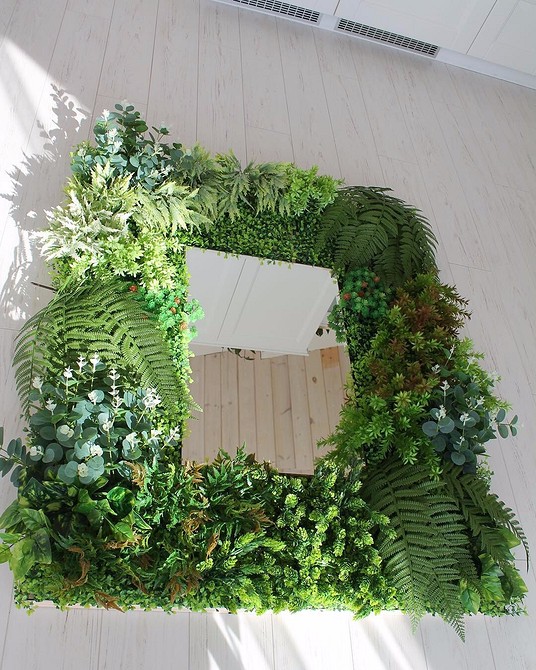 What you need to think about
Supports
A living wall should be placed on supports with soil or hydroponics, in which the roots will grow. It is important to think about how to securely attach these supports.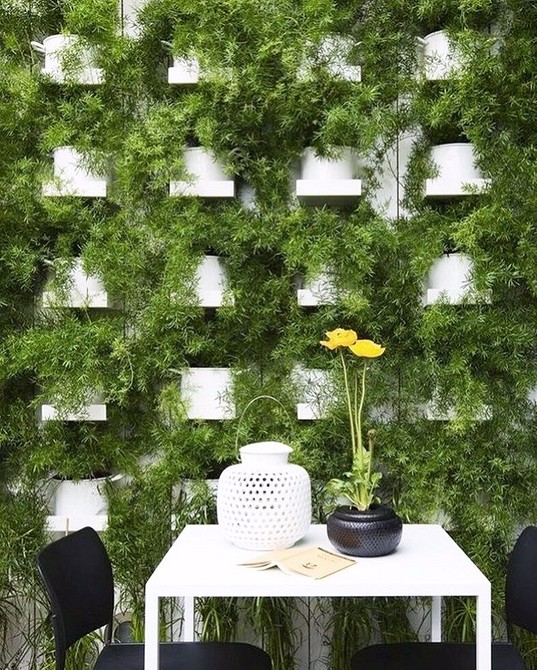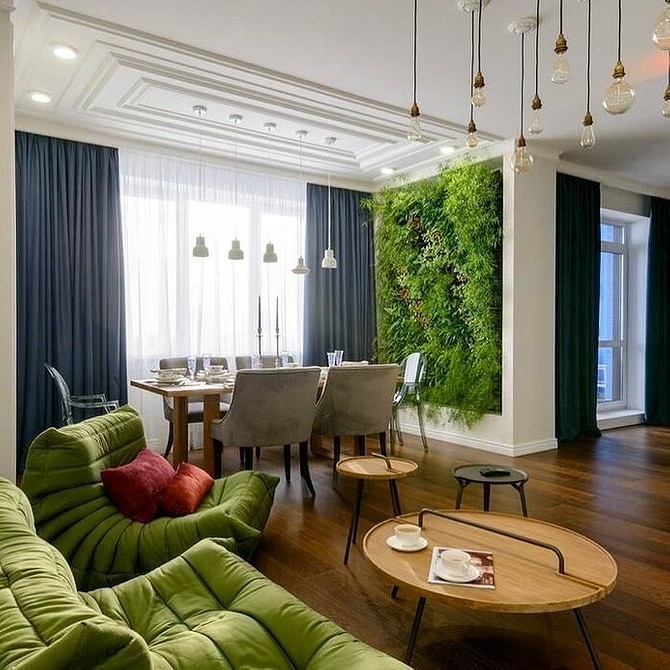 Order of arrangement of flowers
Adhere to the following rules. Sprawling species should be at the bottom. In the middle – bright and curly ones. And at the top – ampelic types. Florists start with bright shoots and plants, arrange accents, and then complement them with calm and small details.
Providing access to the wall
Try to find a place where it is easily accessible – to care for the wall. For this reason, it is undesirable to place it next to textile sofas and beds, so as not to stain the upholstery.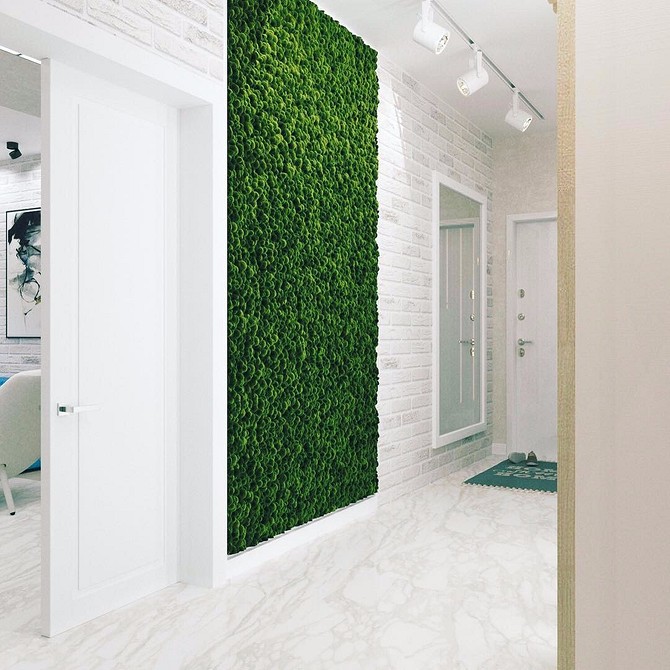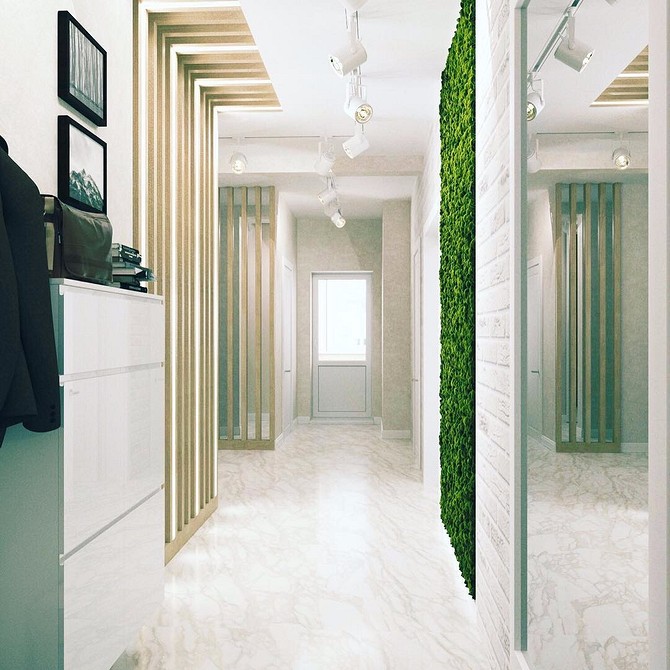 Watering
It is important to provide watering for the plants so that they do not wilt and die. For phytowalls, a drip irrigation system is a good option. But it has one significant disadvantage – you must think through where to drain the water. This can be a special tray or, for example, an installation aquarium.
Lighting
This is not only a beautiful accessory for a living wall, which will help to present it more advantageously in the interior. But also additional heating – and the greenery will grow better with warmth. If you make spot lighting with spotlights, instead of conventional lamps, you can use special devices – phytolamps, which help flowers grow better.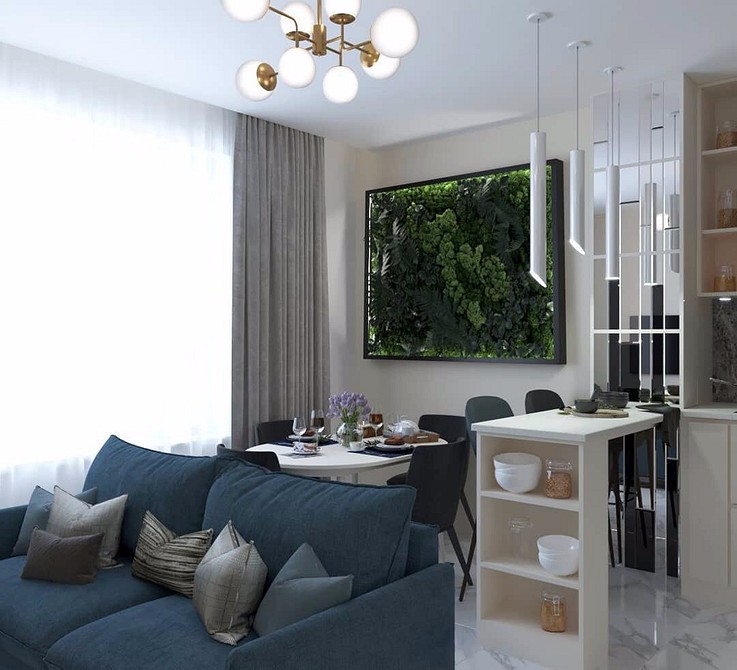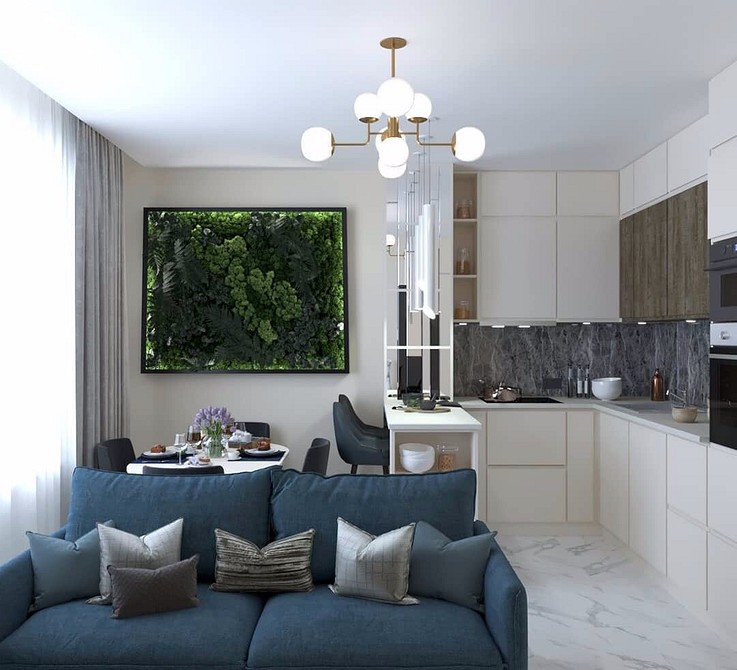 No comments yet. Start a discussion!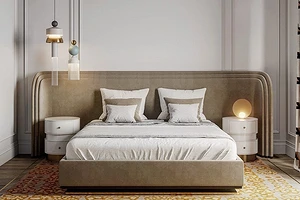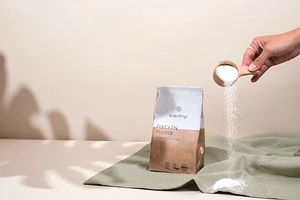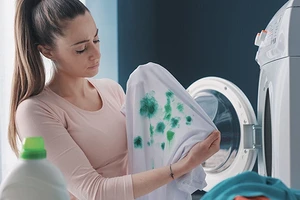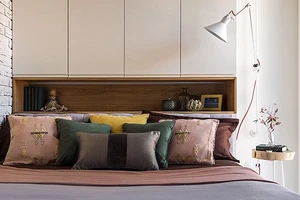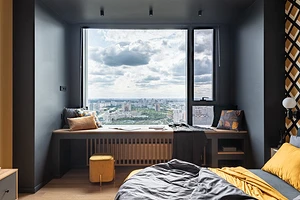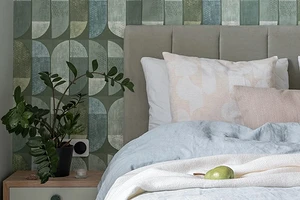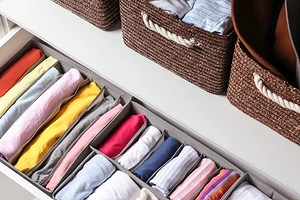 IVD. 2-room apartments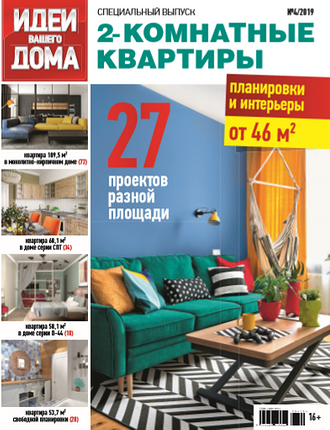 Found a mistake? Highlight it and press Ctrl+Enter
The site IVD.ru is the leading Internet project devoted to the questions of interior design, building and repairing of dwellings. The main content of the site consists of author's articles, qualitative illustrations, practical advice, realized and design-projects of architects and designers.
On our site you can find complex design solutions; get advice and recommendations on interior design, home and land development; communicate directly with other readers on the forum.