Best water parks in Moscow and the Moscow region 2022
Looking for a water park for fun in Moscow and want to choose the best one? In our article you will learn the prices of tickets to water parks, what is the largest water park, where are the open and closed and much more, read on Tour-Calendar!
Airfare, hotels – all in one place. The cheapest prices on Yandex.Travel
Have an interesting vacation. Local excursions on Tripster.
Flights from 1045₽ on Aviasales.ru
Compare tours from different tour operators on Travelate
Best Water Parks in Moscow. TOP 5!
In any weather and at any time, sometimes you want to get positive emotions, to move, splash and water park – a great opportunity for that! You can spend a whole day here, whether it's a weekday or a weekend, you can go for a couple or a big company, sometimes it's a great idea to come here after work! Moscow water parks are nice because they work all year round, and some of them work late into the night.
All at the time of writing there are 12 water parks in Moscow, for your attention we offer the top 5 best water parks in Moscow, with reviews and videos, so you can easily make a choice where to go on vacation!
However, some of the water parks are actually located outside the city, namely in the near Moscow, but you can easily get there by car or by public transport.
Moreon is the most impressive, but I want to go back to Caribia.
Hi all, I've been to several water parks in Moscow. Of course the biggest impression is made by Moreon, but I'd rather go back to Caribia, it's nice and cozy! I also like Kwa-Kwa park.
Aquapark Moreon. The biggest water park!
"Moreon" – the largest water park in Moscow and the entire Moscow region. Built in 2013 on the site of the former "Transvaal Park", its total area – 55 000 m², the area of water zone – about 2500 m². The daily number of visitors is about 2,000 people.
Ticket prices for water park: The cost of a visit is 490-2020 rubles. For example, on weekdays 900 rubles and 400 rubles for an adult and a child respectively, on weekends for 1100 rubles and 690 rubles. The cost with thermae will be about one and a half times more expensive. The tickets to "Moreon" are sold out of high season with discount up to 50 %. The water park also works with a partner Megakupon, where you can buy coupons for 45% discount.
Tickets are valid all day with no time limit. With large crowds, this is a big plus!
The Aquapark is bringing back benefits for large families – 40% on weekdays and 20% on weekends.
The water park was relatively recently renovated (in 2020)
There is a huge plus, but relevant, however, only in the heat is its open area.
If you are on a car, it is convenient to get there by the Moscow Ring Road, if you take the subway, then from the station Yasenevo to walk in a straight line in 10 minutes.
With the onset of twilight on the street, and inside the hill also becomes a little dark (most of the slides are made on the street)
No discounts for birthday boys, although many others do
Can be stuffy, so many do not spend more than 3-4 hours there
Water park pretty slippery floor, you need to be careful, but this defect to some extent can be attributed to any such institution.
Not a bad water park in Moscow.
The place is not bad, but do not forget about the caution and care, even after repairs there are places potentially dangerous for a child. Well, do not visit it on vacations or weekends, unless of course you like crowds of people resting and queues))
Were at the water park Moreon with my child.
There is a big water park and we went to the baths complex there. There are 3 big slides, they are physically located down the street (but enclosed of course). When we were there the 2nd time, my husband said it was okay, not cold, he liked it. There is a slide and inside, and 2 small slides, but with the child allowed only one (on growth), and so with small hung out in pools. One minus at the children's pool, is that from somewhere blows, I even froze. We had a great pool with waves, we liked the pool with the flow. We had a great "Lagoon", we could hang out there for a long time)). In general all pools steep, I think everyone will choose what he likes!
Video: review of rest in the water park Moreon, Moscow.
Water park "Kwa-kwa park. The most fun slides in Moscow
With the advent of "Moreon", "Kwa-Kwa Park" lost the title of the largest water park in Moscow, but its popularity does not decrease, and on weekends there are always enough visitors. In general the local slides are probably the biggest pride of the water park. There are 7 exciting attractions, including the classic "Black Hole", the open slide "Wild River" and the most extreme – the slide "Cyclone".
Ticket prices at the water park: There are several rates at the water park. For example, on weekdays "Evening Relax" 2 h 40 min for 500 rubles for a child and 800 rubles for an adult, or "Profitable" for 4 hours – 800 rubles for a child and 1050 rubles for an adult. On weekends the cost increases approximately by 200 rubles for each ticket. The Aquapark cooperates with Biglione, where you can buy a ticket with 50% discount.
There are 50% discounts for children with many children.
Many different slides, a nice grotto, a good pool with waves.
Large area.
Good parking lot
Restaurant on the second floor, nice and comfortable.
Less people than, for example, in Moreon, and smells less like chlorine.
A lot of people complain that the water park is not meant for kids under 8-9 years old and they would be bored.
The spa area is very basic.
I think this is the best water park in Moscow.
I really like Kva-Kva Waterpark. First of all there's a big variety of rides: a lot of different slides from the banal "Cyclone" (in proterode called "Toilet") to really fascinating even without water, for example "Parabola". I also really like the wave pool – quite decent. The waves are great and come often. And to get to it is easy: and "local" buses run, and any that go to Mytishchi and beyond
Do not want to leave )))).
Visited Kwa-Kwa park with a kid… liked that there are handy storage boxes, and the bracelets already have a deposit up to 5000 rubles. We had rides and attractions are great, we went to Caribia and I can say that Kva Kva park is much better! I've been to Karibiya before and I can say that Kwa Kwa park is much better! Were here on weekdays in the afternoon, no one particularly disturbed us, we really enjoyed our stay, and the child was delighted!
Video: a review of one of the best water parks in Moscow – "Kwa-Kwa Park".
Water park Karibiya. The coziest in Moscow
According to many reviews, Caribia is considered one of the best water parks in Moscow and the Moscow region. The interiors of "Caribia" really deserve some flattering epithets. The water park is designed in the style of ancient Roman thermae, and instead of the roof there is a large glass dome. Bridges and bordering are framed with balustrade, here and there high columns. In a word, the establishment is impressive, although inferior in size to many water parks in Moscow.
In "Caribia" visitors like the big warm paddling pools, but there are only four slides, and they are not very high. There are bathhouses, saunas, a SPA-center and an open beach (included in the ticket price), also you can play bowling, go to a fitness club, restaurants or a beauty salon.
Ticket prices for the water park: The price of tickets to the water park is about 350-645 rubles per hour. The whole day is very expensive, so it's better to take a few hours. So on weekdays for 3 hours the price will be 830 rubles for a child and 1490 for an adult. Water park cooperates with Biglione where you can get tickets with 50% discount.
There are discounts for birthday kids.
Considered the cheapest water park in Moscow if you buy tickets by the hour
Warm and clean
Kids can swim not only in the paddling pool.
The deposit is kept on a bracelet, no need to carry a wallet everywhere
Good private parking lot, easy to find even during the day
Very comfortable, modern locker room, a lot of free lockers
According to many reviews, the water park has too easy of a slide, no extreme slides
Can't bring own food
Many people complain about the intrusive photographer.
Included in the total time of a session is a stay in the locker room.
Fun, but no more. Do not expect anything mind-blowing from the water park.
The time at the water park flew by quickly and merrily, and this despite the double impression. The fact that I was at water parks abroad and have something to compare. My conclusion is this: if you have nothing to compare it with, you probably should like it. Also like it if you go with kids and are looking for a family vacation. I was a little disappointed, although I don't regret the 1000 rubles paid for the coupon. And what I really liked was the spa area, which includes four saunas with different temperatures, cool!
It's more like a spa complex than a water park. Will like the lovers of relaxing water relaxation.
Went to the Caribia water park on Saturday May 14, and not too crowded. In the queue were not standing anywhere in particular, the first compartments were immediately available, in the Jacuzzi, too, got quickly. And yet, in my understanding the water park – a park with water entertainment, and there is very little, this is rather a spa complex with a pool ))). In general by and large we all liked it, I think we will come again! And most importantly, go here on action or a coupon – the full price water park is not justified!
Video: Review of the water park Caribia with children.
Aquapark Fantasy. The oldest water park in Moscow
We continue the rating of the best water parks in Moscow. Next is the oldest of them: Fantazi Waterpark, which opened back in 2003. Located on the first floor of the entertainment park in "Fantasy Park" where besides slides and pools you will find cafes, slot machines, bars, banquet halls, driving range, bowling, shooting gallery, billiards and many other attractions.
Ticket price in the water park: Price 500-1200 rubles, depending on the number of hours. For the whole day 950 rubles for a child and 1300 rubles for an adult. Cooperates with Biglione, where you can buy tickets to the water park with 50% discount, or a coupon for 50% discount
The water park has a lot of space, there are free sun loungers.
Visitors enjoy warm and clear water
No time limit
Close to the subway
Average prices in the cafe
Availability of a dry children's corner
Sufficient number of life jackets of different sizes.
The water park looks old, many visitors think it needs repairing
Unreliable storage system in the locker room
Lots of complaints about the smell of chlorine.
Sometimes some rides don't work
Close inspection at the entrance, no snacks for the children
Minimal entertainment for adults
Few towel warmers
Cold transition from the water park to the locker room.
There are better water parks in Moscow.
To be honest, this Moscow water park is not impressed. The locker rooms are roomy and warm, but the showers are terrible, it's hard to wash there. And the hairdryers are not very good, I thought that I would not be able to dry my hair. Sauna, by the way, is not included in the price, it was a surprise. I thought that the hair dryer was not included in the price, that was a surprise. The water park itself seemed small, only 4 slides. I took a ride on all of them, not too scary)). In the pools I am up to my chest, and a tall man probably waist-length ))))) I liked the jacuzzi, it was nice to relax after driving down the slides. It was a pleasure to relax and unwind after the slides. Holly well please don't mind the smell of chlorine, even got varnish off my nails in places (( I'm sure I won't go there again, there are better water parks in Moscow!
Were at the water park Moreon with my child.
It's not bad in general, not the best in Moscow, but worthy for family vacations with kids. But the smell of chlorine spoilt all my impressions. Tak also want to say that the prices at the water park without stock and discounts unreasonably overstated, so be sure to look for discounts on the site or on special portals like Biglion!
Video: review of Fantazi Water Park, a comparison with others.
5. YUNA Aqua Life Waterpark. For surfers and not only!
YUNA Aqua Life is not just a water park, but a whole country complex with a hotel, fitness center, cafe and other services. Located only 8 kilometers from the Moscow Ring Road along Dmitrov highway, not too much to get away from the noisy city and have fun and relax! There are adult and children's slides, a small town with its own waterfalls and attractions, and swimming pools. The beach works in summer, but the main attraction is the opportunity to go surfing, however the price is not cheap: 6400 rubles. – hour rent.
Tickets for the whole day: Adult 1500 rubles, child 700 rubles, weekend 1800 rubles for an adult and 800 rubles for a child. You can also buy a ticket for 3 hours which is about 2 times cheaper than the whole day.
Good slides for small children.
Few campers.
Relatively new building.
Included in the price of the water park is a sauna.
Is outside of Moscow, so it is not convenient for those who get to public transport
A small area and few slides (extreme lovers can be boring)
A good water park near Moscow, but nothing special.
Went to Yuna Life Aquapark with the kids, as we live nearby. There are four slides for adults, but for kids there is a water part and a water part with slides. I think kids under 6 years old would be interesting, but for the older ones it's a bit boring. There is a sauna with heated pool and Jacuzzi! In general if simply to bathe and have a rest, it ok! And for a variety of steep slides better go to another water park.
Video: Aqua Life Water Park YUNA review in Moscow region.
How not to regret going to the water park in Moscow: 3 rules!
There are many negative reviews on the Internet after visiting water parks, and here are the three most common main complaints: crowded, expensive, and unsafe.
Visit water parks only on weekdays
No matter how much fun you want to have at the water park on a day off, it's still better to do it on weekdays. On weekends and holidays, as well as on New Year's Eve or school vacations, at water parks come just an incredible number of guests and rest can really turn into a nightmare: endless queues, shouting, and just because it's dangerous. Therefore, the water park is better to go either on weekdays, or since the early morning, but it may not guarantee the absence of crowds. In addition, a visit on weekdays is much cheaper!
Do not pay the regular price, look for promotions or coupons.
Sometimes for a visit to the water park at full price for the whole family can spend 3000-5000 rubles, which is, of course, unreasonably much. There are many online services like Biglion, where you can purchase a coupon to visit the water park at a discount of up to 50%. In addition, different water parks have their own promotions: for large families, for students, for the birthday boys. Regularly visit the official websites of the water parks to find an offer that suits you.
Be careful and watchful at the water park
Unfortunately, many people who come to the water park with a good and carefree mood leave in tears or even with serious injuries. Remember that the water park is not only fun and pleasure, but also a zone of high danger. If you go with children, be sure to keep an eye on them, do not let everything on its own. Yes, of course, many of the slides have restrictions on age or height, and yet with a careless attitude, you can get hurt on any ride. In addition, there are cases where children have drowned in water parks. So be careful, especially with children!
What are the prices for rest in Moscow?
You can always check the current prices for vacations in Moscow at the leading sites for the selection of tours, excursions and airline tickets.
Remember that you can get cheaper tours to Moscow on Travelata.ru – searching tours of hundreds of tour operators! Use our promotional codes AF2000turcalendar for additional discount of 2000 rubles (tours from 100 rub), AF1500turcalendar 1500 rubles (from 80 rub), and AF1000turcalendar 1000 rubles (from 60 rub)!
8 Best Waterparks in Moscow – Rating for 2022
For those who missed the sea and water rides, there is a good alternative – water park. Especially since there are plenty of them in Moscow and each offers its visitors a sea of impressions, a high level of service and a wide range of additional services. There you can have a great time, riding the slides, visit the bathing complex, as well as snacks at the water cafe.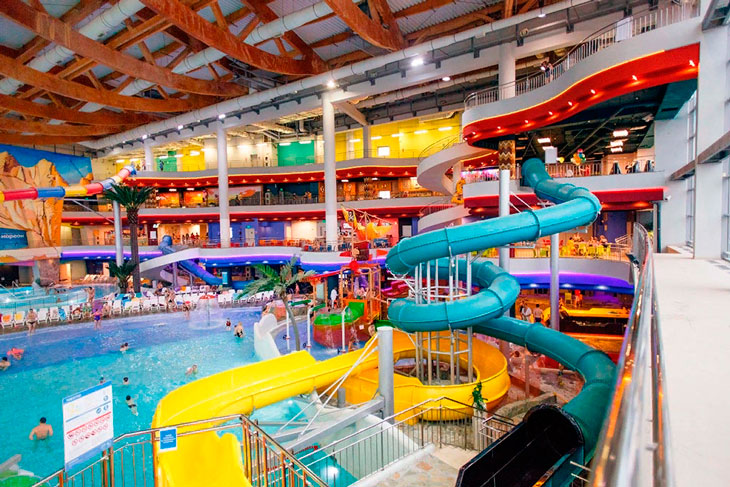 Photo: way2day.com
All of them also have a separate safe children's area and qualified staff. Water parks work year round without holidays and weekends, schedule sessions listed on the website of each of them. The cost depends on the time of visit and its duration. Many water parks offer discounts and promotions, and give the opportunity to purchase a season ticket on favorable terms. Children most often pass for free.
Some of them are striking in size, while others are chamber ones. Some are located within the city, and some are in the immediate suburbs. But most importantly, the time spent in them with family or friends will be remembered for a long time.
We present the rating of water parks in Moscow 2022. The best 8 establishments, which were selected by our experts based on user reviews and evaluations.
8 Soyuz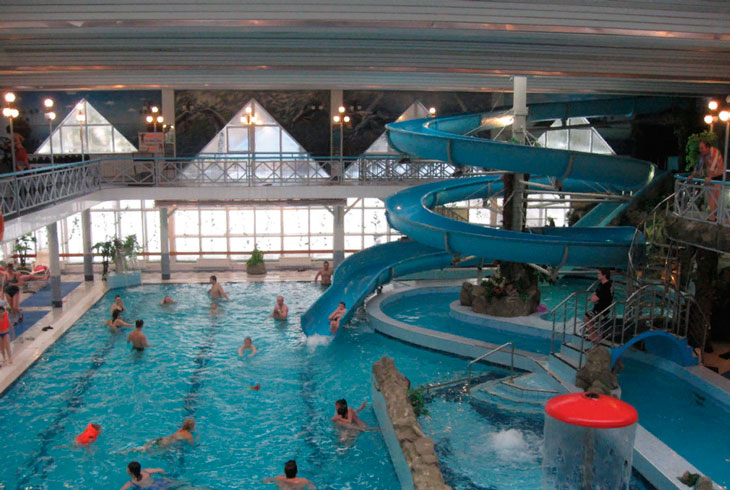 Only 30 km from Moscow, in the village of Yunost in Shchelkovsky district, in the middle of a picturesque pine forest is a water park "Soyuz". This park opens this rating. This is a chamber complex, designed for not more than 100 people at a time. It works all year round and in any season the temperature is maintained in the order of +30 0C.
As vacationers assure, here it is easy not only to relax, but also get a portion of adrenaline. On the territory of the water complex everyone will find something to his liking. So, for relaxation and recuperation there are whirlpool baths, Finnish steam baths, Jacuzzi, "lazy river", swimming pool 25h10 m. And for those who like active recreation: water slides, jumps, gym and other attractions. Moreover at any time you can just relax in a lounge chair, choosing one of the drinks or snacks offered in the aqua bar.
The cost of tickets for residents of the resort park varies from 400 to 800 rubles, depending on the time of the session, and from 600 to 1000 for visitors without hotel accommodation. In addition, children under 3 years old visit the water park for free, and under 10 years of age with a 50% discount. In addition, there are animation shows for them, as well as a special employee in the game room, which will occupy the kids and allow parents to fully relax. Please note that the aquatic complex is closed on Tuesdays. Phone for reservations +7 (495) 649-63-74
7 Yuna Aqua Life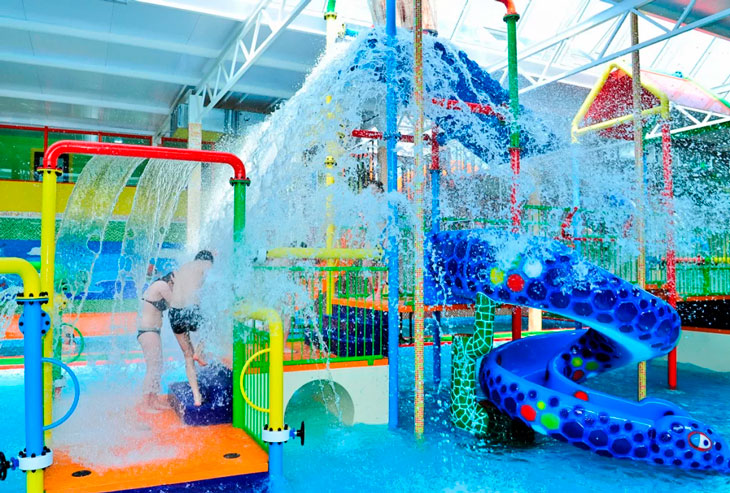 On the 7th place of the best water parks of the capital is a water park Yuna Aqua Life opened in 2011. It is an ideal place to relax from the bustle of the city and have fun. Thousands of tourists visit it every year. It is intended both for families and big companies. It is divided into two zones: adult and children's. There are 4 main slides in children's sector: Nevezmost', 'Family', 'Mig-1' and 'Mig-2'. All of them are designed with increased safety for young visitors. In addition, this water play area has classic pools, fountains and playground with water guns and other attractions.
Adults can get maximum emotions from the 9-meter water slide "Strumnina" with a speed of 24 km/h. And indoor slides "Black Hole", 80 m long, with sharp turns and climbs just right will impress inveterate extreme sportsmen. And for those who like more peaceful rides there is a "Virazhi" slide.
But the highlight of the complex is a surf-scooter, the size of the wave is up to 1 meter high, and about 10 meters wide. You can also enjoy a relaxing stay in the jacuzzi, sauna or Turkish hamam, or visit the bar at any time.
Address: Krasnaya Gorka, 9 Krasnogvardeyskaya str. The water park is open daily from 10 to 22. The cost of adult day tickets from 1500 to 1800 rubles. For children under 14 years old – 800 rubles.
6 Water park "Kimberley".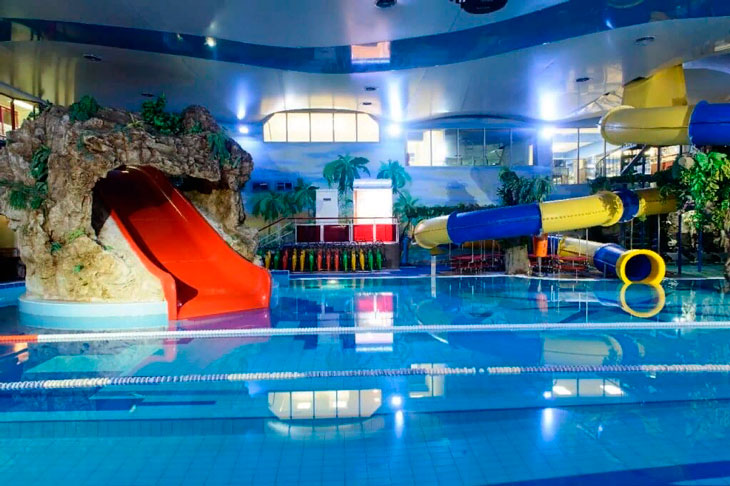 In Moscow fitness club "Kimberley" there is an excellent water complex with premium pools, slides and other interesting attractions. It is located at 24 Azovskaya Street. The water park works every day from 7:00 to 24:00. To visit it you need to buy one of the club cards, the price depends on visiting time, period of validity and services provided. For more information, please call +7 (495) 319-00-00
We should also mention exciting classes to teach toddlers, starting from infants, to swim in a group or individually. In the form of a game professional instructors will teach your child how to dive, stay in the water, etc. Children swimming pools are equipped with fountains, slides and geysers. At the same time, you can not worry about the safety of children. All coaches confirm their qualification in water rescue every quarter.
Competent zoning allows each client to find entertainment for themselves. Only bathing complex includes: Russian and Finnish, herbal steam and other types of baths, Turkish hamam, Sharko shower, soap massage, etc. And for those who like active rest there is a variety of slides. During the breaks, you can always grab a bite to eat in an unusual restaurant "Grottoes", which imitates a real cave.
5 Fantasy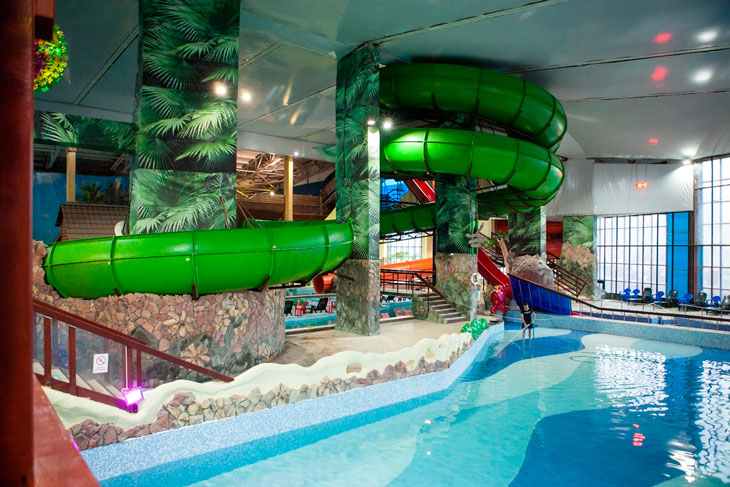 Near the metro station Maryino, on Lyublinskaya str. 10 in Moscow, on the 1st floor of the entertainment center is a water park "Fantasy", an area of 6000 m2. There you can not only have fun on the rides, but also relax in the bathing complex or a massage. If you get hungry, "Victoria" cafe not only helps to satisfy your hunger, but also organizes a feast a la "Pirates of the Caribbean".
Water park offers its visitors a wide variety of attractions for every taste. For example, the indoor slide Barracuda, which is 53 meters long, has a fast current and a lot of sharp turns. And slide "Tabogan", 85 m long, will make you rush at a speed of 25 km / h. Also extreme lovers will appreciate the slope of "Kamikaze", the slope of which is 450 meters.
For those who like calm rest there are swimming pools, an artificial river, a Jacuzzi, "the serenity bay" and much more. Also here is well thought out entertainment for the youngest visitors.
The price of the ticket for a day for an adult is 1600 rubles. Children under 4 years old visit "Fantasy" free of charge. There are also discounts for the birthday boys in the amount of 50% of the cost.
4 Caribia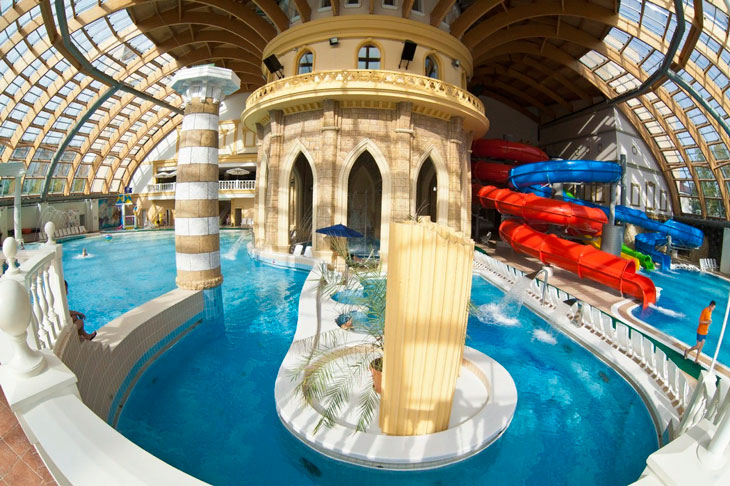 Monumental Moscow water park "Caribia" in 5 minutes from metro Perovo, at 10B Green Prospect, is located on the 4th line of our rating. It impresses not only by its scale (its area is about 20000 sq.m.), but also by its architecture and exclusive concept. The statues, fountains, beautiful stone decoration and a lot of light through a special design of the glass roof vault.
Everything here is aimed at maximum relaxation. There are almost no slides, there are only 4 of them: Black Hole, Freefall, Body Slide and Multislide. But there are a large number of pools, whirlpools, many saunas (Japanese, Russian, Hamam, Finnish sauna, etc.), an impressive Spa-area, several restaurants and even billiards and bowling. Special mention should be made of the outdoor beach area, which is open in summer.
Open daily, without lunch and weekends, from 10:00 to 22:00. The price of tickets depends on the time of stay in the complex, as well as the day of the week. On weekdays there is a good discount. Also by the action it is possible to visit the complex for birthday persons, students, pensioners and other social groups.
3 Aquatic complex Luzhniki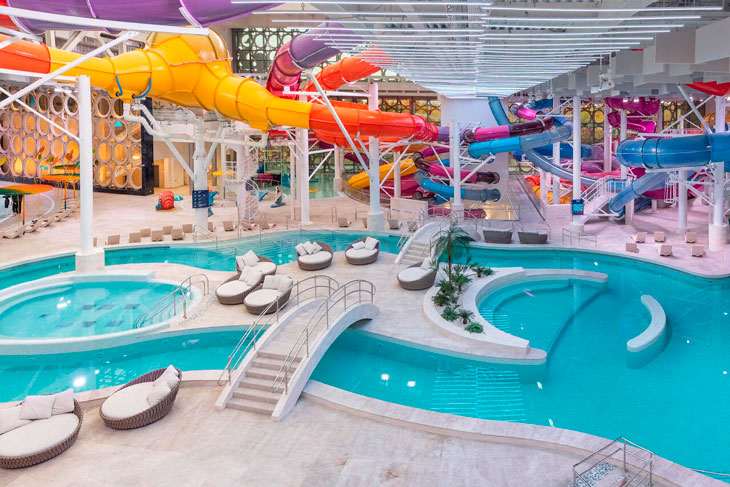 Luzhniki Aquatic Complex is one of the largest not only in Russia, but even in Eastern Europe. Its uniqueness lies in the fact that the designers have equipped the building with a sliding roof, which has no analogues in our country. The water park is located near the Vorobyovy Gory metro station, at Luzhniki St. 24, building 4. Working schedule: Monday-Saturday from 10:00 to 22:00.
The water complex is capable of receiving about 10,000 visitors a day. At the same time, everyone will be comfortable and spacious. The price of tickets for visitors over 14 years old for the whole day on weekends is 3,450 rubles. Children under 7 accompanied by their parents pass free of charge.
The Luzhniki water park is designed with exclusive slides for every taste. The most popular are "Dead Loop", "Aquasphere", "Master Blaster", "Slideboarding", "Water Tube" and others. Open and closed, high-speed and not so high-speed, with lots of turns or a big slope – everyone will find entertainment here.
Many parents also appreciated the separate area for children on the 2nd floor. There is a "Slow River" ride and a children's corner. On the 3rd floor there is an exclusive swimming pool with an adjustable hydraulic bottom. Thus, it is possible to adjust the depth from 0.1 to 1.25 meters, depending on the growth of children. And the salt cave, on the same level, helps to improve their health.
2 Kwa-Kwa park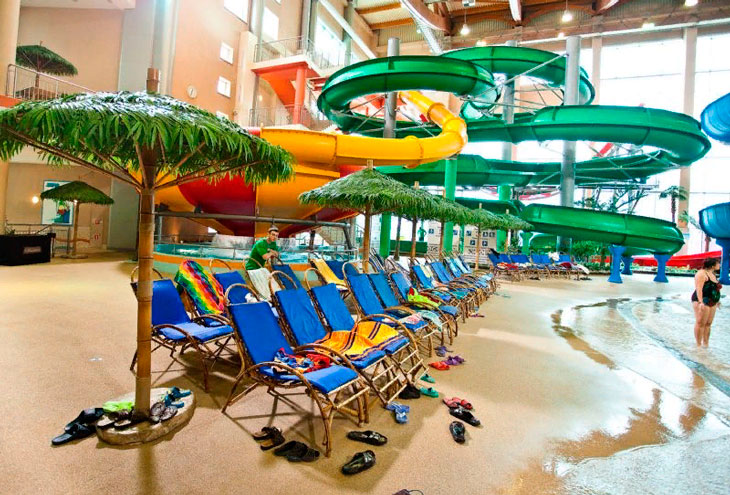 In Mytishchi in the mall "XL" is a popular water park "Kwa-Kwa Park. Visiting it will bring a lot of positive emotions and positive emotions for both adults and children. And during the breaks you can visit the restaurant and beach bar.
There are numerous open and closed slides, various swimming pools and Jacuzzis with stone grottoes, fountains, water guns on the territory of the water complex. Spa-area includes Turkish hamam, sanarium, Russian bath and Finnish sauna. For an additional fee you can have a massage, wrapping, fish peeling and other procedures. In the area for the smallest guests there are also many exciting attractions, and it is maintained at an optimal water temperature of 32-33 0C.
Separately we want to highlight a few slides. For example, "Black Hole", 122 meters long, will make you go in complete darkness with great speed. On the "Multislide" four people can simultaneously compete. And "Family" will take you to a beautiful lagoon with a Jacuzzi.
The price to visit varies depending on the time of stay and day of week. Discounts are available for students. Free admission for children under 4 years old and up to 120 cm in height.
1 Moreon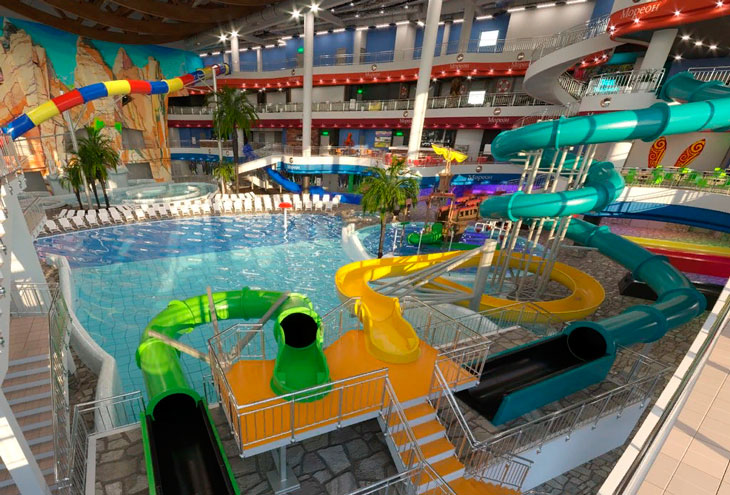 The largest and most modern Moscow water park Moreon became the leader of today's ranking. Its area is 2,500 m2. It is located at: 16 Golubinskaya St., the nearest subway station is Yasenevo. Schedule: weekdays – from 10:00 to 22:00, weekends 9:00 – 22:00.
There are 11 water slides, 30 baths and saunas, 26 swimming pools and 4 children's playgrounds available all year round. There are also special recreation areas, where you can just lie on a lounge chair or immerse yourself in a hot tub. On the territory there are several cafes, which offer a tasty snack and drinks.
For adults such slides as "Space Saucer", 120-meter "Body Slide", "Black Hole", extreme "Wing" and others are worth mentioning. The children's section is equipped with water rides, pools, fountains and other attractions.
For an additional fee you can visit "Thermae". This is a two-level structure with a pool in the form of a labyrinth and waterfalls. Therefore, everyone in Moreon will find entertainment for themselves. Active – in the water park, health-improving – in the thermae, relaxing – in the Spa-zone, where massages, wraps and other procedures are done.